Las Vegas is the Ultimate Glutton's Paradise, Obviously
August 24, 2011 by Jen Balisi
After 3 days and 3 nights in Vegas this past weekend, it's pretty safe to say that my body hates me. I've also lost my voice and instead of it sounding sexy I sound like a man. But holy crap, was it fun.
Needless to say, Sin City has plenty for the hedonist, but for the purposes of this blog, I'm going to focus on the food and not the clubs, parties, gambling, and general debauchery that a weekend in Vegas typically entails (but to encapsulate that side of Vegas in one sentence, all I have to say is an 1100 sq. ft. suite at the Venetian + 3 blackjacks in a row + pool parties + light batons at Marquee + free champagne and getting out of our minds at Surrender + shady deals to XS + 10-10 on the craps table + MR. BIG = best weekend ever LEGGO). And now, a few words on the food:
BUFFETS GALORE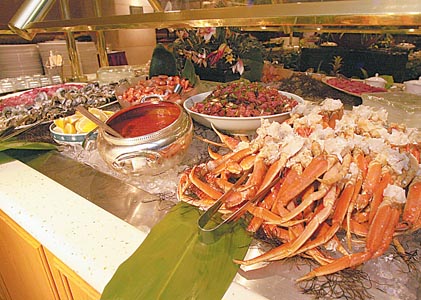 Vegas is undeniably an all-you-can-eat goldmine. When I went to Vegas with my family when I was still underage, we tried out a bunch at the older Vegas hotel/casinos and I didn't see them as all that different from the ones in Atlantic City. Having dined at the buffets at the Bellagio and Aria in my 21-year-old days, however, I can safely say that Vegas buffets are basically the best thing ever for 4 reasons:
Every kind of food you ever wanted (and good food too)
1/2 a lobster included in your dinner (which was the case at Aria)
Unlimited champagne by day and wine by night
Keno (just kidding, but they do have Keno while you eat at the Bellagio)
In-N-Out Burger

As a true East Coast girl who has only ventured to California once in her life for half-a-day, I had never experienced the always-hyped goodness of a Double-Double from In-N-Out until I went to Vegas. While I am still a Shake Shack girl (the Shack Stack is still the best thing ever in my opinion), I must say that In-N-Out is pretty freaking amazing. Add animal fries and it's definitely a calorie-loaded cholesterol spike waiting to happen, but at least it's a drool-inducing, possibly even orgasmic calorie-loaded cholesterol spike waiting to happen.
Somehow, despite a weekend of eating everything pictured above and then some, I actually lost weight. Regardless, excuse me while I attempt to detox all the crap I ingested over the weekend. Here's to grilled chicken, salmon, whole grains, veggies, and lots of running until Labor Day Weekend wooooo! #sarcasm