Yuji Ramen Omakase takes ramen to a whole new delicious level
May 5, 2013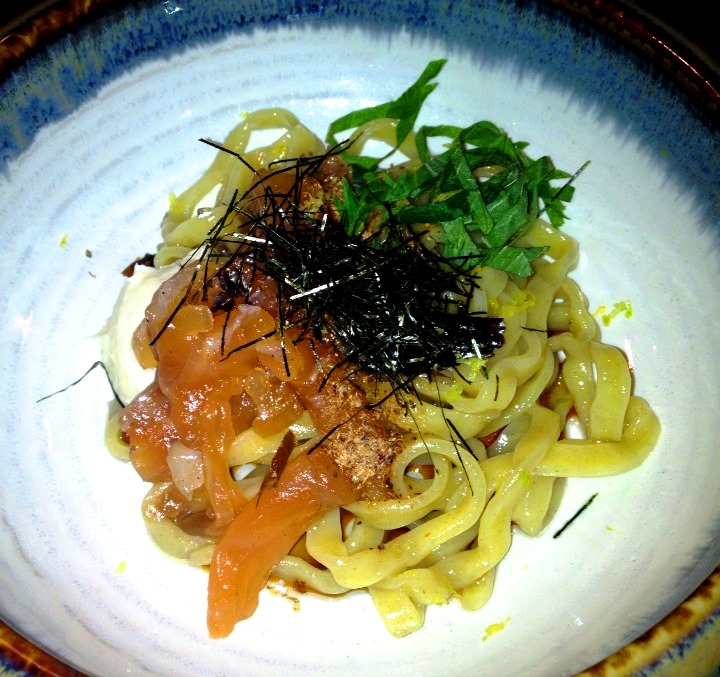 House cured salmon with camembert cream cheese. Squid ink oriechette. Uni and miso ravioli. Smoked mussel infused broth served in a French press. I repeat, a FRENCH PRESS full o' broth. These are just some of the incredibly inventive preparations of ramen that diners get to enjoy during the omakase at the Yuji Ramen test kitchen, currently stationed at Whole Foods Bowery. Yuji Ramen began as an experiment of Chef Yuji Haraguchi. While Yuji has always explored the possibilities of preparing seafood as a chef, he told me that he began making ramen only a year ago after realizing that in the years and years that the classic dish has been around, "no one has ever done anything new with ramen." So after a full year of testing new recipes and dishes, he unveiled his unique creations at Smorgasburg, where his stand drew long lines and almost always sold out at the outdoor food market.
Since the beginning of April, Yuji Ramen has been featured at Whole Foods Bowery, where their second floor mini food court has had a dining counter that rotates various Smorgasburg vendors. While you can go during lunch and order off the a la carte menu, Yuji has taken his residency as an opportunity to host a nightly dinner omakase, or chef's tasting, featuring 5 kinds of ramen in completely different styles with most not found on their lunch menu. The ticketed dinners sold out in only a few days for Yuji's original run through the end of May, but after such success, they've extended with a permanent residency.
So, is the $40 dinner worth it? I think you can already guess my answer to this, but I'll give you some additional evidence and let you decide. The first course of Yuji's omakase featured their salmon mazemen, which is described as a new kind of ramen that has no broth and instead flavors the noodles with sauces and oils. This salmon version was like taking the classic bagel with lox and cream cheese on a trip to Japan, with the house cured salmon paired perfectly with the creamy camembert, springy noodles, sprinkle of seaweed and scallions, crunchy salmon skin, and small douse of a shoyu soy sauce based broth at the bottom of the bowl. This preparation is available in a full-sized portion at both at the Yuji lunch counter and at Smorgasburg in case you'd prefer to go a la carte at $9 a bowl.
Other dishes include the squid ink oriechette pasta in a squid ragu, turning a classic Italian preparation into a Japanese seafood delight and a ramen ravioli with their absolutely delicious combination of uni, miso, and yuzu (pictured at the top of this post).  Another unique preparation was Yuji's take on combining the flavors of east coast and west coast oysters, where he creates a cold gelatinous broth evoking the delicious brine of oysters that melted when mixed with the hot noodles (pictured above). The slightly sour taste of the broth was balanced nicely with the thick cut bacon, oyster, and noodles.
My personal favorite was the final dish, where Yuji blowtorched the shit out of a tray of mussels (photo cred: NY Daily News) to add smoky flavor, then added them into a French press and poured in their daily shoyu ramen broth which is cooked with bones sourced from the Whole Foods butcher counter for flavor. Diners then pour the broth from the French press into their bowl of just cooked noodles and mussels for a delicious new take on classic ramen.
All in all, I'd highly recommend experiencing the omakase. It's something that definitely goes into the "#sonewyork" category but actually pays off with delicious food that you've likely never experienced before. Chef Yuji is also just a really nice guy who welcomed all of our questions, made great conversation, and happily invited me behind the counter for a photo. He also told us about his next plans for Yuji Ramen, where he's opening a brick-and-mortor shop in Williamsburg called Okonomi in July or August, where he'll continue his chef's tasting dinners and also expand beyond ramen into other Japanese dishes.
So if you're a ramen lover or just someone who likes to try new (and yummy) things, grab a ticket to one of Yuji Ramen's omakase dinners, check them out at Whole Foods Bowery, or wait it out for their brick-and-mortor coming soon.