Game Day Appetizers: Lean Turkey Buffalo Meatballs with Cool Ranch Doritos "Breadcrumbs"
February 5, 2014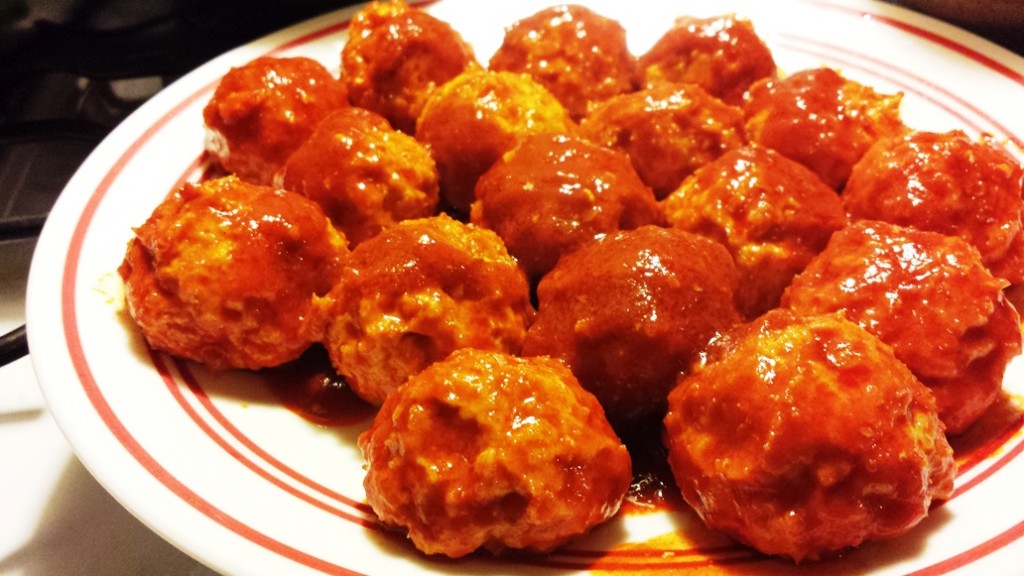 In my personal opinion, Super Bowl Sunday is one of the greatest days invented by mankind. It pits the 2 greatest teams from my favorite sports league against each other, it let's you stuff your face without feeling bad about it, and it drives companies and agencies to try to create the best commercials of the year (which I particularly enjoy as a marketer). Last year, I wrote about how I took care of the Super Bowl feast thanks to Plated, with all the ingredients and recipes delivered straight to my door. Now that I've amassed a fair amount of skills in the kitchen though, I decided to make everything myself. While this year's game unfortunately ended up being a totally boring blowout with mostly lackluster ads, it still provided the opportunity to test out some recipes and satisfy all my game day cravings.
Having successfully made regular turkey meatballs a few times, I wanted to Super Bowl-ify my recipe by making them with Buffalo sauce and came up with this genius idea: Cool Ranch Doritos "breadcrumbs" (the fact that I came up with this is also telling of how much Taco Bell I eat). While you typically use regular breadcrumbs to keep your meatballs from falling apart, using crushed up Cool Ranch Doritos adds that bit of ranch flavor that complements the hot sauce so well, plus a subtle hint of Dorito goodness.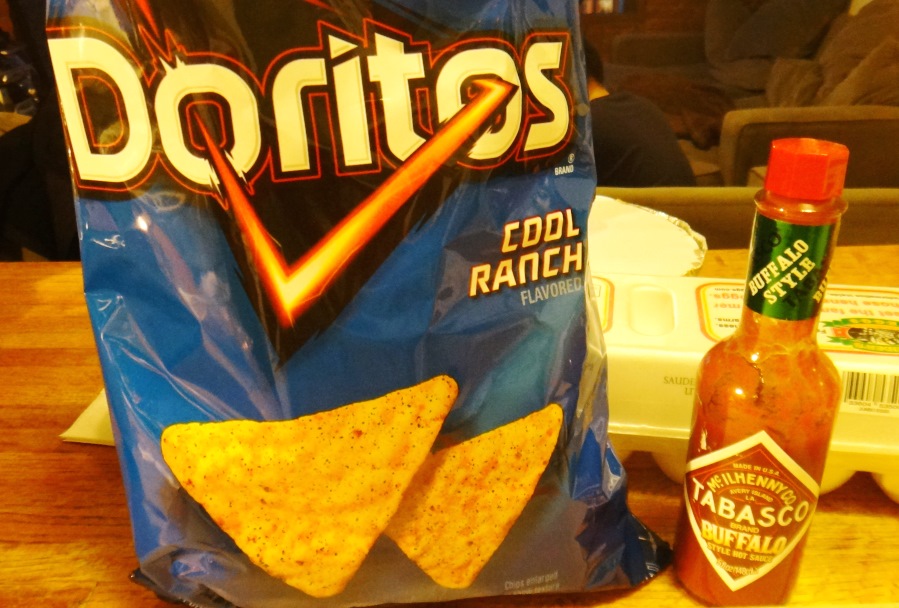 Using lean turkey, these buffalo meatballs are also a healthier alternative to often-fried buffalo wings and only use a couple handfuls of Doritos so you don't have to feel snack shame while still packing a ton of flavor and not being dry. You can even make the meat mixture ahead of time by chopping the veggies and mixing the ingredients the day before, that way you don't have to deal with knives on game day after you've already had a few Bud Lights (official sponsor of the Super Bowl! Just kidding, I'd rather drink Newcastle #loveyouAnnaKendrick).
Lean Turkey Buffalo Meatballs with Cool Ranch Doritos "Breadcrumbs"
These lean turkey meatballs use crushed Cool Ranch Doritos for breadcrumbs and are coated in buffalo sauce, making them a great game day appetizer
Ingredients
1 lb. lean ground turkey
1 5 oz. bottle of your favorite hot sauce (I used Tabasco's Buffalo sauce but Frank's Red Hot is a great option)
2 tbsp. butter
1 stalk celery, chopped finely
1/2 a carrot, or 5 baby carrots, chopped finely
12-15 chips of Cool Ranch Doritos (substitute 1/4 cup regular breadcrumbs)
1 large egg
1/2 tsp. salt
1 tsp. fresh ground black pepper
1 tbsp. cayenne pepper, divided
Ranch or blue cheese dressing
Instructions
Preheat oven to 350 degrees F (175 degrees C)
Place Cool Ranch Doritos in a sandwich bag and crush to breadcrumb consistency
Combine ground turkey, finely chopped celery and carrots, Cool Ranch Doritos "breadcrumbs," a quarter of the hot sauce, egg, salt, pepper, and 1/2 tbsp. of cayenne pepper in a large bowl. Mash ingredients together with your hands until fully combined. If mixture is not holding together, add additional crushed doritos. (This mixture can be made the day before and refrigerated)
Roll mixture with your hands or use a small ice cream scoop to create 1 inch diameter meatballs
Place meatballs on a a baking sheet lined with parchment paper or lightly coated with cooking spray or olive oil spray
Bake for 15-20 minutes until lightly browned on the outside
While meatballs are baking, make the buffalo sauce by melting the butter and combining with hot sauce and remaining 1/2 tbsp. of cayenne pepper
Coat cooked meatballs in buffalo sauce and serve with ranch or blue cheese dressing
http://indulgenteats.com/2014/02/05/game-day-appetizers-lean-turkey-buffalo-meatballs-cool-ranch-doritos-breadcrumbs/