Kale and Ricotta Breakfast Pizza
February 5, 2014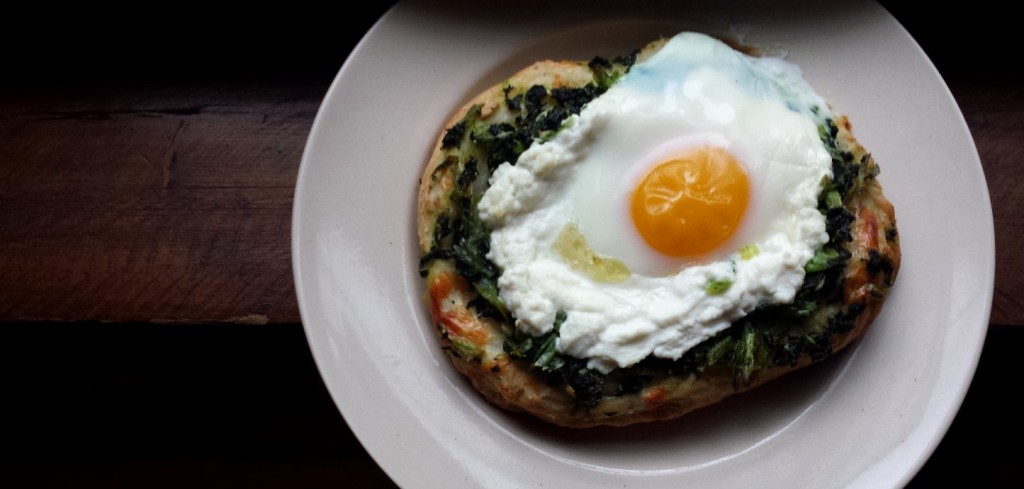 As it's currently a wintry mess in NYC, I am working from home to avoid having to walk through all the slush. The beauty of working from home, aside from being able to stay in your PJs, is definitely better food options (No work cafeteria! No having to eat the same boring soup or pay for a $12 salad again!). While I'll usually just go to my #1 Seamless, I decided I should give the delivery guy a break. I also wanted to make breakfast pizza to use up the rest of the pizza dough and ricotta I had in the fridge from a balsamic red onion and ricotta pizza I made the other day (recipe to come for that one).
Breakfast pizza is probably one of my favorite things because, hello, who doesn't love a runny egg on top of carbs and cheese? The sad thing is that there are very few places in the city that serve breakfast pizza, let alone deliver it, and it's typically only served for weekend brunch . So lately, I've been experimenting with making them myself, using everything from bacon and kale to brussels sprouts to Italian sausage from one of my favorite places in the city, Di Palo's in Little Italy (I also get my pizza dough from there). This time around, I had some kale and leftover ricotta so I put those delicious things together into this pizza recipe below. The garlicky kale and creamy ricotta go so well with a nice and runny egg. If you don't have any pizza dough, you could also easily make this with regular sliced bread, toad in a hole style, and top it with the kale and ricotta. But let's face it, you know you'd rather have the pizza so go to the grocery store and buy some dough =)
Kale and Ricotta Breakfast Pizza
Garlicky kale, creamy ricotta, and eggs top this breakfast pizza. This recipe is for 1 individual serving, so multiply the measurements if you're making more.
Ingredients
1 serving of pizza dough (2-3 inch diameter ball)
1 egg
~1 ounce kale, rinsed, patted dry, stems removed, and chopped
2-3 tbsp. of whole milk ricotta
2 tbsp. mozzarella cheese (shredded or fresh will both work)
~1 ounce grated Parmigiano-Reggiano or other parmesan cheese
1 clove garlic, diced
1 tbsp. extra virgin olive oil
Salt and fresh ground pepper
Instructions
Preheat oven to 425 degrees F (220 degrees C)
Heat 1/2 tbsp olive oil over medium heat and saute chopped garlic for 30 seconds. Add kale and a splash of water, season with salt and pepper. Cook for 3-5 minutes while stirring until kale is wilted and water has evaporated. Remove from heat, transferring kale to a bowl and mixing in some parmesan cheese. Set aside.
Roll and stretch out pizza dough onto a parchment paper-lined tray, forming a 6-7 inch oval with dough less than 1/4 of an inch thick. Coat the dough with remaining 1/2 tbsp of olive oil.
Sprinkle mozzarella and parmesan onto center of pizza dough, leaving the edge uncovered to form the crust
Spoon sauteed garlic/kale mixture along the crust, then spoon ricotta along the inside of the kale, leaving the center uncovered - you want to create a barrier with the kale and ricotta so the egg will not spill out over the edge of the pizza dough. It should look like this.
Transfer the pizza onto a pizza stone if you have one, otherwise leave on the parchment paper-lined tray and bake for 8 minutes.
While pizza is baking, separate the egg yolk and egg white. After the pizza has baked for 8 minutes, gently spoon the egg yolk into the center of the pizza, then add enough egg white to fill the hole but not too much that it overflows (though if it does, no worries - the parchment paper will catch any spill over).
Bake pizza for an additional 10 minutes, or until the egg white has cooked (yolk will not be cooked through) and crust is golden. Serve immediately, seasoning with a pinch of salt and cutting through the egg to get a nice runny yolk.
Notes
If you make this recipe, I'd love to see the final product. Tag your photos on Instagram with #moderateindulgence and @jenbalisi so I can see them!
http://indulgenteats.com/2014/02/05/kale-ricotta-breakfast-pizza/