Go for the Gold: High-Tops, Headphones, & Statement Accessories in My Favorite Metallic
February 7, 2014 by Jen Balisi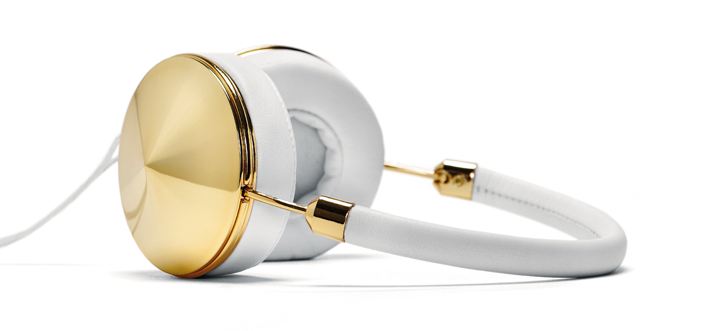 While the upcoming Winter Olympics in Sochi aren't looking so pretty, the athletes participating will still be competing for that hunk of metal of their neck, which is inspiring this Friday Five. I wanted to highlight one of my favorite things in the world: the color gold. I loooove gold. I wear it on my wrist every day, on my neck every weekend, on my ears whenever I listen to music, and after some recent purchases, will be wearing it on my feet every week. Here's a look at a few of the things I own and some of the things on my wish list in the shiny shade of gold.
1. Gold High-Tops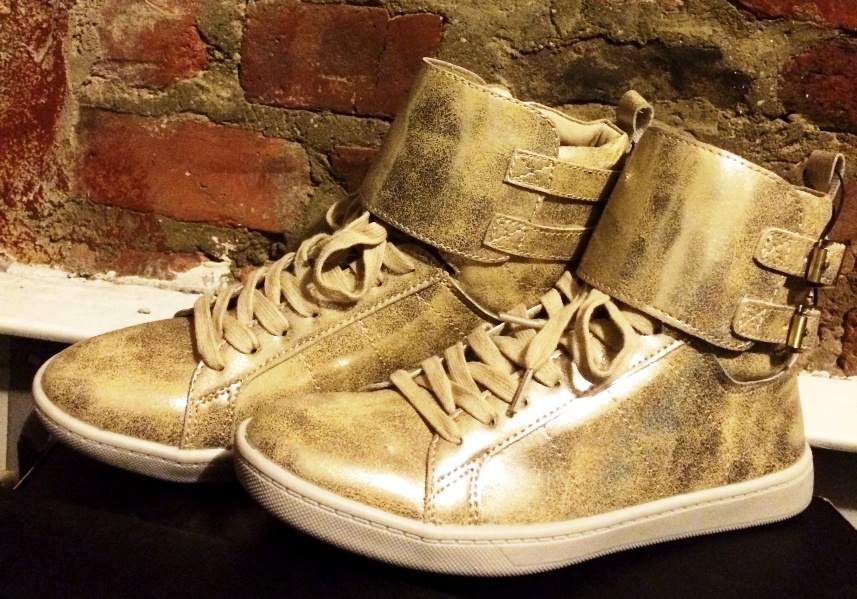 After lusting over the gold Nike Air Maxes, which are pretty much only available on eBay, these Forever 21 high tops were the perfect find. They're comfortable, provide just the right amount of flash, and best of all they were less than $40. I plan to make them my new weekend standbys alongside my Nike Frees.
If you're looking for something a bit less in your face, I found these black and gold high tops pictured below at Forever 21 as well. The quilted black sneakers with just the right amount of gold are perfectly on trend and also less than $40.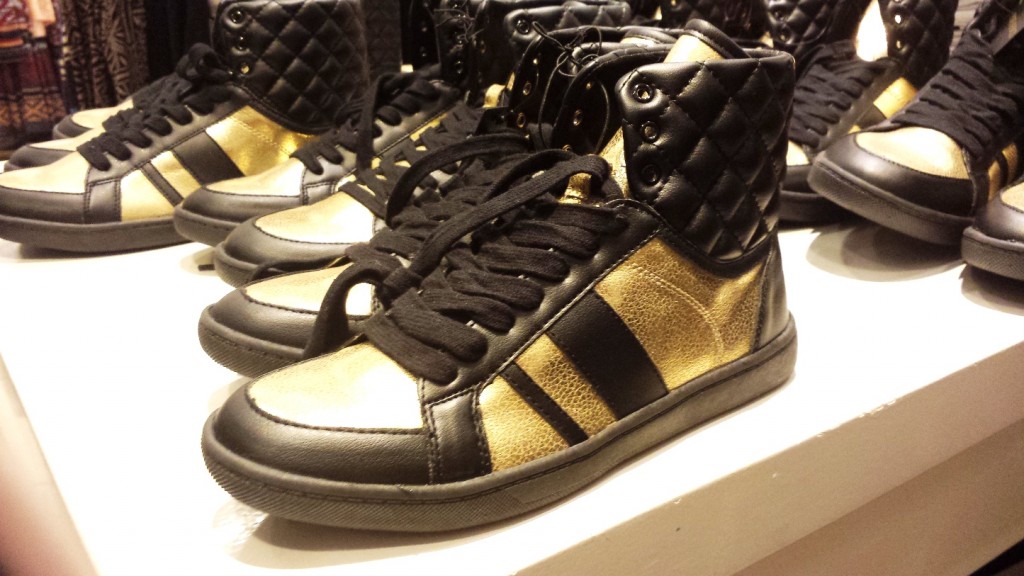 2. Frends Taylor Over the Ear Headphones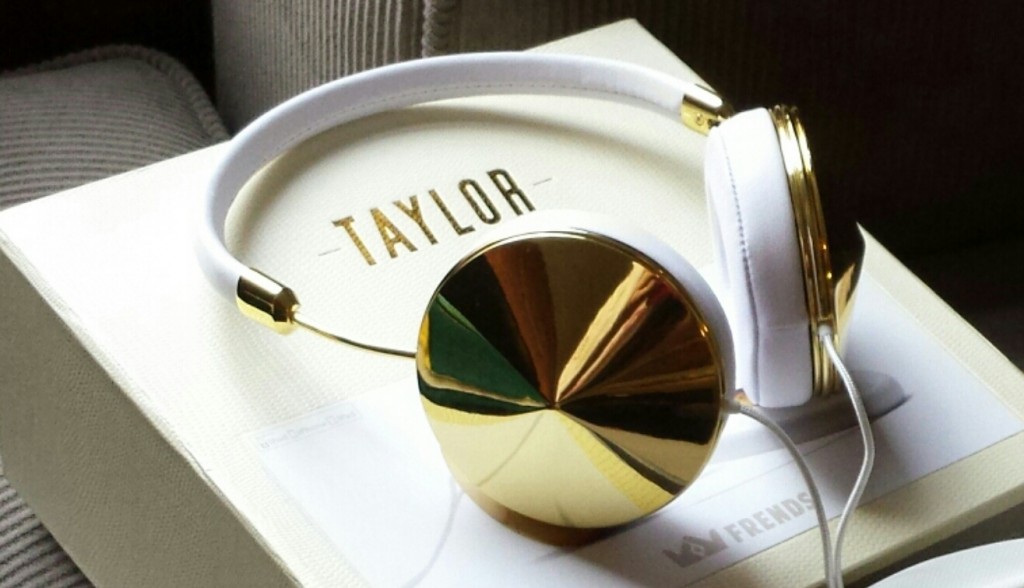 When I first saw these Frends Taylor Headphones, I knew I had to have them. The Swedish company designs a variety of headphones with both sound quality and aesthetic in mind. While they have in ear headphones, it's their Layla and Taylor designs that are truly lust-worthy. With a thin leather headband and choice of silver, rose gold, gold, and even oil slick colored plates on the cushioned ear pieces, the headphones are a perfect balance of fashion and function. As a music lover, I can attest to the sound quality, which I found to be very similar to Beats by Dre.
The company even has a collaboration with designer Rebecca Minkoff dubbed Frends with Benefits. The black and gold headphones come with removable plates that can be swapped for the aquamarine holographic leather embossed plates as pictured above. They even sell separate interchangeable plates with different patterns like tortoise, black enamel, and stingray-embossed gold so you can swap out the plates as you please.
3. Gold Ankle Booties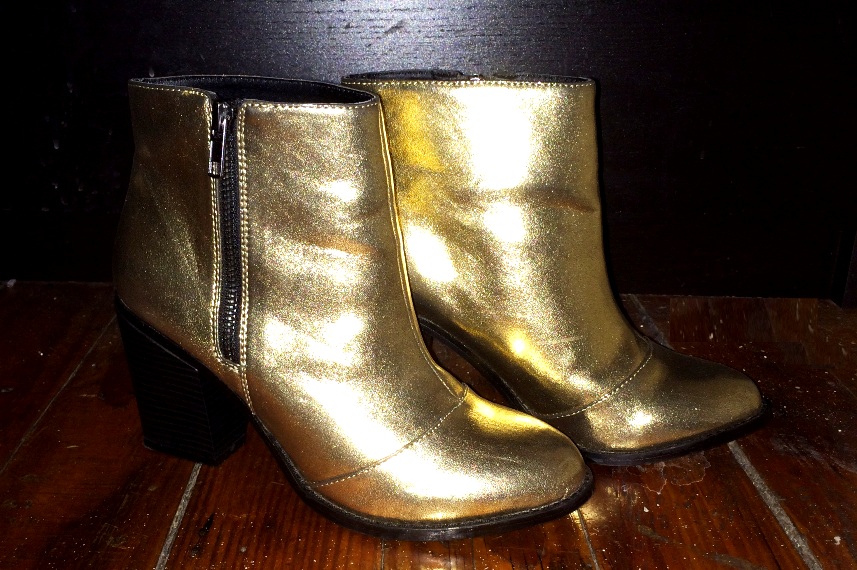 As a short girl of 5 foot zero, I love ankle booties. They provide a bit of height without cutting off your height and making you appear shorter the way calf or knee high boots do. SO when I found these Shoe Cult Revival boots pictured above, it was like Nasty Gal read my mind.
While my Shoe Cult booties are now sold out, the gold Jeffrey Campbell Cuevas Buckled Bootie are pretty amazing as an alternative – they are absolutely perfect for a night out with a 1.5 inch platform for additional comfort and are made to stand out in a crowd.
4. Statement Necklaces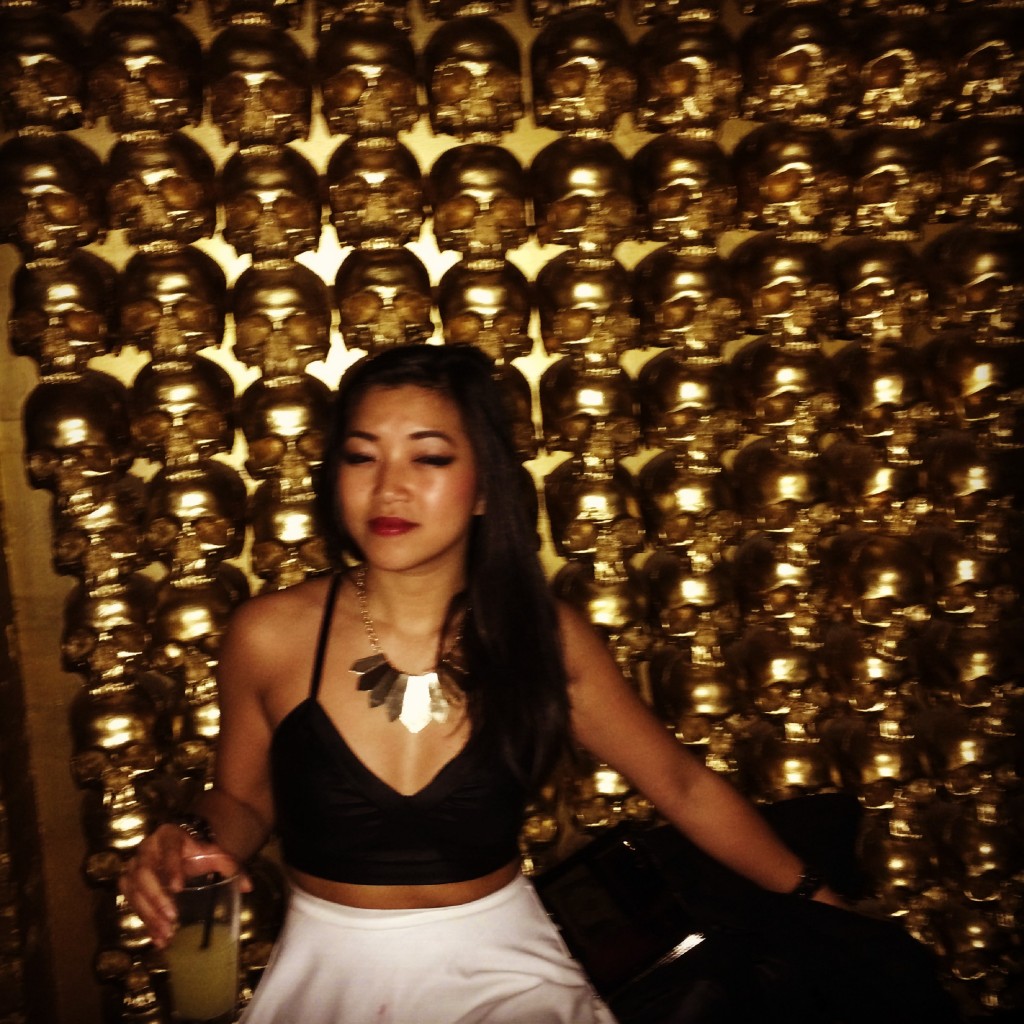 I wear some form of a gold necklace every single day, but I usually save my big, bold statement necklaces for the weekends. They're the perfect way to upgrade a basic outfit with little effort. The one I'm wearing in the picture above (which was appropriately taken at GoldBar – excuse my closed eyes but I'm no good with flash) was purchased at a random jewelry store on Broadway, but I rounded up a few alternatives that you can find online.
5. Gold Accented Handbags
We can probably thank Alexander Wang for bringing us a plethora of gold-accented handbags at every price point. While the designer's luxe Prisma Leather Tote with gold hardware in the bottom corners is undeniably chic, I've been eyeing these clutches and handbags from Nasty Gal. The Raphaelite Box Clutch is the perfect size for a night out, and the Show Off Duffle Bag provides a unique bag for the beach or a pool party to keep your valuables dry.