Healthy Quinoa Fried "Rice" with Fried Egg and Avocado
February 12, 2014 by Jen Balisi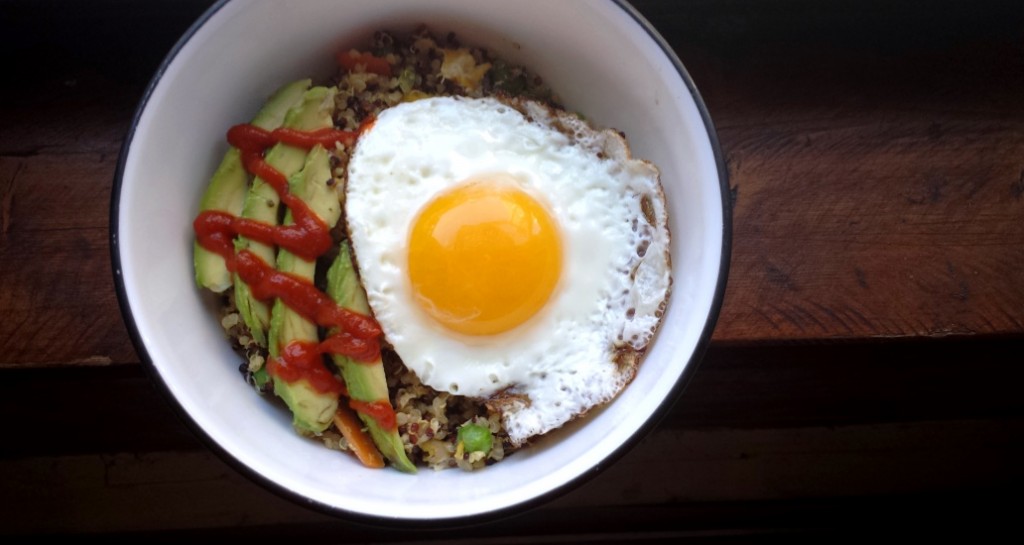 I am a total sucker for fried rice. Yes, your standard fried rice from the Chinese takeout spot is a total carbo-loaded, oil soaked, sodium-heavy gut bomb, but damn, is it good. So while I will happily eat an entire carton of pork fried rice, I still try to opt for healthier versions every once in a while, whether that be cauliflower fried rice or in this case, quinoa fried rice. Quinoa, which is pronounced keen-wah (not queen-oh like that Bud Light commercial) is one of the healthiest carbs on the planet. The whole grain is a "complete" protein, containing all 9 of the essential amino acids, and it's also high in fiber, meaning it won't leave you hungry in an hour the way your typical bowl of white rice will. Quinoa also has a more earthy, almost nutty taste, which I personally really like as it doesn't require as much seasoning to give it flavor.
This Asian-inspired bowl takes quinoa and fries it with garlic, onions, carrots, peas, and an egg for a pretty simple yet flavorful dish. If you have other vegetables in your fridge, you can feel free to add them – I'd recommend red bell pepper, snow peas, and zucchini. I love a perfectly fried egg, so I topped the quinoa with one to add some runny yolk to the mix (can you say #yolkporn?). Finally, a few slices of avocado topped with sriracha adds creaminess, spice, and healthy fats to this quinoa fried rice. You're also welcome to add meat or shrimp to bump up the protein even more.
Healthy Quinoa Fried "Rice" with Fried Egg and Avocado
Upgrade your standard fried rice with this quinoa fried rice, topped with a fried egg with a perfectly runny yolk and creamy avocado, combining complete proteins and heart-healthy fats in this Asian-inspired recipe.
Ingredients
1/2 cup uncooked quinoa, rinsed
1 cup water (you can use low-sodium chicken stock if you have it)
1/4 small onion, diced
1 small carrot or 4 baby carrots, peeled and diced
1/8 cup frozen peas, thawed
3 eggs
1 clove garlic, minced
1/4 of a pitted avocado, sliced into wedges
1 tbsp. low-sodium soy sauce
1 tsp. sesame oil
Pinch of salt, more to taste
1 tsp. fresh ground black pepper
2 tbsp coconut oil or extra virgin olive oil (I used Trader Joe's Coconut Oil Spray)
1 tsp. grated ginger (optional)
Sriracha to taste (optional)
Instructions
Rinse quinoa in cold water.
In a small saucepan, bring quinoa, 1 cup water or chicken stock, and a pinch of salt to a boil, then reduce heat to low, cover, and simmer for about 15 minutes or until all water has been absorbed. Remove from heat and fluff lightly with a fork. Set aside.
Heat 1 tbsp. oil in a large skillet over high heat. Add onions and carrots and cook for 2 minutes or until onions start to become translucent. Add garlic, ginger, salt, and 1/2 tsp. pepper and cook for another 2 minutes, stirring frequently.
Add the quinoa to the skillet, mixing with the vegetables, then push quinoa to the edges to make a well in the center of the pan. Crack one of the eggs into the well and scramble it to combine the yolk and egg white. Once egg begins to cook, mix together with the quinoa, then add peas, soy sauce, sesame oil, and remaining 1/2 tsp. of black pepper. Stir well to combine all ingredients, adding sriracha and additional salt to taste (optional). Transfer quinoa to serving bowl and set aside.
In the same skillet, heat remaining tbsp. of oil over medium heat. Crack the remaining egg and drop it gently into the oil so the egg keeps a round shape. Cook until the egg white has set, leaving the yolk runny. While the egg is cooking, you can slice the avocado into wedges and place on top of quinoa. Top with sriracha if desired.
Once the egg is cooked, slide a spatula under and gently place the egg on top of the quinoa. Serve immediately, breaking into the yolk and avocado and stirring all ingredients together.
Notes
If you make this recipe, I'd love to see the final product. Tag your photos on Instagram with #indulgenteats and @indulgenteats so I can see them!
http://indulgenteats.com/2014/02/12/healthy-quinoa-fried-rice-fried-egg-avocado/