Brussels Sprouts and Bacon Hash Browns
February 13, 2014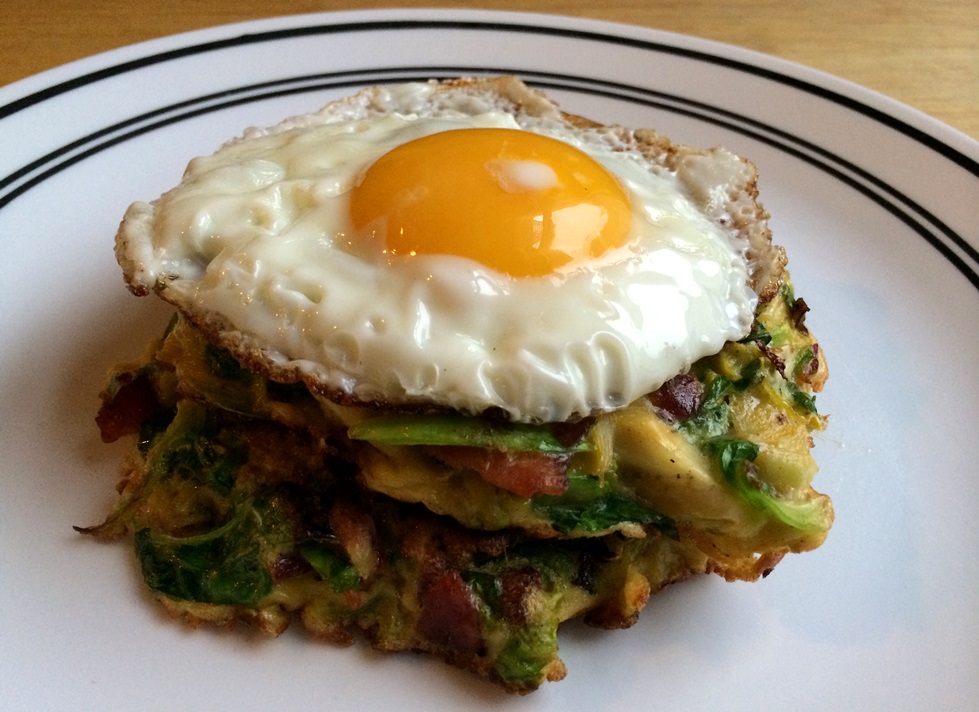 As unbelievably sick and tired as I am of this terrible weather, another snowstorm = another day working from home = another opportunity to get creative with my breakfast. As you may have already guessed from one of my previous recipes, I'm a big fan of brussels sprouts. On a recent grocery trip, I ended up buying a giant, 3 pound bag of them, and so I wanted to put a dent into my inventory and try something new with them instead of the standard roasted version, which led to this breakfast experiment for these Brussels Sprouts and Bacon Hash Browns that thankfully, turned out so damn good.
In case you haven't been able to tell from the last time I worked from home or my most recent recipe, I'm also a huge fan of eggs, so this recipe uses eggs both as the binding agent to keep the hash browns together and as a cherry on top of the whole thing. The extra fried egg on top is optional, as the recipe already has about 1.5 eggs per serving, but if you have enough eggs, there's really no harm in finishing the dish off with some runny yolk.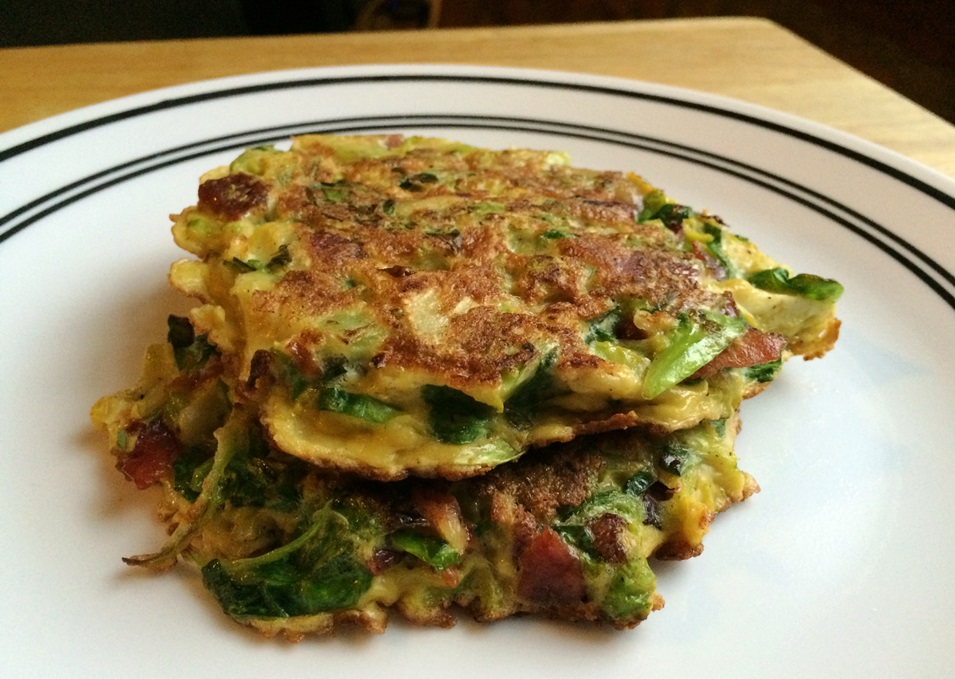 While I'm using the term hash browns a bit figuratively, as there's no potato used in this recipe, the brussels sprout and bacon fritters end up looking similar to hash browns thanks to the shredded leaves of the brussels sprouts and the brown color they end up having due to the egg. I also like to think of these as a bacony-veggie alternative to your standard carbo-loaded potato hash browns. Overall, these are a somewhat healthy, paleo-friendly, and most importantly tasty breakfast option (they're also great with hot sauce if that's your jam!).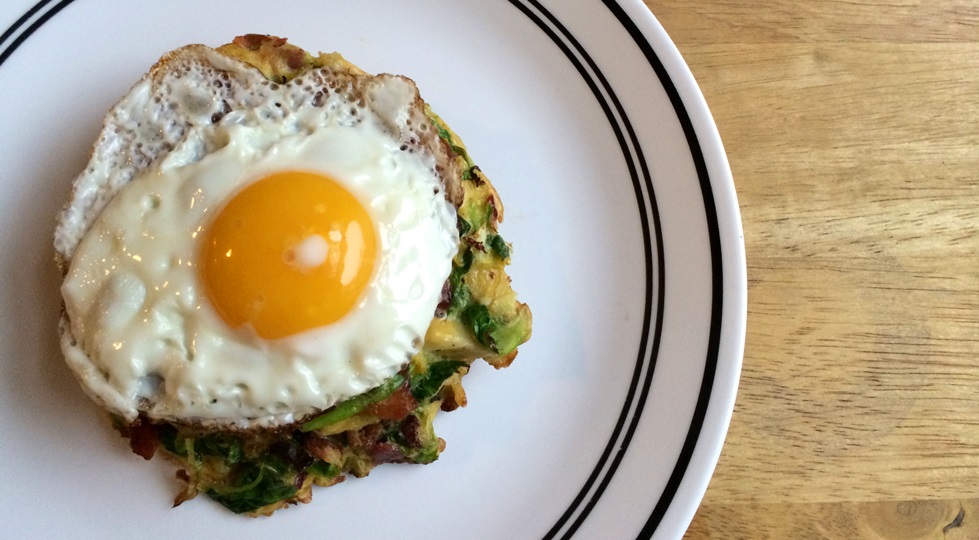 Brussels Sprout and Bacon Hash Browns
Shredded brussels sprouts are sauteed in bacon fat and combine with crispy chopped bacon and egg to form these brussels sprouts and bacon hash browns.
Ingredients
3/4 lb. brussels sprouts, rinsed, brown ends removed, shredded
3 slices bacon
2 eggs, 1 egg white (additional eggs if you want to serve topped with eggs in your favorite style)
2 tbsp. extra virgin olive oil
2 tsp. fresh ground pepper
1 tsp. salt, more to taste
Grated parmesan cheese (optional)
Instructions
Lay bacon strips flat in a large, cold non-stick skillet, then cook over low heat until it starts to release from the pan and curl up. Turn strips over and cook until crispy. Remove from heat, using tongs to transfer bacon to a paper-towel lined plate to absorb grease. Chop up the bacon into small pieces and transfer to a mixing bowl. Set aside.
While bacon is cooking, cut the brown ends off the brussels sprouts, then shred brussels sprouts by either using a food processer, or cutting the brussels sprouts in half, then slicing into thin strips.
Pour out the grease in the skillet, reserving 1 tbsp. of bacon fat. Add 1 tbsp. of olive oil and turn heat to medium. Add shredded brussels sprouts, salt, and pepper and saute for 5 minutes, stirring occasionally.
While brussels sprouts are cooking, scramble 2 eggs and 1 egg white. Add raw scrambled eggs, sauteed brussels sprouts, and a sprinkle of grated parmesan cheese (optional) to the mixing bowl with the chopped bacon, stirring all ingredients to combine and disperse egg evenly.
Heat 1 tbsp. olive oil in the skillet over medium-high heat. Spoon brussels sprout mixture into the pan and flatten to create a hash brown 3-4 inches in diameter and about 1/8 inch thick. The mixture should be enough to create 4 hash browns of this size.
Cook hash browns for 3-4 minutes (you should be able to slide a spatula under the hash brown cleanly - if not, let it cook longer). Flip and cook on the other side for another 3 minutes until the hash brown is brown on both sides.
Serve immediately with your favorite style of eggs.
Notes
If you make this recipe, I'd love to see the final product. Tag your photos on Instagram with #moderateindulgence and @jenbalisi so I can see them!
http://indulgenteats.com/2014/02/13/brussels-sprout-bacon-hash-browns/