Fat Tuesday Turned Skinny: Healthy Creamy Cajun Chicken Pasta
March 4, 2014 by Jen Balisi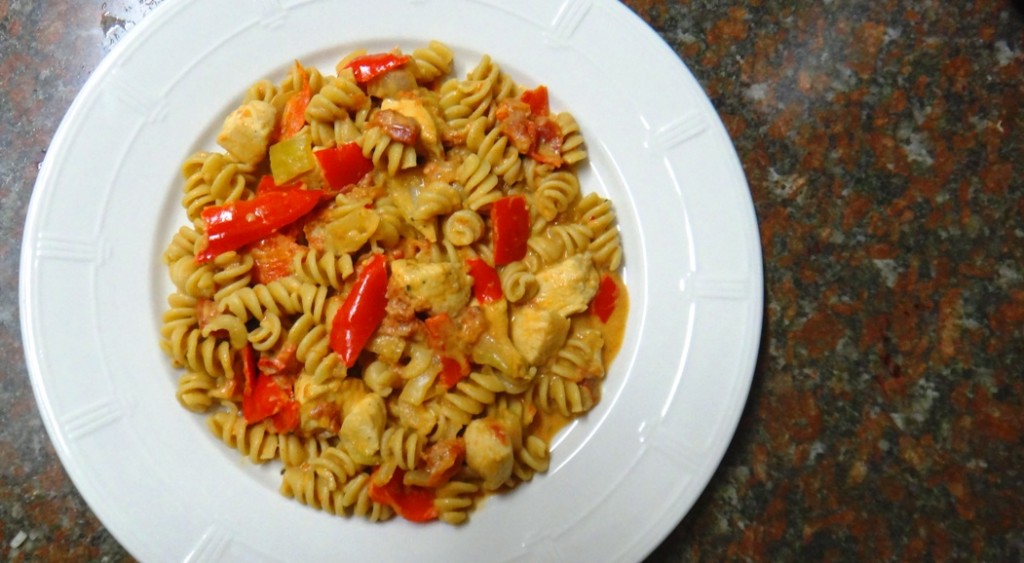 With Mardis Gras and Fat Tuesday celebrations in the air, I wanted to be able to enjoy the flavors of Louisiana without actually feeling fat. Luckily, this creamy cajun chicken pasta does just that, providing a super easy dinner with less calories and fat than the standard recipe without sacrificing on taste. It's got serious flavor with a big kick thanks to generous amounts of cajun seasoning and red pepper flakes, while keeping things on the lighter side by substituting heavy cream with Greek yogurt, which not only keeps the sauce thick but also adds a nice tang to the sauce as well as additional protein. Chunks of chicken breast and sweet red pepper add additional protein and fiber to keep you full longer – you can add additional veggies like mushrooms or broccoli to up the fiber intake. You could also substitute the chicken for shrimp for another delicious and still healthy spin.
Healthy Creamy Cajun Chicken Pasta
This creamy Cajun-inspired pasta provides big flavors, a big kick, and protein to boot while keeping things light by substituting heavy cream for tangy Greek yogurt.
Ingredients
8 ounces (about 1/2 a package) uncooked whole wheat fusilli (or substitute for your choice of pasta)
2 boneless skinless chicken breasts (about 1 lb.), cut into 1 inch cubes
1 14.5 oz. can of diced tomatoes in juice
2 medium red bell peppers, sliced
1/2 medium yellow onion, diced
2 cloves of garlic, minced
4 tbsp. low-fat Greek yogurt (I used Fage Total 2%)
1 tbsp. flour
2 tbsp. Cajun seasoning (or to taste), store-bought or made from scratch
1 tsp. dried basil
1 tsp. garlic powder
1 tsp. salt (more to taste)
2 tsp. fresh ground pepper (more to taste)
Cooking spray or olive oil spray
2 tsp. red pepper flakes (optional but highly recommended if you can take the heat)
4 tbsp. grated Parmesan cheese (optional but highly recommended)
Instructions
Season chicken with 1 tbsp. Cajun seasoning, garlic powder, and salt, tossing to coat evenly.
Cook pasta until al dente, about 9 minutes or according to package instructions
Meanwhile, coat a skillet with cooking spray or olive oil spray and put over medium heat. Add chicken and saute until no longer pink, about 5-7 minutes. Set cooked chicken aside.
Add onions to skillet, sauteing for 1 minute, then add garlic and sliced red bell pepper and saute for another 3 minutes.
Reduce heat to low and add chicken, diced tomatoes with juice, flour, basil, remaining tsp. of pepper, remaining tbsp. of Cajun seasoning (or more to taste), and red pepper flakes, stirring to combine and cooking until heated through.
Remove from heat and mix in Greek yogurt and grated Parmesan cheese.
Pour sauce over hot pasta and garnish with additional Parmesan and fresh ground pepper if desired. Serve immediately.
Notes
If you make this recipe, I'd love to see the final product. Tag your photos on Instagram with @indulgenteats and #indulgenteats so I can see them!
http://indulgenteats.com/2014/03/04/fat-tuesday-turned-skinny-tuesday-healthy-creamy-cajun-chicken-pasta/

>