Queen of the Night Review: An Intimate Cirque-Style Supper Club for the Indulgent
March 5, 2014
[EDIT 4/29/14] Gilt City is currently offering the same VIP package I saw the show with for $175. For a limited time, new Gilt City members can also sign up with my referral for up to $50 off their ticket. Do this people! You won't regret it.
Do you enjoy good food? Decadence? What about good spirits, both in terms of liquor and the people you're with? Do you like to be entertained? If you answered yes, then I strongly urge you to buy a ticket to see Queen of the Night before the show sells out but with one caveat: this show is probably not for those who feel ill from the touch of a stranger (more on that later).
Queen of the Night comes from the creators of The Box and the now infamous interactive production Sleep No More (which I reviewed last week here). At its essence, Queen of the Night follows Sleep No More's formula for immersive theater but at a smaller scale, allowing the audience to freely explore the stage and rooms of the intimate Diamond Horseshoe Theater. In most cases though, the actors (distinguished by their costumes of white dress shirts and ties) decide your fate. They'll take your hand upon your arrival (this is where germiphobes may get queasy), separate you from whoever you came with, and lead you to a specific room where you're asked to participate in the scene. And now this where you really need an open mind (and probably a drink, which lucky for you, is provided complimentary at the bar!): depending on where you go, your hand may be caressed by an actor as part of a "ritual" or you may be witness to someone's bath or even partake in a striptease. This is all before the real show even starts.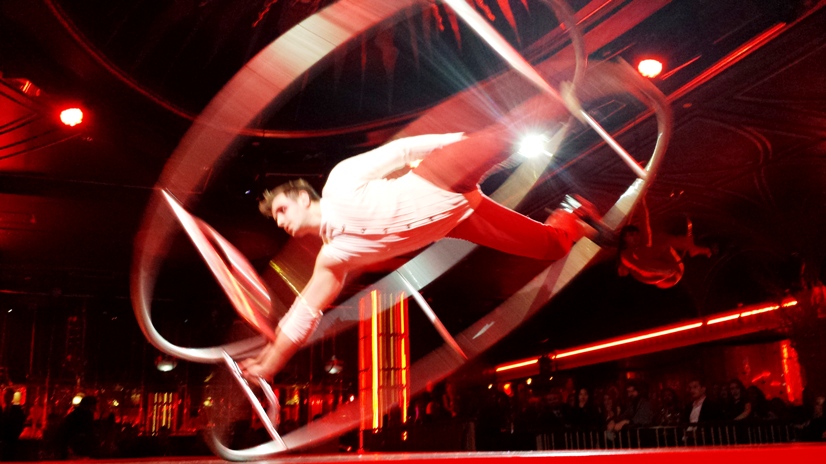 Now about the show – the concept is loosely based on Mozart's The Magic Flute, where you are an attendee of the queen's daughter's party. From dancing to Cirque du Soleil style juggling and acrobatics to audience-aided magic, Queen of the Night aims to keep you entertained throughout the show. If you sit at the inner tables closest to the center stage, you may even get a performer doing their tricks right on your table.
Queen of the Night also keeps you fed: the party is complete with dinner, as actors pass hors d'oeuvres before you sit down to bread, butter, and olives to start as well as ever flowing decanters of wine. The main course arrives a few acts later on giant platters wheeled on carts by the actors. It's a family style feast, as your table is served either giant lobsters in bird cages, a whole suckling baby pig, or beef short ribs almost the size of my forearm with potatoes au gratin and bone marrow.
You only get one of the main courses delivered to your table, so you'll need to do some bartering with neighboring tables (or make friends with the actors) if you want a taste of the other entrees (having successfully tried it all, trust me when I say you're gonna want to go to any means possible to try the beef). There's also a vegetarian option of mushroom risotto, which is served on the biggest paella dish I've ever seen in the big center table of the theatre. Dessert is included and served in its own unique way, but I'll leave that course as a surprise. It was way too dark in the theater to get any good photos, so for high-res snaps of all the food at Queen of the Night, check out this write-up from Grub Street.
I attended Queen of the Night last week with the boyfriend as a surprise early birthday present to him, and we both thoroughly enjoyed it. He even got selected to be "blessed" by the Queen and later, to help with the first act of the show, which always adds to the excitement. The production is definitely perfect for date night, as there's even a segment that encourages the audience to get up and dance resulting in some prom-style slow dancing. But if you're with a fun group rather than a significant other, then a good time can certainly still be had – it will also make the bartering for food part easier.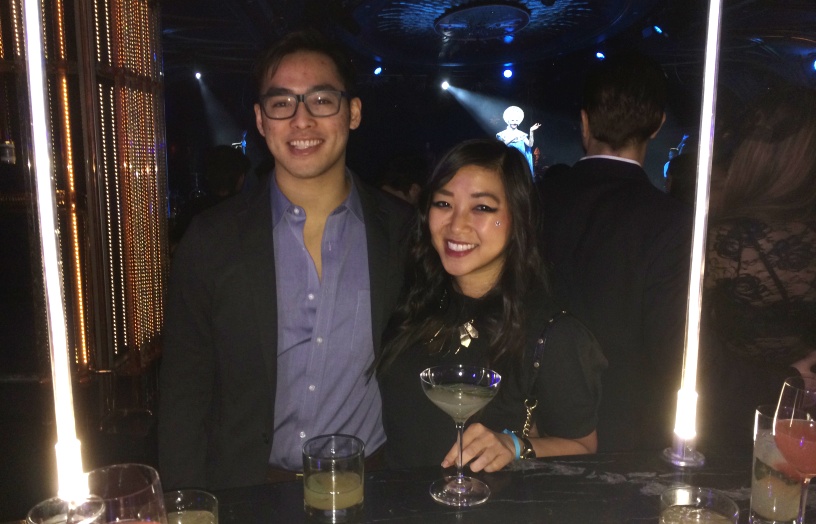 To sum up Queen of the Night, it's part theatrical show, part supper club, part involuntarily volunteering to be an actor in a show. All in all, it's an experience, and it's selling out of its run through the first week of April, so act fast and buy your tickets if you want to call it an experience of your own.