Creamy Avocado Pesto Pasta with Zucchini Noodles
March 9, 2014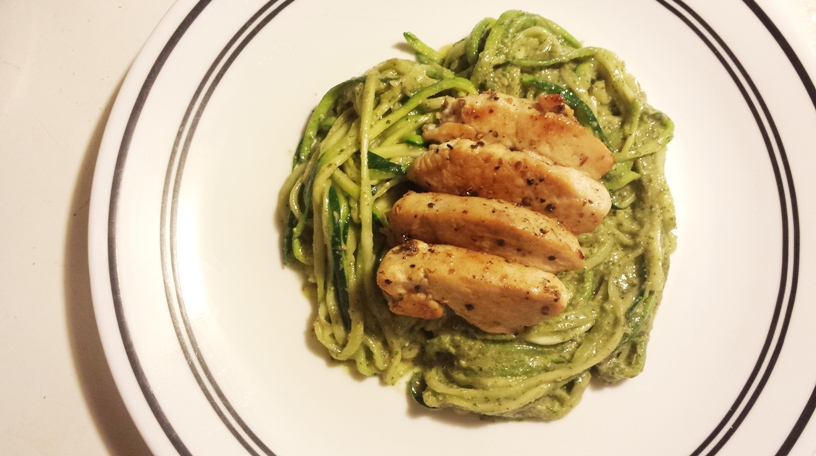 It's my belief that no matter how amateur of a chef you are, you should be capable enough to create and experience homemade pesto sauce. The great thing about pesto is that it's kind of difficult to mess up, as the flavor comes straight from the quality of the ingredients rather than any special cooking techniques. At its core, all you need to make a good pesto sauce is a bunch of fresh basil, olive oil, garlic, a handful of nuts (usually pine nuts, but you can also use pistachios, walnuts, or even almonds), some salt, pepper, and a blender or food processor. You mostly just measure and press a button on your appliance and voila – homemade pesto. The flavor of homemade pesto is also worlds better than the store bought kind in jars, which always ends up being more of a greenish-brown than that bright green that reminds you of the freshness of the ingredients.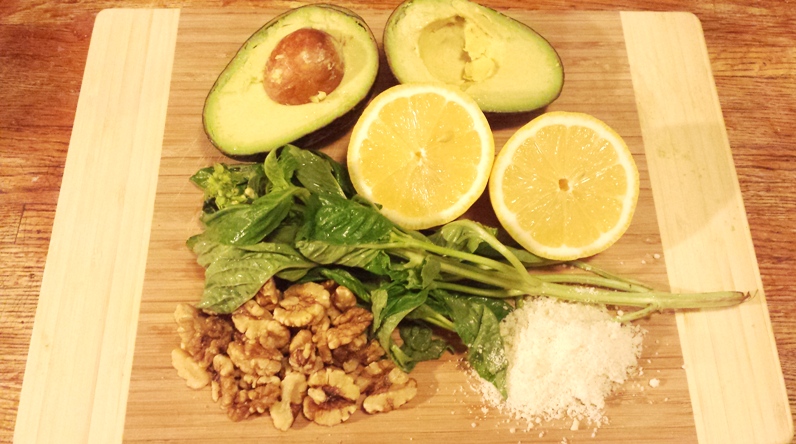 That said, one of my favorite ways take the standard sauce to the next level is with this creamy avocado pesto. The magic of this sauce is that it has that wonderfully creamy consistency that coats every noodle of pasta, but utilizes NO cream. The creaminess comes from the avocado, which adds that buttery texture as well as heart-healthy fats while allowing the flavor of the basil to still shine. The lemon juice in the recipe adds a brightness to the sauce, and it also helps to keep the sauce a vibrant green and prevent the avocado from browning. The parmesan is optional if you're vegan, but otherwise it is highly recommended for some sharp cheesy goodness. All in, this recipe provides 32 g of heart-healthy monounsaturated fat around 600 calories while packing in 15 g of protein and 16 g of fiber per serving, primarily from the avocado, extra virgin olive oil, walnuts, and use of zucchini noodles over regular pasta.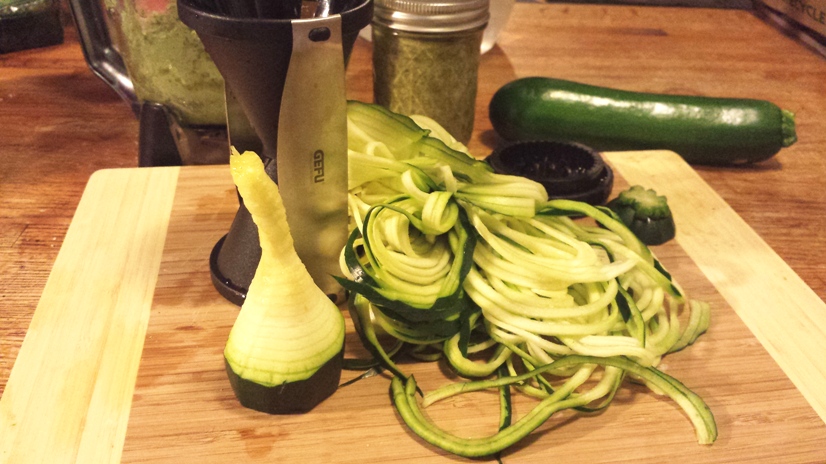 Now about the noodles: yes you can use any kind of pasta here, but the zucchini noodles I used provide the healthiest option that comes with wayy less carbs (if you do use pasta, I recommend a whole wheat spaghetti or fresh linguine). To make the zucchini noodles, I invested in the GEFU Spirelli Spiral Slicer which I found on Amazon for $30 at the time. This simple kitchen gadget is the size of a drinking glass and turns your vegetable into noodles with a simple twist, as you can see in the photo above that used 1 zucchini.
While there are fancier vegetable spiralizers available on Amazon, I really don't have the counter or cabinet space for something that large in my NYC apartment's kitchen. The handheld Gefu provides a smaller alternative that still does the job of creating the zucchini noodles with a few twists, taking about a minute to turn 1 large zucchini into 1 serving of zoodles. That said, if you do have the kitchen space and plan to make zoodles regularly, the fancier Paderno Spiral Vegetable Slicer seems to be well worth the investment based on reviews.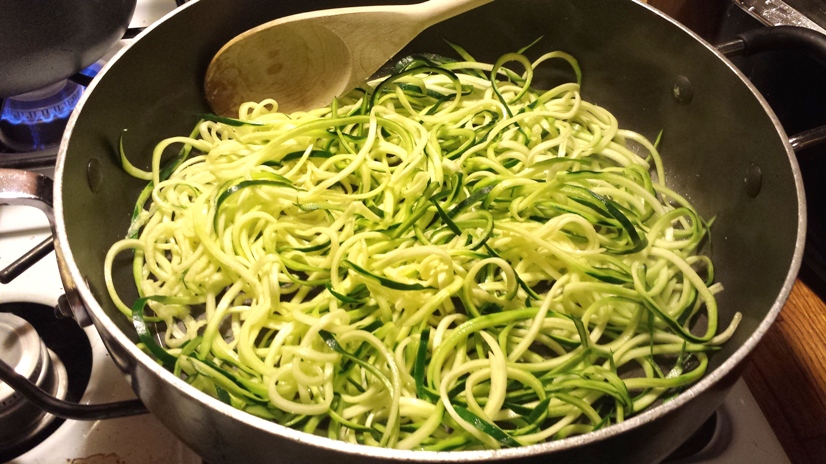 For this particular recipe, it helps to make the avocado pesto sauce first, then to cook the zucchini noodles so that you can mix the room temperature sauce with the hot "pasta" and serve while it's still warm. If you're using regular pasta, you should go ahead and throw your pasta into the boiling water first and then utilize the cooking time to make your sauce. Toppings-wise, I added a bit of grilled chicken to make it a bit more filling with some extra protein, but this would also go wonderfully with shrimp for a Meatless Monday or Lenten Friday option, or Italian sausage (I've made it with the latter successfully multiple times). You'll want to use 1 zucchini per serving if you're making zucchini noodles. Again, you can substitute the zoodles for your choice of pasta because after all, this pesto sauce is packed with so much heart-healthy fats that you can feel good about indulging in carbs to go with it.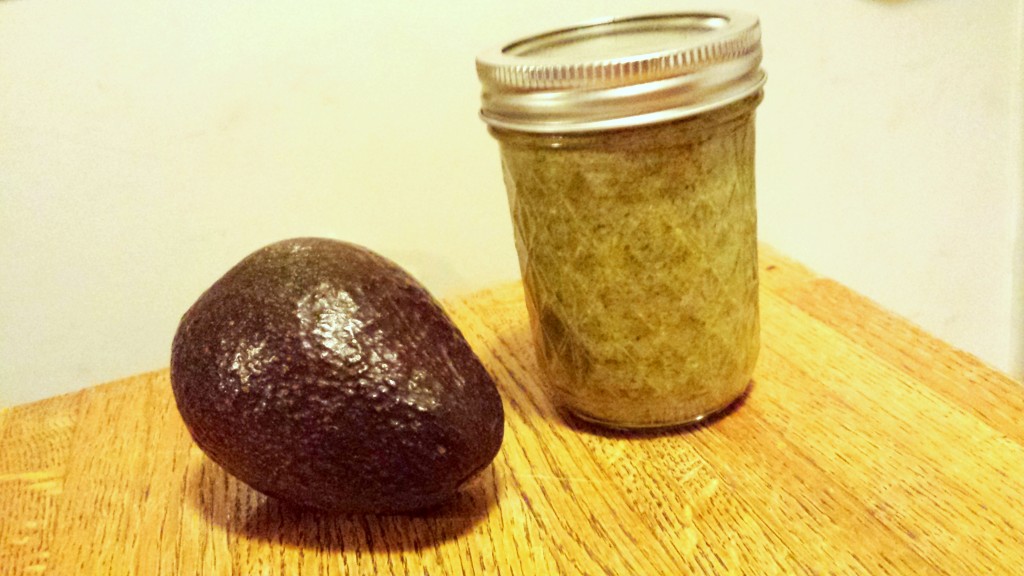 This recipe will make enough creamy avocado pesto sauce for 2 servings, so if you're cooking for yourself, you can either divide the measurements accordingly or just pack the extra sauce in a mason jar like I did. The sauce will last in the refrigerator for up to 3 days – just scrape out any part that does manage to get brown (hint: try the sauce in a sandwich, with eggs, or as a veggie dip if you want to change it up from the pasta routine!). One warning: don't be surprised if the sauce turns brown if you microwave it – purely a reaction of cooking the avocado! As a result, I recommend heating your pasta/zoodles separately and stirring in the sauce to prevent this 🙂
Creamy Avocado Pesto Pasta with Zucchini Noodles (Zoodles)
This avocado pesto pasta has a creamy sauce thanks to heart-healthy avocado instead of heavy cream and uses zucchini noodles instead of pasta to provide a bright, flavor-packed, lower carb pasta dish.
Ingredients
For the avocado pesto:

1 ripe avocado, halved and pitted
1 cup fresh basil leaves
1 lemon, juiced
1/4 cup toasted walnuts (substitute with pine nuts, pistachios, or sliced almonds)
2 cloves of garlic, peeled
3 tbsp. extra virgin olive oil
1 tsp. salt, more to taste
1 tsp. fresh ground black pepper, more to taste
1 tsp. cayenne pepper
Water as needed (if you are making this with regular pasta, reserve 1/4 cup of the pasta water after cooking)
1/4 cup grated Parmesan cheese (optional but highly recommended)

For the zucchini noodles:

2 medium zucchini
1 tbsp. olive oil
Salt and fresh ground pepper to taste
Instructions
To make the sauce, add the basil, lemon juice, nuts, garlic cloves, salt, pepper, and cayenne to a food processor or blender (optional - you can also add some zest from the lemon for even more lemony flavor). Blend until chopped, scraping down the sides and blending more if necessary.
Keep the blender running while slowly adding in the olive oil and blend until smooth.
Add the avocado and blend until fully incorporated into a thick almost paste-like sauce. Fold in the Parmesan cheese.
Add a couple tablespoons or so of water or pasta water as needed to thin the sauce to desired consistency, stirring to combine thoroughly.
After your sauce is prepared, make your zucchini noodles by using a vegetable spiralizer (such as the GEFU Spirelli Spiral Slicer or Paderno Spiral Vegetable Slicer)
Heat 1 tbsp. olive oil in a skillet on medium-high heat. When the pan is hot, add zucchini noodles and season with salt and pepper to taste. Stir fry for 3-5 minutes until zucchini is cooked through but still firm.
Serve immediately, stirring hot zucchini noodles with the avocado pesto and garnishing with additional Parmesan cheese if desired. Top with grilled chicken, shrimp, Italian sausage, or your choice of protein or serve with a side cherry tomato salad with balsamic vinaigrette for a complete meal.
Notes
If you make this recipe, I'd love to see the final product. Tag your photos on Instagram with @indulgenteats and #indulgenteats so I can see them!
http://indulgenteats.com/2014/03/09/creamy-avocado-pesto-pasta-zucchini-noodles/