Healthy Tomato and Tri-Color Pepper Raw Tortilla Soup
March 10, 2014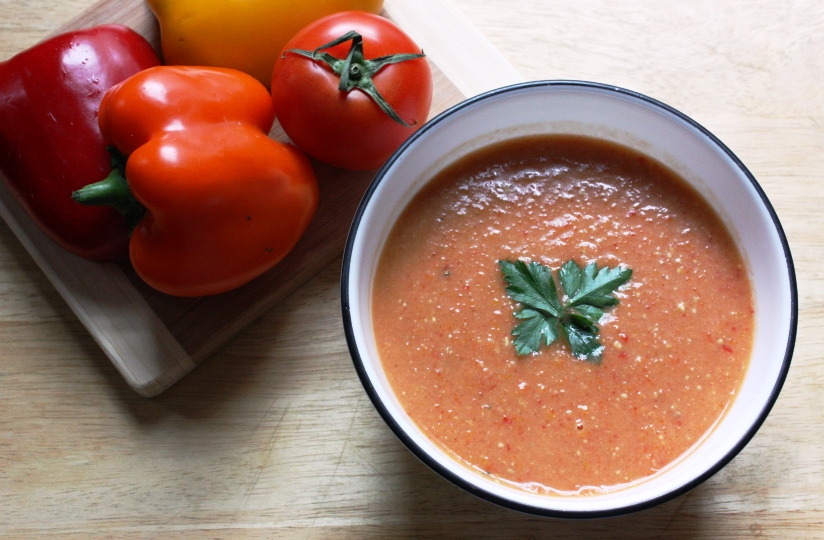 I'm currently on an all liquid diet thanks to getting my wisdom teeth pulled on Friday night. While I probably could have just eaten ice cream while watching House of Cards all weekend, since I won't be able to exercise while recovering from the surgery, I opted to go the healthy route by doing a juice cleanse instead. I plan to dedicate a separate post on my cleanse, but I wanted to highlight this Tomato and Tri-Color Pepper Raw Tortilla Soup I made that was a result of taking a small break from consuming nothing but juice. I was able to get through 2 full days of my cleanse without toooo much pain (the worst of which came from drinking a green juice while the BF ate a steak next to me. Excruciating.) By today though, I was dying for anything savory, which led to this recipe.
I love making homemade soups since you get full control over exactly what goes into your stomach. While I will typically make a roasted tomato basil soup or use the stove top to make a creamy cauliflower version, I decided to try out making a raw soup so I didn't completely ruin the progress I made with my raw juice cleanse. Raw soup is just that – soup that uses only fresh, raw ingredients put over no heat whatsoever. While cold soup can be unsettling sometimes, a flavorful spicy tomato gazpacho soup can be delicious and incredibly refreshing, and that became the starting point for this raw tortilla soup. I used both tomatoes and yellow, orange, and red peppers plus a variety of spices to make this closer to a tortilla soup versus a gazpacho, while adding half an avocado to thicken and provides some creaminess (similar to the method used in my avocado pesto). The best part of this recipe is that you literally just chop your ingredients, throw in a blender, and eat, so it's also ridiculously easy to make. You could take this recipe and throw it over the stove and mix in some cream if that's your thing, but otherwise this raw tortilla soup is a super healthy, super good for you taste of summer with a nice kick.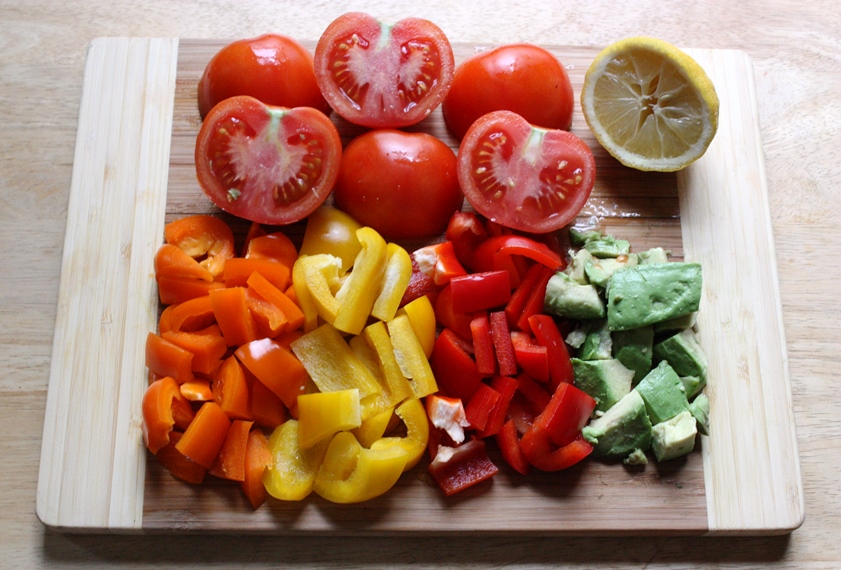 Tomato and Tri-Color Pepper Raw Tortilla Soup
This flavorful raw tortilla soup blends fresh tomatoes and yellow, orange, and red peppers with spices and avocado for an easy-to-make healthy, refreshing cold soup.
Ingredients
3 tomatoes, cut in half
1/2 of each: yellow, orange, and red bell peppers, roughly chopped (can substitute for 1 1/2 to 2 of your choice of bell pepper)
1 stalk of celery, roughly chopped
Juice from 1/2 a lemon or lime
1-2 cloves of garlic, peeled (use 2 only if you're a big fan of garlic since raw garlic is really strong in flavor)
1/2 cup of water
1 tsp. salt
1 tbsp. cumin
1 tsp. paprika
1 tsp. chili powder
1 tsp. cayenne pepper
Fresh ground black pepper to taste
1/2 an avocado
Hot sauce to taste (optional)
Instructions
Add all ingredients except the avocado to a blender (you ideally want to use a high-speed blender like a Ninja or a Vitamix) and blend until smooth.
Add the avocado and blend until smooth.
Taste and adjust seasonings as desired.
Pour into bowls and top with chopped vegetables, avocado, and/or tortilla strips. Serve immediately.
Notes
If you make this recipe, I'd love to see the final product. Tag your photos on Instagram with #moderateindulgence and @jenbalisi so I can see them!
http://indulgenteats.com/2014/03/10/tomato-tri-color-pepper-raw-tortilla-soup/