Sushi Nakazawa: Forever Dreaming of Sushi Thanks to An Unforgettable Omakase Meal
March 19, 2014 by Jen Balisi

I first watched Jiro Dreams of Sushi about a year and a half ago as a random selection on Netflix. I had no expectations for the documentary, which profiles Jiro Ono, largely considered the top sushi master in the world. I figured, I love sushi and there seems to be critical acclaim, so why not give it a view? I didn't know that by the time the film ended, my mouth would be watering, my stomach would be grumbling, and that a meal at a small Tokyo restaurant tucked in an underground subway station would be added to my life's bucket list. One of the more memorable moments in the film profiles one of Jiro's apprentices, Daisuke Nakazawa, who tells his story of learning how to make the tamago egg sushi only to fail at impressing Jiro attempt after attempt. Finally, after countless trials, Jiro gave his approval, making the apprentice cry with happiness. It's that passion, determination, and skillful training under Jiro that led me to do anything I could to have a meal at Sushi Nakazawa, Chef Nakazawa's very own restaurant that opened in the West Village of New York City in 2013.
For the sake of organization, I'll recount my experience in 3 parts, focusing on the food first, then the ambiance, and finally how to score a coveted reservation.
1.The Food: An Unforgettable Omakase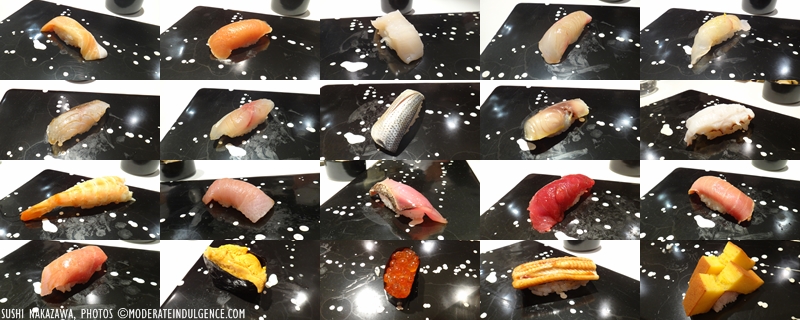 Following the tradition from Jiro's and other Tokyo restaurants, Sushi Nakazawa offers only an omakase, Japanese for "I'll leave it to you" because you as the diner must leave every decision to the chef. With no menu, you are instead served the chef's selection of what they believe you should be eating, the best catches of the day served in the manner they feel best highlights the flavor of the fish. In the case of Sushi Nakazawa, this means there are no soy sauce containers in sight, no dunking into spicy mayo or anything of the sort. Instead Chef Nakazawa dresses each individual piece of fish. In some cases more traditionally, with a brushstroke of a soy-based nikiri sauce across the fish or dab of wasabi between the fish and sushi rice. At other times, more uniquely, with dot of mustard or yuzu, or even pickled, marinated, or smoked over hay – whichever technique he deems will deliver the best possible version of that specific sea creature you are eating. The omakase itself presents 20 pieces of such carefully treated fish, served in a progression so specific that if you momentarily abandon your seat to use the restroom, Chef Nakazawa will wait until you return before making and serving you the piece of fish you would have missed.
It's easy to ignore how much of Chef Nakazawa's life, sweat, and tears went into a single piece of fish, but upon that first glorious bite of your meal, you begin to appreciate all the years of training. Don't get me wrong though, every single piece will not be the best thing you ever ate, however each piece served at Sushi Nakazawa weaves together with the next, taking you through a sensory journey of different textures and tastes, eventually coming together like a 2 hour blur of heavenly bliss. Indeed, I can honestly say that despite Chef Nakazawa introducing each course, I quickly forgot the names of most of the fish I ate. Not because they weren't good, but more that the fish ended up having a transportative quality that made me put all focus on savoring Chef Nakazawa's creation and easily forgetting what just happened.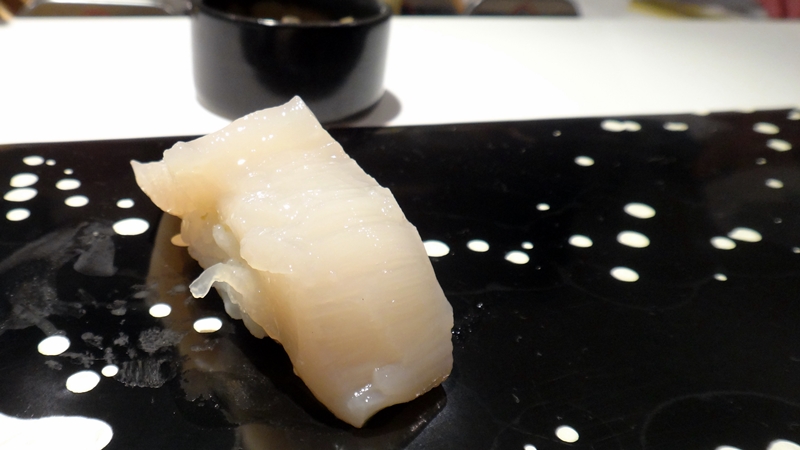 There were a few highlights that were so transcendent that they did manage to make it to memory. One of the most unique courses is one that is Chef Nakazawa's own creation: a fresh scallop garnished with yuzukosho between the scallop and sushi rice. The scallop was so fresh that the chef would actually tap on the scallop after serving it to you so that you could see the barely-alive sea creature wriggle. This pairing of the sweet, firm yet tender scallop with the bright, citrusy yuzukosho easily ranks as one of the best things that I've ever eaten.
Sushi Nakazawa's progression of tuna, pictured at the top of this post, is another standout, as it takes you from the firmer tuna belly to the medium fatty (my personal favorite of the 3) to the melt-in-your mouth toro fatty tuna belly. While you can certainly get these at any sushi bar, the quality of the fish and the treatment is so evident that it almost makes you never want to eat sushi at an establishment other than Sushi Nakazawa ever again.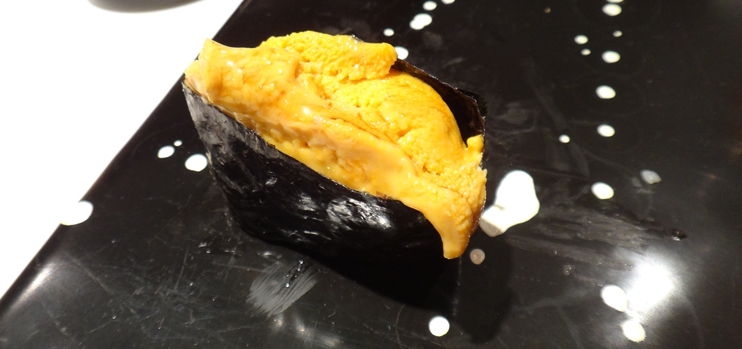 The uni was another course that was simply better than the uni I've had at any other restaurant. Known generally as the butter of the sea, Sushi Nakazawa's uni was possibly the silkiest, smoothest I've had, but was also more balanced in flavor and not overly fishy like it can be at cheaper sushi joints. If you're lucky enough to dine on a day that the restaurant gets their shipment of sea urchins, you even get to pick your own uni for Nakazawa-san and his apprentices to split open and serve to you. The sweet shrimp sourced from Madagascar also stood out, as it's not often that a piece of ebi sushi can provide such complexity in both taste and texture.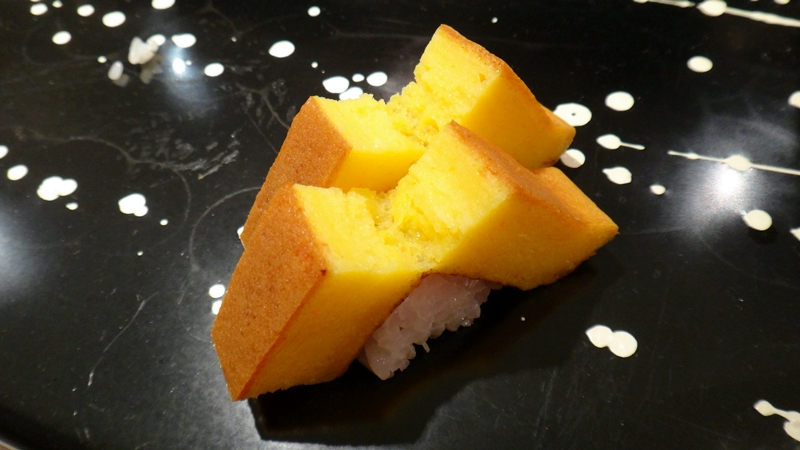 And finally, about that tamago sushi, the one that Chef Nakazawa cried over when he finally got it right? Absolute perfection.
2.The Ambiance: Buzzing with Excitement, Brightened by a Jolly Chef

Where Sushi Nakazawa deviates from tradition is in the restaurant space itself. Rather than trying to look as though it were transported straight from Tokyo like other Japanese establishments, the space has a distinctly modern, New York feel with white tiled interiors and slick black furniture. You get over the awkwardness of getting into your tall black leather bar stool, which is so tall and close enough to your neighbor's that the only way to get your seat near the bar is for the waiter to actually push you in (this ends up not being a big problem because you won't want to get out of said seat and miss out on any portion of the meal anyway). The waitstaff is incredibly attentive, politely coming beside you to provide you with a warm cloth to wipe your hands and a small finger towel for between courses at the start of your meal, and then checking on you throughout to refill your water or explain the next pour of sake if you opted for the pairing.
Speaking of the sake pairing, it's highly recommended: $40 for 7 generous pours of high quality sake almost can't be beat. I like to think that the sake itself also helped with the atmosphere of the restaurant. While there was a clear excitement in the air stemming from a month's worth of anticipation from every diner at the bar, it was hard to ignore the good spirits that came from half of the diners imbibing in good spirits.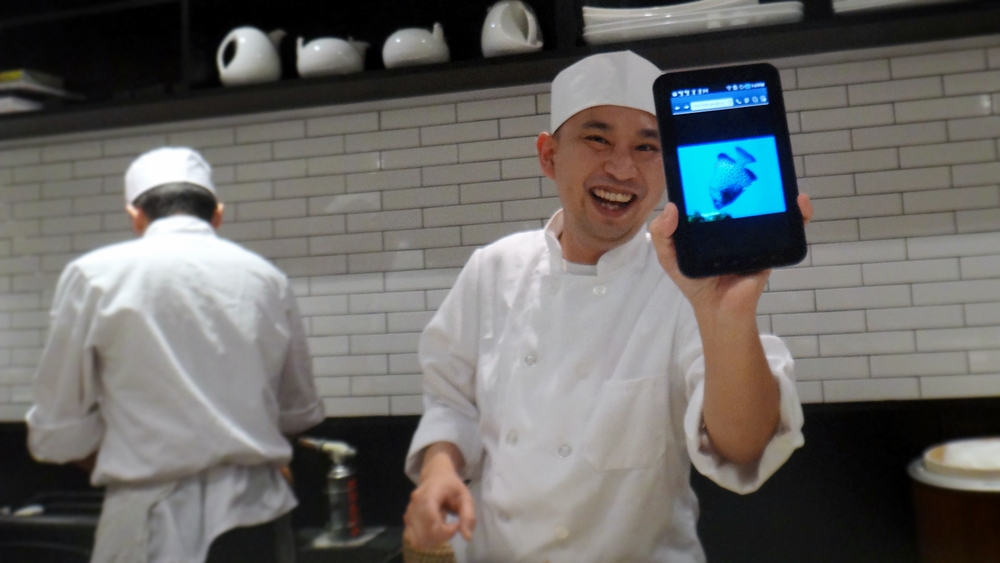 Decor and service aside, the most remarkable element of the overall ambiance of Sushi Nakazawa was almost certainly Nakazawa-san himself. While a meal with Jiro may be the greatest sushi you'll be served in your life, you do get the sense from the film that Jiro can be quite stern leading to an atmosphere that's just a bit uptight. Chef Nakazawa is almost the opposite of stern – when he isn't concentrated on crafting your sushi or instructing an apprentice, he's smiling and interacting with his guests, in some instances even showing us a photo of the fish we were about to eat on a tablet. He also frequently joked with us diners and even with the waitstaff.
"Don't listen to this guy – he went to Sushi Samba for lunch."

While I'm sure he reuses his jokes quite often, his laughter is genuine and you have to appreciate his effort to make every diner at ease. Nakazawa-san is also very attentive – he'll serve your sushi on the left side of your plate for comfort if he notices you pick up your first piece with your left hand (as I did since I was taking photos with my right). For the tamago course, he even sliced the sushi into 2 smaller pieces for the ladies at the bar, leaving the larger pieces for the men with presumably larger jaws. The sum total of the friendliness and attention to detail from the Chef and polite attention from the waitstaff allows you as the diner to fully enjoy the meal at hand and makes the total experience much more than just amazing food.
3.The Reservation Policy: Worth the Month-Long Wait

Now that Sushi Nakazawa has been open for some time to rave reviews, in order to actually score a seat at the sushi bar, you're gonna have to put in some effort. You need to do accomplish 1 of 2 things:
Go onto Sushi Nakazawa's reservation website 1 month in advance of the date you want to dine at exactly midnight and book one of the 5:30, 7:30, or 9:30 nightly seatings there
Try your luck calling the restaurant to fill a cancellation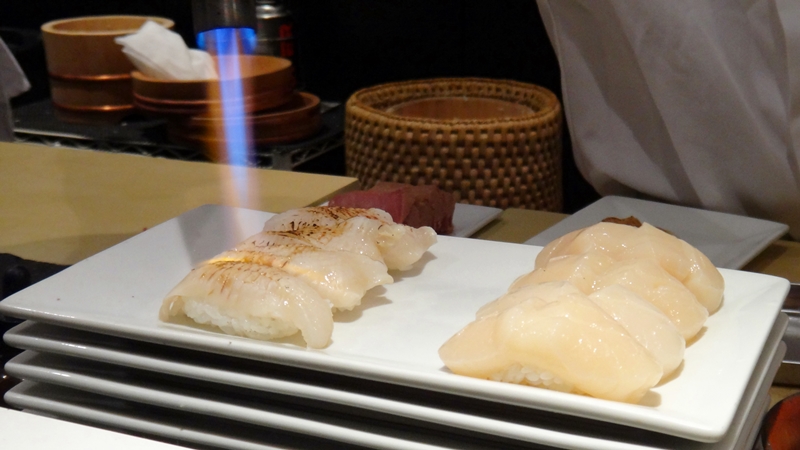 While the wait is certainly longer for a reservation at the sushi bar, and it's more difficult to secure, I highly recommend the bar over the dining room. Don't get me wrong: you're still getting the same amazing fish sourced from the exact same places if you have your meal in the dining room. You just miss out on the full experience of Chef Nakazawa preparing your meal before your very eyes and being served one piece at a time to savor each course separately. For the dining room, the courses are actually prepared by his apprentices, who are certainly well-trained, but since the dining room is tucked in the back of the restaurant, you actually don't have much of any view of them making your sushi or flame-torching your fish as pictured above.
If you're planning to go with a group though, you'll definitely want to opt for the dining room, as the sushi bar only accepts reservations for exactly 2 (so anyone trying to go solo and do a dinner for 1 is out of luck at the sushi bar as well). It's also a bit easier to have uninterrupted conversation since the Chef won't be introducing all 20 courses of fish (the waiters instead bring out a couple courses at a time).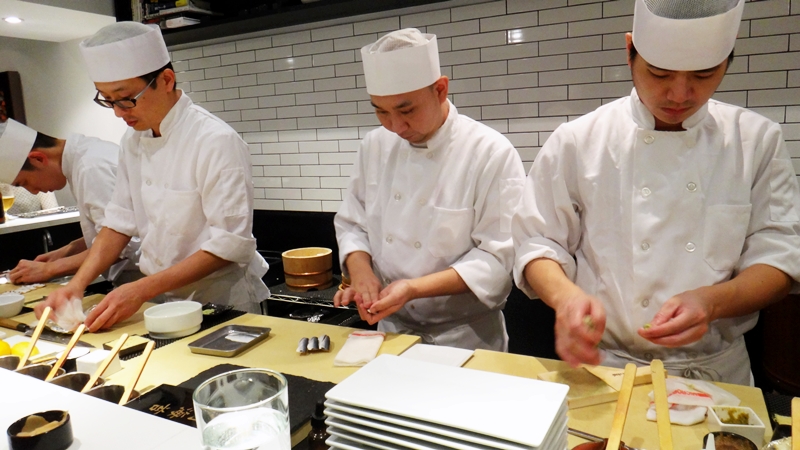 Overall, I think it's pretty clear that I highly recommend making Sushi Nakazawa one of your next big meals. The omakase at the sushi bar is priced at $150 without any additions or tip (it's $120 for the dining room), so it's certainly on the pricier end of the spectrum but still well worth it. I took my sister out to dinner at Sushi Nakazawa as a Christmas present, so we went all out with an upgraded $55 sake pairing that gave you 9 very generous pours instead of the 7, and we also added another piece of tamago and uni sushi since you can request a second taste of your favorite pieces at the end of the meal. While this all resulted in the final bill coming out to a sizable portion of my paycheck, I would honestly do it all over again in a heartbeat. (Well, at least once my bank account has fully replenished).
If you have any questions about the restaurant or meal, feel free to sound off in the comments, but otherwise do find a date to make a reservation for Sushi Nakazawa. It truly is an unforgettable dining experience.