Warm Kale Salad with Roasted Beets, Cauliflower, and Goat Cheese
March 24, 2014 by Jen Balisi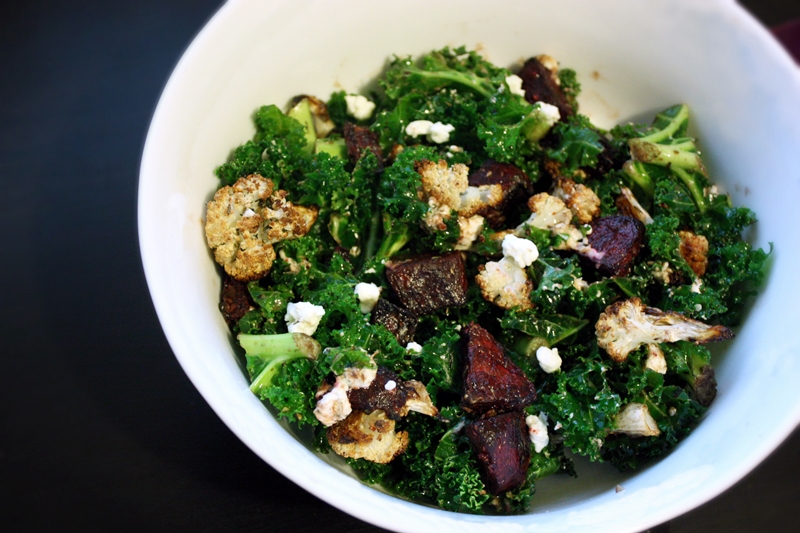 Let me start by saying that I'm really excited about this salad (and I do not normally get excited about salad). Like most of the recipes I post, this Warm Kale Salad with Roasted Beets, Cauliflower, and Goat Cheese came as a dinner experiment that turned out pretty amazing. It's basically everything you want in a home cooked meal: ridiculously easy to create, absolutely delicious, and somehow still healthy. The key here is the roasted vegetables, which are one of the easiest ways to take a dish to the next level. They're incredibly simple to make – just coat your veggies with some olive oil, season, then throw them in a high temperature oven. That 30-45 minutes of baking can transform a vegetable that might taste boring or unappetizing when raw to something earthy and delicious once roasted. While I usually go to my personal favorite of brussels sprouts, I had some beets leftover from last week's DIY juice cleanse, as well as some cauliflower from some cauliflower fried rice I made the other day. So I roasted these leftover veggies and threw them together with some other items I always keep stocked, and damn did it turn out well.
The sweetness of the roasted beets complements the creamy, tangy crumbled goat cheese, while the cauliflower adds smokiness thanks to the nice char it gets from roasting. Everything gets tossed in some balsamic vinegar to add acid and provide a full balance of flavors. Aside from taste, this salad is also packed with nutrients from the veggies to the superfood base of kale.
I threw the kale into the oven at the end of cooking to wilt it even more and turn this into a warm kale salad, but you could easily skip this step if you'd prefer to keep the kale crisp and cold, and then you can even prep this salad and keep in the fridge to eat the next day since kale holds up well when dressed. If you aren't a fan of goat cheese, you can substitute it for feta or blue cheese, and you can also swap the beets for sweet potato or another root vegetable if you don't have beets on hand. Try adding some rotisserie chicken for protein.
Warm Kale Salad with Roasted Beets, Cauliflower, and Goat Cheese
This warm kale salad combines the sweet, earthy, and tangy flavors of roasted beets, cauliflower, and goat cheese for a delicious and nutritious meal or side salad.
Ingredients
4 cups chopped kale
2 large beets (or 6 oz. canned beets), peeled and cut into 1 inch chunks
12 cauliflower florets, sliced in half lengthwise
2 tbsp. olive oil, divided
2 tsp. fresh thyme
1 tsp. salt
2 tsp. fresh ground pepper, more to taste
3 tbsp. balsamic vinegar
3 tbsp. crumbled goat cheese
Instructions
Preheat oven to 400 degrees F (205 degrees Celsius).
Chop beets into 1 inch chunks and slice cauliflower florets in half lengthwise, then combine beets, cauliflower, 1 tbsp. olive oil, fresh thyme, salt, and pepper in a mixing bowl, tossing to coat evenly.
Line a baking sheet with parchment paper or aluminum foil coated with olive oil spray and lay beets and cauliflower flat across the baking sheet.
Bake vegetables in the oven for 35-45 minutes until cauliflower is nicely browned on the outside.
While vegetables are in the oven, combine kale with remaining tbsp. of olive oil in the same mixing bowl and massage leaves for about 2-3 minutes to evenly coat the kale with the oil and leftover seasoning in the bowl. Let sit for at least 30 minutes while vegetables finish cooking.
(Optional) During last 1-2 minutes of baking time, spread kale mixture across beets and cauliflower and bake for remaining time to warm the kale and wilt the leaves.
Remove all vegetables and transfer to serving bowl, tossing with balsamic vinegar and additional salt and pepper to taste, and topping with the crumbled goat cheese.
http://indulgenteats.com/2014/03/24/warm-kale-salad-roasted-beets-cauliflower-goat-cheese/