Festival Season is Here! Festival Survival Tips & Where to Shop for All Your Festival Essentials
March 28, 2014 by Jen Balisi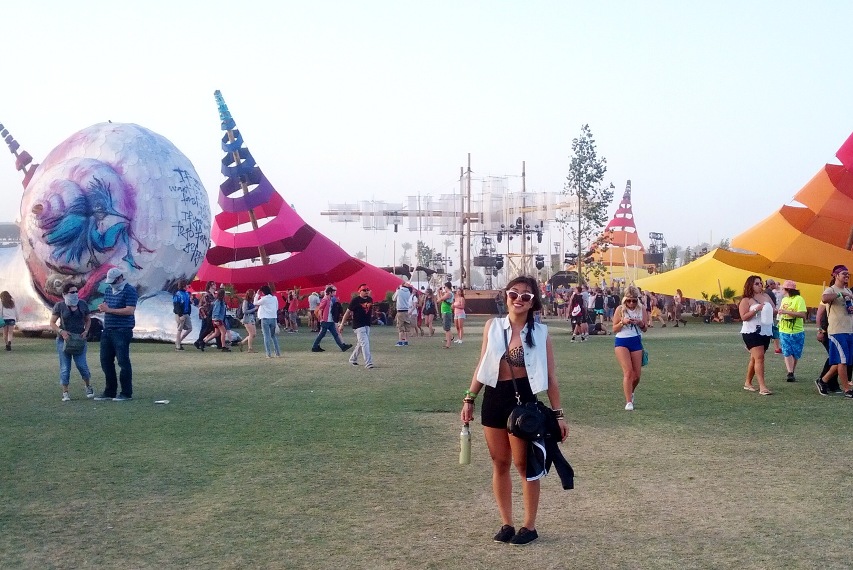 With Ultra Music festival in Miami this weekend and Coachella fast approaching, it is officially one of my personal favorite times of year – festival season! No matter where you are in the country, there's a good chance there's a large-scale music festival somewhere in your neck of the woods. From Counterpoint in Atlanta to Governor's Ball in NYC (where I'll be!) to Pitchfork Music Festival in Chicago, these outdoor events bring both great music and good vibes. Sure, there are a ton of challenges, from crowds and port-a-potties (the horror!) to overpriced food (as highlighted in my guide to food at Coachella), but so long as you prepare for it right, it can definitely be a memorable weekend AND even better, a great excuse to go shopping. Festival dressing has a lot of stigma around it thanks to all the posers and wannabe hippies that trek to Coachella in their Indian headdresses and flower headbands, but at the end of the day, I can't hate on it. At what other time do you get to wear pretty much whatever you want with little judgement? That said though, there are definitely better ways to look stylish, invoke the laid back festival vibes, and still wear something highly functional, so I wanted to highlight my top 5 places to shop for all your festival essentials with some festival outfits. Having been to plenty of festivals now, I also wanted to share some tips based on my own experiences.
Festival Survival Tips
Use a cross body bag or small backpack, or if you're really packing light, a fannypack. The last thing you want when you're trying to enjoy yourself is worrying about carrying a handbag when you're surrounded by 50,000 people and trying to wave your hands in the air to Outkast, so always go the hands-free route.
HAND SANITIZER IS A MUST. I cannot reiterate this enough. Maybe you're not a germiphobe like me, but those port-a-potties get disgusting and often run out of hand sanitizer. So pack some Purell or my personal go-to, Bath & Body Works Pocketbac, and even better, attach it to your bag with a glow in the dark holder so you can access it easily in the dark port-a-potty without having to dig through your bag with your germ-infested hands.
Bring a large refillable water bottle or better yet, have a guy in your group wear a Camelbak hydration pack. Buying water over and over when it's hot can easily add up, especially at festivals that price gouge it to $4-5 a bottle, so BYOWB (bring your own water bottle) and avoid that altogether.
DO NOT wear a romper. I don't care how cute you think you look. Trying to use a regular bathroom in a romper is hard enough – now think of how terrible that experience will be in a toilet paper covered port-a-potty. Bad idea. Baddddddd.

Pack a light layer. While it can get blistering hot during the day, temperatures can get unpredictable at night (it was a record low of 40 degrees when I went to Coachella 2 years ago). While winter temperatures are unlikely, it's always good to pack a light scarf or crocheted cardigan in case it does get breezy.
Wear comfortable shoes. I shouldn't even have to explain this, but I'm always shocked when I see girls trying to cross a grassy field wearing wedges and heels. Save your feet and stick to sandals or sneakers.
Keep a few tissues in your pocket or stash some napkins from one of the food vendors. Just trust me on this one.
Bring a small travel sunscreen. You don't want to be that girl/guy looking like a lobster on the 2nd day of the festival with all sorts of crazy tanlines.
Don't wait until the last day to buy merch. Festivals bring only a set amount of inventory, so chance are that all of the cute shirts and hoodies will sell out in your size. Avoid the regret of not getting what you want and buy what you want on the first day.
Set a meeting place with your friends early in the day before you all separate. Cell phone service tends to suck at festivals, but luckily, most festivals have now adopted having large art installations as a norm. Use these as meet up points between sets (the shrine between the Sahara and Mojave tents at Coachella is a great one). Better yet, have an agreed upon viewing location for each tent of the festival, that way you at least have an idea of where to look for each other when you're trying to fight through a crowd.
Timestamp your texts to friends. Chances are, they might not actually receive your text saying "Meet at the Coachella Snail!" until 20 minutes after you actually sent it, so adding a timestamp to your own text ("Sent at 4:05PM") will be seriously helpful when trying to find each other.
Make friends and don't be a jerk. The. End.
Top Retailers to Shop for Your Festival Essentials