Easy Avocado Toast with Sunny Side Up Egg
April 4, 2014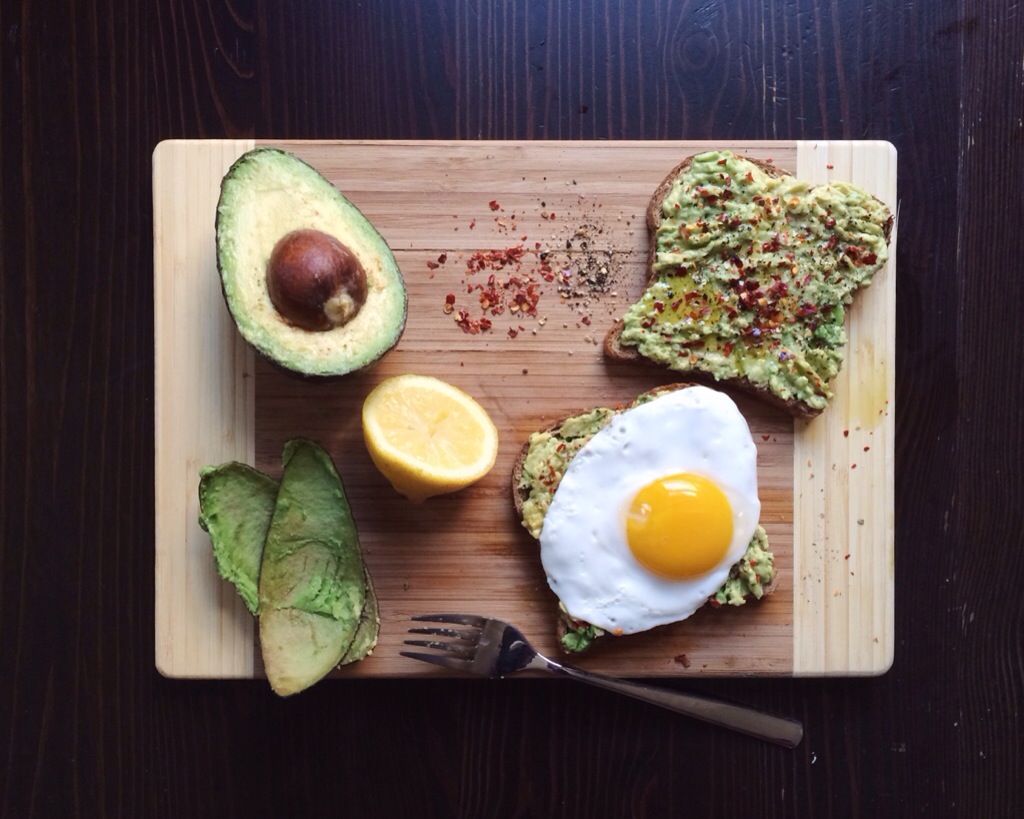 If it hasn't already been obvious based on my prior posts, there are 2 food items that I have a disproportionate amount of love for: avocados and eggs. My friends have even joked that this blog is basically just me throwing an egg on top of everything, which is partially true, and so I'm fully embracing it with this recipe for avocado toast with a sunny side up egg, a wonderful lovechild of a couple of my favorite ingredients. The beauty of avocado toast is that it's not only packed with fiber and heart-healthy fats, it is so ridiculously easy to make that it's a wonder I don't start my day with it more often. While you can get fantastic versions of it from a restaurant, it's simple enough to put together that in my opinion, you're much better off saving some money by making it yourself. To give you an idea of how much you can save, Cafe Gitane's avocado toast costs $7.25 for one slice of avocado toast, no egg included. Is it amazing? Yes. But can you make a similar version in your own kitchen at double the portion for half the price, plus gloriously runny eggs? Hell yes.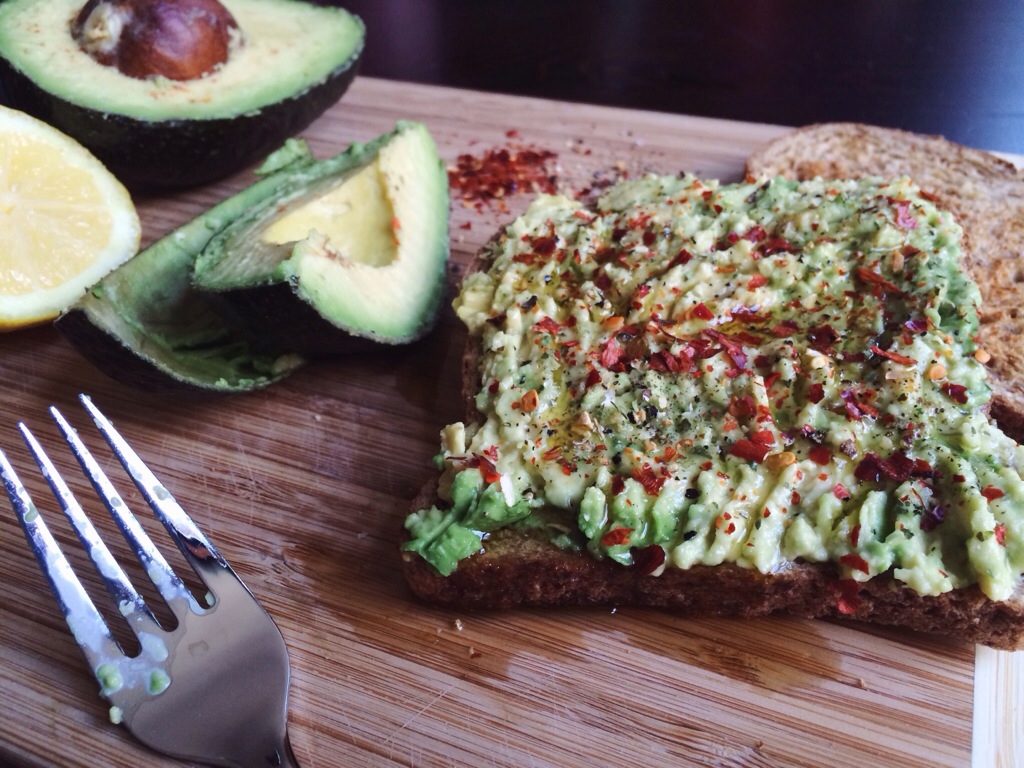 All you need to make a good avocado toast itself are a few simple ingredients: a slice of bread, half a ripe avocado, a squeeze of lemon, a drizzle of olive oil, and basic seasoning. While you could stop at salt and pepper and still produce a great product, adding crushed red pepper flakes will bring it to the next level of delicious. For the bread, I like to use a sprouted whole grain bread – it's got a nice nutty flavor that complements the avocado, the hearty texture provides a sturdy base for all your toppings, and it's also a healthier alternative to other breads, packing 4 grams of protein and 2 g of fiber in every 80 calorie slice. If you're not a fan of it though, substitute it for any good quality, thick slice of bread since you want something sturdy to mash the avocado on.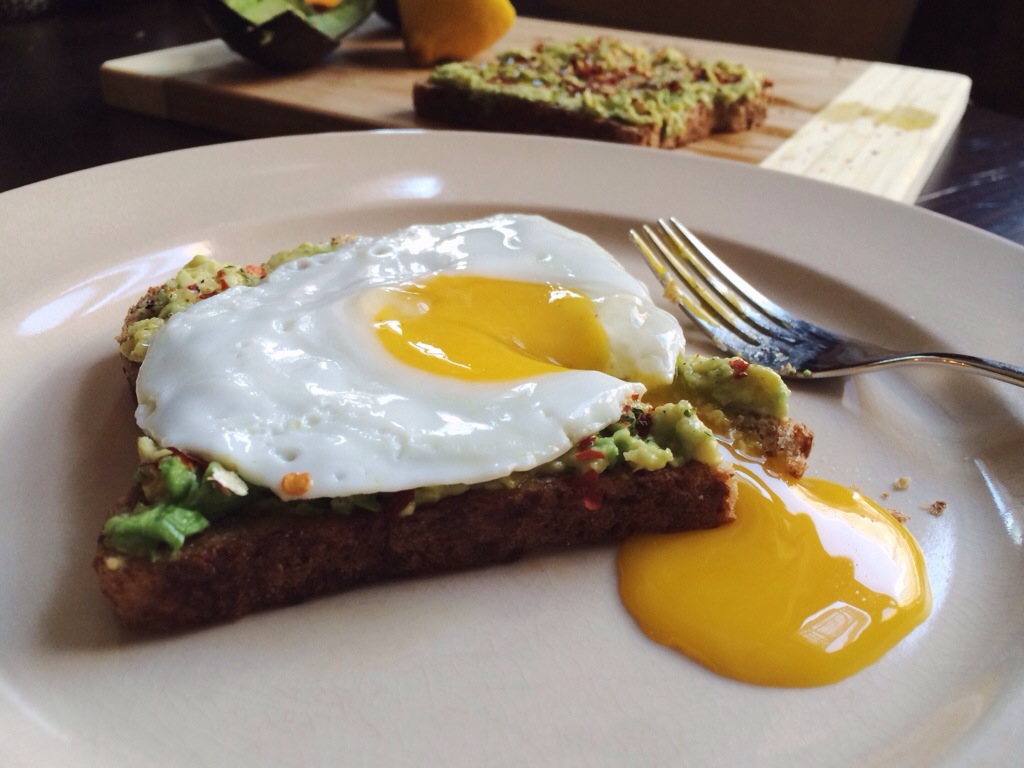 You could easily make this avocado toast without the egg and still get a filling breakfast and a vegan meal to boot. But I find the joy in this dish is being able to cut into the runny yolk and sop it up with your toast as you eat. It's one of those few things in life that feels indulgent without hurting your waistline and will take you less than 10 minutes to make. Best breakfast ever? Quite possibly.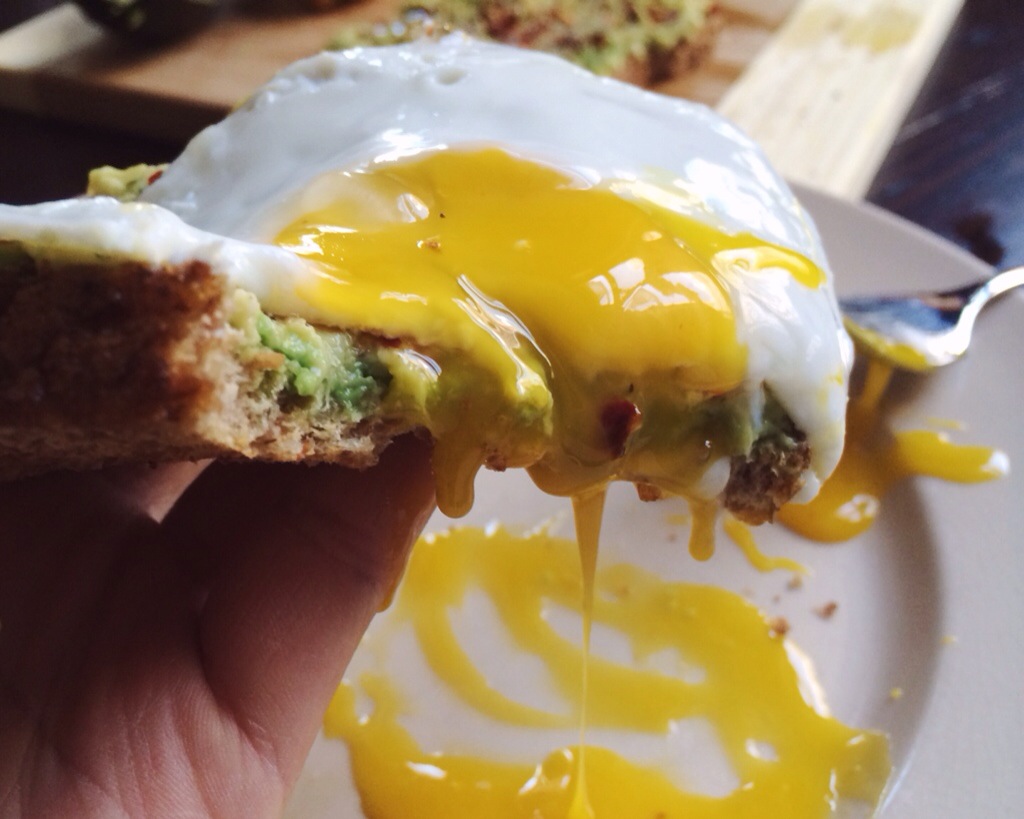 Easy Avocado Toast with Sunny Side Up Egg
Avocado toast gets upgraded with a perfectly runny egg in this bright and delicious, protein-packed, heart-healthy dish perfect for a filling breakfast or snack.
Ingredients
2 slices of sprouted whole grain bread (or your choice of bread)
1 ripe medium avocado or 1/2 a large avocado, pit removed
1/3 of a lemon or 1 tbsp. lemon juice
2 eggs
2 tbsp olive oil
Salt, Fresh Ground Pepper, and Red Pepper Flakes to taste
Instructions
Toast bread. While bread is toasting, heat 1 tbsp. olive oil in a skillet over medium-low. Gently crack eggs into the pan and cook until whites have set, leaving yolk loose, and remove from heat.
When bread is done toasting, scoop out the avocado from its peel and divide into 2 equal portions. Mash each avocado portion onto a piece of toast with a fork.
Drizzle avocado with lemon juice and remaining olive oil, then season with salt, a few cracks of fresh pepper, and crushed red pepper flakes to taste.
Top each avocado toast with a cooked sunny side up egg, season eggs with additional salt and pepper if desired, and serve immediately.
Notes
If you make this recipe, I'd love to see the final product. Tag your photos on Instagram with #moderateindulgence and @jenbalisi so I can see them!
http://indulgenteats.com/2014/04/04/easy-avocado-toast-sunny-side-up-egg/