NYRR Brooklyn Half Marathon 2014 – Race Day Essentials, Personal Records, and Plenty of Eats
June 3, 2014 by Jen Balisi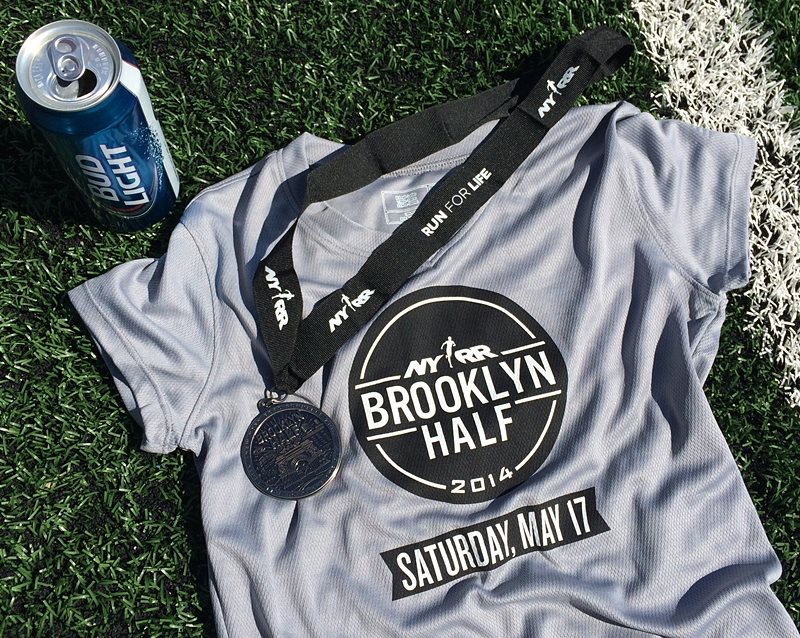 I've been quite busy of lately thanks to loads of running as part of New York Road Runners' 9+1 marathon program, and of course, lots of subsequent eating. A few weeks ago, I ran and set personal records for my 10K and 5K respectively during NYRR's UAE 10K and 4 Mile Japan Run. But those were all in preparation for my biggest race of 2014: the Brooklyn Half Marathon on Saturday, May 17. As someone who years ago couldn't even run a single mile straight through, it's pretty awesome to be able to say I've now completed two 13.1 mile races. As such, I wanted to recount my experience at The Brooklyn Half here for anyone else who is thinking of committing to running and signing up for a race.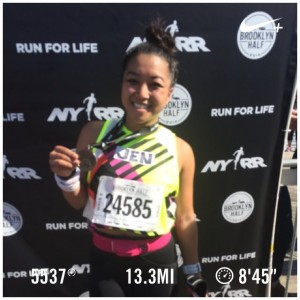 It's certainly grueling, but at the end of the day, the sense of accomplishment you get PLUS all the opportunities to eat everything with no shame (hello, carbo loading!) definitely make the physical exertion worth it. For the Brooklyn Half in particular, the course itself takes you past a ton of the main landmarks in Brooklyn, resulting in an amazing rush that comes from running down the Coney Island boardwalk to cross the finish line that is unlike most other experiences you can get.
The Brooklyn Half Pre-Party
The tour of the borough starts with picking up your race registration, as they held the Brooklyn Half Pre-Party at Brooklyn Bridge Park. While the location is a bit of a hike from the subway, having something as iconic as the Brooklyn Bridge in view while you receive you race bib definitely gets you pumped for the race. The pre-race party also came complete with a small expo of fitness vendors, including the party sponsor New Balance, who sponsored an Instagram photo booth that would print out your hashtagged photos, so we of course had to take advantage of that to produce the photo below.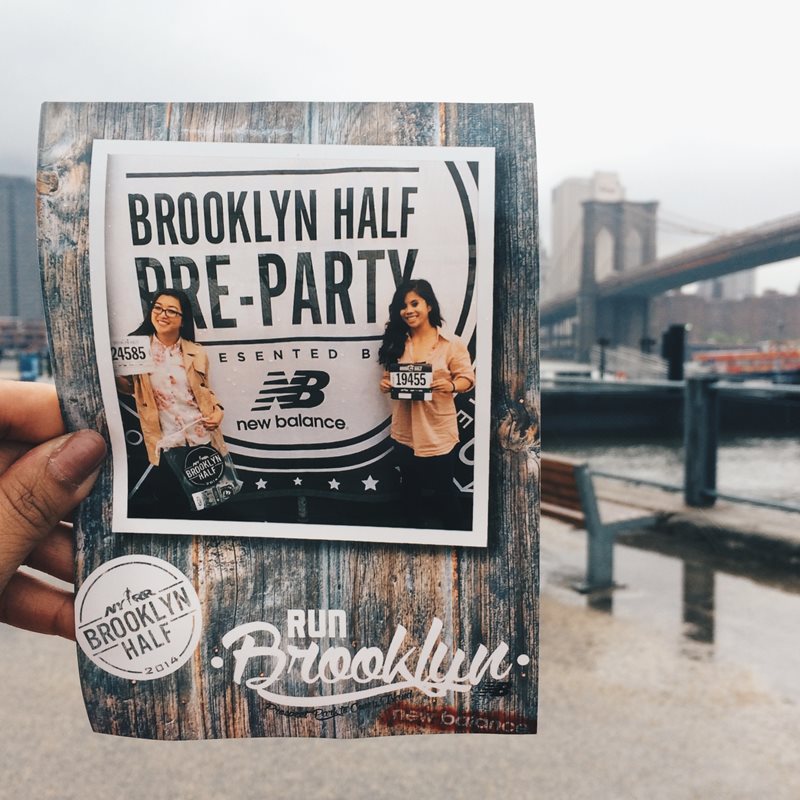 The expo had running/fitness shops like JackRabbit providing a ton of racing gear, sneakers, and other race essentials like fuel belts and energy gels so you could make sure you had everything you need for the race.They also had health food vendors providing samples, like Health Warrior whose Chia Bars
were tasty enough to make me a future customer, and Nuun Active Hydration, who sold Electrolyte Enhanced Drink Tabs
that you dissolve into water to provide electrolytes during your run and had great flavors like strawberry lemonade and cherry limeade.
Carbo-Loading and Race Day Essentials
The days leading up to the race involved lots of carbo-loading, which resulted in the spaghetti alla carbonara I posted the other day. While most people assume you should stuff yourself silly with pasta the night before, you can end up being TOO full and having tummy problems in the morning. So instead, you want to eat normal sized meals, but increase your carb intake in each of those meals in the 2-3 days leading up to the race with a healthy dose of easy to digest carbs the night before (yay pasta!).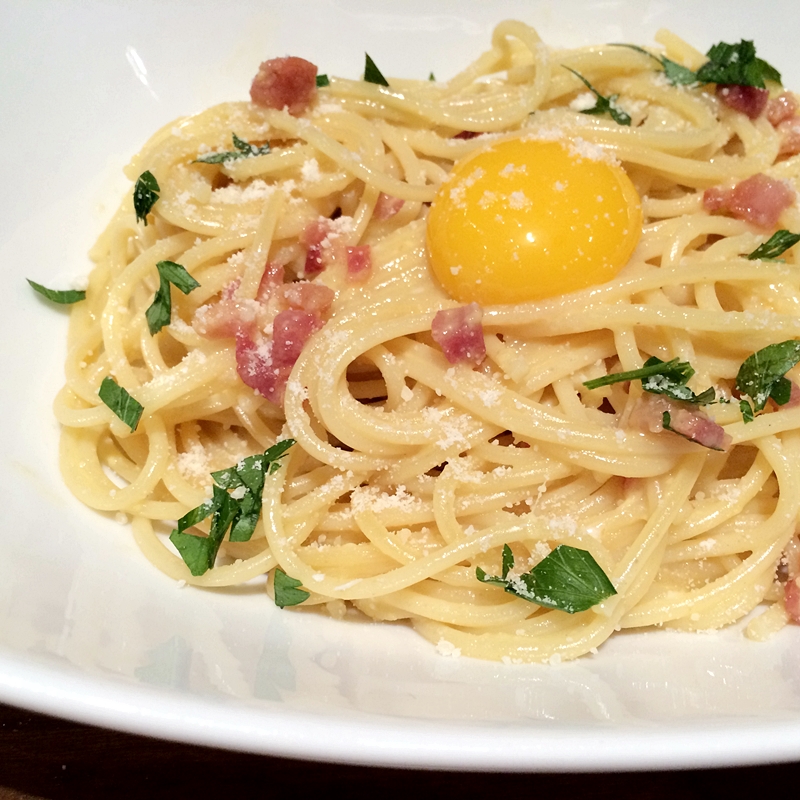 You also want to make sure to use the week before the race to get any and all race gear you may need, and potentially practice running in your outfit as well to make sure there aren't any wardrobe issues that could impede your run.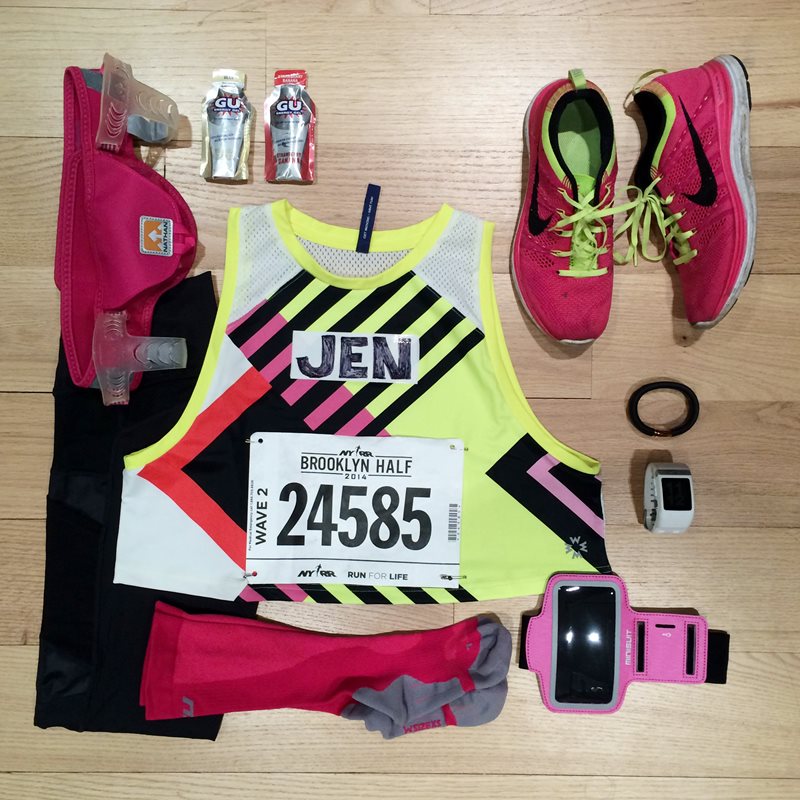 My race day essentials for the Brooklyn Half Marathon included: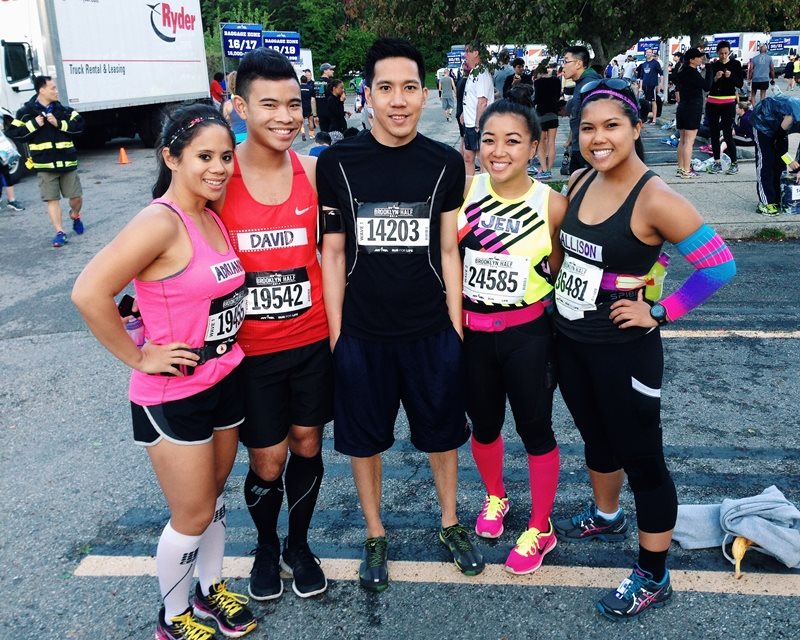 And a tip for runners at all levels – write your name on your shirt! It gives the crowds in the cheer zones fuel to cheer you on and motivate you. As tired as my legs were at the finish, I tried my best to sprint past as many people as I could and heard someone in the crowd yell "you get it Jen!" Giving me additional motivation to finish strong. Being cheered on by name by complete strangers just adds to the experience. Try using a sharpie and white duct tape like we did so you don't have to do anything permanent to your running clothes.
Running the Brooklyn Half
Come race day, it's an early start to get your bag checked in time and then make your way to your assigned corral, which they determine based on either your pace from prior NYRR races or whatever you enter as an estimate. The course takes you past The Brooklyn Museum and Grand Army Plaza before going through Prospect Park for almost half the course distance. Then you run down a highway ramp, which was honestly a really awesome experience in and of itself to be able to run down something that would normally get you run over by a car.
From the highway ramp, the run down Ocean Parkway is the most mentally challenging, as it's a 6 mile straight shot with minimal changes in scenery, resulting in a lot of motivational mantras and other tactics to tell yourself to not quit and keep putting one foot in front of the other. From there though, you make a turn up a ramp and it's a straightaway down the Coney Island Boardwalk toward the Cyclone and Wonder Wheel until you cross the finish line. I was incredibly proud of having completed my second half marathon AND setting a new personal record, shaving 45 seconds off my pace from my first half marathon thanks to all of the training from the prior NYRR races.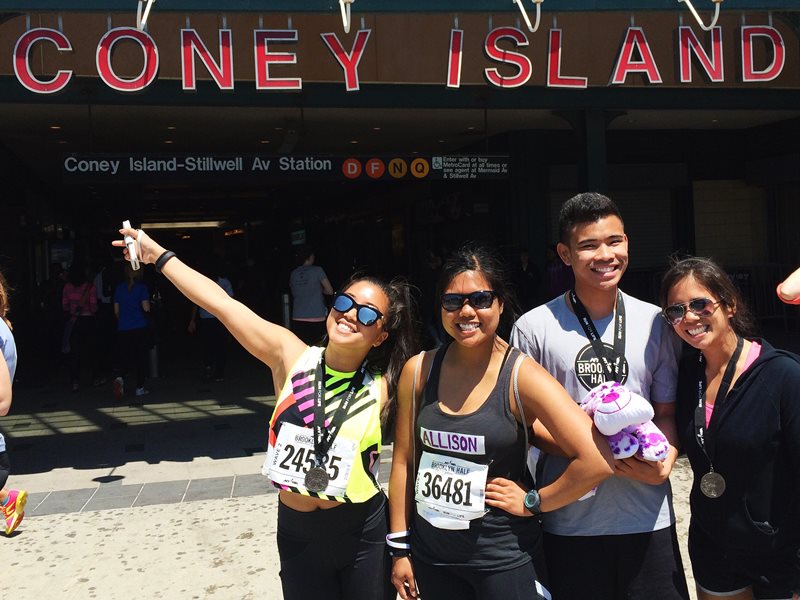 Post-Race Celebrations aka Eating and Drinking Everything in Sight
Ending the race in Coney Island means one thing: celebratory Nathan's. Unfortunately, every other runner has the exact same idea, which resulted in an utter sh*tshow when it came to lines, so we found another boardwalk stand to get our well-deserved post-race sausage heroes.
Most of our race crew also lives in Astoria, so we followed it up with even more revelry at The Garden at Studio Square, one of my favorite beer gardens in the city. Buckets of wings and plates of well-constructed nachos were had, but the icing on the cake were the trophy shaped pitchers of beer they offered. Who doesn't want a trophy of beer after running 13.1 miles?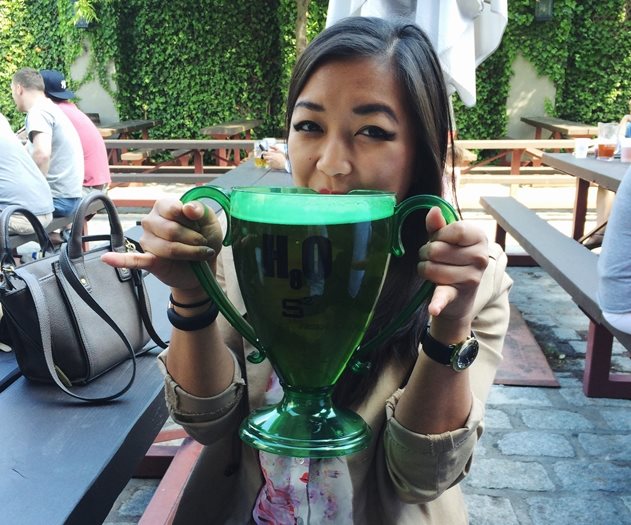 All in all, the 2014 NYRR Brooklyn Half Marathon provided a really great weekend of self-accomplishment, fun with friends, and lots of good food. I'll definitely be sure to participate in it again next year, especially as I'll be training for the full 2015 marathon (eeeep!). I've got 5 races left this year before I qualify for the big race through 9+1, so I hope you continue to follow my journey to 26.2 miles!