American Flag Pizza with Bacon
July 10, 2014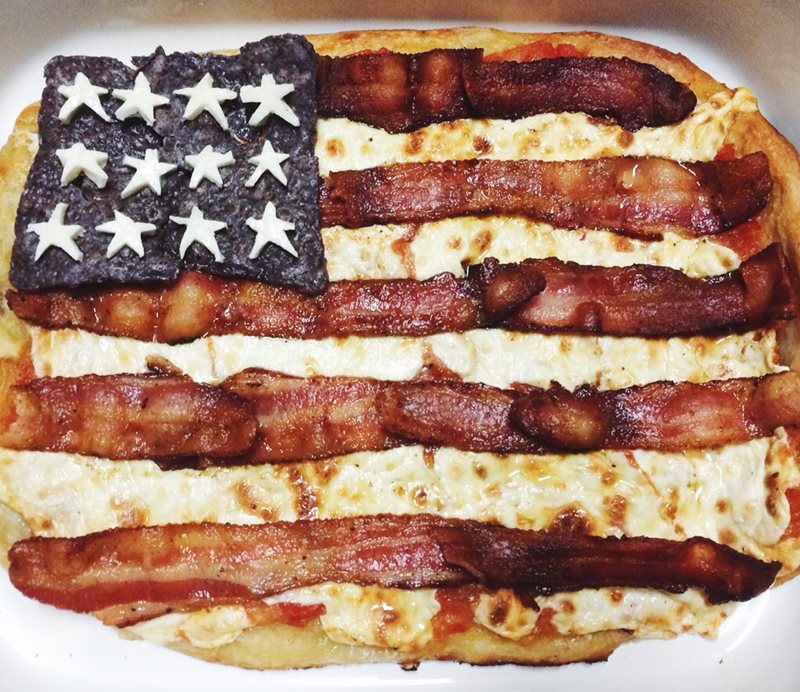 I hope everyone had a wonderful 4th of July! First off, apologies for the brief hiatus in posts, but I've been quite busy with a new job (promotion, heyyy!), as well as NYRR races, the Governor's Ball music festival, and a recent trip to Napa and Las Vegas (for which you can expect a few retrospective posts!). But to kick things back into gear, I wanted to post a recipe for perhaps the most American thing I've ever created: An American Flag Pizza with BACON. After all, nothing smells more like the USA than delicious, greasy food and bacon, right? Right.
This flag pizza is actually relatively easy to make, as it's a standard cheese pizza that just uses strips of bacon as the red stripes on the flag. The most difficult part is cutting stars out of cheese, which you could probably skip and still get a good looking final product. As for the blue, there aren't many kinds of food that are naturally blue, but luckily blue corn tortilla chips work perfectly to create your blue rectangle. Frankly, the chips are purely just for show – we ate them off the pizza right after we took photos, so the verdict is still out on how tortilla chips actually taste as a pizza topping.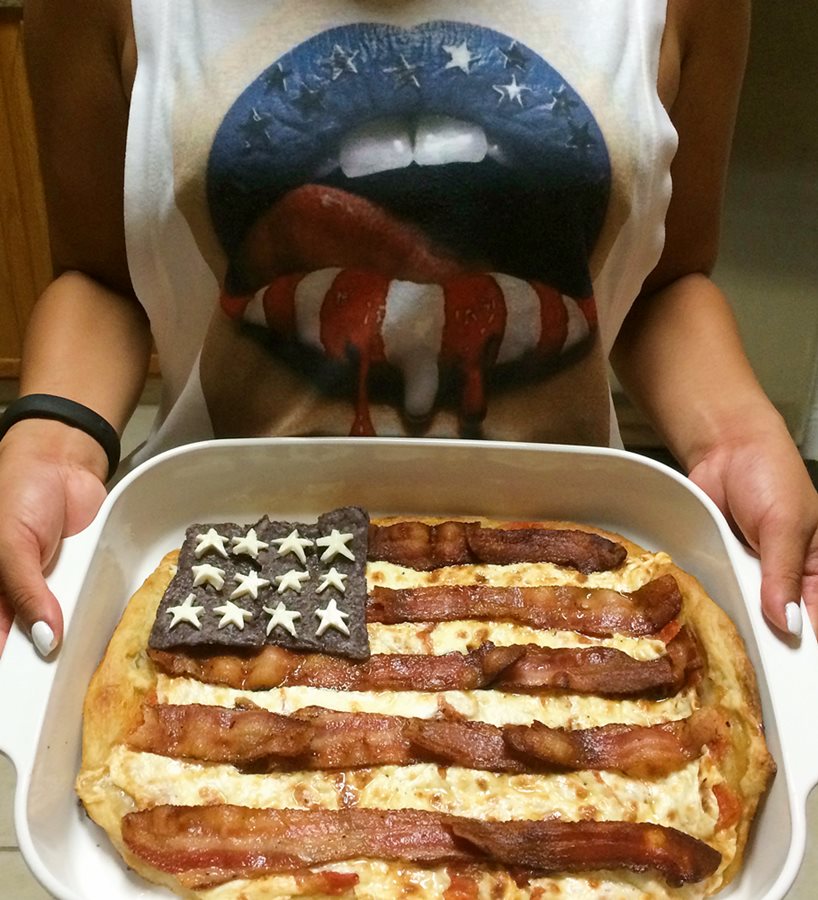 The key to getting your American flag pizza tasting as good as it looks is the quality of the ingredients you use. While bacon will make almost anything taste good, having a good base of pizza dough, tomato sauce, and cheese can make a world of difference. While I've never gotten to the level of making my own dough, using a homemade/local fresh mozzarella can upgrade any store bought dough (though you're welcome to use standard shredded mozzarella). I also prefer using canned San Marzano tomatoes for my homemade pizzas as this type of tomato has a special tang that brings great flavor to your end product. San Marzano tomatoes tend to come in larger cans than necessary for this recipe since they're meant for making pasta sauces, so just save any of the extra product you have for future use (or for a second pizza!)
For those looking to make a healthy American flag pizza or if you're vegetarian, you could easily swap the bacon for sliced tomatoes to get the same effect. Crust-wise, you can opt to use a whole wheat pizza dough or even make a cauliflower crust. No matter what you choose, so long as you construct something resembling the American flag, you're doing it right. USA, USA, USA!
American Flag Pizza with Bacon
Celebrate the USA with this American Flag Pizza that uses bacon for the "red," fresh mozzarella for the "white," and blue corn tortilla chips for the "blue." A perfect recipe for 4th of July or any other patriotic holiday!
Ingredients
1 ball pizza dough
1 14 oz. or larger can of crushed San Marzano tomatoes or regular tomatoes
10 oz. fresh mozzarella, sliced (8 oz. for the pizza and 2 oz. to cut out stars)
6-8 slices of thick cut bacon
1-2 tbsp. olive oil
6-8 blue corn tortilla chips (serve the rest of the bag with salsa & sour cream for a red, white, & blue side!)
Instructions
Arrange bacon slices on a wire rack, then place the rack on a baking pan to catch any fat drippings while cooking. Place the rack and baking pan into a cold oven, turning heat to 400 degrees. Remove the bacon after 20 minutes or until bacon is cooked and crispy, transferring to paper towel lined plate. Turn heat up to 450 degrees to preheat oven for the pizza.
While bacon is cooking, lay out fresh mozzarella slices on a paper towel lined plate to absorb excess moisture from the cheese and prevent a soggy pizza.
Grease a rimmed baking sheet or baking pan with olive oil. Stretch the pizza dough out to fit in the pan, stretching into the corners. If the dough shrinks as you stretch it, allow it to rest at room temperature for 5-10 minutes and try again.
Cover the dough with the tomato sauce, leaving 1/2 inch uncovered along the edge to form the crust
Spread 8 oz. of mozzarella evenly across the sauce and try not to leave too wide of gaps between slices to ensure the entire pizza will be covered - this keeps the white stripes of your flag all white with no red gaps.
Bake the pizza in the oven for 20 minutes or until crust is golden and cheese is melted.
While the pizza is baking, use a paring knife to cut 12 small stars out of the remaining fresh mozzarella slices.
Remove cooked pizza from the oven. Arrange bacon strips into five stripes on the pizza, breaking the bacon strips apart as necessary to fit the pizza and pressing the bacon into the hot cheese.
Arrange blue corn tortilla chips in top left corner of the pizza, breaking and overlapping as necessary to form a rectangle. Top with mozzarella cheese star cutouts and serve immediately, you patriot, you.
Notes
If you make this recipe, I'd love to see the final product. Tag your photos on Instagram with #moderateindulgence and @indulgenteats so I can see them!
http://indulgenteats.com/2014/07/10/4th-of-july-american-flag-pizza-with-bacon/