Easy Caprese Salad
July 17, 2014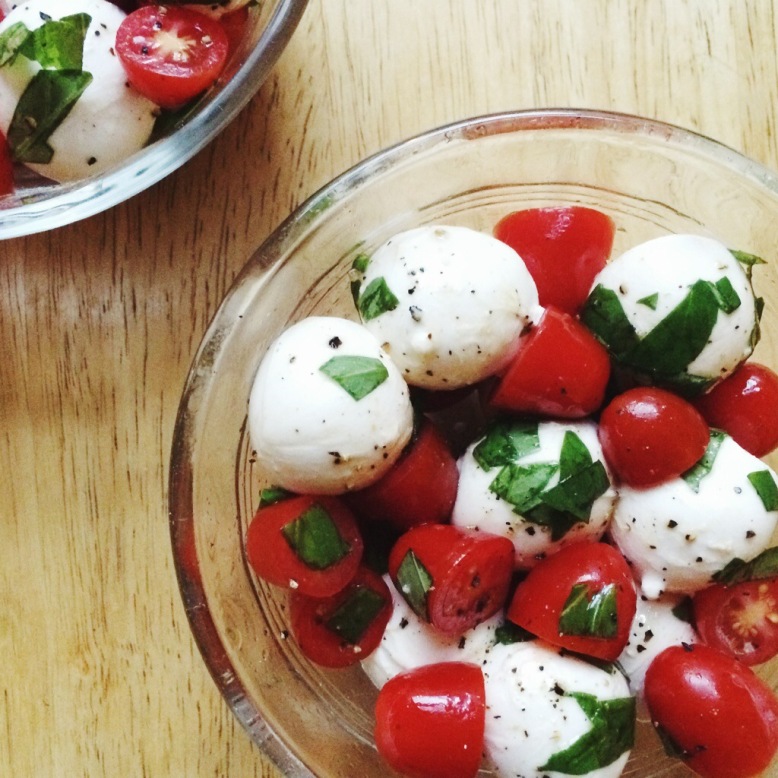 This will probably be the shortest post and recipe I'll ever write here, but it's pretty fitting for the topic at hand. After all, a Caprese salad is one of THE most simple dishes you can make. It's a dish that's so, so simple yet so unbelievably delicious. It's comprised of just 5 key ingredients: fresh mozzarella, ripe tomato, and fresh basil with a drizzle of olive oil and sprinkle of salt. While you can certainly add pepper and a drizzle of balsamic vinegar, the most basic Caprese salad is still bursting with flavors that make it anything but basic. If you can find a local or homemade fresh mozzarella, even better – it makes all the difference in the final product.
While the standard Caprese salad uses thick slices of vine-ripe or heirloom tomatoes and fresh mozzarella with whole basil leaves, I personally like making a version that reminds me of a gumball machine. Fresh mozzarella balls get tossed with halved (or whole) grape or cherry tomatoes, chopped basil, and extra virgin olive oil to produce a Caprese salad that has a more even distribution of basil (basil in every bite, hurrah!) and can also be easily eaten with just a fork. Regardless of which way you make it, you're in for a healthy salad that tastes as good as it looks.
This easy recipe for a Caprese salad makes use of small balls of fresh mozzarella, grape tomatoes, and chopped fresh basil for a fresh salad that's ready in under 5 minutes.
Ingredients
8 oz. fresh mozzarella balls (referred to as Bambini Bocconcini)
8 oz. grape or cherry tomatoes, sliced in half or kept whole
8-12 fresh basil leaves, chopped (depending on how much you like basil!)
3 tbsp. extra virgin olive oil
Salt to taste
Pepper to taste (optional)
Instructions
Toss all ingredients in a bowl and enjoy!
Notes
If you make this recipe, I'd love to see the final product. Tag your photos on Instagram with #moderateindulgence and @indulgenteats so I can see them!
http://indulgenteats.com/2014/07/17/easy-caprese-salad/