Trade Sweat for Swag at the Nike Fuel Box Vending Machine
July 29, 2014 by Jen Balisi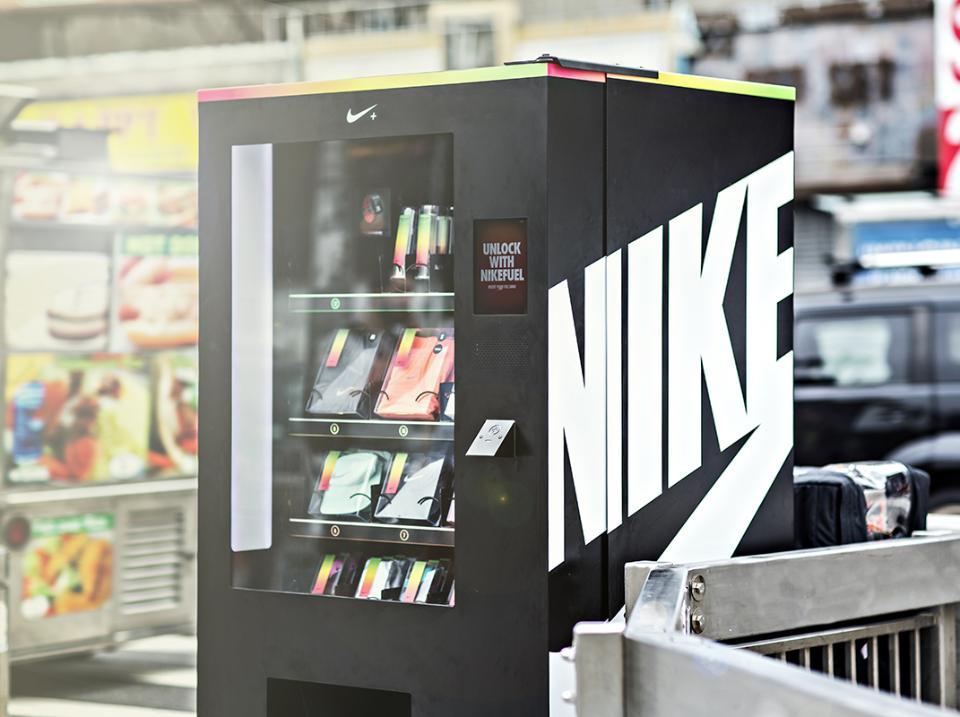 I am a happy, proud Nike+ Fuelband owner, even if only for a few months. Accuracy issues aside, I've found that being able to track my daily activity to be a huge motivator to get off my ass and get moving. Just being able to see "GOAL" flash across my wrist after an intense workout at the gym or walking a few miles around the city is enough of a reward for me itself, but I never thought that I would ever be able to actually acquire something of tangible value with my effort. That all changed with the launch of the Nike+ Fuel Box, a Nike vending machine that allows Fuelband users to exchange their Nike Fuel for Nike goods. And the goods aren't your average freebies: they're everything from socks to shorts to designer collaborations and Nike personal training sessions valued at over $100 a pop.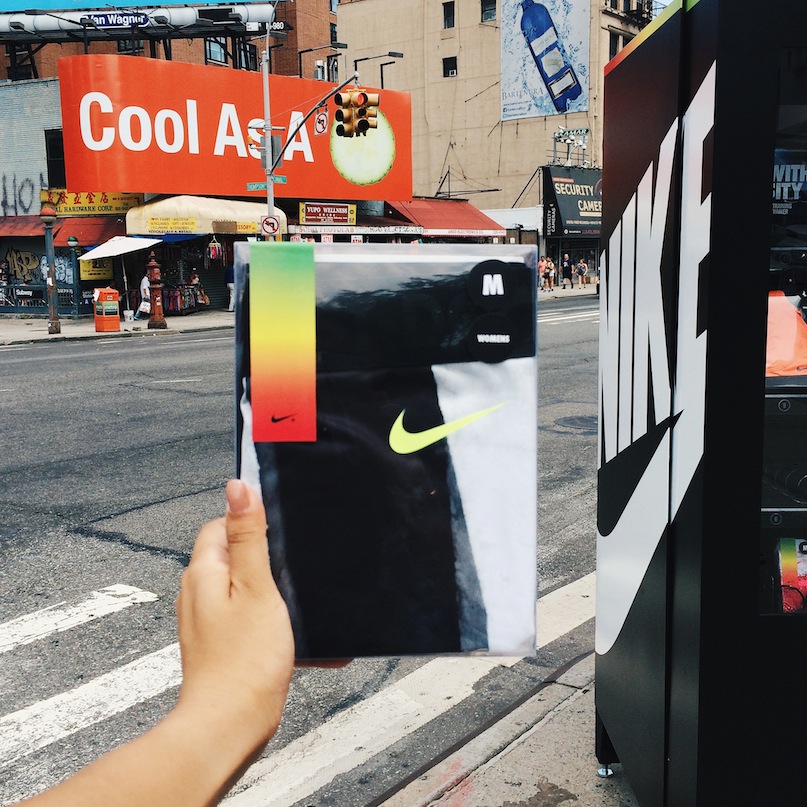 The Nike Fuel Box works pretty seamlessly: just plug in your Fuelband, see your Nike Fuel points rack up and which items you earned enough for, pick your item, and see it drop to you without issues. No stuck items like your average vending machine.

As a marketer and Nike loyalist, the Nike+ Fuel Box is a stroke of absolute genius. It reinforces their brand and completely fits into their summer long "Summer of Nike Fuel" campaign. It gets people moving by gamifying activity, not with mere virtual badges or arbitrary points but tangible rewards of monetary value. And let's be honest here, it's seriously freaking cool. Watch it in action in my video below.
If you want some Nike gear of your own, be sure to follow @nikenyc on Twitter. They provide warning the night before the Fuel Box will be out, so you can set your alarm early to get a morning workout in and rack up enough Nike Fuel for a reward (trust me on the morning workout – the Fuel Box was sold out by 3PM last week!). NikeNYC will post a photo in the morning as the only initial clue to the secret location – so far, they've positioned them at the entrance to the Williamsburg Bridge and on Canal St. I was lucky to recognize last week's Canal St. location from being in the area so often, but if you can't figure out the location, you can wait for hints to be tweeted out by NikeNYC a few hours later.
First, find the #nikefuelbox. Two, plug in your Nike+ FuelBand. Three, watch goals become gratification. pic.twitter.com/BDxrNHNBRg

— Nike NYC (@NikeNYC) July 17, 2014
If you REALLY want to guarantee an item, do what I did and stalk the #fuelbox and #nikefuelbox hashtags to see if any benevolent strangers have posted the location or photos of what's in the Nike Fuel Box and their "cost" in Nike Fuel. For reference, the highest value item (like Riccardo Tisci Air Force 1's or a Nike+ SportWatch
) were 12K NikeFuel and my Nike designer collab running tights were 7k, while shorts and socks were at the lower end of 2-3K and 1K, respectively.
So to my fellow Nike fans and Fuelband owners in NYC, go follow @NikeNYC and get moving!