Easy 5 Ingredient Slow Cooker Turkey Chili
January 27, 2015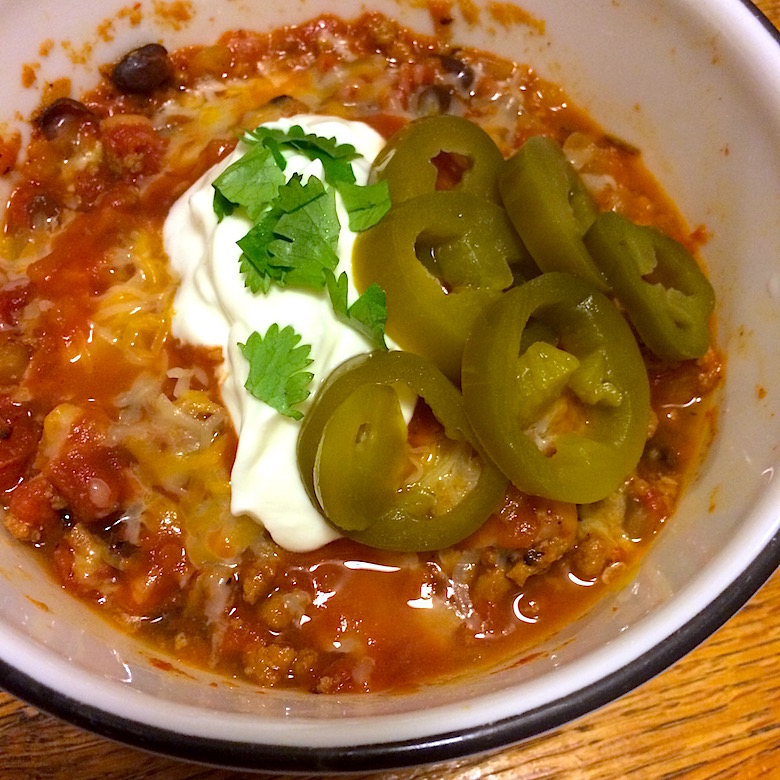 Freezing temperatures call for hearty, stomach-lining foods like mac and cheese and stews. Since comfort food tends to veer on the unhealthy side though, I love making turkey chili to fulfill my need for a warm bowl of food while keeping my waistline in check. Plus it's perfect for game day, especially with the Superbowl coming up. The flavor from this easy 5 ingredient turkey chili and ease of preparation comes from using canned diced tomatoes with green chiles and cooking everything low and slow into your slow cooker or Crock Pot
. The chiles mixed into the tomatoes pack heat while also allowing you to skip having to buy and prep green chiles separately. Just throw the tomatoes over the rest of your ingredients in your slow cooker, stir, and set the timer for up to 8 hours on low before you go to work or when you're about to go to sleep. You'll come home from work or wake up to a wonderful, healthy meal for you to eat or pack for lunch. If you don't have a slow cooker, you can easily just cook this in a heavy bottomed pot on medium-low heat until the tomatoes break down – though I don't recommend a "set it and forget it" method since this requires an open flame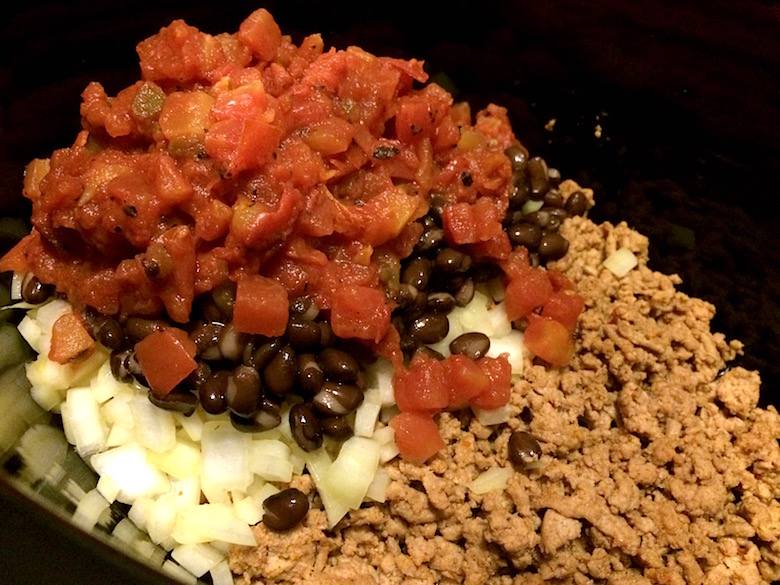 While this 5 ingredient turkey chili is good on its own, you're welcome to add on condiments to take things to the next level. I like adding jalapeños and green Tabasco for an extra kick, and love a dollop of Fage 2% Greek yogurt as a healthier substitute for sour cream. It adds just the right level of creaminess to cut the heat and richness of the chili. And since I'm a cheese monster, I always top of my turkey chili with a good amount of cheddar or a Mexican blend of cheese.
Once you have your chili, you can free to eat it on its own or use it in other ways:
Top the chili with layers of refried beans, hummus, guacamole, salsa, sour cream or Greek yogurt, and cheese to make a 7 layer dip
Pour the chili on top of tortilla chips as a base for nachos or on fries with cheese for chili cheese fries
Stuff a red bell pepper with the chili, brown rice, and grilled chicken for a healthy complete meal
You can even serve it on top of a cornbread waffle with eggs to make breakfast nacho waffles (recipe to follow!)
Easy 5 Ingredient Slow Cooker Turkey Chili
This easy and flavorful turkey chili has just 5 ingredients at its base for a healthy yet comforting meal or game day offering.
Ingredients
1 lb. lean ground turkey
2 14.5 oz. cans of fire roasted diced tomatoes with green chiles
1-2 cans of black, garbanzo, and/or kidney beans depending on how much you like beans
1 large white onion, chopped
2 tbsp. chili powder or crushed red pepper
Instructions
Cook the turkey over medium-high heat until browned, about 7-8 minutes, stirring occasionally to evenly cook and break down the meat.
Drain any grease and transfer the ground turkey to your slow cooker. Add the remaining ingredients and stir to combine.
Set the timer for up to 8 hours on low or 4 hours on high.
Serve with your choice of toppings such as cheese, Greek yogurt/sour cream, jalapeños, chopped cilantro, and tortilla chips and enjoy.
Notes
If you make this recipe, I'd love to see the final product. Tag your photos on Instagram with #moderateindulgence and @indulgenteats so I can see them!
http://indulgenteats.com/2015/01/27/easy-5-ingredient-slow-cooker-turkey-chili/