Mexican Street Corn Lime Chicken Tacos
January 29, 2015 by Jen Balisi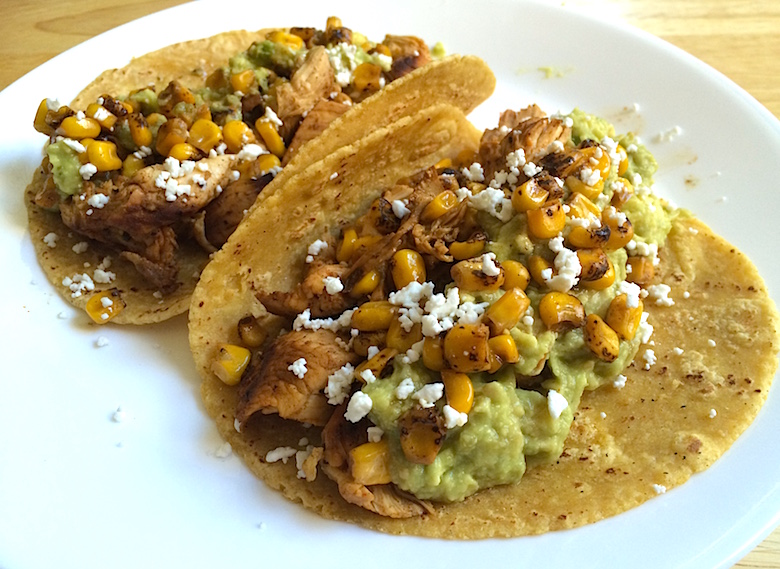 Mexican street corn is one of my favorite things to eat. Take grilled corn, slather mayo and/or Mexican crema, cotija cheese, and chili powder, and squirt some lime to produce one of the most addictive food items created, so much so that I lovingly call it crack corn. It's referred to as elotes when the corn is still on the cob, and as esquites when its off the cob, like the esquites with avocado I posted a recipe for a while back. For lunch though, I decided to up the protein and turn one of my favorite sides into a complete meal by making these Mexican Street Corn Lime Chicken Tacos. By doing a quick marinade of the chicken in lime juice and chili powder, and serving this chicken grilled along with grilled corn, some guacamole for an avocado-superfood injection, and cotija or feta cheese, you have a taco that mimics the flavors of your favorite elotes in a handheld tortilla.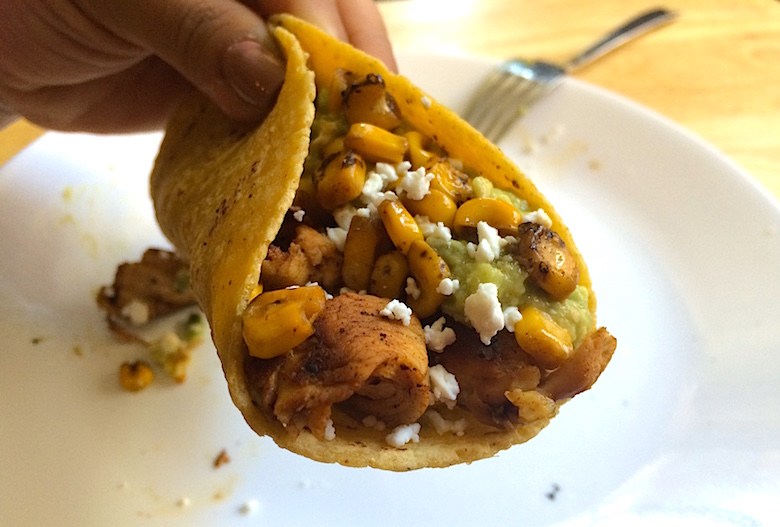 You are welcome to adjust the recipe for these Mexican Street Corn Lime Chicken Tacos to your liking. Try adding a dollop of sour cream or Greek yogurt to mimic the extra tartness of true Mexican street corn or adding an extra sprinkle of chili powder on top of the whole thing. You can also up the amount of cheese on top (likeI did right after I took these photos because I am a cheese monster). Regardless, these quick and easy tacos are a great for game day or your next Taco Tuesday.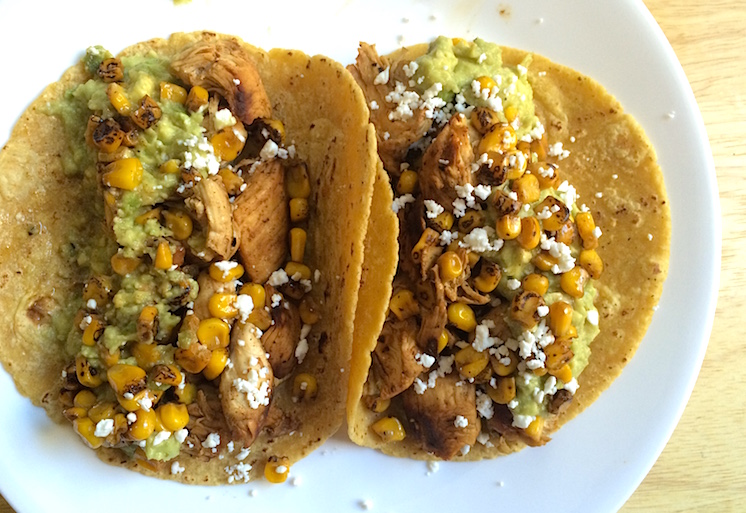 Mexican Street Corn Lime Chicken Tacos
Put a twist on the flavors of Mexican street corn with these lime chicken tacos with grilled corn, guacamole, and cotija cheese - a perfect option for game day or your next Taco Tuesday.
Ingredients
For the lime chicken

1/2 lb. chicken breast, cut into 1 inch cubes
Juice from 2 limes
1 clove garlic, minced
2 tsp. chili powder, more if desired
2 tsp. salt
1 tsp. fresh ground pepper
2 tbsp. butter, divided

For the tacos

4 corn tortillas
1 cup fresh or frozen corn
1 tbsp. butter
4 tbsp. guacamole (I used Wholly Guacamole)
2 tbsp. cotija or feta cheese, more if desired
Instructions
In a shallow dish, coat the cubed chicken breast with the lime juice, garlic, chili powder, salt, and pepper and let sit for 10-15 minutes.
While the chicken marinates, melt 1 tbsp. butter in a skillet over medium-high heat. Add the corn and toss to coat with butter, raising the heat to high. Spread flat and let sit to cook and char corn for about 5 minutes, mixing it and letting it sit again for another 5 minutes. Remove from heat and transfer to a bowl, set aside.
Melt the remaining 1 tbsp. butter in the skillet over medium-high heat and evenly coat the pan with the melted butter. Add the chicken breast (don't add any of the marinade) and cook for 8-10 minutes, stirring occasionally, until fully cooked and lightly browned on the outside. Remove from heat and set aside.
Warm your tortillas by heating them in a clean skillet for 30 seconds on each side, or place them on a plate and cover with a damp paper towel and microwave for 30 seconds to a minute until warmed through.
Build your tacos by splitting the lime chicken, corn, guacamole, and cheese evenly across the tortillas. Serve with lime wedges and an additional sprinkle of chili powder and/or cheese if desired.
Notes
If you make this recipe, I'd love to see the final product. Tag your photos on Instagram with #moderateindulgence and @indulgenteats so I can see them!
http://indulgenteats.com/2015/01/29/mexican-street-corn-lime-chicken-tacos/