Where to Eat Ramen in Tokyo, Kyoto, & Osaka | The Indulgent Travel Guide to Japan, Part 1
December 28, 2015 by Jen Balisi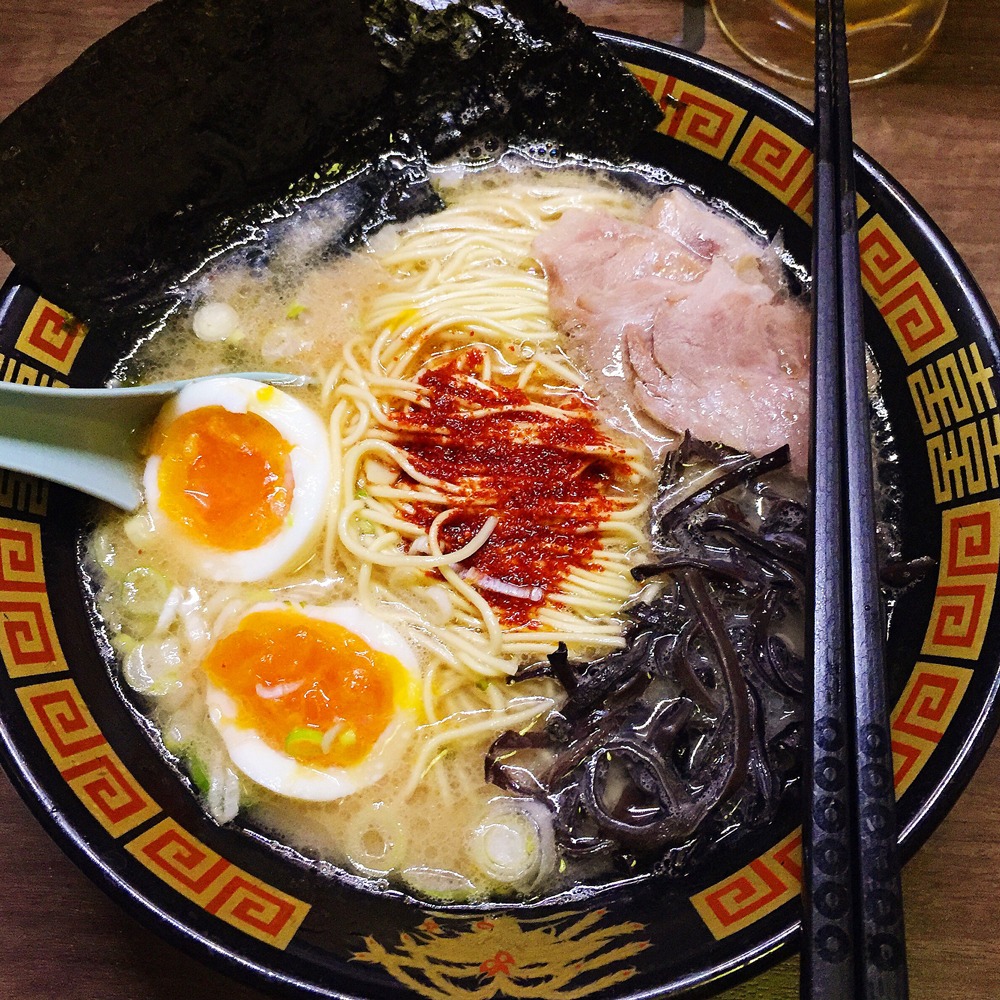 Let me just be outright in saying that I absolutely loved Japan. I take a big trip every October to celebrate my birthday (and more recently, my anniversary with the BF), which makes for a great excuse to really splurge and experience as much as possible in a given location. This year, we spent 2 weeks in Japan exploring Tokyo, Kyoto, and Osaka, with day trips to smaller cities along the way. And while we saw a ton of beautiful places and experienced many uniquely Japanese things (I'm looking at you, Robot Restaurant), our trip was unsurprisingly guided by the goal of eating as much amazing ramen, sushi, katsu, curry, takoyaki, matcha-flavored sweets, and other Japanese food as possible. So I've constructed this guide around my favorite places to eat and drink while I was there, from Michelin-starred restaurants to hole-in-the-wall spots to street food to 6 person bars, along with recommendations on non-food related activities and sights nearby.
We went to a ton of places, so I'm constructing this guide into separate parts because I could probably write an entire post just on my birthday meal with Jiro's son. I wanted to kick things off with the kind of food we ate the most during our trip: RAMEN. I did a final count, and Mike and I ate a combined total of 16 bowls of ramen during our 2 week trip in Japan – basically more than bowl a day. But can you blame us? In a country filled with so much amazing ramen and so many different styles, we couldn't resist trying as many as possible. (UPDATE: Since originally posting this, I went back to Japan with friends in September 2016 and have noted which shops we loved even on the second visit!)
For the majority of these recommendations, I've included my photos via Instagram. The great thing about this is you can click on the timestamp to be taken to the photo on Instagram, from which point you can click through to see both the geotagged location and other photos from that place very easily 🙂 Where possible, I tried to include a Tripadvisor link, but I found in traveling around Japan that it wasn't too difficult to just search by name in Google Maps or Foursquare, and then ask strangers to guide you once you're in the general area (thanks Google Translate!)
TOKYO ABURA SOBA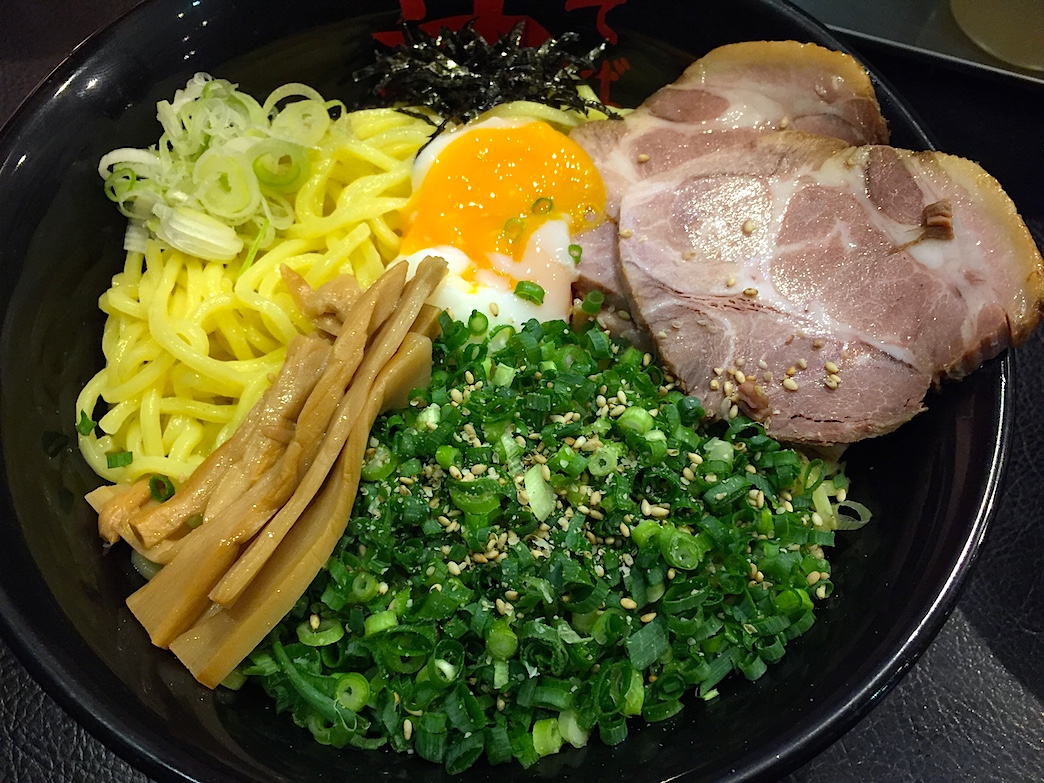 If I'm honest, my favorite ramen of the trip may not even be considered ramen at all, but it was so surprising and so delicious that I don't care how you classify it. Abura soba or "oil noodles," is a brothless noodle dish, which we had at the appropriately named Tokyo Abura Soba in Shinjuku, Tokyo after our night at the Robot Restaurant (hello perfect drunk food!). (UPDATE: In my 2nd Tokyo trip in September 2016, I went back for abura soba TWICE in 3 days, so that tells you how much I loved it).
Tokyo Abura Soba is a chain offering their unique signature dish with a very specific eating process: your hot noodles are served atop a rich pork sauce along with a variety of toppings (egg, pork chashu, bamboo shoots, etc.) which you stir together before adding condiments that include minced onion and garlic, rice wine vinegar, and chili oil (hence oil noodles) and stirring it all up again. The result is a totally customizable bowl with flavor made to your exact liking.
Probably do to my Filipino tastes, I was obsessed with the addition of vinegar, which provided the right acidity to balance out the richness of the ground pork sauce and BBQ pork slices. I recommend getting the version with the BBQ pork and the poached egg, which makes for a velvety sauce thanks to a slightly runny yolk. It was unlike any noodle dish we've previously had and for that reason alone, I highly recommend it – after all, traveling is all about trying new things, right?
Tokyo Abura Soba is a vending machine operation, as you'll find is the case for the majority of the ramen establishments on this list and in Japan in general. Here's how to operate the vending machines:
Insert the amount of money you expect to pay into the machine at the entrance of the restaurant
Hit the buttons for the items you want (don't worry – there's usually photos). Items include actual main dishes, toppings for your ramen, and drinks. Each button you hit produces a small ticket that acts as a receipt.
If you're putting in 2 separate orders, select all the items for the first order (i.e. large bowl, add egg and bamboo shoots, beer) and either complete the process (see step 4) or at the very least take the tickets out before proceeding with the next order (small bowl, add chili oil, sake). Since the tickets are printed in Japanese, this will help so you don't mix up the toppings & drinks you want with your travel partner's (we learned this tip from experience)
Once you're done ordering all of your items, pull the lever to receive your change, and hand your tickets to your server when you enter so they can build your order.
It can be intimidating the first time you encounter it, but once you get the hang of it, you'll wish that this system was available at every quick-service establishment. It makes ordering and paying so much easier since there's no miscommunications with a server and you can just leave once you're done eating (no tipping in restaurants in Japan!)
FUUNJI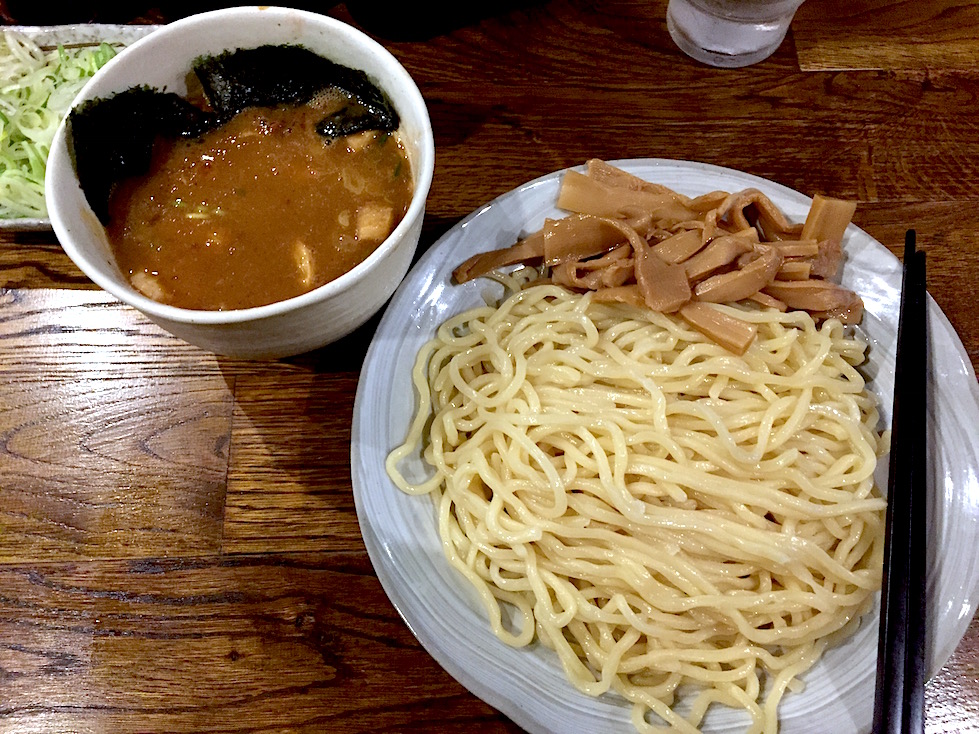 Another of my favorite bowls during the trip was once again not your standard ramen, but a tsukemen dip ramen from Fuunji in the Shinjuku area of Tokyo. It was recommended by Ivan Orkin of Ivan Ramen, and was actually our last bowl of ramen we had the entire trip, making for a perfect ending. Fuunji is another vending machine operation – you want to select the aforementioned tsukemen, which grants you a plate of utterly perfect, chewy noodles that you dip into a bowl of thick, insanely rich and flavorful broth that sticks to the noodles. It's an umami bomb unlike I've ever had, and the texture is incredibly satisfying. You can select the portion size of the noodles you want – we made the mistake of getting a large portion each and I struggled to finish. It's disrespectful to leave too much food uneaten, so I recommend getting a medium portion unless you're starving or inherently capable of eating a ton. If you still have room at the end, they have kettles of hot water that you can pour into the thick tsukemen base to turn it into more of a sipping broth.
ICHIRAN RAMEN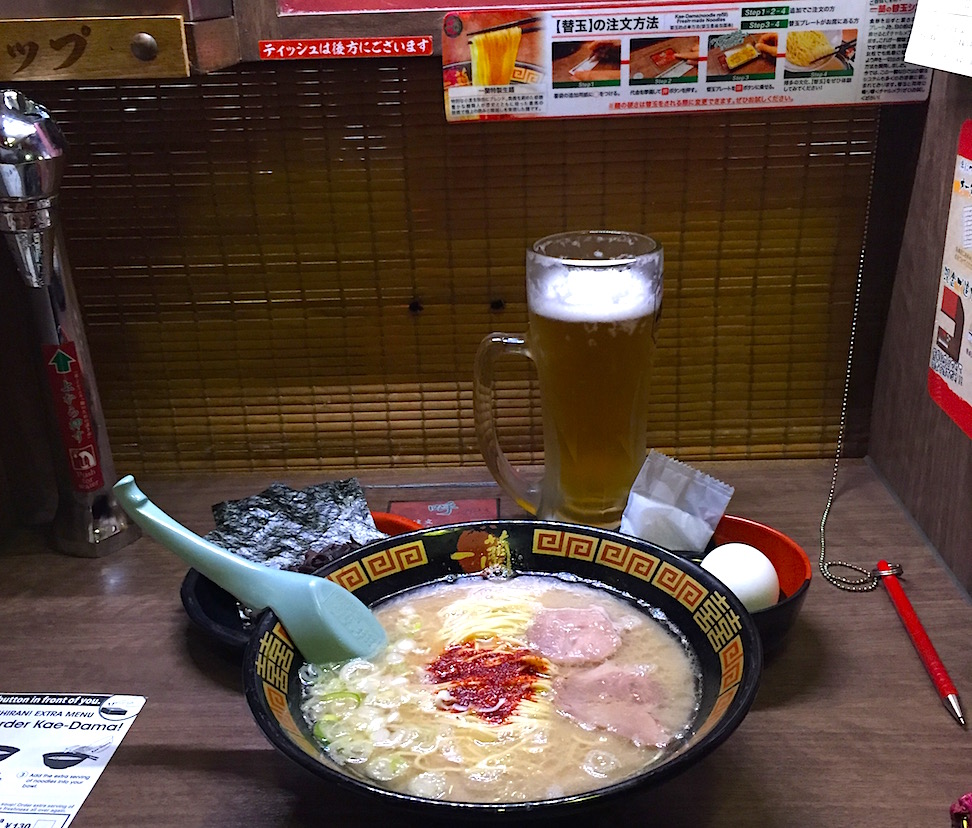 If slurping your noodles with a warm, comforting broth is more of your thing, then I recommend going to Ichiran Ramen, which originated in Fukuoka and has a number of locations throughout Tokyo, Kyoto, Osaka, and elsewhere in Japan. Ichiran is another vending machine operation, but they offer the unique experience of solo booth seating, as each seat at their counter has partitions on either side so you can eat your ramen in your own personal space. You hand your tickets from the vending machine through a window to the kitchen, and once you're handed back your tonkotsu ramen, a curtain is pulled down so you don't even need to interact with a server unless you press your attendant button. There's even a water dispenser at your seat so you don't have to ask someone for water!
As for the ramen itself? You're getting a bowl of wonderfully rich and flavorful tonkotsu ramen with a pork-based broth, customizable to your level of richness and spice (the photo at the top of this post shows a close up of my bowl of ramen). You can even customize how firm or soft you want your noodles, as well as if you'd like green, white, or no onions. This gets paired with super tender pork chashu and a gorgeous orange-hued soft boiled egg if you choose to add it. Be prepared to wait though: we had the best luck with no wait at the outpost near Shimbashi station in Tokyo, but every other Ichiran we passed by throughout our trip had long lines out the door, especially in Osaka which only has 1 Ichiran location.
KYOTO RAMEN KOJI

Japan has a wide variety of regional styles of ramen, so if you're looking to try as many kinds as possible without going across the country, then Kyoto Ramen Koji is where you want to go. Located in the top floor of the Isetan department store in the Kyoto JR train station, "ramen street" has 8 shops that each offer a different style of regional ramen. They even have a printed map guide at the entrance with photos & descriptions of all the different ramens, and then you order from vending machines located outside of each shop. If you don't have plans to go to Kyoto, there is apparently also a Tokyo Ramen Street with the same concept. We tried 7 of the 8 shops at Kyoto Ramen Koji over lunch and dinner in the same day. This self-created Man vs. Food challenge was almost completed due to 2 factors:
The two of us split 1 bowl of the smallest size offered, as some places do allow you to select a smaller portion
We took a train out to visit the Suntory Yamazaki distillery in between, which was not only an awesome experience (I'm a big Japanese Yamazaki whiskey fan and highly recommend it if you're a whiskey lover), but the liquor also aided our hunger for dinner when we came back 🙂
One of our favorite and more unique bowls of ramen was the sukiyaki style pictured above from King of Ramen. Sukiyaki is a cooking technique that involves cooking the meat in a blend of soy sauce, sugar, and mirin rice wine vinegar, so the broth takes on this slightly sweet-savory flavor that's super tasty. The shop also offers raw eggs at the table so you can crack as many as you'd like into your bowl of hot soup. We also loved the rich, creamy Hakata-style ramen from Ikkousha, with thin chewy noodles and tender flaps of pork chashu that hung over the sides of the bowl.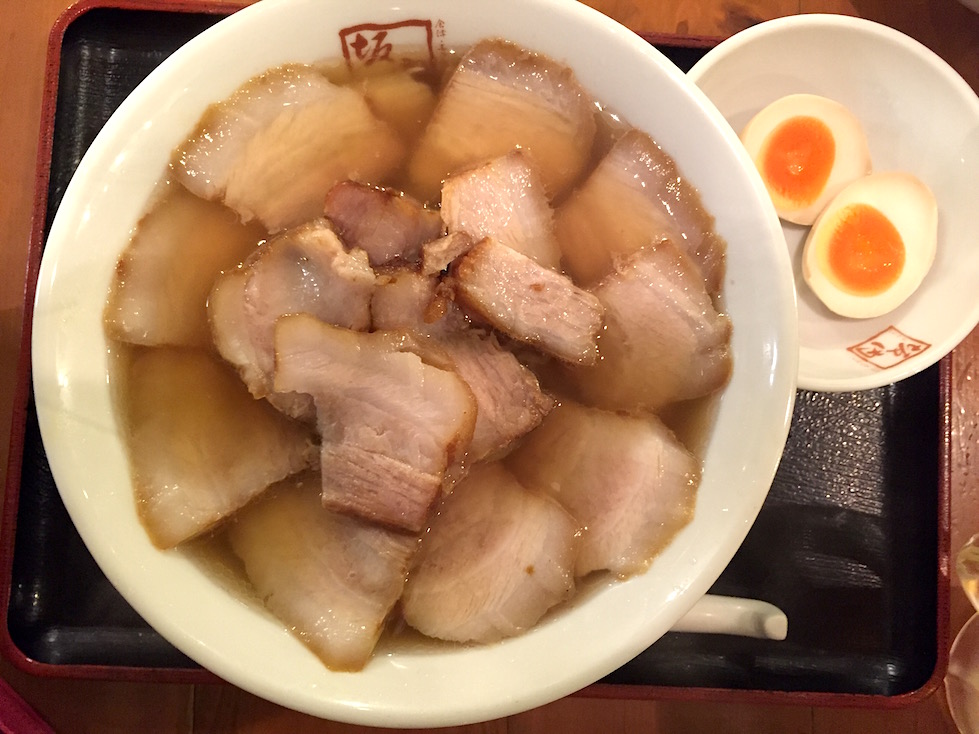 Skip the one that looks like it's topped with a ton of chashu, pictured above. While you do get a LOT of chashu for the price, but the meat itself isn't as good as the rest of the shops, so I only recommend this if you really just want a lot of pork and can sacrifice on quality.
Once you're done eating, make sure to grab a cone of green tea ice cream before exiting to the 10 story outdoor staircase that leads to a roof deck with views of Kyoto.
KARAKO RAMEN
Outside of Kyoto Ramen Koji, we tried out Karako Ramen. This was actually my least favorite ramen for the price, as the kotteri bowl recommended by Lonely Planet was very lackluster despite being thick and heavy, like I was sipping oil and fat without getting a dope broth in return. What made our meal worthwhile though and why I still recommend going here is their karaage fried chicken pictured above, which easily ranks as not just some of the best karaage but some of the best fried chicken I've had period. For about $4 you get 4 massive pieces of the juiciest, most flavorful chicken that when paired with a squeeze of lemon and some mayo hits all the right spots. If you're gonna get a ramen to go with it, go for the spicy miso variety, which we enjoyed far better than their "featured" bowl.
KINRYU RAMEN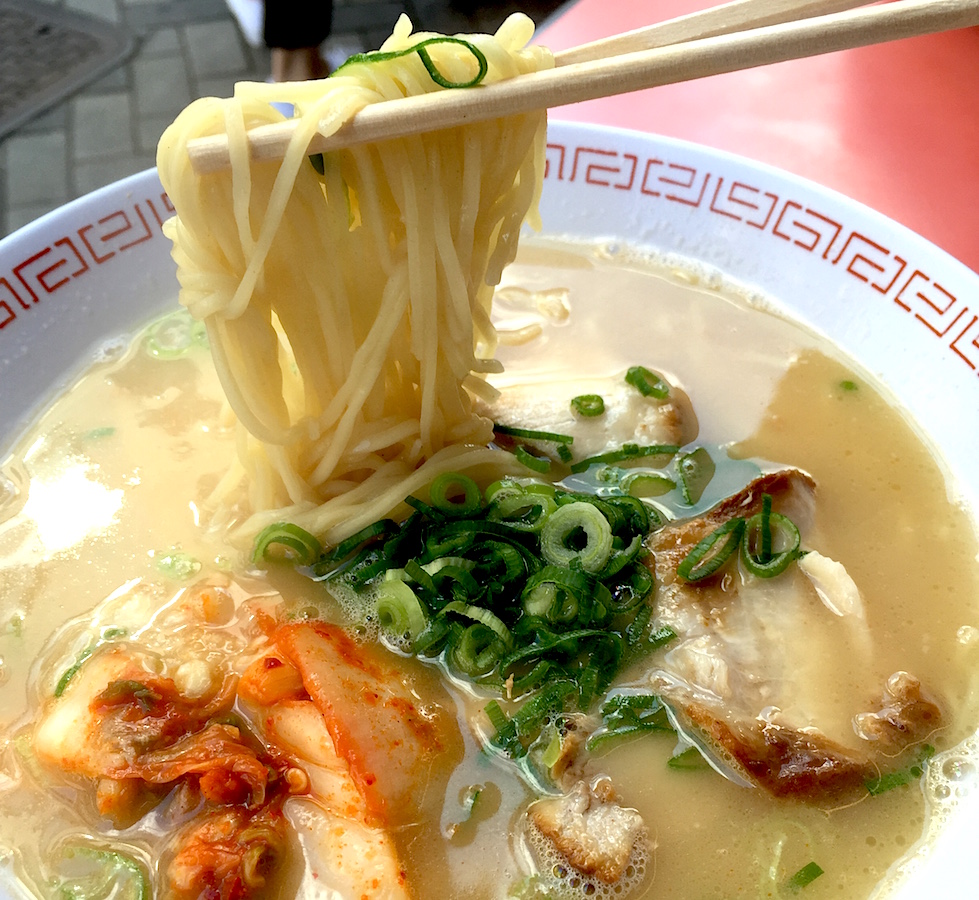 For a quick and cheap way to get your ramen fix in Osaka, look for the giant dragon statues around the Dotonbori main downtown area. While Dotonbori is filled with street food options (and you should definitely try as much as you can, more on that in an upcoming post!), Kinryu Ramen is an easy option for a filling meal as they offer their ramen for just 600 yen in an open air atmosphere. Their location in the heart of Dotonbori even has faux tatami seating, so you can kick off your shoes and sit cross legged while slurping down your noodles in the fresh air. It's definitely not the best ramen, but it comes with unlimited kimchi at the counter to throw into your bowl, and the 600 yen price is just right if a craving hits.
While we had almost countless bowls of ramen during our trip, we barely scratched the surface. I'm personally planning to follow Ivan Orkin's list for the next time I'm in Tokyo, and definitely also want to find a way to Fukuoka, which is the birthplace of many of the most famous ramen chains (hello, Ippudo!) and Hokkaido to the north where they specialize in miso ramens.
Next up in this series are my recommendations for Japan's other noodles: udon & soba!