Tonkatsu in Tokyo – Maisen & Katsukura | The Indulgent Travel Guide to Japan, Part 3
February 2, 2016 by Jen Balisi
Welcome to Part 3 of The Indulgent Travel Guide to Japan, which highlights my 2 week trip to Tokyo, Kyoto, & Osaka in October 2015. In this part, I'm focusing on tonkatsu, which is Japanese panko-breaded, deep-fried pork cutlet. It's typically served with shredded cabbage and a thick, tangy tonkatsu sauce that's similar to Worcestershire sauce. There are 2 popular chains serving the dish across Japan: Maisen and Katsukura. Here I'll give my rundown of both, as well as recommended sights near each of the restaurants.
Want more Japan tips? Check out Part 1: Ramen and Part 2: Udon & Soba.
TONKATSU MAISEN
Tonkatsu Maisen is a chain of tonkatsu restaurants, serving up the dreamiest, juicy, crispy and flaky deep fried pork cutlets that's ruined all future tonkatsu for me. While they offer standard pork as well as other options like shrimp in the deep fried form, what you have to get is their Kurobuta pork, better known as Berkshire pork in the Western world. It's basically the Kobe beef of pork, with a superior quality and intensely flavorful meat due to the marbling throughout the meat. When you take a cut of meat that's already so good and then deep fry it in panko bread crumbs to perfection, it doesn't get much better. It comes with a sweet and tangy Tonkatsu sauce as well as unlimited rice and cabbage (pro-tip: pour the sauce on the cabbage to keep your meat crispy) and some sides.
I highly recommend going to their Aoyama location near Harujuku, which has a spacious upstairs traditional tatami dining room where you sit on the floor with your shoes off. You'll also be walking distance to the Harajuku neighborhood, famous for the Harajuku girls of years past, lots of great shopping, and Takashita Dori.
KATSUKURA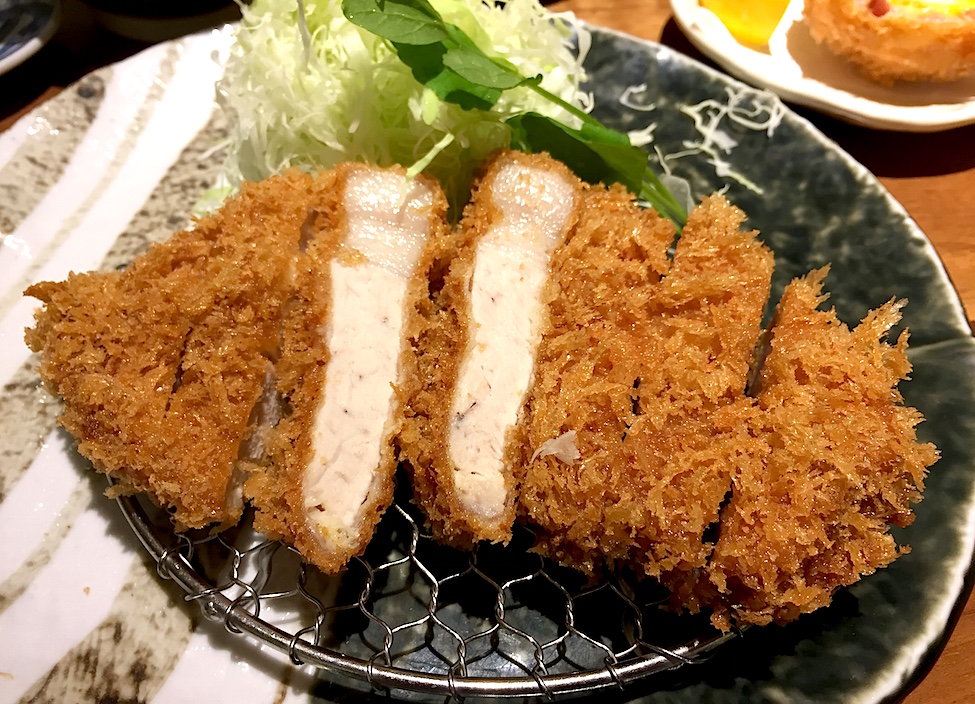 We also tried out Katsukura, another chain of tonkatsu restaurants which originated in Kyoto. We dined at their Shinjuku location in Tokyo, though you can find locations all around. We found their kurobuta pork to be subpar to the one we had at Maisen, as the meat was a bit drier and less tender, though don't get me wrong – it was still better than most tonkatsu we've had in the US. You might be better off just ordering the standard pork cutlet as we were mostly disappointed by the amount we paid for subpar meat since kurobuta pork comes at a premium. If you're very hungry, Katsukura is a great option as they offer both unlimited rice and cabbage, as well as unlimited soup and pickled veggies.

But the best part of our meal at Katsukura? The ham, egg, and cheese croquette you see pictured above, which surprised us when it turned out to be an utterly perfect breakfast scotch egg. Heavenly.
If you go to the Shinjuku location of Katsukura, I recommend following your meal with a drink (or 20) in Golden Gai, an area of Shinjuku that holds almost 200 small bars in a 6 block radius. We particularly liked Albatross, which offers a housemade plum tequila that's surprisingly delicious, and they also have another outpost elsewhere in Shinjuku that supposedly has a nice rooftop view of the area. It's also a perfect way to pregame for the nearby Robot Restaurant, which is highly recommended, though likely you'll want to be inebriated to enjoy the show to the fullest extent. Needless to say Mike and I had a BLAST at the Robot Restaurant 🙂
Coming up next in this Japan series is a rundown of Osaka's food specialties: takoyaki, okinomiyaki, kushikatsu, and kani. More to come!