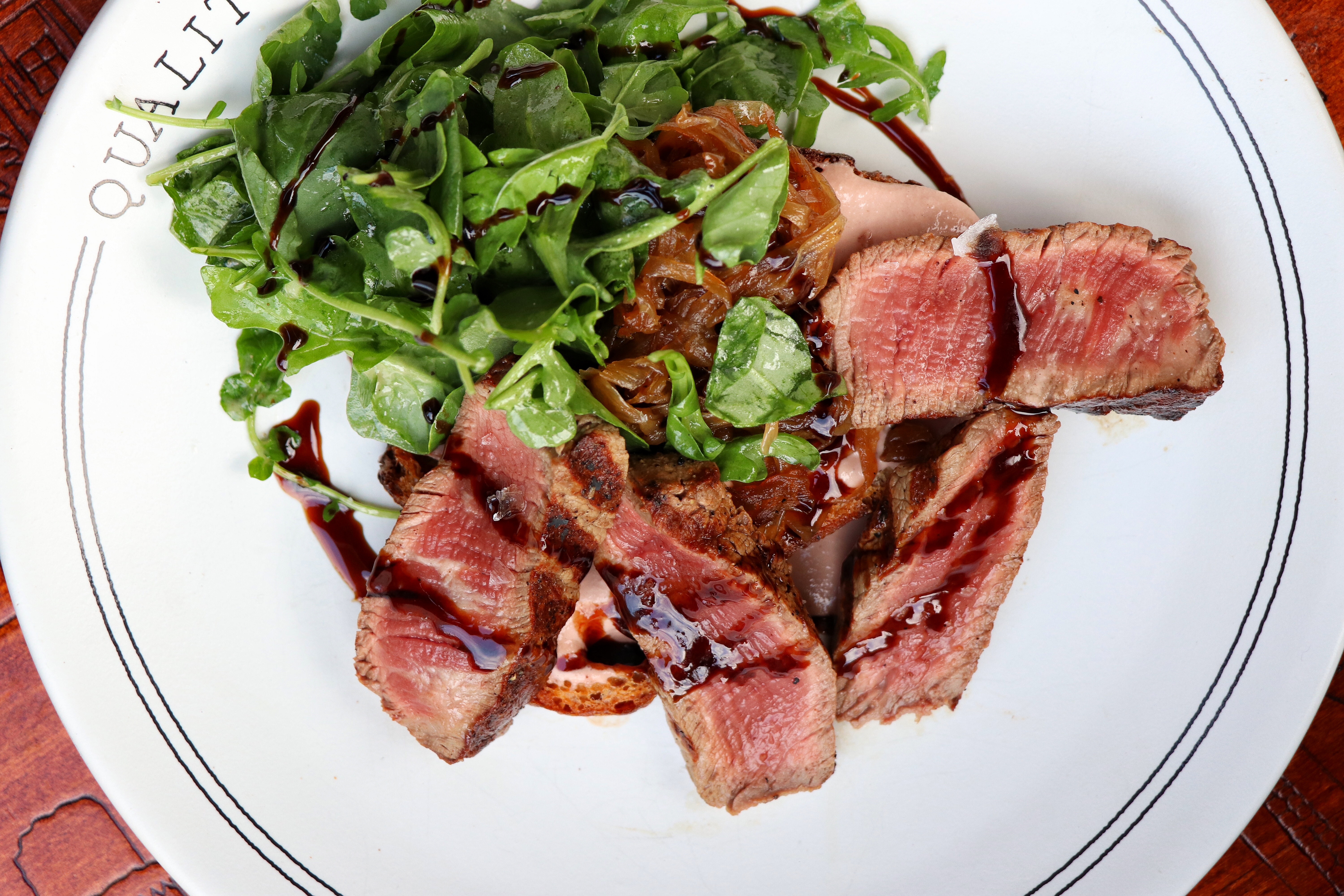 If you've been following me at all, you know that I love steak. But sometimes to get a really great steak, you end up paying a ton to sit in an old, stuffy restaurant. Quality Eats knows this, and decidedly brings a more casual, modern approach to a steakhouse that is highly successful, so much so that they've expanded from their original location in the West Village to the Upper East Side. While I haven't dined at the West Village location, both sport many of the same hit dishes and offer the same laid back vibe to cater to the neighborhood. We got to try a wealth of the menu on the Upper East Side's sidewalk patio, which made for a perfect summer meal.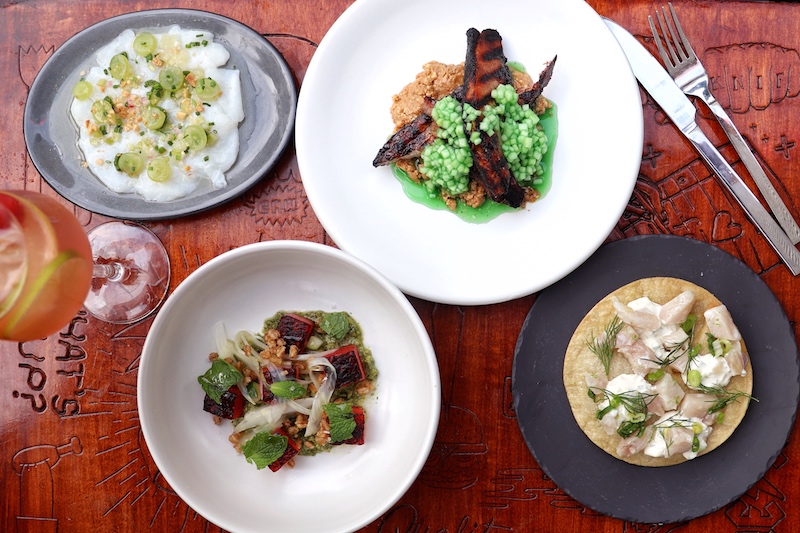 While Quality Eats is meant to be a neighborhood steakhouse, we actually only ended up trying one steak during our meal, but man was it a good one. The Don Ameche is a sliced filet sitting atop dressed arugula and a chicken liver mousse smeared toast with caramelized onions. The steak is tender and flavorful on its own, and absolutely unreal with that creamy and smooth chicken liver mousse and sweetness of the onions. To balance it out, we had a number of fresh and light appetizers, including a charred watermelon salad with mint pesto and crispy farro that was one of the best salads I've had in a while (although I'm biased, since if you've been following me, you know that I LOVE watermelon).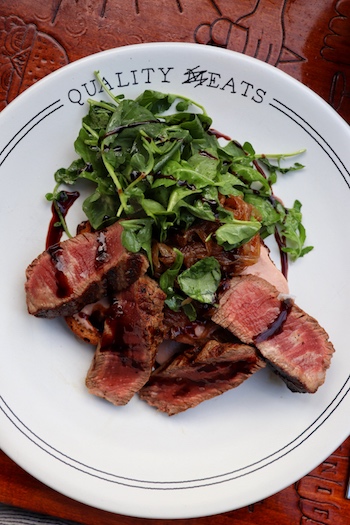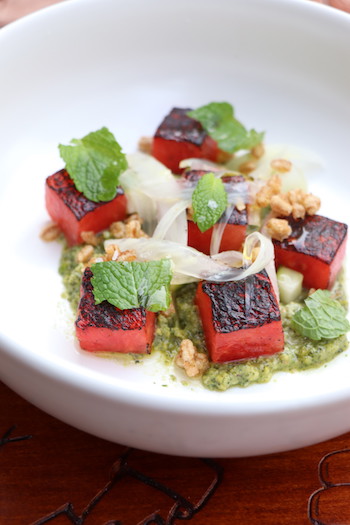 The scallop crudo with sliced grapes, harissa and marcona almonds was another palate pleaser, offering textural contrasts and additional sweetness from the grapes to complement the sweet and silky scallops. The hamachi toastada with tartar sauce crema was also tasty, but I would go for the scallops if you want a raw dish for your meal.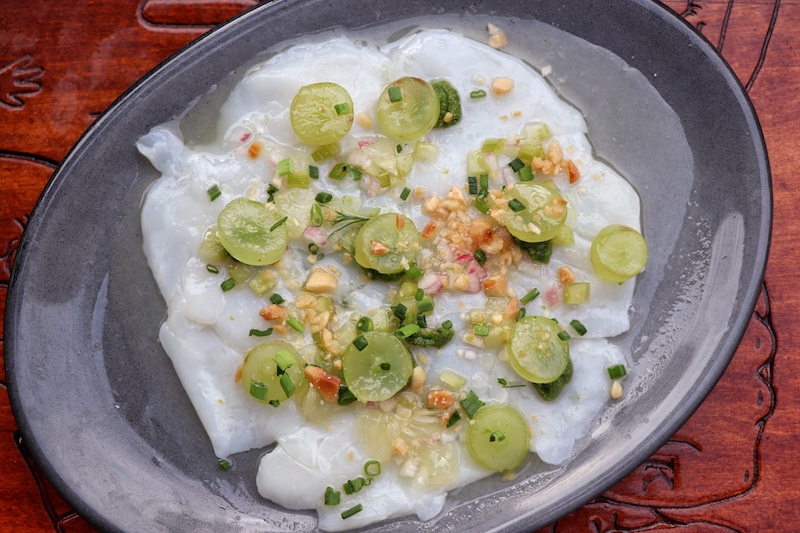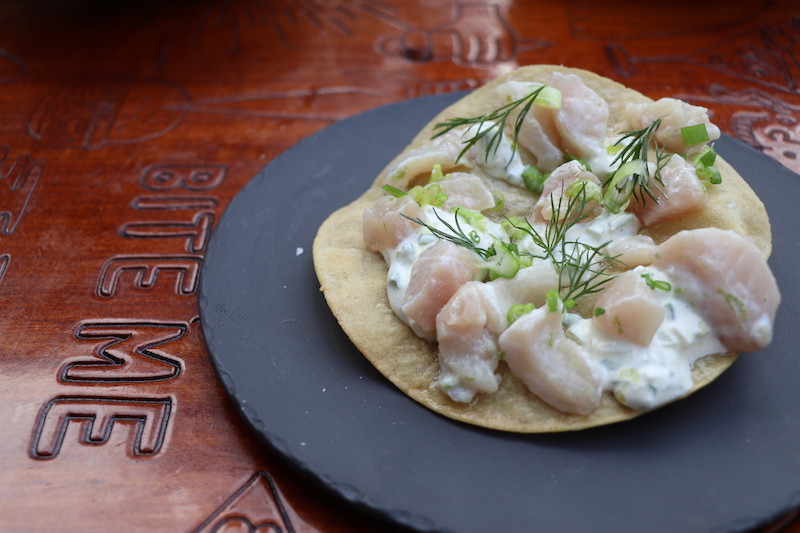 My absolute favorite dish from Quality Eats is their Grilled Nueskes Bacon, a dish that their now famous for as its insane combination of bacon, peanut butter, and a pickled jalapeno jelly works in so many ways. The thick slab bacon gets a layer of sweetness from the peanut butter (that's also super delicious on its own), that then gets cut by the spicy and acidic jalapeno jelly. It's an absolute must-order for the table.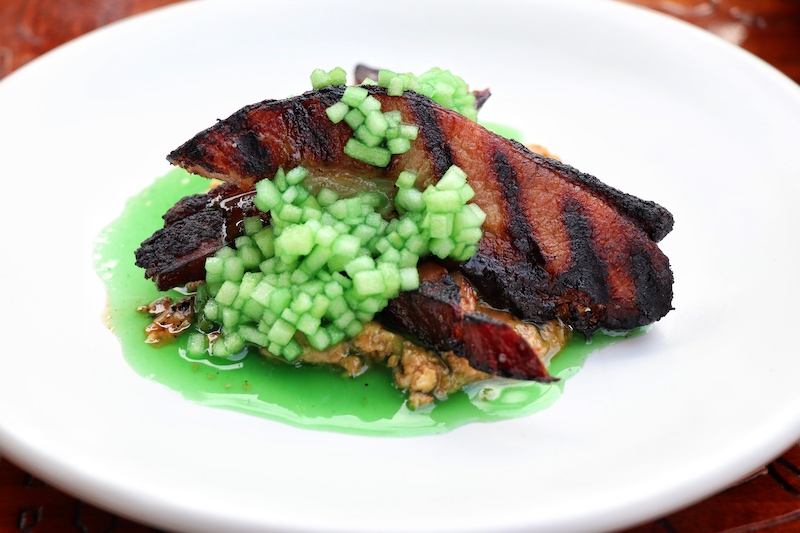 It's hard to pick a favorite among our mains, as the aforementioned steak was amazing and so was pretty much everything else we had. Quality Eats offers a fun large format Pork Porterhouse Al Pastor for 2 as a refreshing and delicious change-up in their steak menu. The pork is tender and flavorful, bringing on the flavors of al pastor with its marinade, but especially with the amazing pineapple sauce that is served with the pork complete with a fun pineapple-ended knife.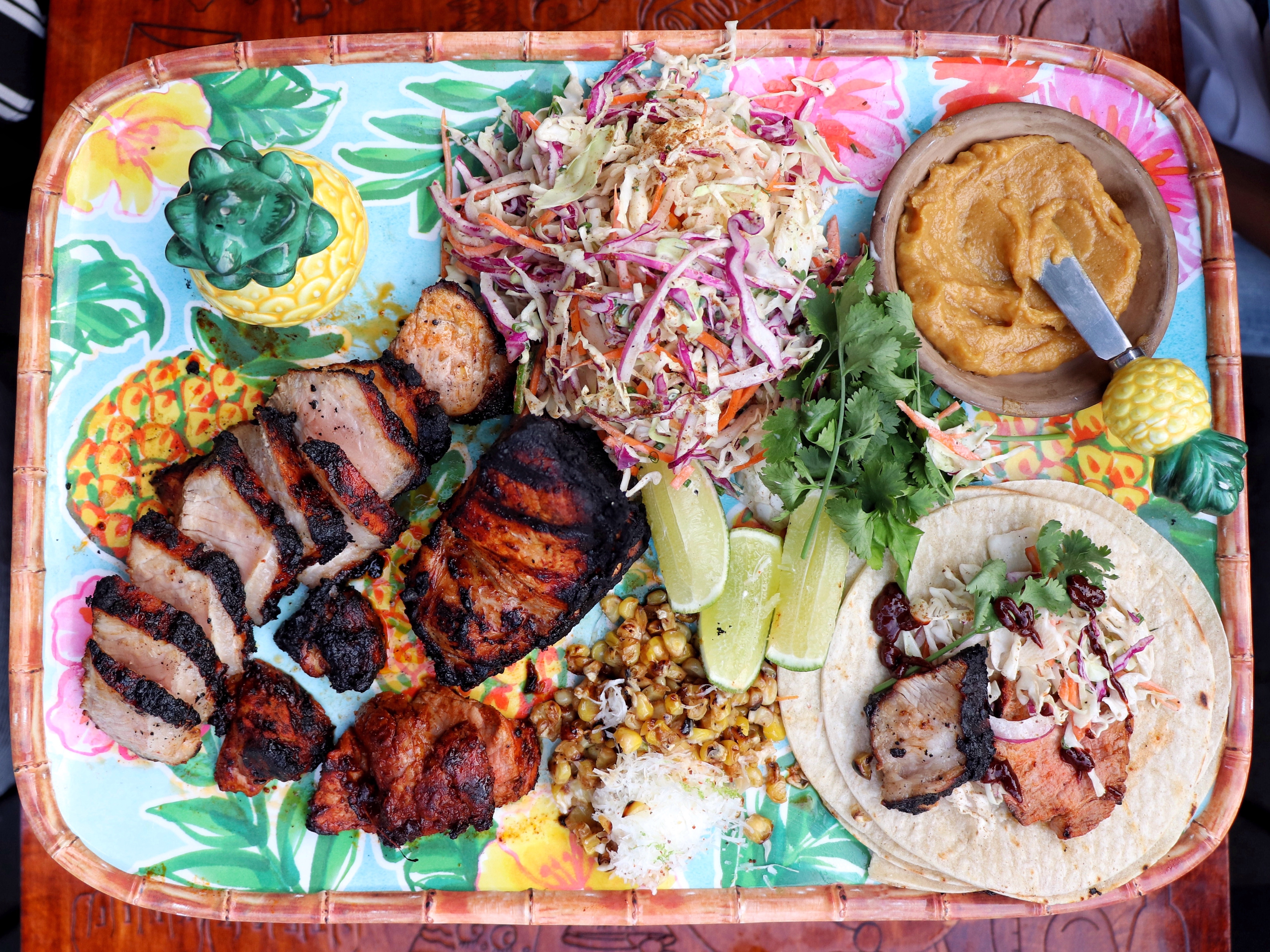 It's served with tortillas, a cabbage slaw, and accouterments so you can build pork al pastor tacos to your liking. You should definitely make sure to also get the corn elote side that is an amazingly cheesy Mexican-style corn that goes great with the al pastor dish (we actually threw some of it on the tray pictured above for sharing).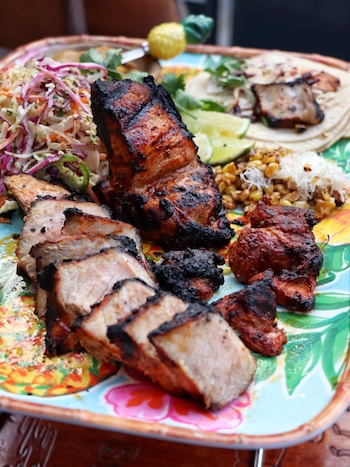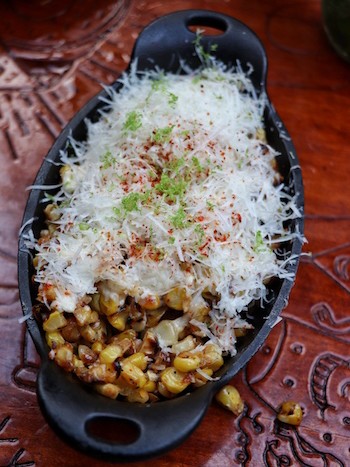 As though the al pastor wasn't enough, Quality Eats is serving up a hunk of a beef rib that's cooked in Dr. Pepper and paired with a fresh nectarine and fennel salad.The meat is oh so tender and juicy, and you'll want to keep coming back to dip it into that sweet and tangy soda-based sauce. We took the bone back to our Goldendoodle, who probably loved it even more than we did. For non-meat eaters, they've also got what they call a Branzino Frites, a solid grilled branzino that comes with super addictive fries made with zucchini instead of potato so you can feel a little better about yourself after you eat the entire portion.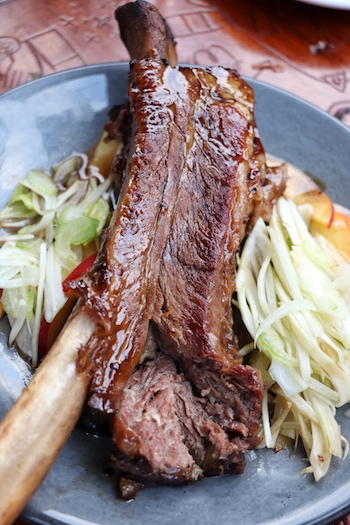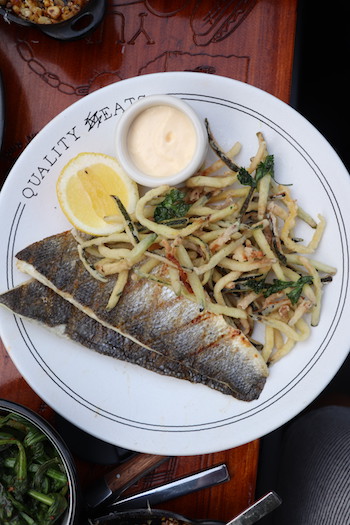 Quality Eats has become known for their desserts, and the UES location offered a couple of wonderful odes to NYC in dessert form. The black and white cookie tart took the classic cookie and put it on top of a cookies and cream ganache and chocolate tart that resulted in a delicious dessert we couldn't get enough of. For cheesecake lovers like myself, they're serving up a pint of Orwashers rugelach and apricot cheesecake swirl ice cream, complete with whole rugelachs on a cakestand.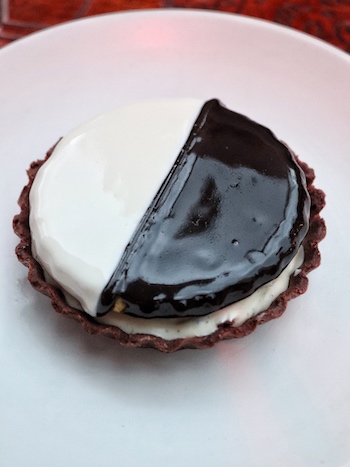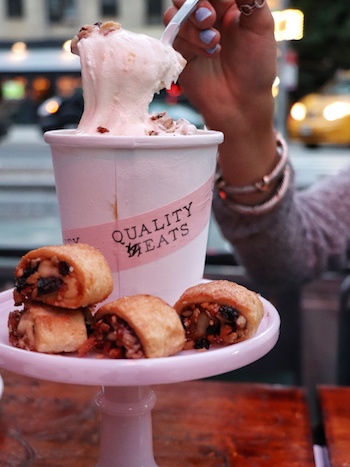 Finally, a word on the cocktails. The ones we tried were too sweet for my personal taste, but with the sangria cleverly served in a French press, and large format Millenial Cup offering a mezcal cocktail in a "participation trophy," you're bound to find a fun drink to please those in your crew.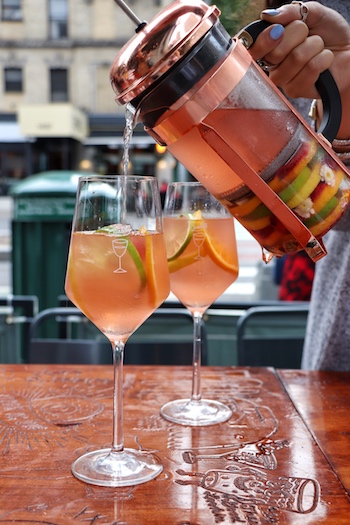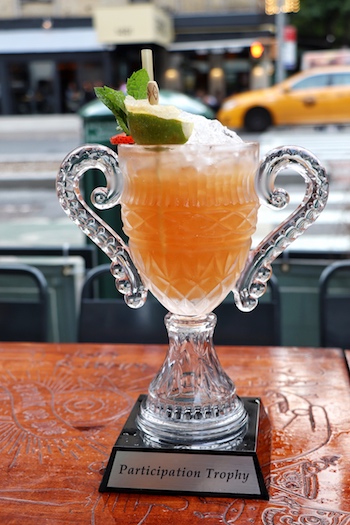 Overall, I highly recommend Quality Eats. It has such variety in its delicious menu: affordable steaks all coming in at less than $30, solid fish and seafood offerings, large format pork and a hunk of a beef rib, and inventive desserts. I can't wait to come back to try more of the menu (and eat more of that bacon).