Grilled Shrimp & Mexican Street Corn Tacos (In Collaboration with Men's Health)
August 1, 2017 by Jen Balisi
Mexican street corn is one of my favorite things to eat. The tart lime and cheese with that charred corn and chili powder make such an addictive dish that I call it crack corn. I've already written two different recipes for it, so when Men's Health approached me to help them create something perfect for summertime grilling, I came up with these Grilled Shrimp and Mexican Street Corn Tacos. Not only are they tasty, but they're lighter on the waistline and packed with protein for bikini season.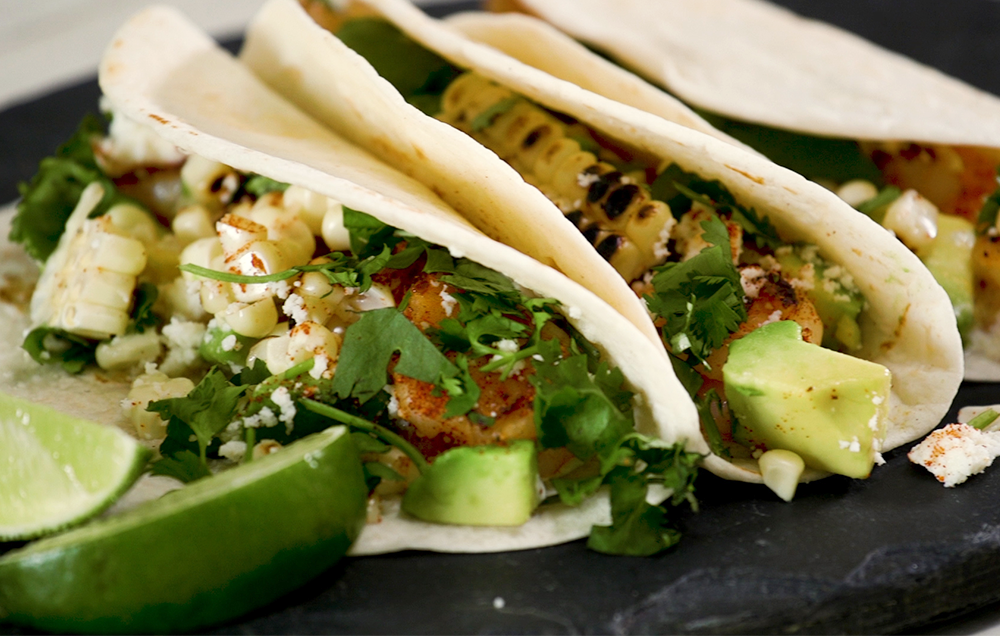 The grilled shrimp are marinated simply in lime juice, sugar, and spices before grilled up along with the corn. All of it goes into warmed up tortillas with sour cream, crumbled cotija cheese, and Mexican chili powder to mimic Mexican street corn, with the addition of avocado for healthy fats and general goodness plus the optional cilantro (for those who actually enjoy it). Check out the video at the top to see it made in a pan, but you're welcome and encouraged to make these on the grill during your next cookout.
Grilled Shrimp & Mexican Street Corn Tacos
Ingredients
For the shrimp:

1 tsp minced fresh garlic
1/2 lime, juiced (slice the rest of the lime for garnish)
1 tsp sugar
1 tsp fresh ground pepper
1 tsp salt
1 tsp paprika
1 tbsp olive oil
1 lb large shrimp (about 31-35 shrimp per lb), peeled, deveined, and dried

For the tacos:

8 flour tortillas
1 corn on the cob, husk removed
1 avocado, pitted and diced
1/2 cup crumbled cotija, queso fresco, or feta cheese
1/2 lime, juiced (slice the rest of the lime for garnish)
1/4 cup low fat sour cream
8 tsp Mexican chili powder
1/4 cup fresh cilantro leaves, chopped (optional)
Instructions
Combine all ingredients for the shrimp in a bag and allow to marinate in the refrigerator for 20 minutes.
While your shrimp are marinating, grill the corn over high flames until it's lightly charred, about 4 minutes total, turning so it cooks evenly. Remove from the grill and use a knife to cut the kernels off the cob. Toss in the lime juice and set aside.
Once your shrimp are marinated, remove from the marinade and thread the shrimp onto 5-6 large skewers (6 shrimp per skewer), through the top and the tail so the shrimp stay curled, leaving no space in between the shrimp.
Grill the shrimp over medium-high flames, about 3 minutes per side until browned on the outside and cooked through. Remove from the skewers and set aside.
Warm the tortillas over a low flame, 5-15 seconds per side until charred to your liking and set aside.
Assemble the tacos by evenly distributing the sour cream, diced avocado, grilled corn, cheese, and grilled shrimp onto the tortillas, then finish by covering with 1 tsp of Mexican chili powder each and cilantro as desired. Serve immediately with lime wedges for garnish.
http://indulgenteats.com/2017/08/01/mens-health-x-indulgent-eats-grilled-shrimp-mexican-street-corn-tacos/
If you like this recipe, make sure you check out some of Men's Health's other incredible meals, such as these spicy gyro burritos, sizzling campfire nachos, and simple salsa verde.