Thanksgiving Breakfast Stuffing with Baked Eggs and Bacon
November 22, 2017 by Jen Balisi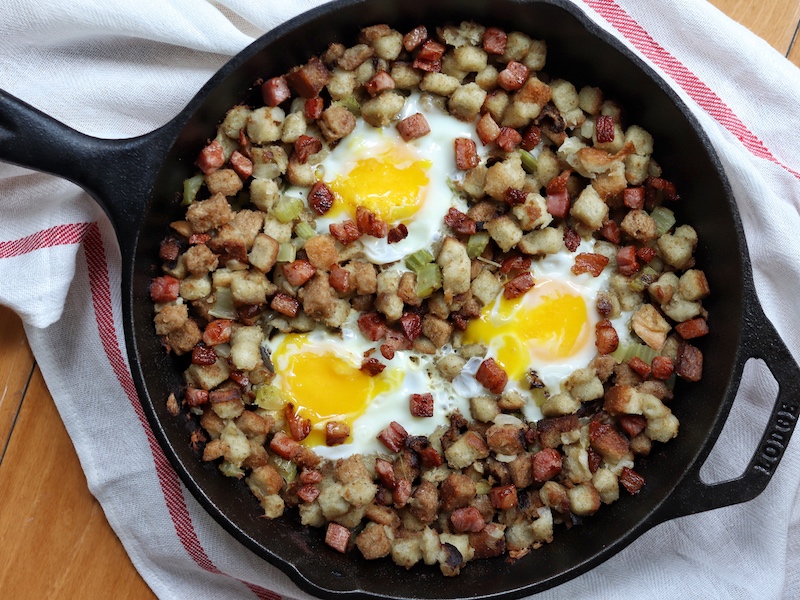 Now that I'm in Hong Kong, this is my first year celebrating Thanksgiving without a turkey, but I'll be damned if I let that prevent me from enjoying my absolute favorite side — stuffing. Croutons are legitimately my favorite snack (I eat them straight out of the bag like a raccoon), and stuffing is basically croutons soaked in chicken broth with crunchy vegetables in it, plus sage and other herbs that invoke the feeling of autumn in every bite. What's not to love? So when I was doing some grocery shopping and stumbled upon a package of stuffing, I knew I had to make a batch and ended up turning it into this Thanksgiving Breakfast Stuffing with Baked Eggs. While they weren't exactly leftovers for me, it's an easy way to transform the leftovers you do have into breakfast the next morning.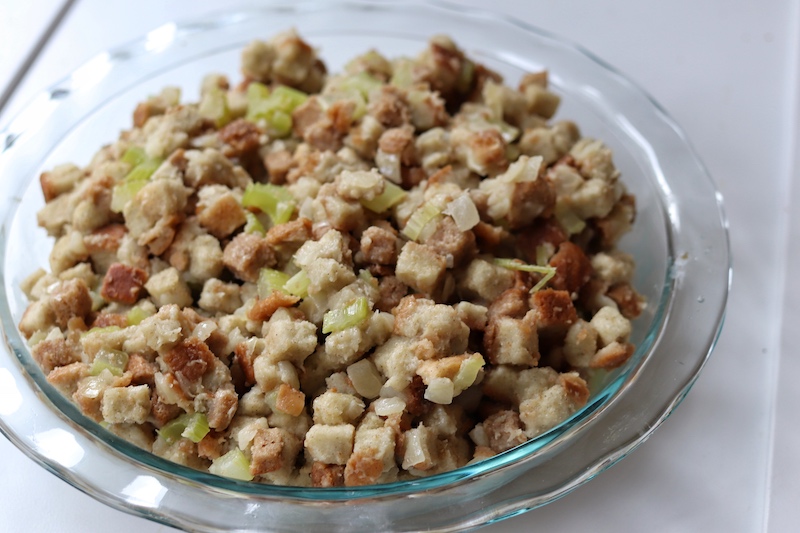 It all starts with the stuffing. I made a full package of store-bought stuffing with onions and celery and ended up using about half of the final product for this breakfast stuffing. Make sure you reserve some stuffing or make extra on Thanksgiving so you have at least 3-4 cups of it to go with your eggs. I also found thick diced bacon at the grocery store that tasted exactly like Canadian bacon even though it was called "Dutch Original." Try to find something similar or you can go ahead and just make regular bacon and dice it up after cooking.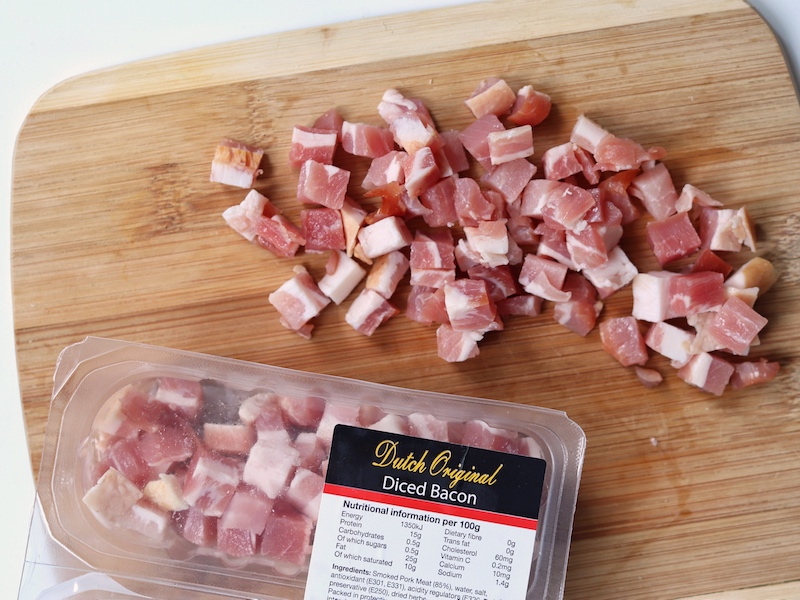 I used a cast iron skillet to cook my bacon, and then added the stuffing and eggs right into the pan to minimize the number of pans I was using. The cast iron skillet also helps with crisping up the edges of your stuffing, and the hot pan from cooking the bacon will jump start the cooking of your eggs.
That said, one of the biggest adjustments with living in Hong Kong is that the majority of apartments here don't come with ovens. As a result, I had to improvise and make my breakfast stuffing purely on the stovetop, but the direct heat from the gas flame onto the cast iron skillet resulted in the bottom of the stuffing mix getting burned to a crisp by the time my eggs were cooked. You'll see in the recipe below that I instead direct you to bake this in the oven so you don't use the stovetop. Having made a number of other baked egg dishes, I'm very confident that baking this in the oven will yield successful results without a burnt crust and instead provide a nice crispy top to your stuffing while keeping those yolks nice and runny.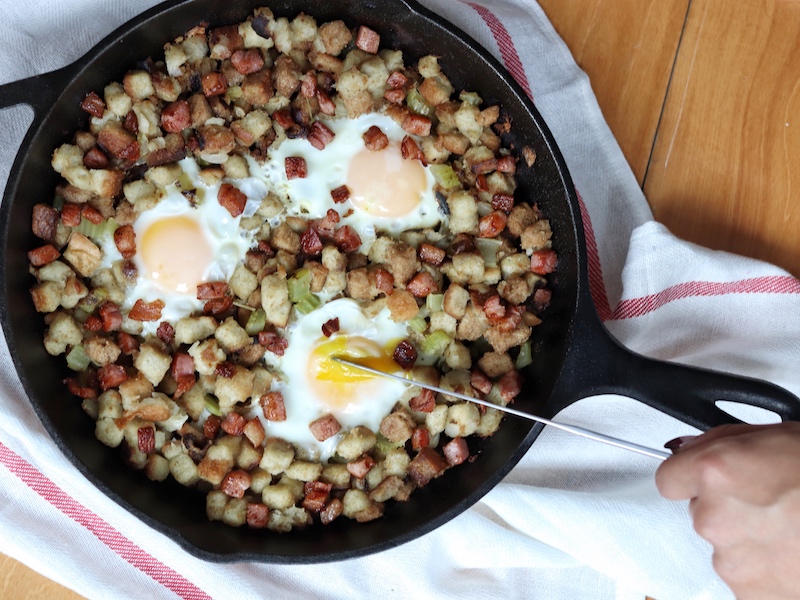 Need more ideas for your Thanksgiving leftovers? Make a crescent wreath and fill it with all the leftovers your heart desires!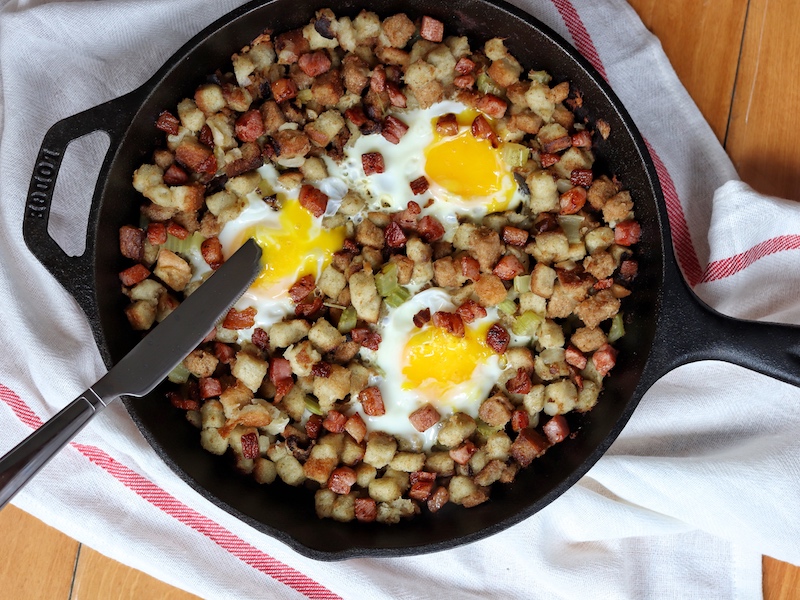 If you've got a lot of leftover turkey, you could easily throw some shredded pieces into your breakfast stuffing as well. But the real winner would be if you have any leftover roasted brussels sprouts – it will go perfectly with the bacon and eggs in this dish! I would've added it to mine but I don't have an oven 🙁 But no matter what variation, this Thanksgiving Breakfast Stuffing with Baked Eggs is sure to keep you happy throughout the holiday weekend.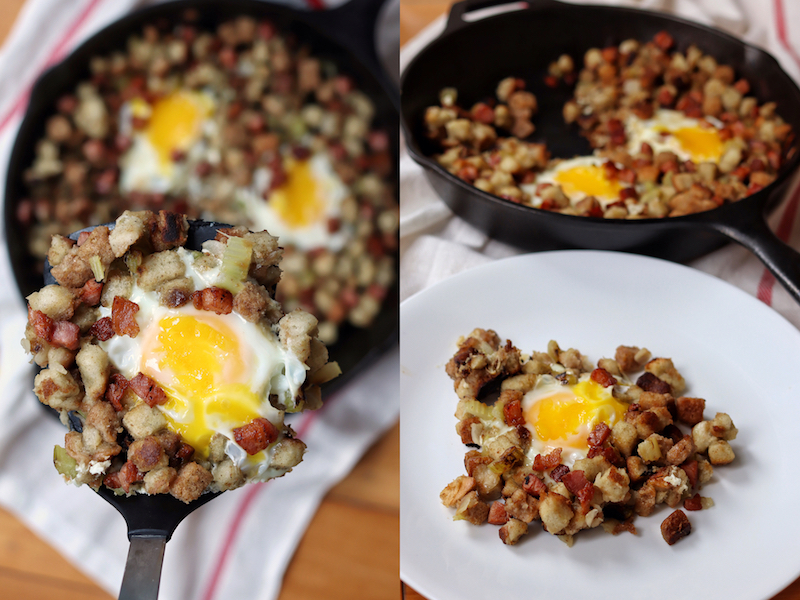 Thanksgiving Breakfast Stuffing with Baked Eggs and Bacon
Transform leftover stuffing from Thanksgiving into this easy breakfast dish with crispy bacon and baked eggs.
Ingredients
3-4 cups leftover stuffing
3 eggs
2-3 oz. thick cut bacon
Leftover shredded turkey or roasted brussels sprouts (optional)
Instructions
Preheat the oven to 350 degrees F.
Cook the bacon over medium-high heat in a cast iron skillet until just caramelized, about 3-5 minutes.
Set aside on a paper-towel lined plate.
If you have some leftover shredded turkey or roasted brussels sprouts you'd like to use, mix it into the your leftover stuffing.
Add the stuffing mixture. to the pan, leaving 3 holes for your eggs. Add a drop of olive oil to the pan where the holes is, then carefully drop in the egg. Use a knife to break the membrane in the egg white and lift and tilt the pan around so the egg whites spread into the stuffing (this will help speed up the cooking of the egg white and also help hold everything together).
Sprinkle with chopped bacon and bake until egg whites have set and yolks have thickened but are still runny, about 10-12 minutes.
Serve immediately and enjoy.
http://indulgenteats.com/2017/11/22/thanksgiving-breakfast-stuffing-baked-eggs-bacon/