Millennium Hilton New York Downtown – Epic views and the best downtown location
January 16, 2018 by Jen Balisi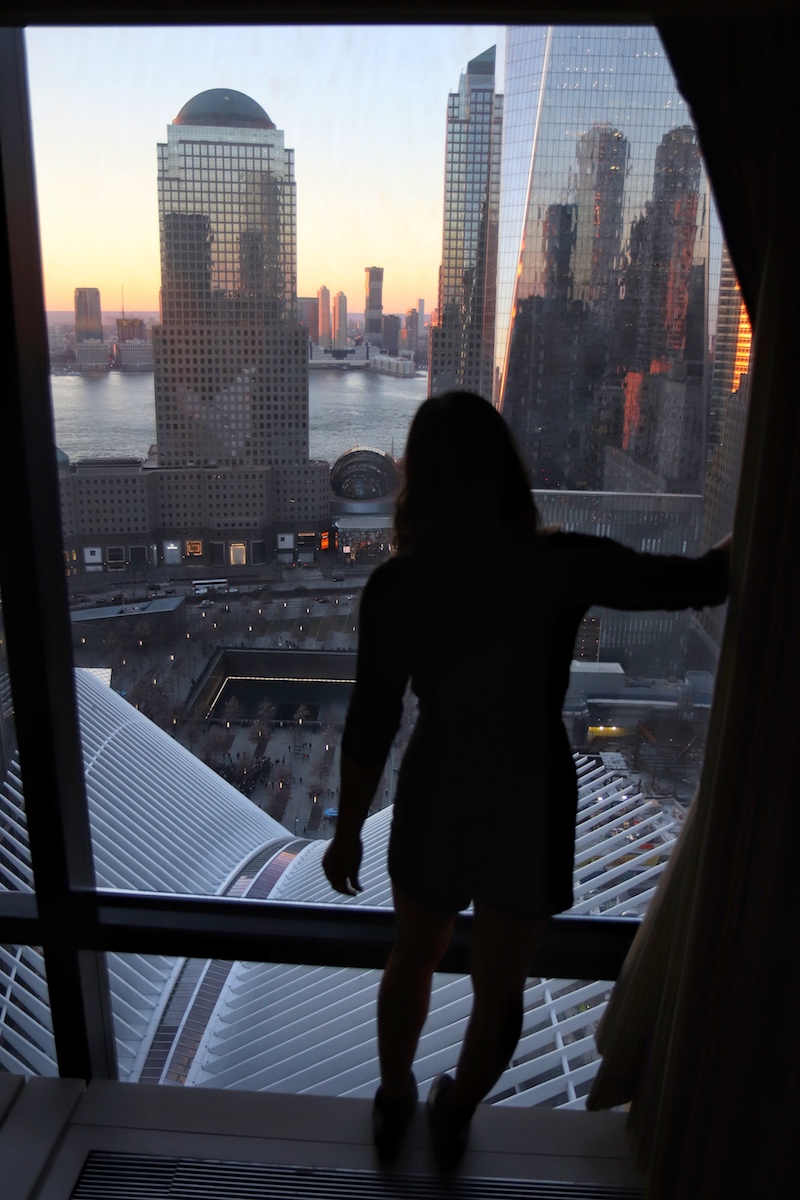 Standing in that windowsill, I felt like I was watching the heart of downtown Manhattan beating. Looking straight ahead, the blurred reflections of passing clouds and buildings appeared on the mirrored facade of One World Trade Center. To the left and in between the skyscrapers of Brookfield Place were ferries cruising down the Hudson River, across to the waterfront plazas of New Jersey where many commuted in from. Shifting my gaze down, small silhouettes of people walked through the tree-lined paths surrounding the September 11 Memorial Pools. Down further, the white spires of the Oculus pierced though the sky like a skeleton exploding. All of this, right in front of my eyes from my hotel room inside the Millennium Hilton New York Downtown.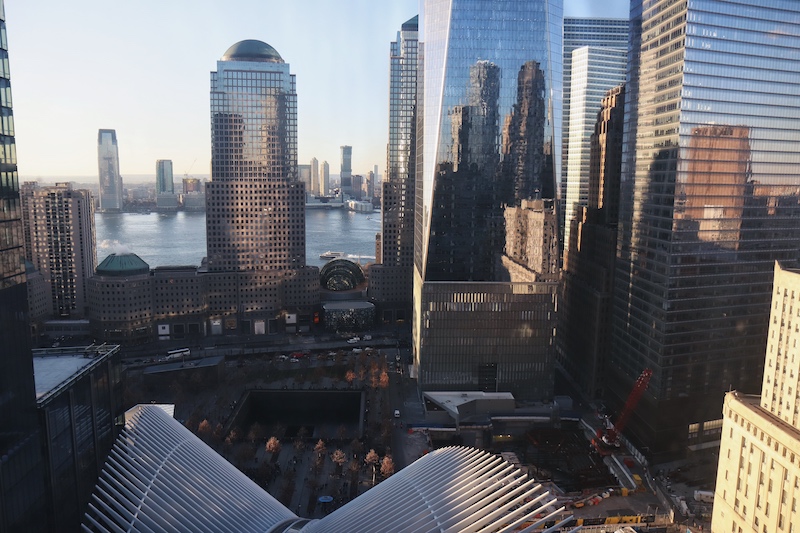 I stayed in a deluxe city view room for my 3 days and 2 nights at the hotel this December, which offered not only this amazing view with a comfortable bed and ample space, but close proximity to all of the sites mentioned above, making it perfect if you're planning to visit any of these places. Indeed, the convenience and location of the Millennium Hilton Downtown can't really be beat. A few steps out of the entrance of the hotel is the RW subway station. Cross the street and you're inside the Oculus, and from there almost every line of transportation can be accessed underground so you can stay indoors (something which was SO greatly appreciated since it was brutally cold in NYC during my stay).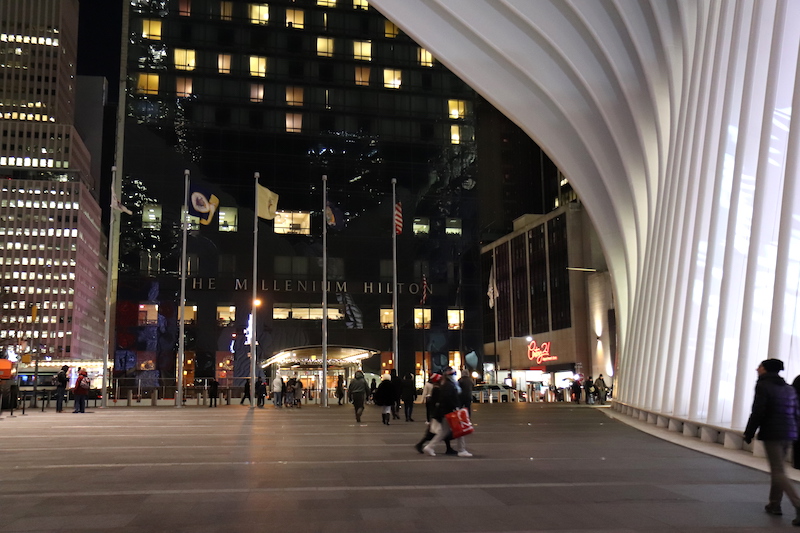 While the Oculus is a destination in and of itself, it's also the home of Westfield World Trade Center, filled with stores and restaurants, including the Italian food paradise that is Eataly. Just a few more minutes walk underground from the hotel is Brookfield Place for more shopping and restaurants, including Hudson Eats, a gourmet food court with a number of great vendors. But one of the best parts about staying in the Millennium Hilton Downtown was that at least one meal per day was covered. Their breakfast buffet inside Church and Dey on the 3rd floor of the hotel offered ample options from eggs and bacon to pastries and cereals in a spacious restaurant with views of the Oculus. And if you were feeling lazy (like I was one day), you can even order ahead a delicious breakfast spread to your room at the time of your choosing.
Overall, I really enjoyed my stay at the Millennium Hilton Downtown and highly recommend it whether you have plans to visit NYC from across the world or you live in NYC and want to do a shopping staycation. The hotel is even offering a Shopper's Suite package for those looking to take advantage of the proximity to Westfield World Trade Center. You'll get two nights in one of their designated "shopping suites," spacious guest rooms with extra square footage for storing bags, plus a $100 gift card to Westfield World Trade Center. To top it off, the package comes with an exclusive Westfield bag of samples from stores including Dior, Kiehl's, Philosophy, Eataly, The Art of Shaving, and more.
Even better, I've partnered with the Millennium Hilton Downtown to give you all a 15% discount on one night's stay if you book through this link by March 31, 2018 for a stay throughout the year. So definitely make sure to book a room to take advantage of this offer.