Pho Up | A new spot for Vietnamese food in Hong Kong's SoHo District
January 29, 2018 by Jen Balisi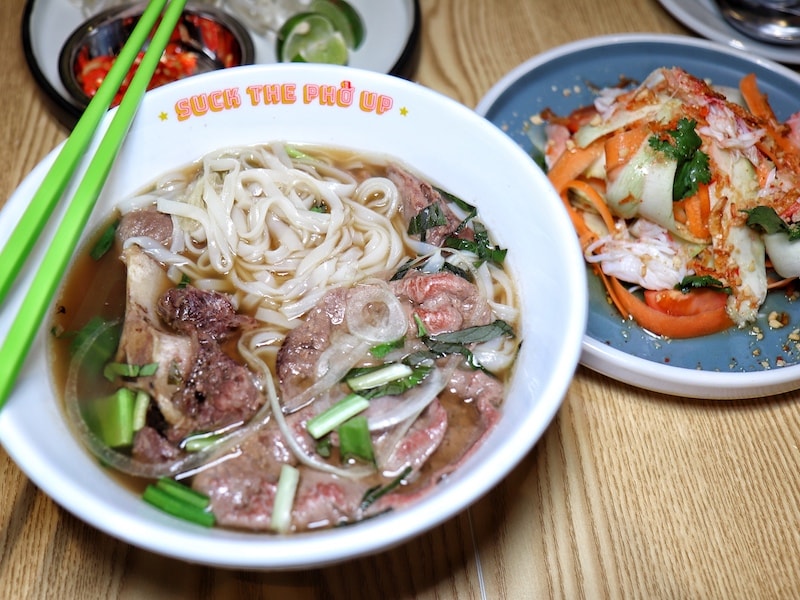 Walking down the Central-Mid-Levels Escalator, it's hard to miss the big, bright red and yellow neon star hanging from the window of Pho Up, a brand new restaurant in Hong Kong's SoHo District that comes from the same team as the beloved bar 65 Peel. The star is appropriate given the restaurant's prime location on Hollywood Road, but it also represents the flag of Vietnam where the majority of the menu dishes come from.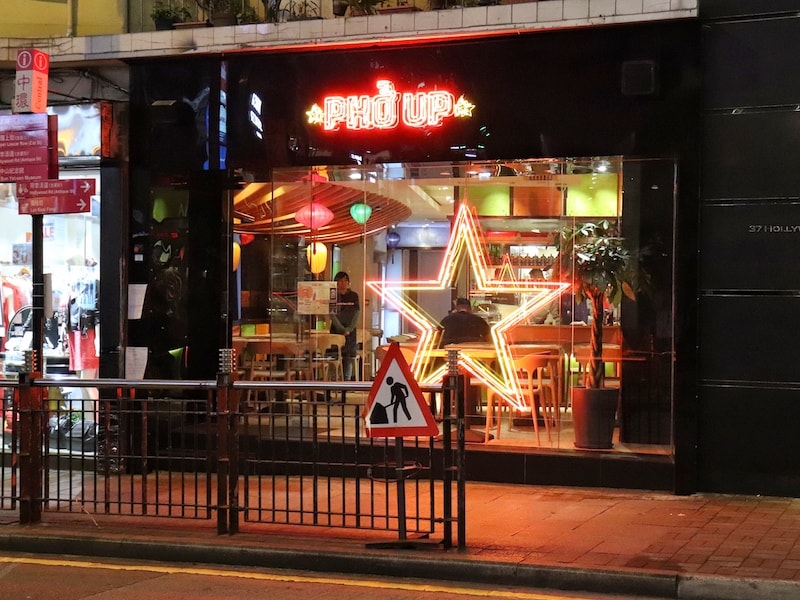 Yes, there's obviously pho, Vietnam's most popular export with a savory beef broth and rice noodles. With a name like Pho Up, you better have a good bowl of it. Thankfully they mostly back it up with a satisfying bowl that is cheekily printed with "Suck the pho up" below the rim. Their pho bo has a flavorful broth and flat noodles which offered more bite than your typical thin rice vermicelli, but the real winner was the oh so tender wagyu beef brisket and rounds that were superior to most bowls of pho I've come across.
The biggest knock was on the oxtail, which had a lot of meat but was not rendered enough for the meat to be easily pulled off from the bone, making it more difficult to eat. I have not yet tried other pho spots in Hong Kong, but my dining partners confirmed that this bowl was better than most places in town, which are usually lacking in multiple aspects and also don't usually include oxtail or high quality beef in their pho at the price of 88 HKD.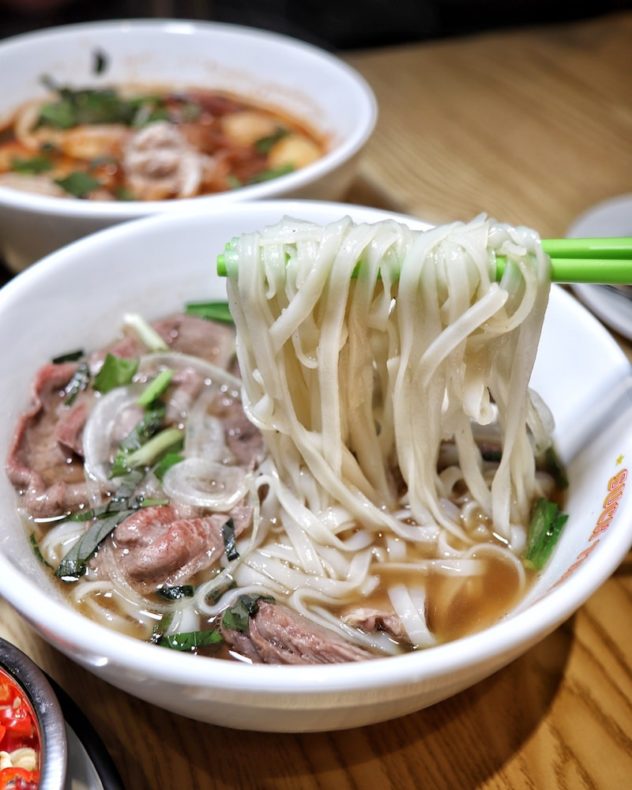 We also enjoyed their bun bo hue, an aromatic beef noodle soup that was slightly sweet, sour and spicy without being too rich, although I was hoping for a bit more of a flavor punch. Pho Up has their own take on it by adding pork knuckle and pork belly to the typical combo of Vietnamese sausage and beef, but they also elevate the beef by using that same tender wagyu brisket that breaks apart with just a poke of your chopsticks.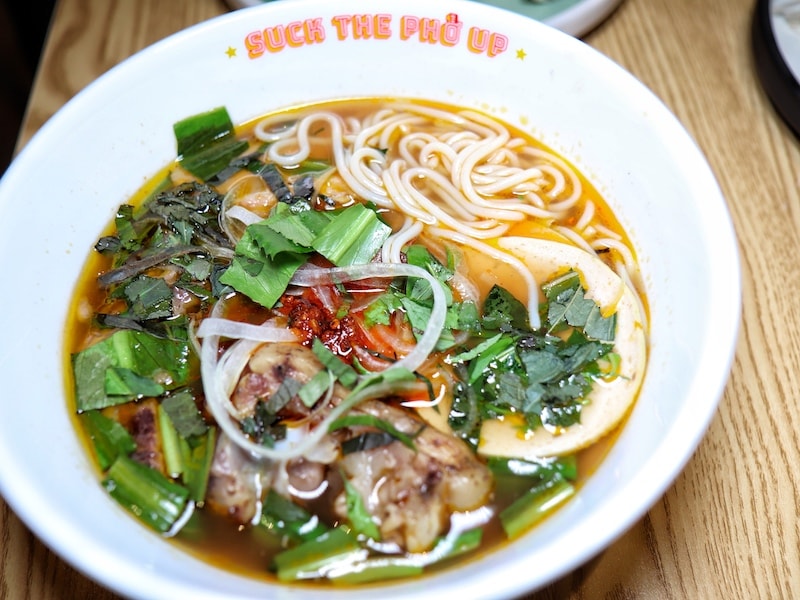 Pho Up's final noodle dish is the bun rieu where blue crab is the star. A mound of it sits atop a tomato based broth, accented by shrimp balls and tofu. This was a more unique bowl of noodles, but overall just not as satisfying as the others. If you want crab, you'd be better off ordering their green mango salad with Alaskan crab, dressed with fish sauce and peanuts. The saltiness of the sauce paired perfectly with the thinly sliced unripe mango and carrots, with sweet chunks of crab meat to make a fresh yet complex salad.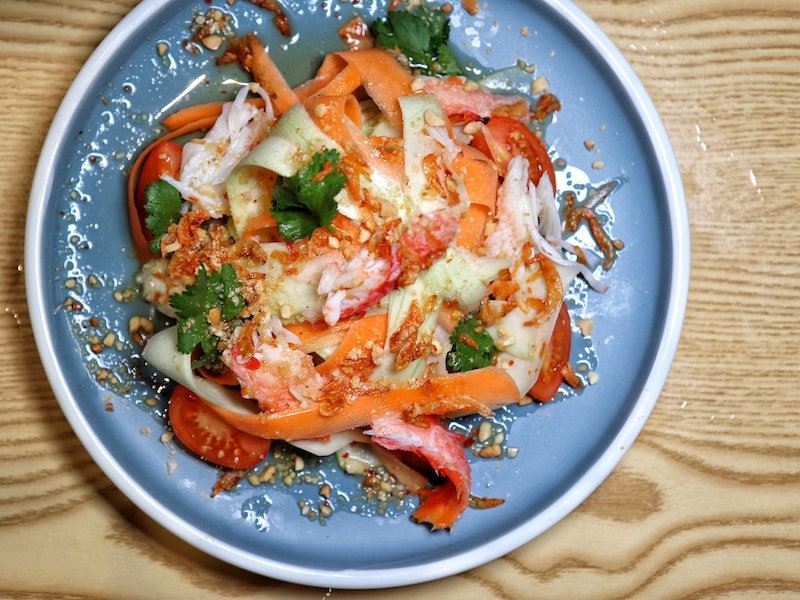 We wanted to try their summer rolls, which wrapped a tiger prawn in rice paper rolls paired with a yuzu dipping sauce. Sadly they were sold out that day (likely growing pains from being brand new). We went for the less healthy cha gio chien, or deep fried spring rolls. After wrapping them with romaine lettuce and Thai basil and dipping them into the fish sauce-based nuoc cham, their spring rolls ended up being too addictive to resist adding a second order, though they could've sat in the fryer longer to let the wrappers gain more color and crunch.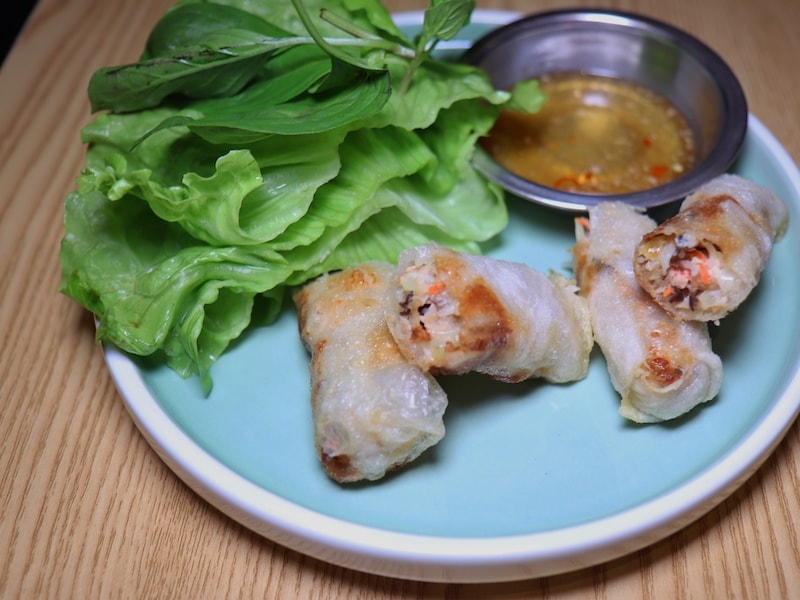 Our starter ended up being the last dish to arrive, as the roasted pork neck likely needed more time to cook than the other dishes. It was worth the wait, as the juicy, slightly smoky marinated meat was served with a bright and delicious lime-infused herb sauce.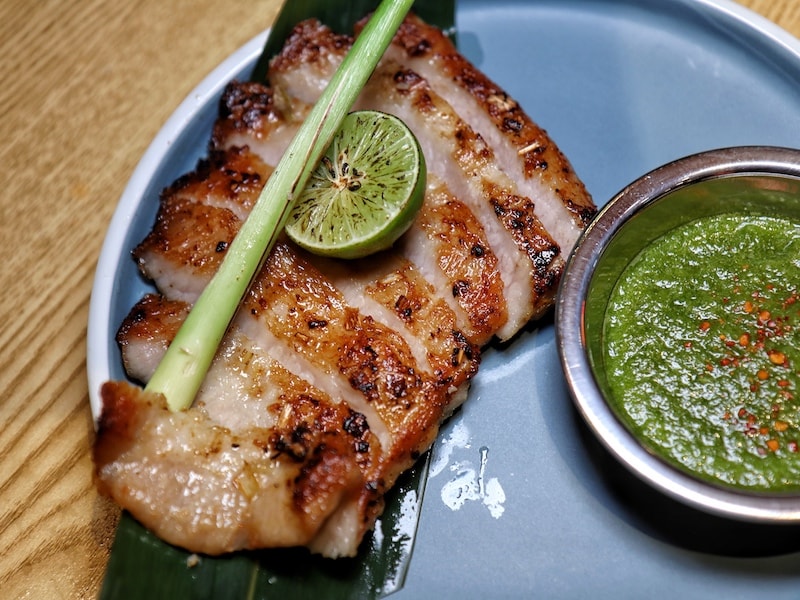 Pho Up is bright, clean, and not too crowded for a Hong Kong restaurant. It's primarily made for smaller parties with a number of tables for two and a big bar area perfect for the solo lunch crowd. You could come with a group of up to 8, though they only have one table that could accommodate a party of this size.
Overall, Pho Up is a welcome addition to the neighborhood. It's priced well, with their noodles coming in cheaper than bowls with similar ingredients in the area. They are also BYOB for wine only with no corkage fee.