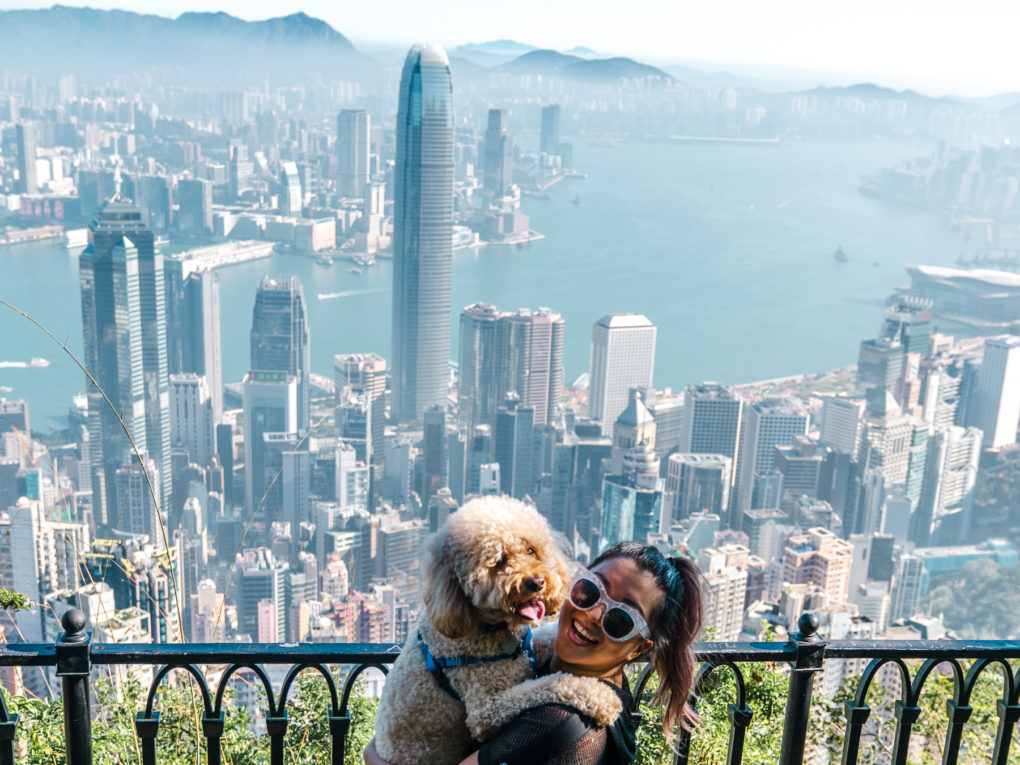 If you put New York City on steroids, but added Hawaii's hiking and beaches and threw it off southern China, you would get Hong Kong. I've grown to love this vibrant city over the past 2 years living here, and while it certainly has its flaws, it's definitely worth a visit for its unique mix of dining, culture, nightlife, and nature. From feasting on dim sum to gazing arguably the best skyline in the world, to hiking to picturesque viewpoints and partying to the wee hours of the morning, keep reading to find out my top things to do in Hong Kong.
Hong Kong Basics: Geography, Best Time to Visit, and Where to Stay
Top Things to Do In Hong Kong
Take in the View from Victoria Peak
Victoria Peak is the highest point on Hong Kong Island with views of Central and Kowloon. Hong Kong actually has the most skyscrapers in the world, and when you pair that with its mountainous landscape and Victoria Harbour, you get an incredible skyline that is meant to be seen from above. There are numerous modes of transportation that can get you to the top, with the Peak Tram being the most popular (read: long lines during peak times but a unique experience riding along the mountain).
I regularly hike to the Peak, as there are numerous trails that cut around the mountain. The Hatton Road trail is the easiest, taking about 45 minutes on a fully paved, low incline path that is lined with trees and a viewpoint along the way – a great way to work off all the dim sum! Just take the Central-Midlevels escalator (more on that below) all the way up to Conduit Road and make a right until you reach the trail entrance at Hatton Road.
At the top, there's a mall, restaurants, observation deck (which you have to pay for), and taxis and public buses so you can get back down. For the best views, find the entrance to Lugard Road just off the same building as the observation deck, and walk about 15 minutes to an unobstructed lookout (as pictured at the top of this post) that's far less crowded than the main Lions' Pavillion bombarded by tour groups.
If you really want a challenge and unobstructed views (and you're lucky enough to get a clear day), then try hiking to High West, the highest point of Victoria Peak. It's an extra 20-30 minute hike up a paved staircase, well worth the effort for those epic 360 views of Hong Kong, with views of the Southside to Victoria Harbour as pictured below and all the way around, including the Outlying Islands.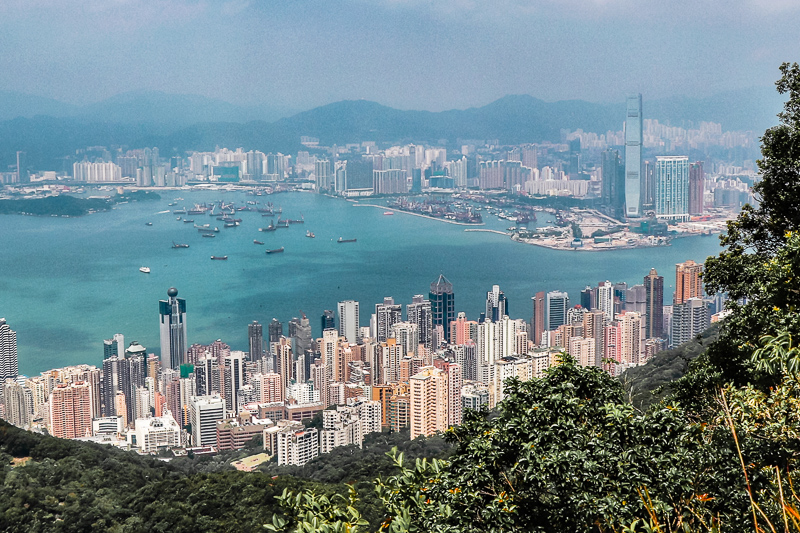 See the Symphony of Lights from the Star Ferry
Someone in Hong Kong realized that they could turn the skyline into a tourist attraction, so starting at 8PM everyday, many of the buildings in Central and Kowloon actually play light animations on their facades. There are even points across the harbourfront where laser beams shoot out of buildings into the sky. The tourism board has named this the "Symphony of Lights" – which I only recently realized is because there are places along the harbourfront that actually play music to go along with the lights (including Tsim Sha Tsui (TST) Promenade and the rooftop of ifc Mall).
The best and cheapest way to see it is to take the Star Ferry, which is actually a commuter ferry that runs frequently, taking passengers between Central and TST for a mere 3 HKD (<50 US cents). My best recommendation would be to take the Star Ferry in one direction before sunset, hang out at a rooftop bar (see below) to watch the sunset and beginning of the light show, and then take it back after the light show has started for another great view of it from the water.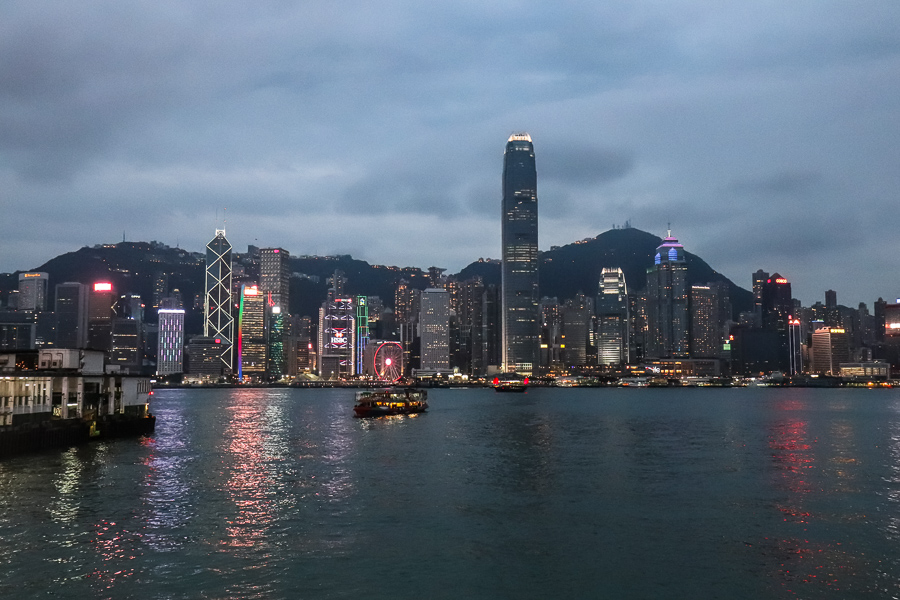 If you'd prefer a less crowded voyage though, then try booking a sail on the Aqualuna, one of the last traditional Chinese boats with distinctive sails that's become a part of the iconic harbourfront view. There's even a daytime dim sum cruise that includes food from one of my favorite upscale dim sum spots, Dim Sum Library.
Have a Drink at a Rooftop Bar
Remember how I said that Hong Kong has the most skyscrapers in the world? Well, a lot of those tall buildings also have bars on top! While many charge a premium for being able to take in those epic views or to see the Symphony of Lights, you'll generally find it to be worth it for the experience. Read about my favorite rooftop bars here.
Party in Lan Kwai Fong
If you like to drink, you're in the right place. Hong Kong boasts one of the most unique nightlife cultures thanks to 2 key factors:
It's legal to consume alcohol on the street
All of the clubs in the city are centered around a 4 block square called Lan Kwai Fong (or LKF).
On the weekends, the 4 streets that create this square are actually closed to traffic, so since you can drink on the street, you'll find that all of the bars spill out into a party on the street. There's even a 7-11 in the heart of LKF, so many folks just pick up drinks from there and join the festivities on the street (especially younger college students, so be forewarned).
It's frankly very overwhelming, between the drunk people on the street, locals selling LED-lit headbands and batons, and the dance party that always happens on one corner where the music of a shot bar blares out down the block. It can definitely be a lot of fun, but there are also a lot of great bars and clubs inside and just outside of LKF if you want to escape the scene happening on the street. Read about my favorite spots around LKF here.
Have a Cocktail or Sidewalk Beer in SoHo
Like NYC and London, Hong Kong boasts its own SoHo neighborhood, a hip area of bars, restaurants and shopping that lies South of Hollywood Road. Since it neighbors LKF, it's often the starting point of a night out, though it boasts enough of its own great bars that it's a nice option for enjoying HK's nightlife without the madness of LKF. Should you come during the day, you can also check out PMQ, an old police headquarters that's been converted into an arts, design, and shopping complex – it's a lot of fun to check out after a few day drinks. My favorite spots to go to are:
Quinary – for their famous earl grey martini and other unique cocktails with a deep house soundtrack at one of the World's 50 Best Bars
The Old Man – another World's 50 Best Bar, with an older vibe and old school tunes hidden in an alleyway. Try the for a really unique, almost dessert-like cocktail.
Posto Pubblico – for a dope hip-hop soundtrack to go with friendly bartenders, a great wine list, and solid cocktails. It's also my go-to for Italian-American food if all that drinking gets you hungry
Staunton's Wine Bar & Cafe – for the ultimate people-watching bar right next to the escalator, so you'll find the bulk of the crowd hanging out of the stairs just outside of the bar
65 Peel – for craft beers with a hip hop soundtrack and solid small bites, a good option for killing time if you have a 2 hour wait at Ho Lee Fook or another neighboring restaurant.
La Cabane – cozy wine bar with a great selection and a fun little swing to sit on
The Wise King – hidden Spanish-influenced den with great cocktails and tapas
Stazione Novella – for Aperol spritzes, beer and wine with a crowd that spills onto the street. They offer apertivo (free snacks at the bar to go with your drink) and also allow dogs
The Pontiac – the closest thing to a proper dive bar in HK
Hike Dragon's Back
Hong Kong is truly a city, with crowded sidewalks and crammed public transportation. But it's also filled with nature and beaches, so you would be remiss to not check out the more relaxing side of this unique city during your visit. The easiest and best way to do so would be to hike Dragon's Back. After just a short 20 minute cab ride from Central and 5-10 minute ascent up a gentle incline from the trailhead, you'll immediately be rewarded with stunning views of Hong Kong's coastline and beaches. The short hike over rolling, beautiful hills ends on the beach at Big Wave Bay.
Bargain at the Ladies Market/Temple Street Market
The two most famous local markets are the Ladies Market in Mongkok and Temple Street Market in Jordan, both on the Kowloon side. Frankly, if you've been to other night markets in Asia, these will feel underwhelming, but it can still be fun to bargain at the seemingly endless stalls of clothing, sunglasses (which is usually the best purchase here IMO), random souvenirs and fake bags. More importantly, you can find solid street food in the areas surrounding the markets so use this as an opportunity to try curry fish balls or egg waffles.
Have a Photoshoot at Instagram Pier
That's right, type in "Instagram Pier" into Google Maps and you'll be led to one of Hong Kong's most Instagrammed locations. The active shipping yard got its name thanks to scores of millenials who figured out that all the piles of bamboo, steel drums, shipping containers, and other construction equipment made for sick photos, so much so that you'll see folks with everything from tripods to carry ons filled with different outfits so they can maximize their photo ops. The pier also boasts great views of the Kowloon harbourfront, so if posing on top of wooden crates isn't your thing, you can at least get great photos of the view. And if you can make it there right after it rains, you can also try to get a cool photo of the reflection of the skyline.
Visit a Temple, Garden, and Instagrammable Housing Complexes
Hong Kong boasts plenty of photo worthy places, from temples to uniquely architectured public housing complexes, the most famous being the Rainbow Estate in Choi Hung. If you have the time to make it to this area, I would definitely recommend doing the following loop to take advantage of the close proximity between 2 major temples and 2 photogenic housing complexes.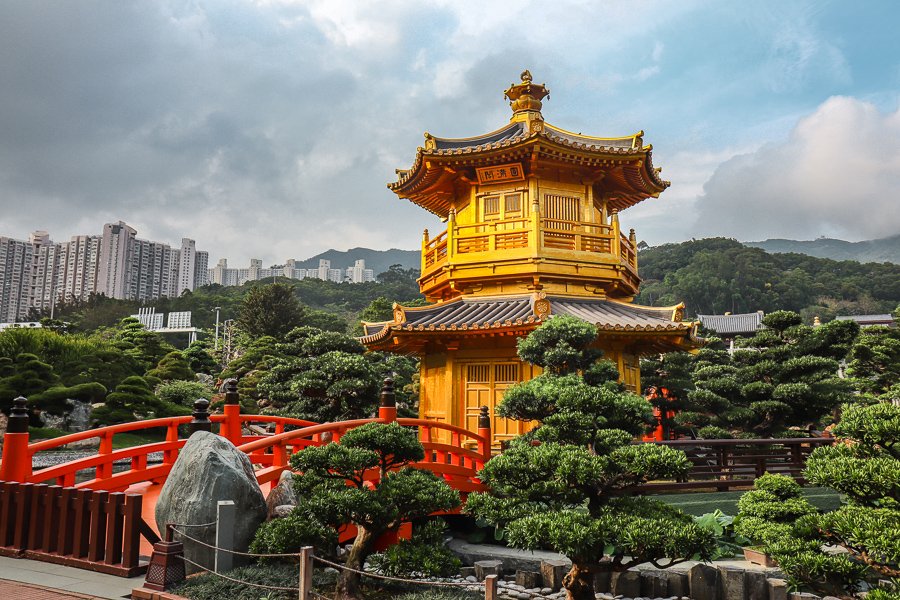 Take the MTR to Wong Tai Sin and you'll end up at Wong Tai Sin Temple, an open air space with hanging lanterns and temples with a surrounding garden. From there, it's about a 15 minute walk to the serene Nan Liang Garden (pictured above) and Chi Lin Nunnery, which offers a beautiful juxtaposition of older Chinese temples against a city backdrop. Another 15 minute walk takes you to the Choi Hung Estate, a rainbow-colored housing complex and basketball court that you've probably seen on your Instagram feed. Look for a staircase inside the parking garage to take you to the basketball court. Finally, head to Peck O Estate and enter one of the hallways to the housing complexes courtyards. Look up and you'll find this beautiful optical illusion waiting for you, but remember to always be respectful in these public housing complexes.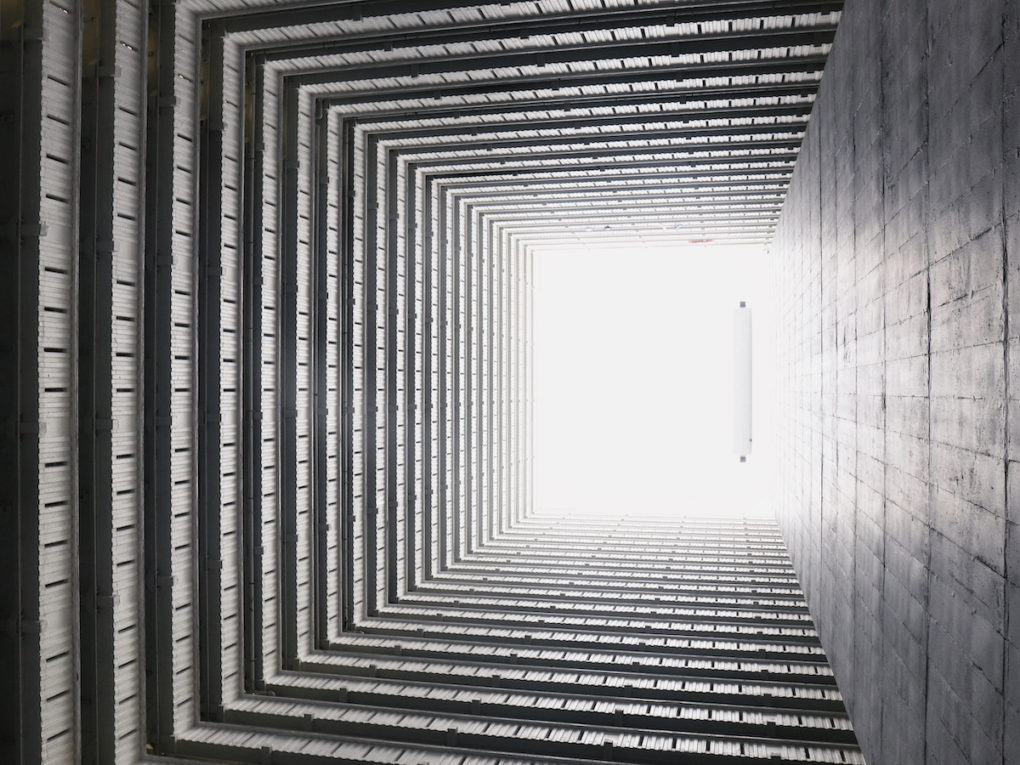 Take the Central-Mid-Levels Escalator
This one is funny for me to write because I take the escalator to get around multiple times a day, but it IS something very unique to Hong Kong and worth checking out if you're already in the area. Since the city is built on a mountain, the hills are SERIOUS, so someone figured out that they should build an escalator to help people get up/down from Central. It's the longest escalator system in the world, with many escalators, moving sidewalks, and overpasses broken up by intersecting streets. It goes downhill from 6AM to 10AM and then changes direction to travel uphill until midnight.
There are some nice views of Central and SoHo as you travel up (the best being from the top of the escalator on Caine Road), and a lot of great food is also located right off the escalator. There is also a ramp off the escalator near Hollywood Road that takes you to Tai Kwun, a unique historical, cultural, and dining complex that's been converted from the old police headquarters that is definitely worth a visit. You can also take the escalator to get to the Hatton Road hiking trail that leads to Victoria Peak as mentioned earlier. Just please don't stand on the left side of the escalator while you're taking your photos so you can let the people walk up the left side as I do on a daily basis
Take a Cable Car to the Big Buddha
The largest standing Buddha statue is located on Lantau Island, about an hour MTR ride and a short, incredibly scenic cable ride from the main parts of Hong Kong. It's definitely worth taking the all glass cable car to see the Big Buddha, as there's a shorter wait time and you'll have 360 views as you ride over the water. Once you get to Lantau, you'll take the stairs up to the Big Buddha and you can also explore the monastery. From there, you can also take a bus to the other parts of Lantau Island, like the Tai O Fishing Village.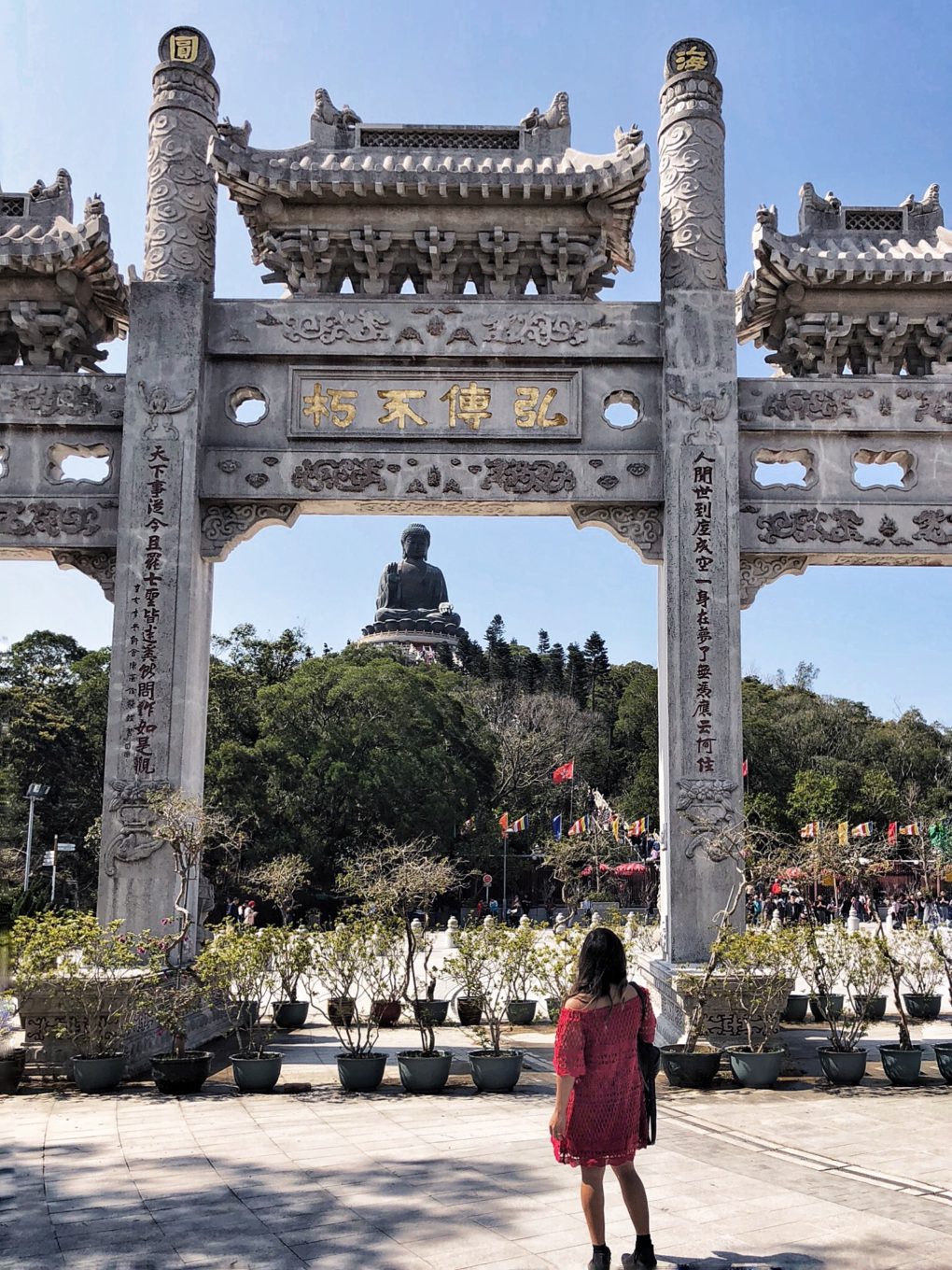 Place a bet at the Horse Races
If you're in Hong Kong on a Wednesday, you should definitely plan a night at the races for Happy Wednesday which happen at the Happy Valley Racecourse in between Wan Chai and Causeway Bay. Prior to moving to HK, I had never been to a horse race since they were usually special events like the Belmont Stakes or Kentucky Derby. But in HK, a short cab ride takes you right into the action, where they've created a party around the races complete with beer and food tents, games and prizes, and a live band. It's a fun juxtaposition between the hardcore locals who you'll find all holding newspapers, trying to decipher which horses to bet on and eventually waving them in the air as they yell over the results, and all of the drunk expats and tourists who are placing more casual bets and largely just enjoying the party.
Experience the best of Hong Kong's nature in Sai Kung
If you're in HK for a longer time, you should definitely make a day in Sai Kung part of your itinerary. This outlying area boasts the best beaches and hiking that will make you feel like you're in Hawaii (though without the crystal blue waters), and you can also rent boats for wakeboarding or book a seat on a ferry to visit smaller islands and beaches. One of the easiest and most rewarding hikes is the Sharp Island hike. You take a short, scenic ferry ride from Sai Kung Pier to the scenic Half Moon Bay, then do an easy hour long hike that ends at a dog beach. Win win win. For a more challenging hike, try Tai Long Wan which will take you through 2-3 hours of scenic viewpoints before ending at arguably the best beach in Hong Kong, Ham Tin Wan.
You could easily spend a full day or two exploring Sai Kung if you have more time. Watch my video below for more ideas on things to do, where to stay, and most importantly, where to eat.