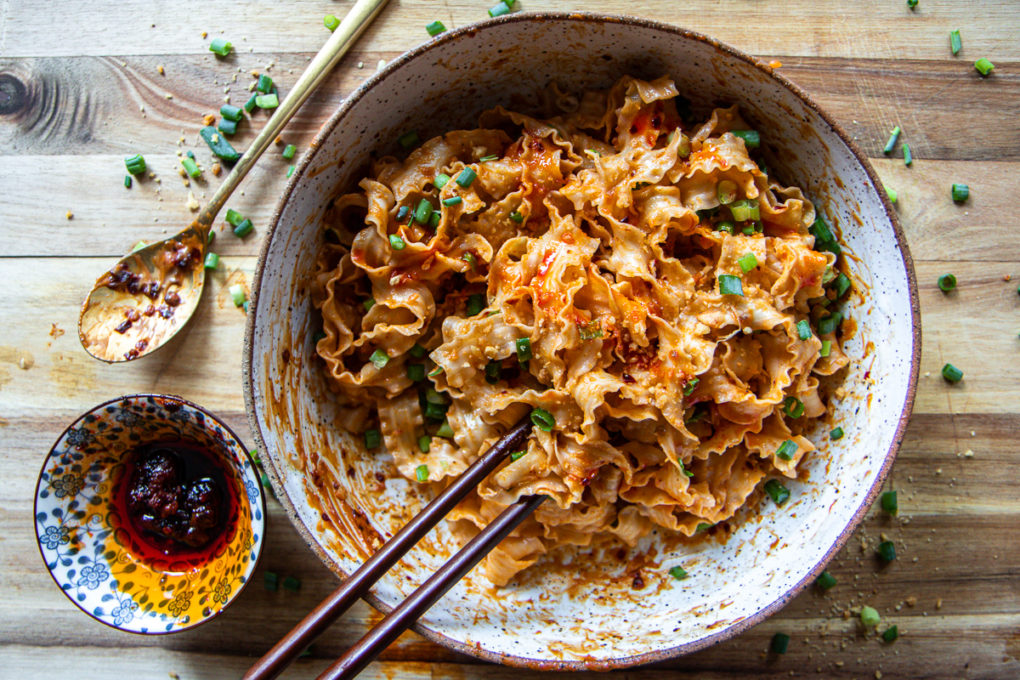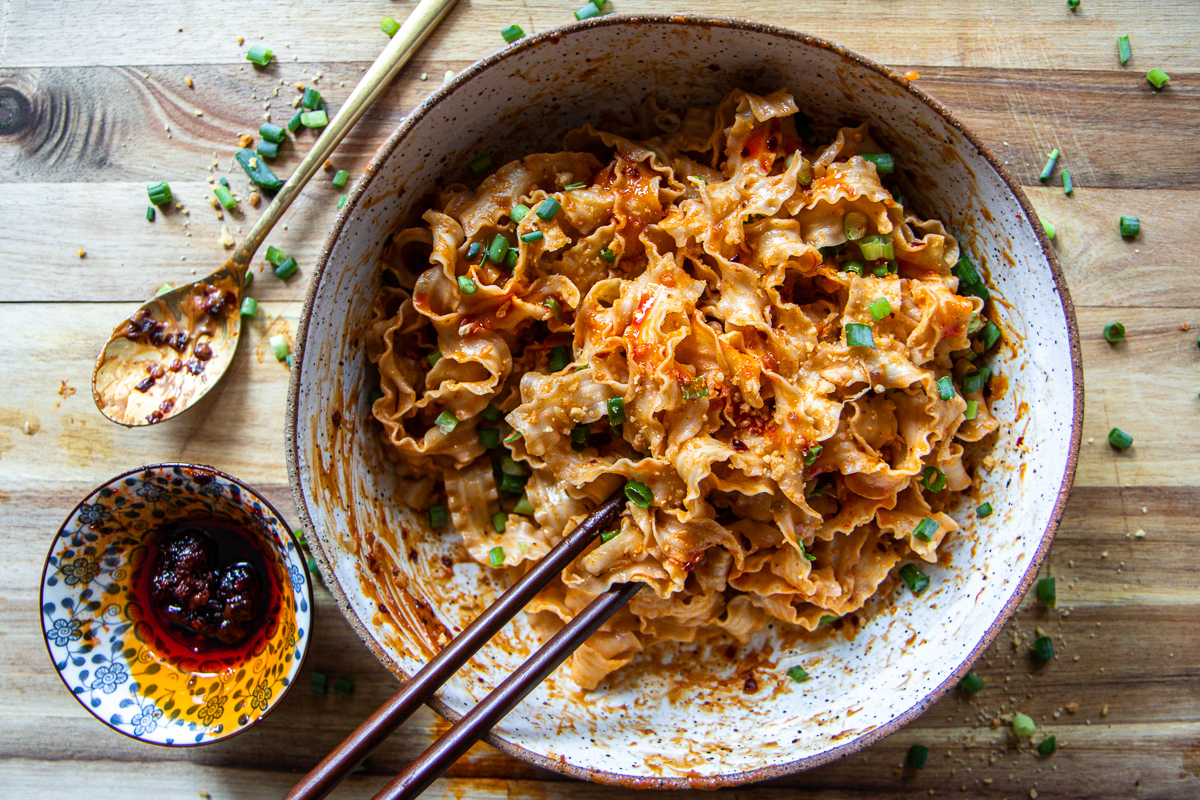 This post is a collaboration with Evens. I received compensation. All opinions are my own.
It's peanut butter NOODLE TIME! I love making these spicy peanut noodles with chili oil & fried garlic because they're utterly delicious and SO easy to whip up using pantry ingredients (and yes, I'm here to convince you to make all of these ingredients standbys in your pantry if they aren't already!). Using only 7 ingredients (or less!) and ready in just 4 minutes, these sweet, nutty & spicy noodles are perfect for a weeknight dinner, late night snack, and everything in between.
If you're a fan of Chinese food and dumplings, the flavor profile on these noodles should feel familiar but in no way are these meant to be an authentic dish. I've simply taken some of my favorite ingredients and combined them into something I find incredibly addicting that balances sweetness, umami, acid, and heat with chewy noodles.And don't fret, I've linked to all of the ingredients on Amazon for easy shopping below – since I'm an Amazon Associate, I'll earn a small commission from qualifying purchases which goes toward supporting my blog 🙏🏼
And trust me, you'll want to pump up the heat on these – the spicy chili oil goes SO well with the peanut flavors! But if the thought of chili oil makes you nervous about getting heart burn afterward, I have good news – I'm happy to partner with Evens, my new favorite company for affordable acid reflux treatments so you can get your first order FREE (just pay $3 for shipping!). Truthfully, I regularly suffer from heart burn due to my penchant for spicy food and tomato sauce – that noodle and pizza life has its price. Acid reflux can make eating food not-so-fun, so I love that Evens has both over-the-counter and prescription-strength treatments delivered straight to your door so we can keep enjoying all the delicious dishes like these spicy peanut noodles!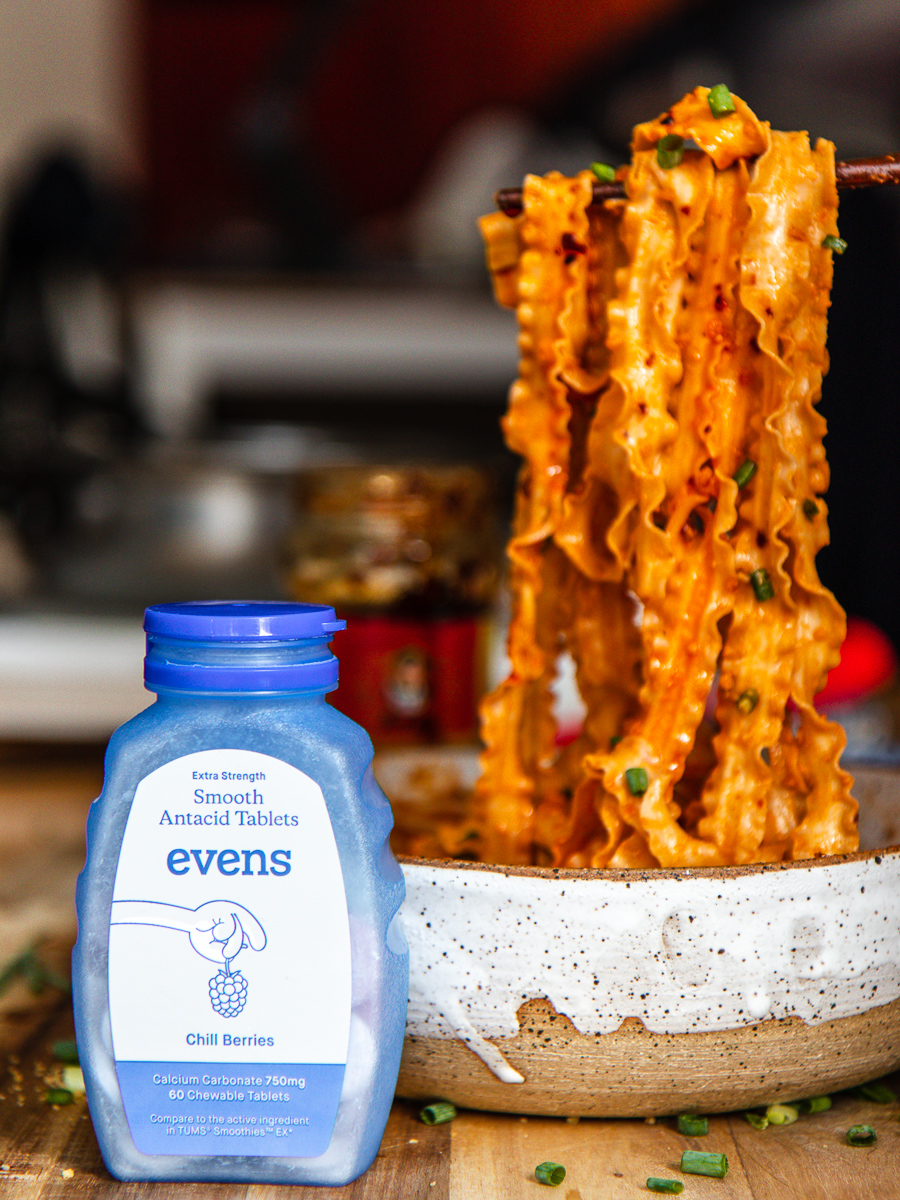 For the chili oil, you have a number of options and what you use is really up to personal preference and your ability to source ingredients. You could make your own homemade chili oil which allows you to fully control the flavor but requires more work, though you could always make a giant batch and keep it stored in your pantry for later use. If you're lazy like me, then there are plenty of jars of chili oil in the market. My favorite types for these peanut noodles are:
And yes, I keep all 4 of these stocked in my pantry at all times because I love chili oil that much 😅
You can also use whatever peanut butter you'd like, from JIF and Skippy to a gourmet all-natural peanut butter like Justin's. If you're using an unsweetened peanut butter, then you may want to add a bit of honey into the sauce if you like sweet and salty flavor profiles like I do.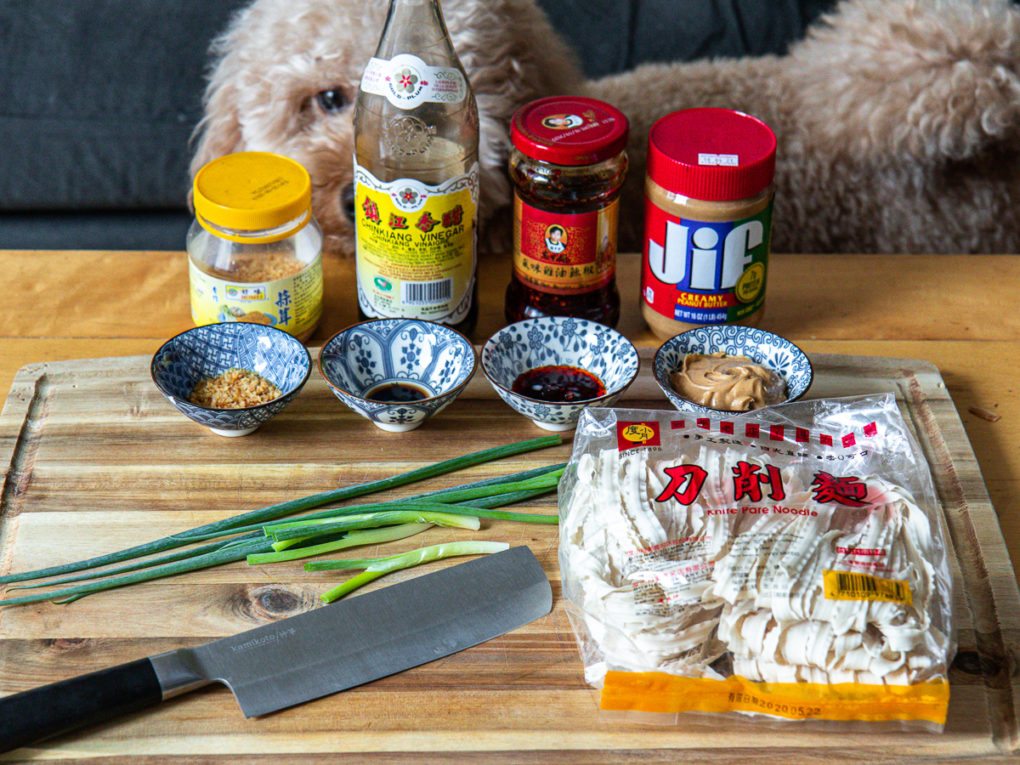 The other pantry ingredients for this are: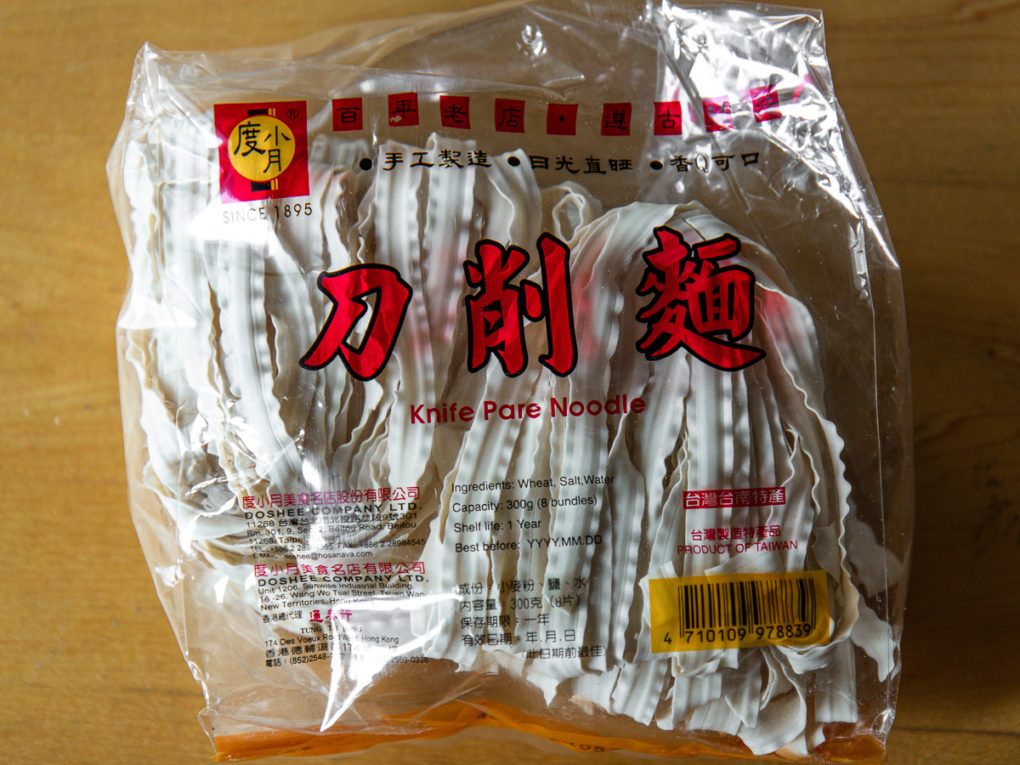 Scallions add a spark of mild onion flavor and freshness to the dish, though you could easily skip them if you don't have scallions ready in your fridge. If you end up buying your instant noodles from Amazon, you can actually just use the dehydrated scallions and sesame oil in the packet, which makes these noodles even easier to pull together (I haven't made this dish using this brand of noodles myself, so use some caution in adding the other sauces and taste as you go!).
If you want to add some protein to these, you can easily sauté some seasoned ground pork, shrimp, or tofu and just add it with the noodles before you combine everything. Or do like I did and boil some dumplings in the same water as the noodles, and toss those in with some extra vinegar when you're done with the noodles – the spicy peanut sauce also goes great with those tiny pockets of deliciousness!
These addictive spicy peanut noodles are made with just 7 ingredients and come together in 4 minutes for a quick, easy, and tasty weeknight dinner or late night snack
Ingredients
Instructions
Boil water and cook instant noodles for 3 minutes or according to package instructions
Chop scallions and set aside
Combine peanut butter, chianking vinegar, spicy chili oil, and sesame oil in a large bowl
Once noodles are cooked, use tongs to transfer them directly to the bowl, stirring to coat with the sauce and adding water if sauce is too thick. Taste and add sauces to personal preference
Top with scallions and fried garlic and enjoy
Notes
If you make my spicy peanut noodles, I'd love to see the final product. Tag your photos and stories on Instagram with @indulgenteats and #indulgentrecipes so I can see them!
http://indulgenteats.com/2019/11/25/easy-4-minute-spicy-peanut-noodles-chili-oil-fried-garlic/