January 13, 2016 by Jen Balisi
This is part 2 in my Indulgent Travel Guide to Japan, which highlights my 2 week trip to Tokyo, Kyoto, & Osaka in October 2015. In part 1, I gave a recap of all the different kinds of ramen we ate during our travels. This time around, I'll be focusing on Japan's other noodles: udon and soba.
OMEN
One of the top things to do in Kyoto is the Philosopher's Walk, a 1.7 mile tree-lined path along a river that is dotted with temples and shrines along the way, including the Silver Pavilion as the main attraction at the end. If you manage to work up an appetite from the walk, then you should make sure to satisfy it with delicious udon at Omen. Located a couple of blocks from the Silver Pavilion, Omen serves delicious bowls of warm, comforting udon in a 2 floored restaurant, with the option to sit on the floor in their first floor traditional tatami dining room or go upstairs for standard western seating. The udon noodles are handmade and come separate from the broth, with a variety of toppings on the side to mix into the broth to your liking. Just mix, dip, slurp, and enjoy. The tuna avocado appetizer and tempura are also recommended.
UDON/SOBA IN SHIMBASHI JR STATION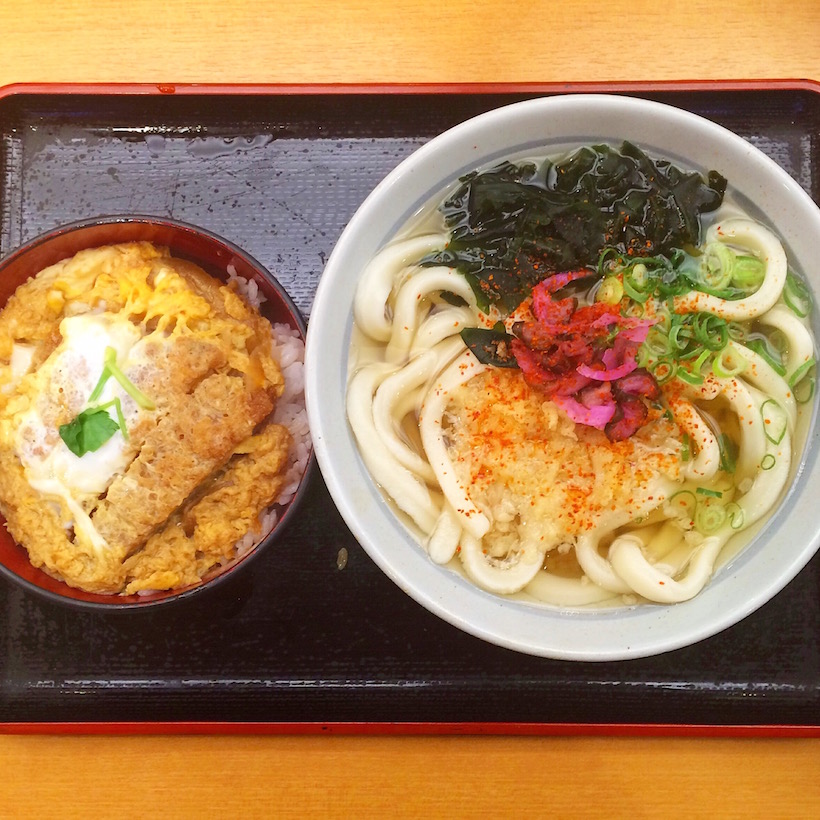 I need to be frank – I have no idea what the name of this restaurant is in English and can't find it's exact location on any map, but I do have a photo of the entrance. If you happen to find yourself traveling through the Shimbashi JR train station for whatever reason (perhaps to get to Odaiba, more on that soon), you should definitely make a stop at the udon/soba restaurant situated to the south of the main JR entrance where you show your rail pass if you need a quick bite. Our hotel was a couple of blocks away, so this was our main train station we used, and the vending machine-run udon/soba restaurant offered soul-satisfying, solid, and dirt cheap udon and soba (we only had the udon, but you could select which type of noodles you wanted in your soup). The katsudon set, which offered a bowl of udon and small bowl of pork katsu cooked with egg over rice was only around $5.50 and was one of the better meals of the trip, comparable to Udon West in NYC. The best touch? A box of tissues next to the tray return for all those post-soup sniffly noses.
Shimbashi station connects to the the popular Odaiba area of Tokyo. We didn't make it there ourselves, but we were bummed to have missed out on the giant Gundam Statue located in Diver City in Odaiba. You can take the Yurikamome train from Shimbashi station across the Rainbow Bridge to Odaiba, which offers views of Tokyo harbor.
HONKE OWARIYA
We only got soba once during our entire trip, mostly because it's just so difficult to resist all the amazing ramen. If you're going to get soba, then do it right and get it from Honke Owariya – Kyoto's oldest restaurant where they've been making incredible soba dished for over 500 years. Everything was delicious – I recommend any of the soba dishes that have yuzu in them, as the bowl we ordered had such a delicious, vibrant broth thanks to the added citrus flavor of yuzu. But the must-order here is the Hourai Soba, pictured above, which gets you a stack of cold soba noodles, a small container broth, and 8 different toppings from shrimp tempura to wasabi to seaweed, so you can mix and match to create different flavor combinations with each set of noodles. They also had a really great tempura appetizer that came with deep-fried soba noodles – genius.
Next up in this Japan series is a rundown of the 2 most popular chains for tonkatsu aka Japanese panko breaded & fried pork cutlets. Stay tuned!