Where to Eat in Oahu | Hawaiian Food & Local Favorites
January 12, 2018 by Jen Balisi
ALOHA! It's officially 2018, which means a new year for me to use as an excuse to post more on my site 🙂 I just came back from an amazing trip to Oahu, which also gave me a 12 hour flight back to NYC followed by a 16 hour flight back to Hong Kong, so I had ample time to kick start my writing. I'll be sharing all of my favorite places from my 8 days in Oahu, starting up with local Hawaiian cuisine. Stay tuned as I'll also be sharing my picks for poke, Japanese food, breakfast & cafes, American & International food, and dessert!
Helena's Hawaiian Food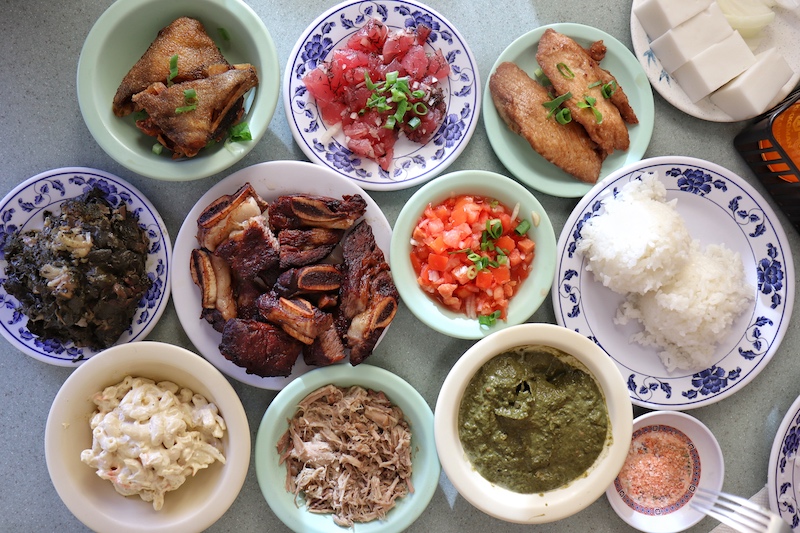 A favorite with both locals and tourists alike, Helena's Hawaiian Food serves up no-frills, local food that's 20x better than the versions you'll find at a paid luau. It's served in small portions so you can try many items at once, and they also have set menus that make it easy to order a sampling of their best dishes.
Menu set D is perfect for 2 people, and comes with their standout short ribs (note that the large order is pictured) & kalua pig that both pair great with the pink Himalayan sea salt & maui onions provided. We also loved the luau squid, with small chunks of squid cooked in taro leaves and coconut milk. The haupia, or coconut gelatin was also delicious, so much so that we ordered extra to go to eat in our hotel after dinner. Add on their laulau (pork cooked in taro leaves) and fish dishes if you have more people and dig into some great Hawaiian food that was my favorite local meal of our trip.
Eat this: Menu set D (pipikaula short ribs, kalua pig, lomi salmon, luau squid, haupia), fried buttermilk fish collar, poke, laulau, macaroni salad
See more photos from Helena's Hawaiian Food
Musubi Cafe Iyasume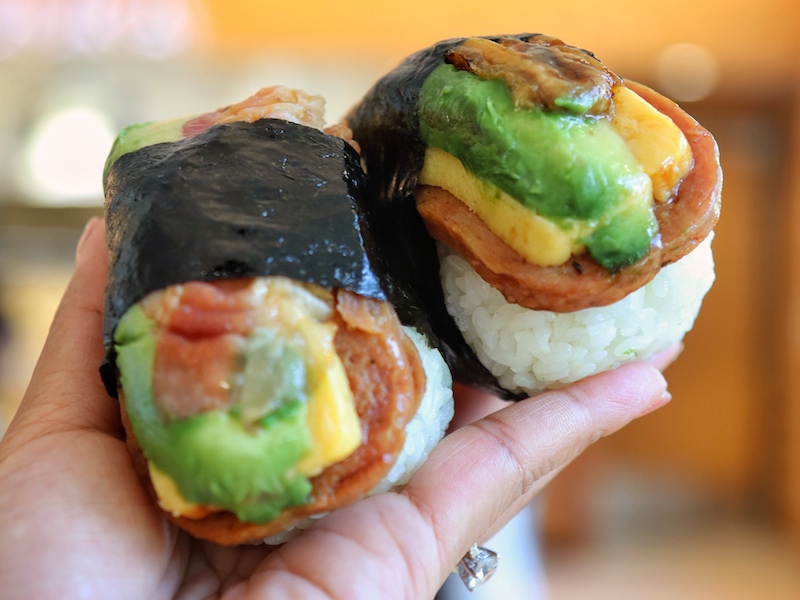 My fellow Spam lovers, Musubi Cafe Iyasume is the place for you. Spam musubi is the Hawaiian version of Japanese omusubi that takes marinated grilled spam and sushi rice and wraps it with nori, or seaweed. The result is a super addictive item that can be eaten any time of day, as a snack, or as its own meal. Musubi Cafe Iyasume has seemingly endless varieties of spam musubi, topped with everything from egg and bacon to Japanese toppings like shiso leaf and pickled radish.
Our absolute favorite version was their eel, egg and avocado spam musubi which I will dream about until I figure out how to make it myself (I had 5 of these in my 8 days in Oahu…). Even better, you can find Musubi Cafe Iyasume throughout the main tourist areas, with outposts inside the Ala Moana Center and International Marketplace, as well as standalone cafes. Their main cafe also serves a great poke bowl, as well as varieties of udon soup and Japanese bento boxes.
Eat this: spam musubi (our favorite were: eel, egg and avocado; egg and bacon; teriyaki spam; shiso herb; takuan pickles); salmon and spicy cod roe omusubi; ahi tuna poke bowl, macaroni salad
See more photos from Musubi Cafe Iyasume
Romy's Kahuku Prawns and Shrimp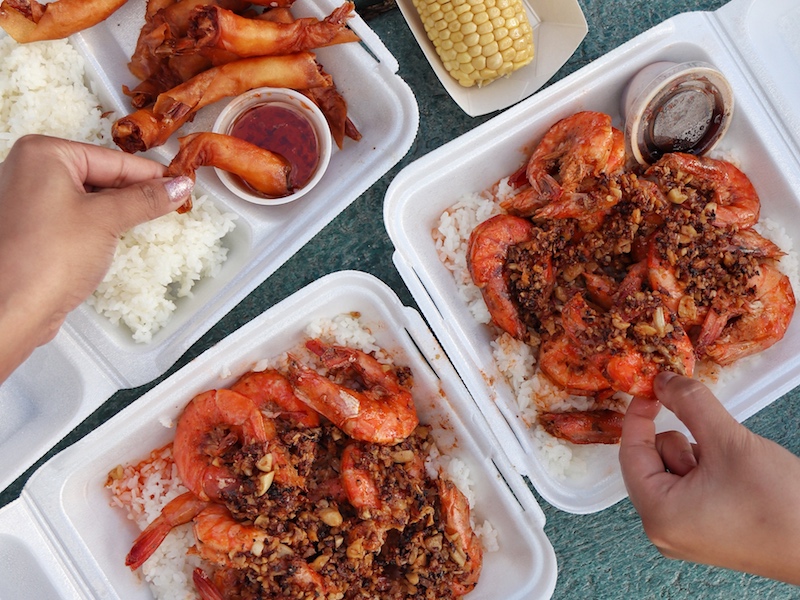 Garlic shrimp can be found on the menus of food trucks & restaurants all over the North Shore of Oahu. It's listed as shrimp scampi, and served with rice and sometimes macaroni salad and pineapple. While we didn't get to try as many of the vendors as we would've liked, we loved the garlic shrimp at Romy's Kahuku, which were juicy and bursting with flavor from the golden brown garlic, and also come with a spicy shoyu on the sauce for extra umami. They also have ample, covered seating and clean bathrooms.
That said, the wait can be quite long and somewhat frustrating since numbers aren't called in order (it probably took an hour from the time we got in line to the time we got our food). A few of the shrimp also weren't deveined (which I don't have a problem with but I know some people do). If you have time and don't mind putting in the work to peel shrimp, you'll be rewarded with seafood deliciousness. Their fried shrimp are also like little shrimp spring rolls since they're wrapped in wonton wrappers and come with a tasty sweet chili sauce.
Eat this: garlic butter shrimp, fried shrimp, li hing pineapple
See more photos from Romy's Kahuku Prawns & Shrimp
Giovanni's Shrimp Truck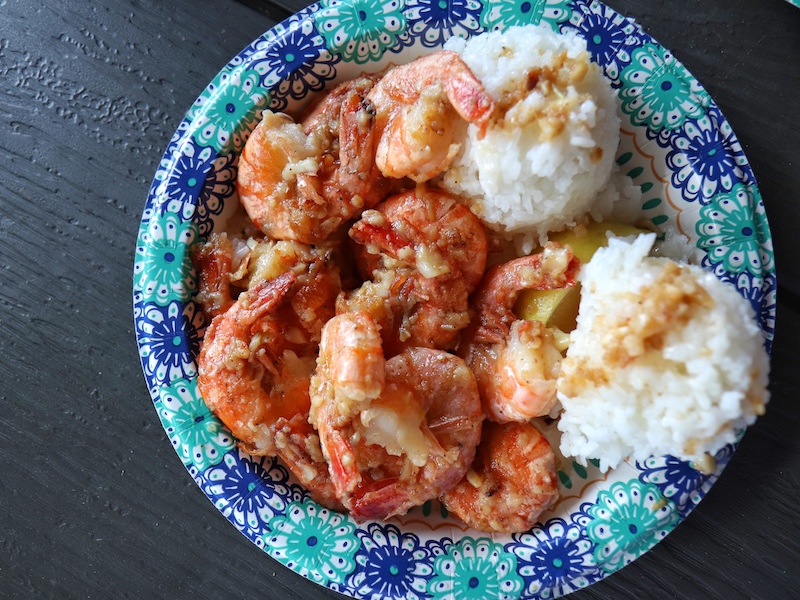 To be honest, we preferred Romy's over Giovanni's, as the shrimp just had SO much more flavor. That said, we still really enjoyed our meal and the wait was half that of Romy's, so if you're short on time this is a better move. The garlic butter shrimp were really tasty. We didn't like the hot and spicy very much, as the shrimp texture was slightly mealy and tasted like they were drowning in a bottle of Tabasco sauce with not much other flavor. Make sure to also get the macaroni salad which was our favorite of the entire trip, and grab a marker at the window to sign the truck (I obviously had to add an Indulgent Eats).
Eat this: garlic butter shrimp with a side of hot and spicy sauce, macaroni salad
See more photos from Giovanni's Shrimp Truck