Where to Eat in Oahu | Bakeries & Dessert Shops
January 25, 2018 by Jen Balisi
After a few spam musubis or a Hawaiian poke bowl, you're bound to be craving something sweet. We had a LOT of dessert and pastries in Oahu to satisfy our sweet tooth, from donuts to cheese tarts to local shave ice. Here's a roundup of our favorite dessert shops and bakeries in Oahu.
Leonard's Bakery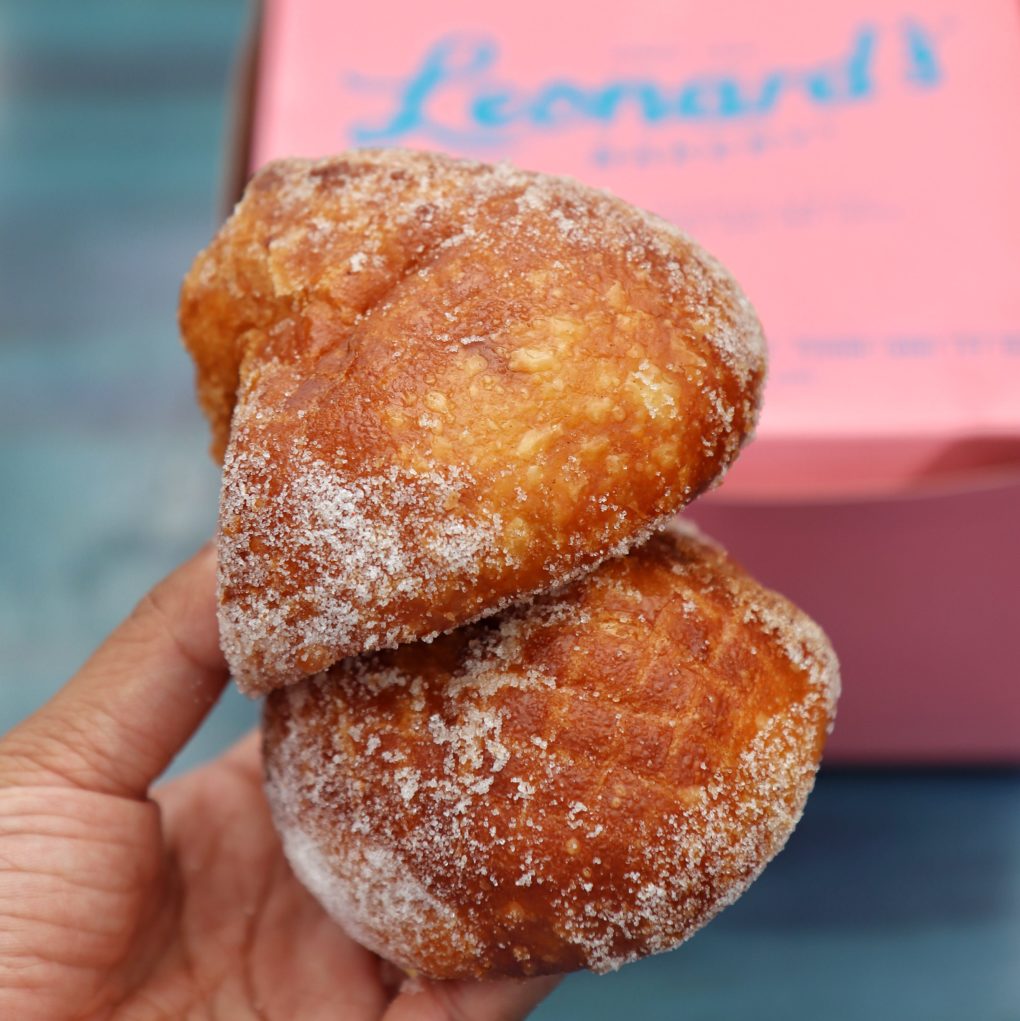 The hot and fresh malasadas from Leonard's Bakery are truly magical. Malasadas are a Portuguese donut that has no hole and is coated in sugar, and the ones at Leonard's are just SOOO damn fluffy. They're so popular that Leonard's bakery is decorated with cute cartoon malasadas that even come as plush toys. Leonard's also sells their malasadas coated in cinnamon and li hing or Chinese plum powder that's a salty sweet sugar local favorite. You can also get them as custard-filled puffs with a variety of flavors like plain, chocolate, haupia (a local term for coconut), or their flavor of the month (which was guava when we went). Of the custards, the haupia was the best, but we preferred the original with no filling for an airier donut.
Eat this: original & cinnamon malasada, li hing malasada (only if you like salty-sweet), haupia puff
Kamehameha Bakery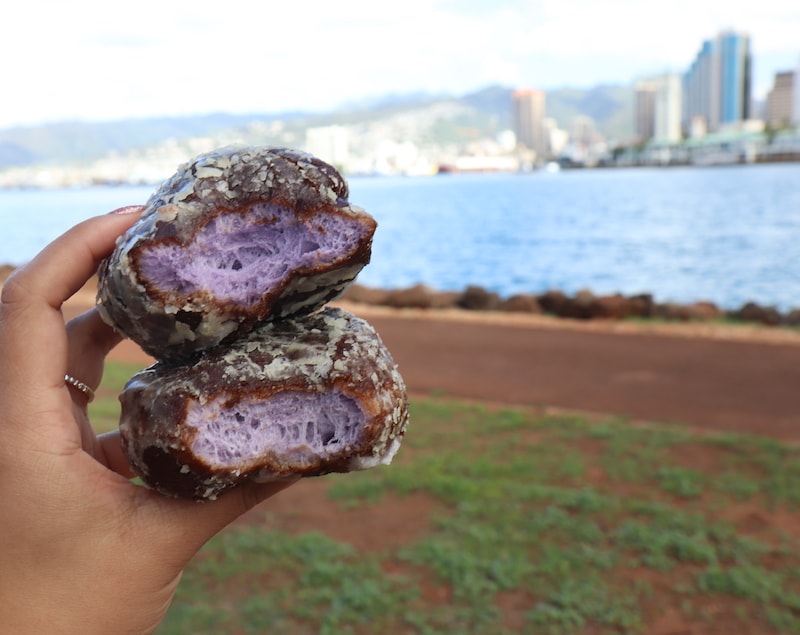 This bakery may be bare bones, but its counters are serving up all variations of baked and fried goods, including Filipino pastries like ensaymada. Kamehameha Bakery is most famous for their glazed poi donuts, which use a Hawaiian dish made of taro root called poi as its base, resulting in a purple hue and starchy flavor. They have a number of other flavors and varieties of donuts, but we thought the poi ones were their best donut offering. If you're going in the afternoon, you're best bet is to call in a pick up order (especially for larger orders) as they tend to sell out of the poi donuts.
Eat this: poi donuts, ensaymada
Ubae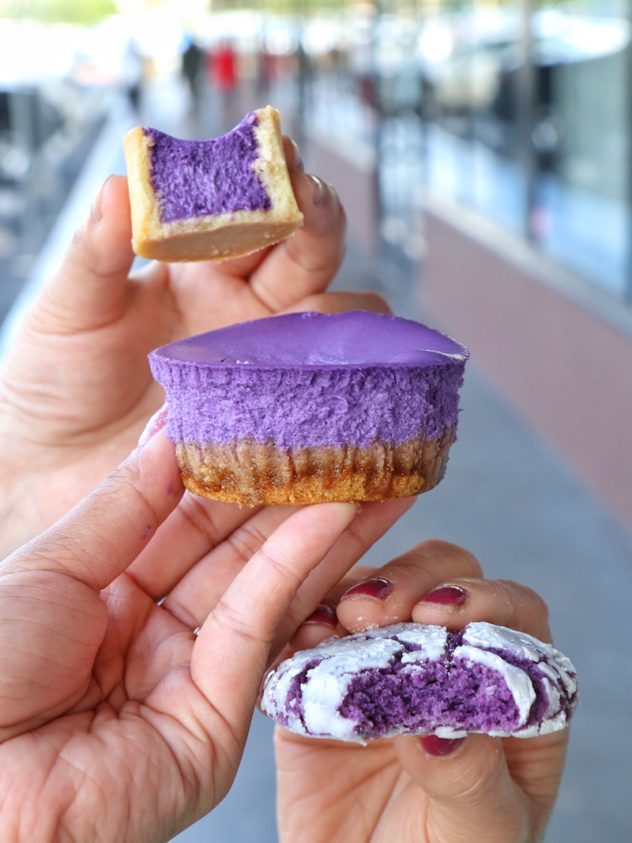 Oooohh baby are the cheesecakes and tarts at this Filipino bakery amazing. We discovered Ubae as it was located right next to Kamehameha Bakery in Chinatown, and being Filipino we're obsessed with ube, a Filipino purple yam that has a subtle sweetness that's similar to vanilla or white chocolate. Ubae uses ube is their creamy cheesecakes with graham cracker crusts, tiny cheese tarts that have the same creamy filling tucked inside a shortbread crust, and soft crinkle cookies. We loved the cheese tarts so much that after we paid and tried one of the tarts, we went back to buy a second tray of them. Definitely make a trip to Chinatown to get poi donuts at Kamehameha Bakery and ube tarts from Ubae next door!
Eat this: ube cheese tarts, cheesecake & crinkle cookies
Uncle Tetsu


Specializing in Japanese cheesecakes and tarts, Uncle Tetsu inside the Royal Hawaiian Center food court is actually a popular, global chain. While we weren't huge fans of their cheesecake, which was fluffy but more cake-like than the creamy New York style cheesecakes we preferred, we were OBSESSED with the Japanese style cheese tarts (can you sense a pattern here?). It's an easy stop after a dinner in Waikiki or as a pick-me-up during a shopping trip inside the Royal Hawaiian Center. They also offer free samples of the cheesecake so you can judge it for yourself.
Eat this: original cheese tarts
Waiola Shave Ice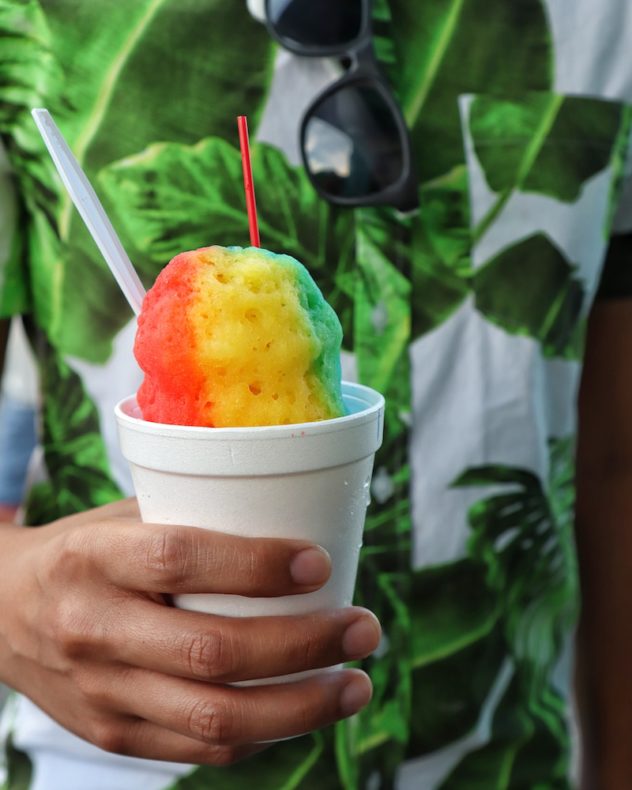 Shave ice (with no "d") is the Hawaiian version of shaved ice that shaves the ice into tiny crystals that gets topped with your choice of syrups and other toppings like condensed milk and red bean. Waiola Shave Ice is a local favorite, with a velvety texture on their shave ice served in a small grocery/deli. We got an ice cream bowl that covers 3 scoops of vanilla ice cream with a mountain of shaved ice, and topped it with condensed milk and mochi balls. It was enough for the four of us, so if you're riding solo or don't want to share, I'd recommend just getting a regular sized shave ice. It was sweeter than I prefer for my personal tastes, so be aware of that if you aren't big on overly sweet desserts.
Eat this: rainbow shave ice with condensed milk and mochi balls
Magnolia Ice Cream & Treats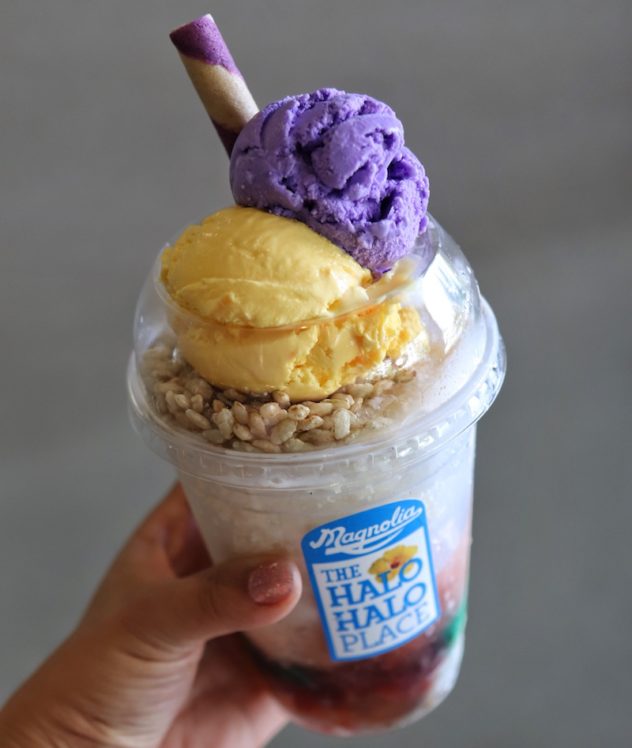 Being Filipino, I grew up eating Magnolia Ice Cream, which came in blue plastic containers and was only found at Filipino specialty grocery stores. So you can imagine my surprise and delight when we stumbled upon a brick and mortar store inside Waikiki's International Marketplace. Their counter is filled so many Filipino flavors like corn cheese and ube (my personal favorites which sound weird but taste SO GOOD) as well as local Hawaiian flavors like haupia (coconut) and all the classics. Even better, you can get halo halo, a Filipino shaved ice dessert that comes with all sorts of fruit jellies and sweet beans, topped with ube ice cream and crunchy pinipig (puffed rice) that you mix up for a delicious blend of flavors and textures.
Eat this: halo halo; ube, buko pandan, mais queso (corn cheese), langka (jackfruit) ice cream
Read our guide to the best Hawaiian & local restaurants in Oahu here