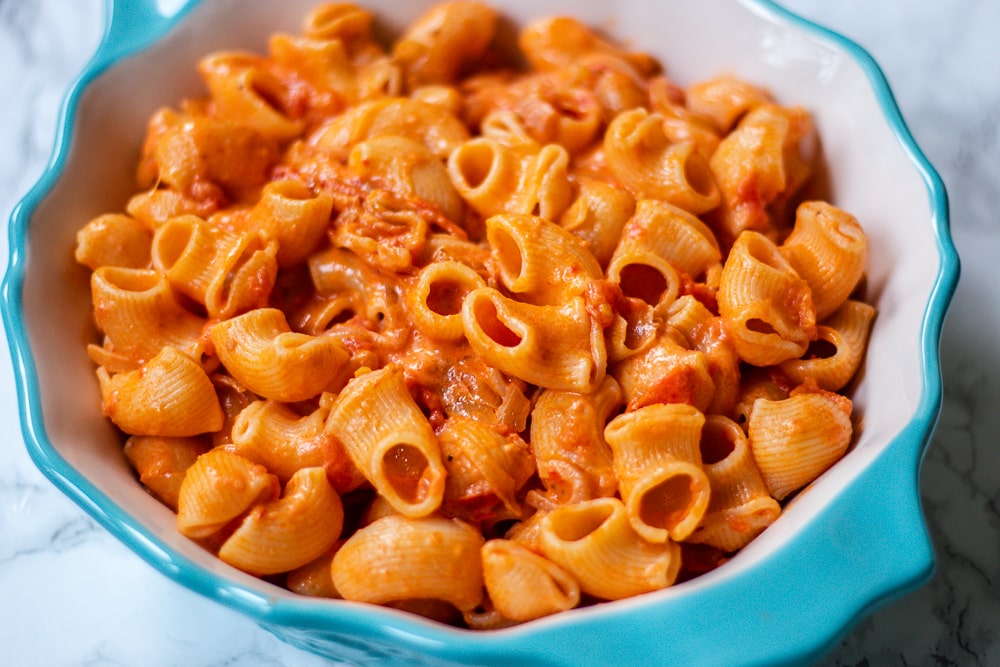 There's just something about vodka sauce that's undeniably irresistible, with that creamy tomato sauce supported by aromatics like garlic, shallots, or onions to coat your chosen pasta shape with lip smacking goodness. And when it comes to vodka sauce, it seems to be consensus that Carbone's spicy rigatoni vodka is king. After all, people (myself included) are willing to shell out upwards of $30 for a small portion of their famous pasta (though that price does bake in the unmatchable experience of actually dining at the excellent restaurant).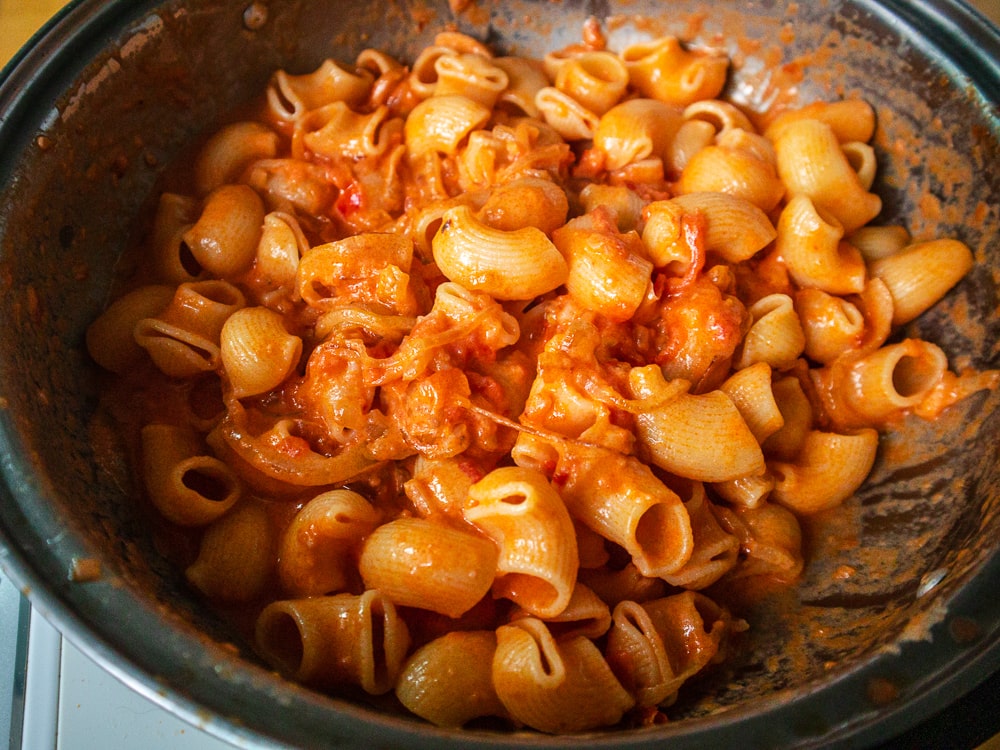 With so many of us stuck at home these days, it's only natural to seek out comforting dishes like Carbone's spicy rigatoni vodka, but right now the only people with ability to get the real deal from the restaurant are those in New York (by ordering delivery through Caviar) or in Hong Kong (as we're lucky to still be able to dine in at the restaurant itself).
For everyone else, here's a recipe for it is based on how they make it in Carbone Hong Kong's kitchen. It's based on a version in the cookbook Flavours of Hong Kong tells the stories of Hong Kong's best restaurants and sources recipes directly from their chefs. I adapted the recipe because the one written in the book is very vague. There are no explanations for how long to cook things or at what temperatures (that way the kitchen can still keep SOME secrets), so I added all of that in based on my knowledge of cooking other vodka sauces.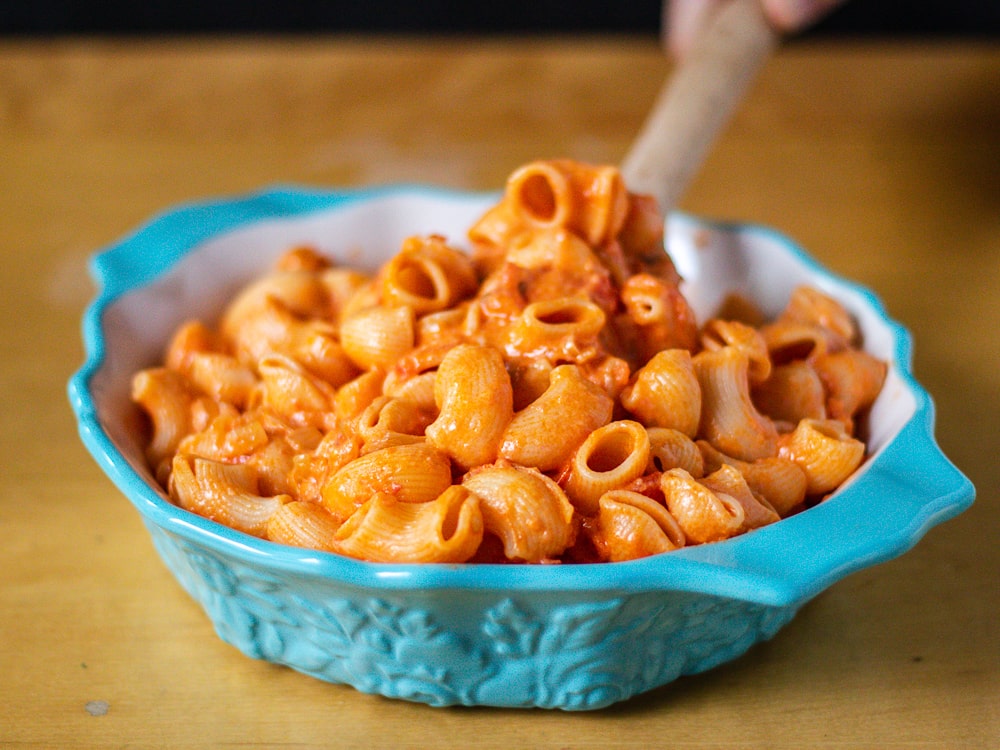 The true KEY to making that smooth, tangy, luscious spicy vodka sauce with those delicious bites of melted onions and chunky tomatoes just like Carbone's is ingredients. Calabrian chili paste will give you the unique heat and sweet yet acidic pepper taste that's unique to Carbone's vodka sauce. If you can't find it, you can try to use a blend of roasted red peppers and chili flakes, but it simply won't taste the same as Carbone's. Different brands of Calabrian chili paste may be saltier (mine was quite salty), so my recipe keeps the salt on the lower end so you can always add more salt to taste.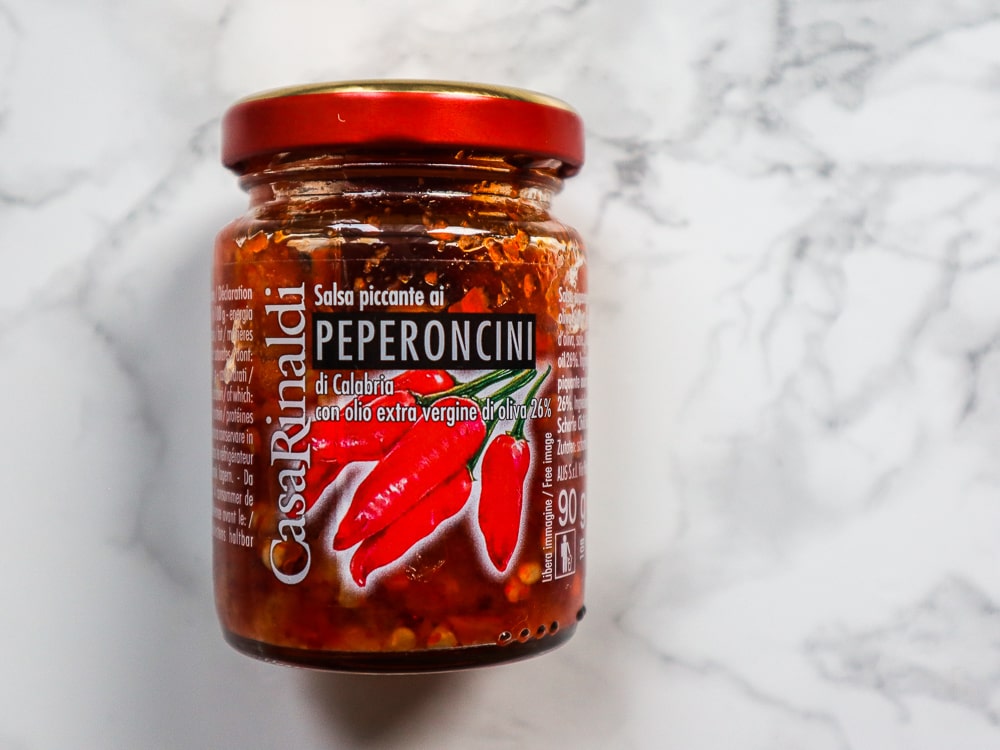 Instead of tomato paste like a typical vodka sauce, using San Marzano tomatoes gives you that strong tomato taste with some sweetness, as well as the chunks of juicy tomato that are found in the restaurant dish. Finally, onions melted with butter and water creates a sweet and savory onion soubise that brings Carbone's version of vodka sauce to the next level. All of these combine to create a dish that you won't believe you made yourself since it will taste JUST LIKE the real deal! Give it a try and tag me so I can see how you like it!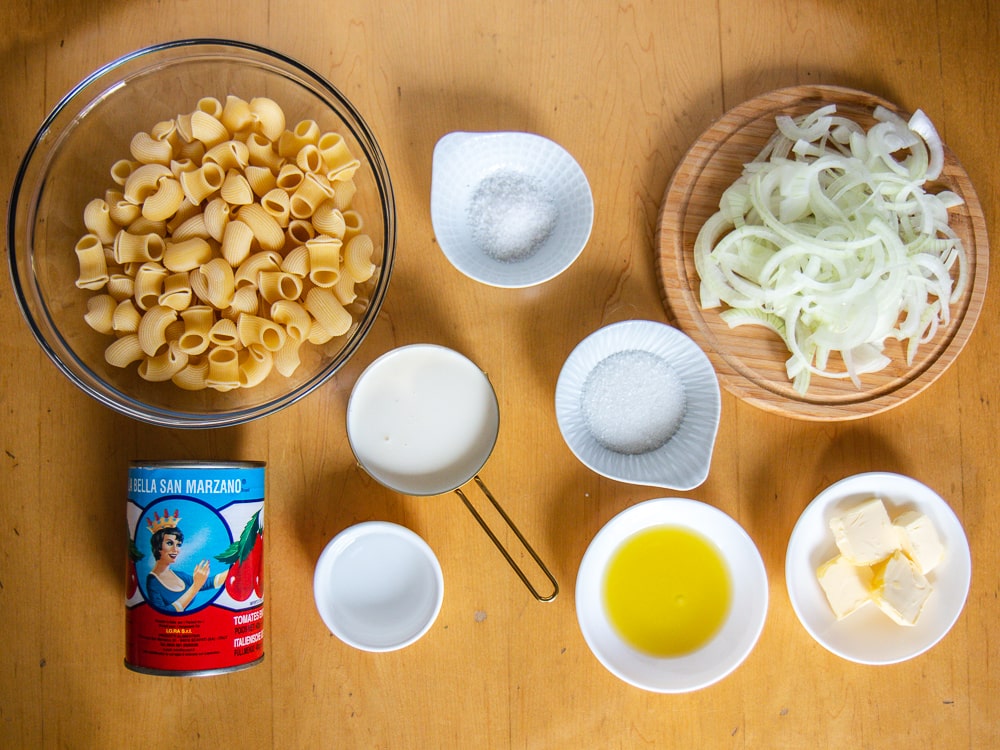 This irresistibly spicy, tangy, and creamy pasta dish is as close as you can get to the original Spicy Rigatoni Vodka from world-famous Carbone
Ingredients
3 brown onions, sliced
1/2 cup water
4 tbsp. butter
Salt
28 oz. whole San Marzano tomatoes, hand crushed
1 tbsp. salt (more to taste)
2 tbsp. sugar
3 tbsp. extra virgin olive oil
1-2 tbsp. Calabrian chili paste
3 tbsp. vodka*
3 tbsp. butter
2 cups heavy cream
Instructions
Make the onion soubise: heat the butter over low heat in a small saucepan, then add the onions and water and season with salt. Cook for 15-20 minutes over low heat, stirring occasionally, to melt the onions – you want them soft and translucent but you do not want to add any color or browning to them. Optional: blend the onions if you prefer a smoother sauce.
While the onions are cooking, heat the tomatoes, salt, sugar, olive oil, Calabrian chili paste, vodka, butter, and cream in a large skillet and simmer for 15 minutes.
While the sauce is simmering, boil water in a pot of well-salted water and cook the pasta until al dente according to package directions. Reserve 1 cup of pasta water, drain pasta and set aside.
Add the onion soubise to the sauce and stir until well combined, taste and season with more salt as needed.
Add the cooked pasta and 2 tbsp of pasta water, tossing to coat and if needed, adding more pasta water 2 tbsp at a time to achieve desired sauce consistency.
Serve in warm bowls and enjoy!
Notes
*Carbone has famously stopped using vodka in their sauce, so feel free to omit if it's not available, but I just don't feel right calling it vodka sauce without the vodka!
If you make this recipe, I'd love to see the final product. Tag your stories and posts on Instagram with #IndulgentRecipes and @IndulgentEats so I can see them!
http://indulgenteats.com/2020/04/20/carbone-spicy-rigatoni-vodka-recipe/