Unique egg dishes seem to be all the rage on the internet these days. While I failed to successfully master the viral tornado omelette, the Indian bread omelette is one that is so easy I was able to get it on the first try, with my own indulgent twist on the dish of course! The resulting bacon egg and cheese meets French toast meets cheese-crusted grilled cheese is soo good I had to share it so you can make it for yourself at home.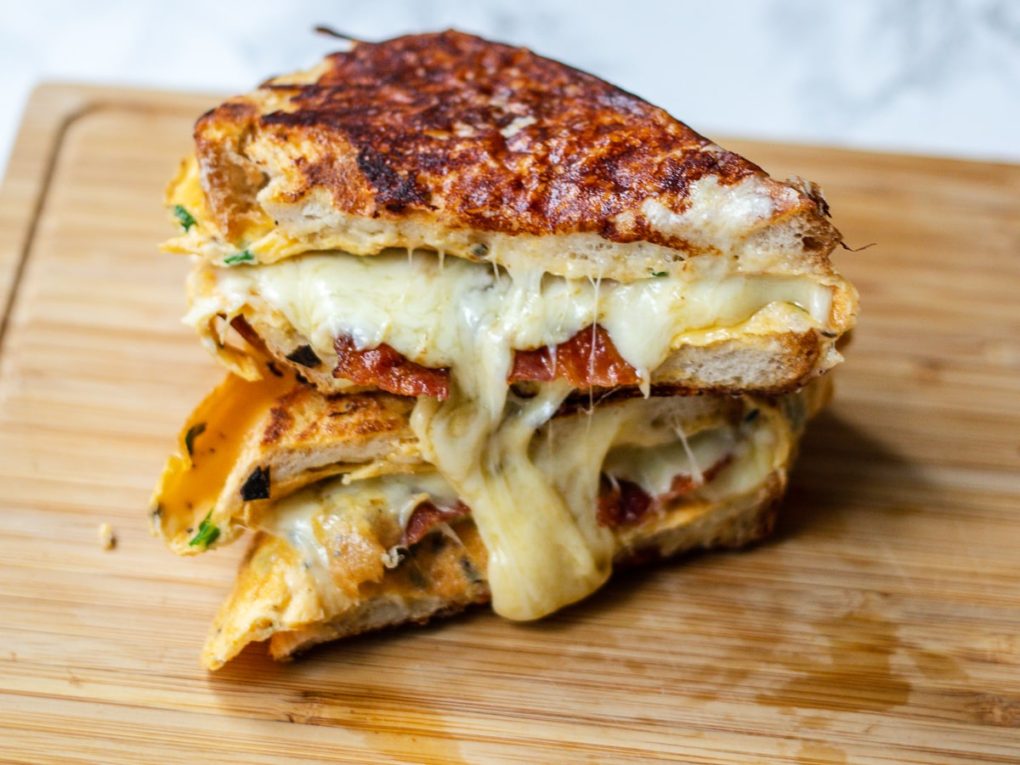 Wait, what's an Indian bread omelette?
This simple egg sandwich can be found at street vendors in India, where 2 beaten eggs are poured into a pan with chopped onions, veggies and/or chiles, then 2 slices of bread get quickly dipped into the egg before they're flipped right over so that they adhere to the cooking omelette. Then the ENTIRE omelette with bread attached gets flipped over to toast the bread before the entire thing gets folded up into one neat package. It's a genius hack to quickly construct a breakfast sandwich that is part omelette, part French toast, and wholly delicious.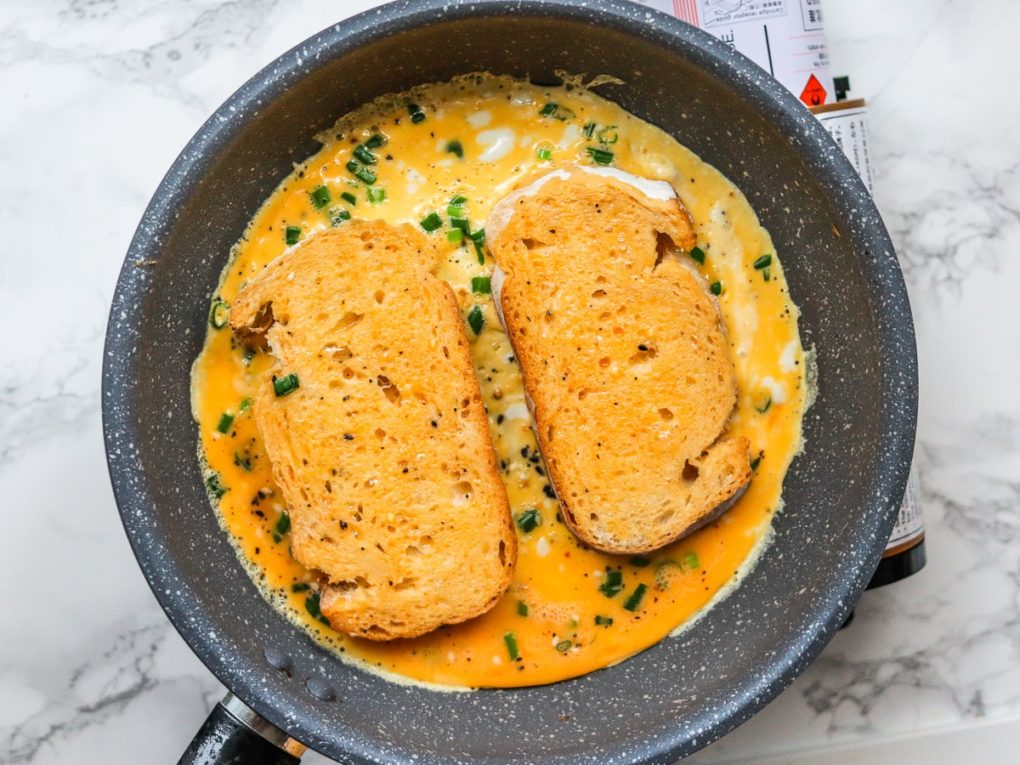 How do I make the BEC (bacon egg and cheese) version?
First you need to beat and season your eggs. I went with salt and pepper plus some everything bagel seasoning to add extra umami from the fried garlic and onion, and because I just f*ing love everything bagel seasoning on well… everything. I also added chopped scallions into my beaten eggs to add some bite and because I also just f*ing love scallions. You could also throw in some chopped tomatoes and onions, as well as chopped birds eye chilis or jalapeños here for some heat, just like they do in the traditional Indian bread omelette. Since ince I didn't have any of that on hand, I loaded on the spice at the end by drizzling sriracha onto my bread omelette. I also used sourdough bread, but you can use whatever bread you have on hand – just make sure 2 slices can fit in your nonstick pan.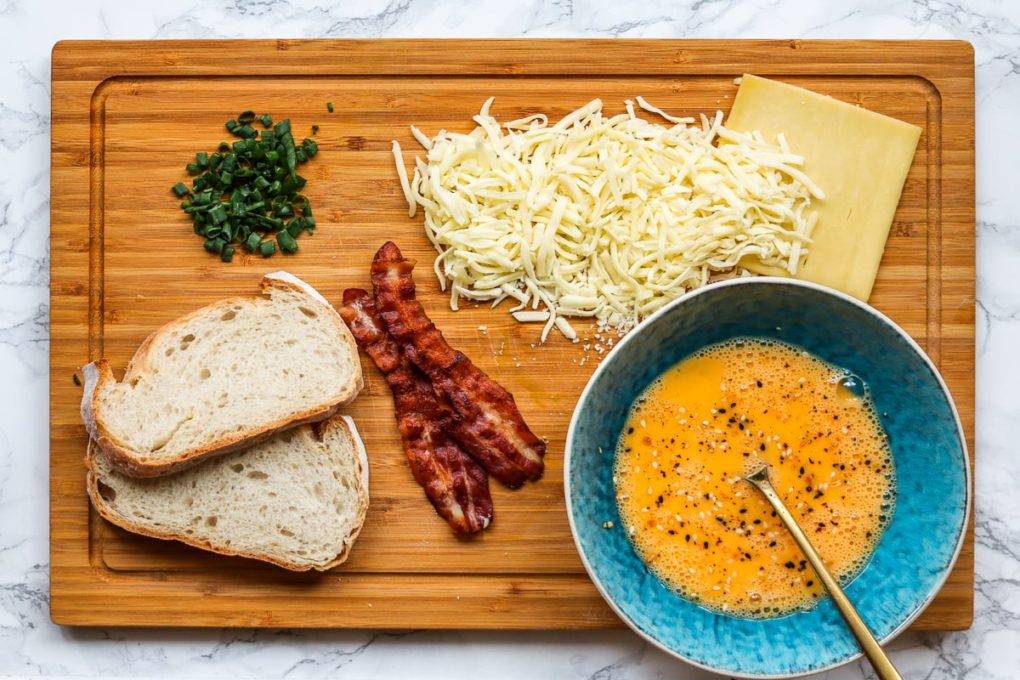 Because bacon makes everything better, I decided to amp up my version of the Indian bread omelette by first crisping up some bacon to go inside the omelette along with both cheddar cheese for sharpness and mozzarella for its melt factor (gotta get that cheese pull #forthegram). But you're welcome to use whatever cheese you have! American cheese would honestly be even better in this for its perfect melt.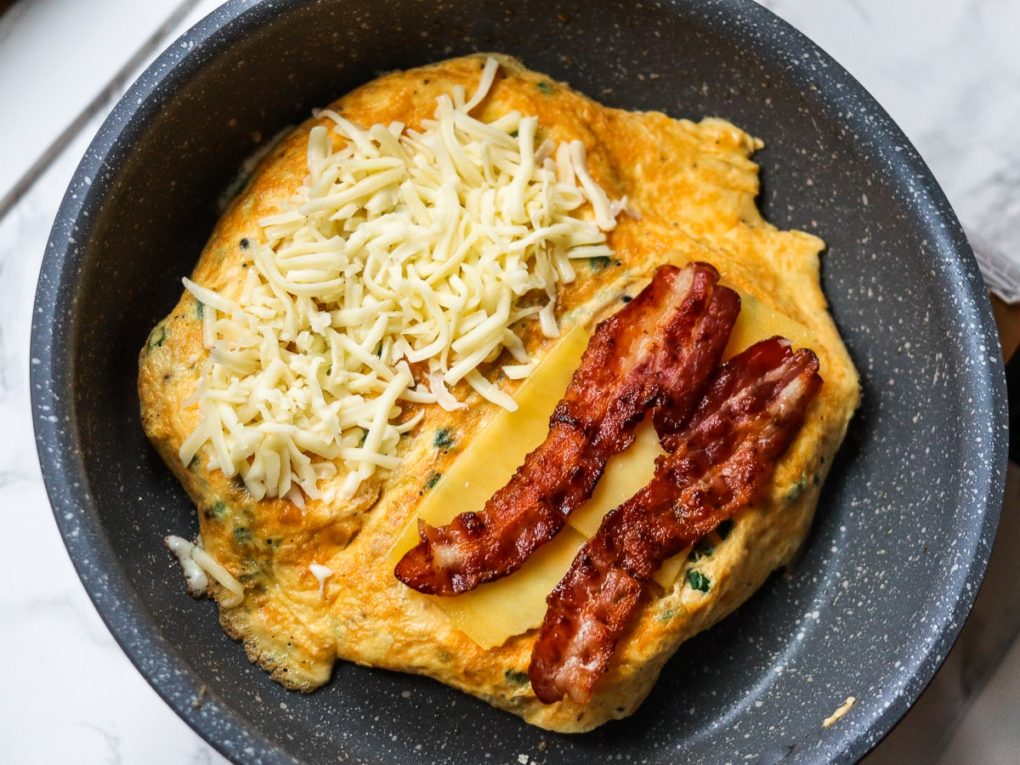 Wait, you mentioned a cheese-crusted grilled cheese?
Here's where this bread omelette really gets magical. After I folded the entire thing into a sandwich and let each side toast for a bit, I took a page from my grilled cheese rulebook and added some mozzarella cheese straight into the pan and flipped both sides of the sandwich onto the melting cheese. Since the cheese basically sears on the hot pan, the result is a crispy, golden cheese crust on both sides of your bread that really makes this sandwich utterly satisfying. You can use this technique any time you make a grilled cheese, toasted sandwich, quesadilla, or really anything involving melting cheese in a pan.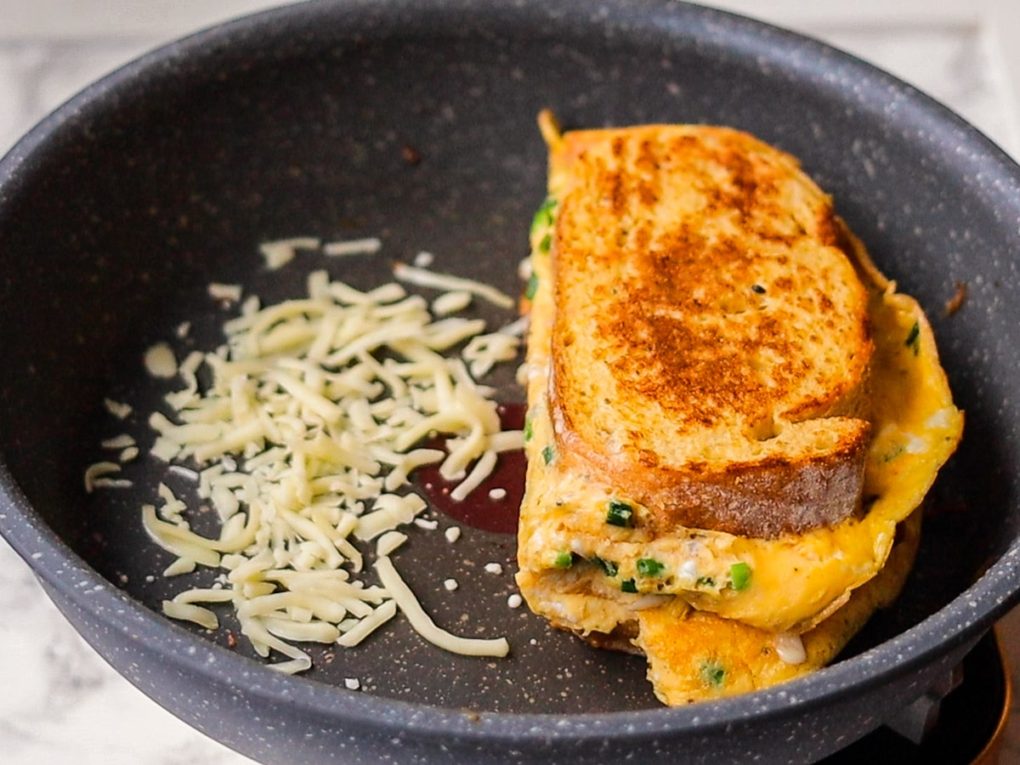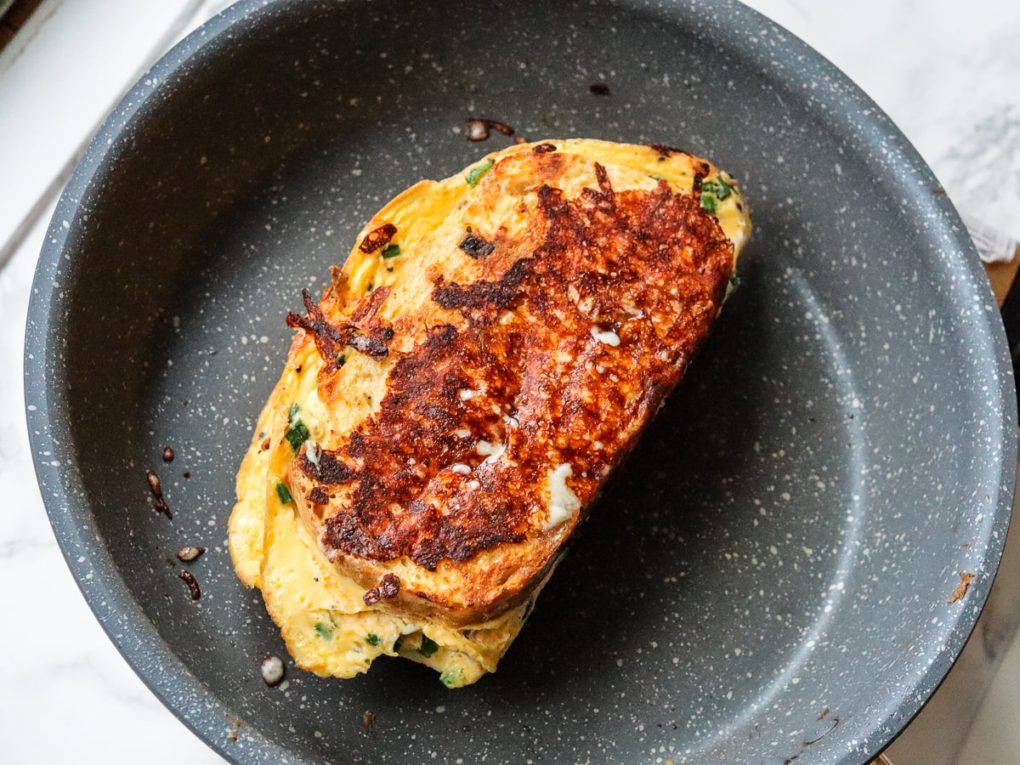 I completely understand why this egg sandwich went viral. The Indian bread omelette is an easy, customizable recipe that's also just a lot of fun to make – feel free to add or subtract toppings as you see fit. Give it a try and tag me so I can see how yours turns out!
My version of the viral egg sandwich based on the Indian bread omelette adds bacon and a crispy cheese crust to this one-pan wonder.
Ingredients
For your bread omelette:

2 eggs, beaten
Salt and pepper
1 tbsp oil or 1 tbsp butter
2 slices of bread
Optional add-ins:

Chopped scallions, tomatoes, onions, and/or chiles
2 pieces of cooked bacon
1 slice of cheddar or American cheese
2 oz. shredded cheddar or mozzarella, divided
Instructions
If adding bacon, heat a nonstick skillet over medium high and cook bacon on 2-3 minutes per side until crispy. Set aside.
Beat 2 eggs and season with salt and pepper, plus a few shakes of everything seasoning (optional). Mix in your chopped scallions, tomatoes, onions, and/or chiles.
Heat oil or butter over medium heat in your nonstick skillet (make sure it just fits your 2 slices of bread). Add the egg mixture, then quickly dip one bread slice into the egg then flip it over and place it toward the top of your pan. Then quickly take your second slice of bread and dip it into the egg mixture toward the bottom of your pan, then flip it over, making sure it's facing the opposite direction as your top slice.
Let the egg sit for ~2-3 minutes until the egg has set, then carefully use a spatula (or 2) to flip over the entire omelette with the bread attached.
Optional: add a slice of cheese and the cooked bacon on one side of the omelette, and your shredded cheese on the other side.
Let the bread toast for a minute, then fold any omelette hanging off the edges into the sandwich. Then fold one slice of bread onto the other to form your sandwich, and flip to toast until both sides are golden brown.
Optional: Add shredded cheese directly to one side of the pan and place the sandwich onto it, letting it sit so that the melting cheese meld forms a crispy cheese crust. Repeat for the other side of the sandwich.
Slice your bread omelette in half and let sit for a minute before eating (it will be piping hot inside). Enjoy!
Notes
If you make this recipe, I'd love to see the final product. Tag your stories and posts on Instagram with #IndulgentRecipes and @IndulgentEats so I can see them!
http://indulgenteats.com/2020/05/21/viral-indian-bread-omelette-egg-sandwich-hack-with-bacon-and-cheese/