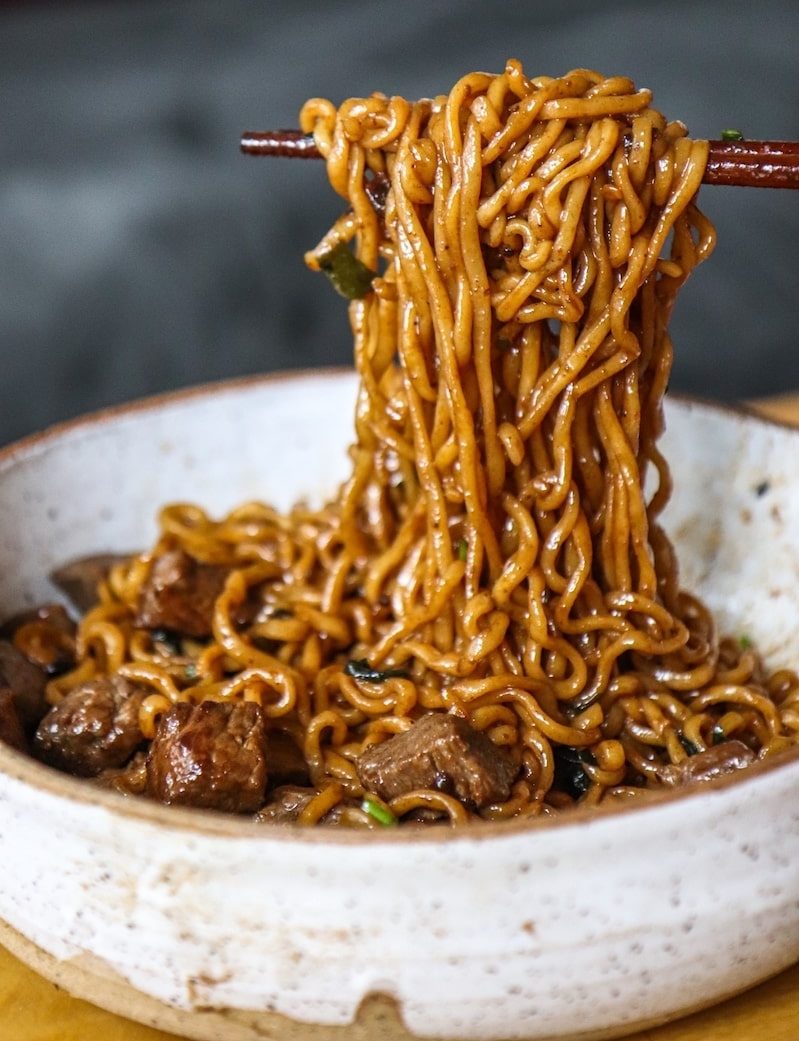 If you haven't seen Parasite yet, then you're not only missing out on the best movie of 2019, but the epic scene that resulted in this delicious instant noodle dish called RAM-DON! The actual Korean dish is called Jjapaguri (짜파구리) made from combining 2 popular instant noodles by the Korean brand Nongshim — Chapaghetti and Neoguri. But Parasite used this dish to evoke the juxtoposition of rich and poor by adding a high grade, expensive Hanwoo (like Korean wagyu beef) to a meager dish. You don't have to spend $$$$ to make it at home though, as my recipe uses butter to create the luxury of expensive steak with cheaper cuts of beef.
Ram-don has quickly become one of my favorite noodle dishes thanks to the depth of flavors from the black bean, pork & vegetable jjajang sauce of the Chapaghetti and the spicy seafood flavors of the Neoguri, all with chewy noodles and tender beef! You can also substitute with other brands that sell similar products, as I did by using Paldo's Jjajangmen instant noodles instead of Chapaghetti. That said, I'm basing the recipe on using Chapaghetti to stay true to the original. You're welcome to adjust this to personal preferences though, like stir frying some veggies to add to the mix or topping it with an egg yolk or fried egg! Full ram-don recipe below.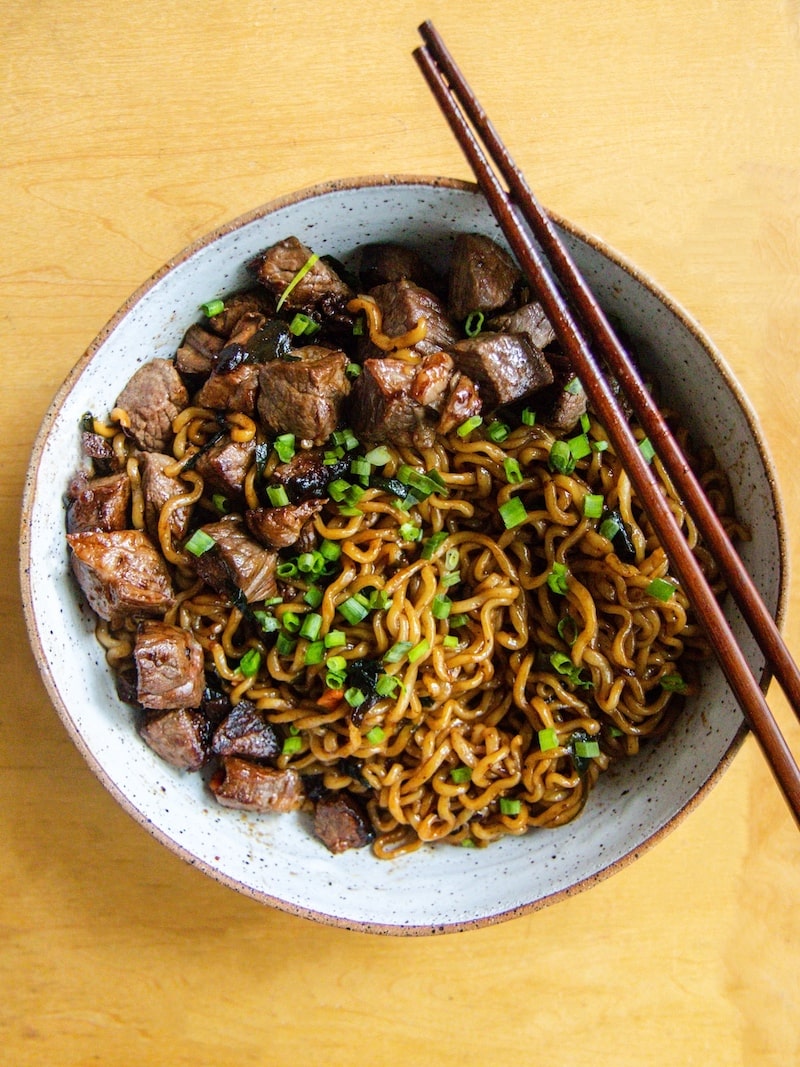 These flavorful noodles combine Korean instant noodle favorites Chapaghetti and Neoguri with beef cooked in butter to replicate the dish made famous by the movie Parasite.
Ingredients
1 package Chapaghetti
1 package Neoguri
6-12 oz. steak (sirloin, ribeye, or a well-marbled chuck will work well)
1 tbsp canola or vegetable oil
2-3 tbsp. butter (depending on how much steak you use)
Salt
Pepper
1 tbsp. mirin (optional)
1/2 tbsp. sesame oil (optional)
1-2 tbsp. chopped scallions (optional)
Instructions
Cut the steak into 1 inch cubes and season generously with salt. For additional flavor, transfer to a bowl and marinate in 1 tbsp. mirin and 1/2 tbsp. sesame oil, stirring to coat evenly. For optimal results, do this step 30 minutes before cooking.
Heat 5 cups of water in a pot on high.
Before you start cooking the noodles, heat 1 tbsp oil and 2-3 tbsp. butter in a heavy bottomed skillet or cast iron skillet on medium high heat. Once butter is foaming, add the steak in an even layer and let sit for 2-3 minutes without disturbing until a crust has formed on the steak. Flip and cook the other side for another 2 minutes, finishing the steak with fresh ground pepper and stir frying until the steak is cooked and turn off heat. If desired, drain some of the excess butter and fat, but leave at least 1 tbsp. which will add flavor to the noodles.
While steak is cooking, add both of the dry noodles and dehydrated vegetable packets and the dried kelp from the Neoguri to the boiling water, cooking for 4 minutes. Use chopsticks to lift the noodles out of the water and then re-submerge them occasionally – this will help produce a chewy texture in the noodles. Once noodles are done, drain the noodles, reserving 1 cup of noodle water
Add the noodles, full packet of Chapaghetti seasoning, 1/2 packet of Neoguri seasoning, and 1/2 cup of water to the skillet with the beef, stirring well to combine. Taste and add additional noodle water and Neoguri seasoning to achieve the desired sauce consistency and flavor (Neoguri seasoning is spicy and salty).
Transfer to 1-2 bowls, top with chopped scallions if desired, and enjoy!
Notes
If you make my version of ram-don jjapaguri, I'd love to see the final product. Tag your photos and stories on Instagram with @indulgenteats and #indulgentrecipes so I can see them!
http://indulgenteats.com/2020/03/22/ram-don-jjapaguri-recipe-oscar-winning-movie-parasite/