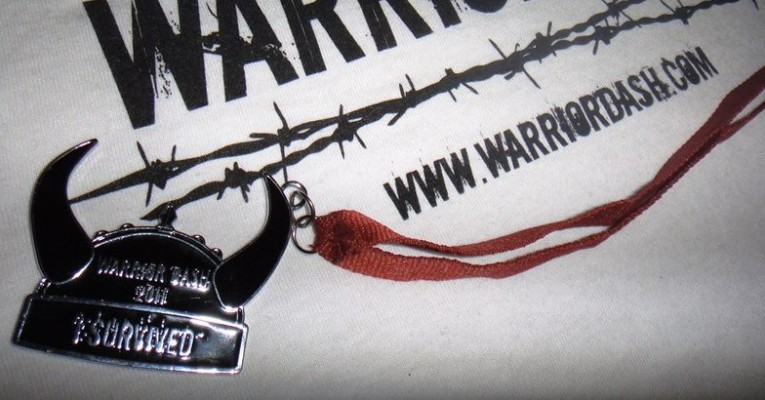 I Survived Warrior Dash and had a Damn Good Time Doing So
August 16, 2011 by Jen Balisi
Let me tell you, Warrior Dash was not easy. Even the journey to Windham Mountain in upstate NY was riddled with difficulty, like our car breaking down 15 minutes from the race site (luckily we were saved by a friendly fellow Warrior Dash participant – thank you "Utica").
In the end, we made it to the race (an hour later than the wave we registered for, but they didn't care since, well, there were like 10,000 people there and all). Arriving at the site is kind of overwhelming and awesome, from the racers who chose to go in ridiculous costumes (personal favorite was a group of Ninja Turtles), to the mountain of mud-soaked sneakers that had been donated post-race, to the mountain itself, where "3.2 hellish miles" were about to be run.
And that was without a doubt the worst part about Warrior Dash: that steep mountain that became our worst enemy the moment we realized we had a 1.5 mile uphill run right from the get-go. To say it simply, the first half of the race was a complete and total bitch. Even those who thought they were trained enough (read: me) had to face the fact that you just had to walk up parts of this tortuous hill if you ever wanted to conquer it. To put it in perspective, think of when you go skiing or snowboarding down a green or blue trail. Now imagine running up it. Yep. It sucked. This is (kind of) what most of us looked like mid-mountain.
Then came the obstacles, which were surprisingly not so much physically difficult as kind of scary but simultaneously fun. Case in point: hurdle jumps over walls (surprisingly really easy – thank you plyo), balance beams (kind of scary), and even a slip n slide (fun, obviously). What I didn't expect was to have so much difficulty jumping over cars, which was actually my downfall as one wrong slip off of a truck's tire caused me to cramp up in my right calf, limp up the hill as a result, and finally stop for a minute or so just to stretch it out.
In the end I finished the entire race in about 50 minutes, with the fastest of my friends finishing in 40, so I think I fared pretty well (283 out of ~800 women in my age group to be exact – top 35%? I'll take it). Goal for next year is obviously a) to avoid getting a leg cramp and b) beat the boys!
After we rinsed off as much mud as we could, it was time for our free beer, and of course, being the glutton that I am, I had to get a smoked turkey leg (and it was just like the ones at Disney World!) Pretty much exactly what you want after wanting to die 40 minutes prior from physical exertion.
Now that I've survived Warrior Dash 2011, I'm ready for 2012 (with more training, of course), and probably Spartan Race 2012 too (8 miles? Bring it). Maybe even Tough Mudder?! Jk… I'll save that one for if/when I can run up a mountain without wanting to die.