My (biased) account of why the Great GoogaMooga truly was "Great"
May 22, 2012 by Jen Balisi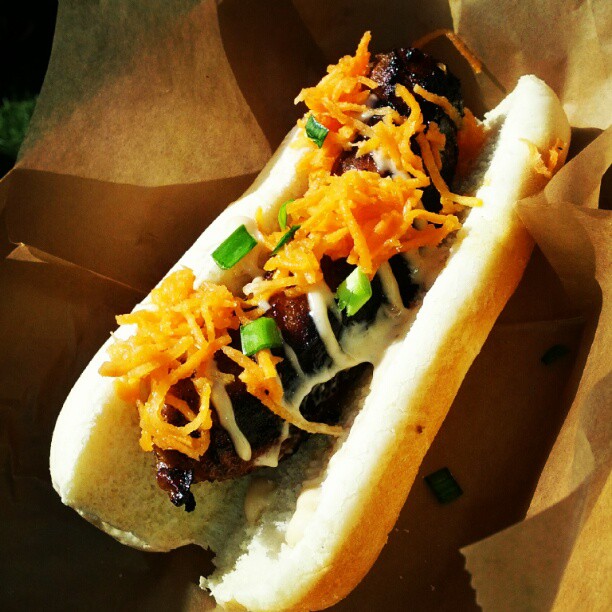 I had an absolutely amazing time this past weekend. I spent my entire Saturday dancing up a storm at Electric Daisy Carnival at Metlife Stadium (I literally lost 4 pounds in a day), which was perfect preparation for the fatfest that was the Great GoogaMooga on Sunday.
For everyone who's all like "Googa what?," first things first, if you live in the NY area go get a Twitter account already because you obviously aren't on the social network if you haven't heard of GoogaMooga before reading this. To put it simply though, GoogaMooga = epic food and music festival in Prospect Park, Brooklyn. Why do I say epic? Because of all of this.
Now anyone who IS on twitter or reads any sort of NYC-focused publication/blog knows that there were many many complaints and grievances over the festival, which is honestly pretty expected given that it's the first year of a festival. But here is a disclaimer on why this blog post is a completely and totally biased account of the festival: I somehow managed to be lucky enough to score a free pair of ExtraMooga VIP tickets courtesy of whatever angel manages their Twitter account, all because of this tweet:
@GoogaMooga I need #ExtraMooga in my life because "noshing" with Colichio, Aziz, and James Murphy would make my foodie/TV/music loving life.

— Jen Balisi (@jenbalisi) May 16, 2012
The ironic part is that since I went on Sunday, I didn't actually even see Aziz Ansari or James Murphy which was a bit of a bummer, but getting the $250 experience of ExtraMooga fo' free still kind of made my life for the following reasons:
A nice and shady picnic area, separate from the insane crowds/lines of the main area
Beer/wine/cocktail stands EVERYWHERE
An hour of Anthony Bourdain, my travel/bad-ass-life idol
The Umami burger and other super delicious tastings (see my full set of photos at the end)
An entire cow roasted by the Pat Lafrieda folks
An awesome, off the cuff panel with Patton Oswalt, Eddie Huang from Baohaus, and Tom Colicchio
Big Gay Ice Cream dance party complete with ice cream push pops and La Newyorkina popsicles
Fancy VIP "mobile" bathrooms with sinks aka no portapotties!
Being right up front in the VIP section for Hall and Oates and their awesome 15 minute extended version of I Can't Go For That
So yes, ExtraMooga was definitely awesome. That said, I think if I had actually paid the $250 for it, it might be a different story. <begin rant> As a marketer, I feel like the GoogaMooga folks should have been more explicit in their promotion of ExtraMooga because I, as well as many others, assumed "all-inclusive" meant I could go to any vendor and get my choice of food, which was not the case. While I was definitely full from trying out the various tastings they provided at the rotating stands in ExtraMooga, I also felt like I missed out on a lot of the offerings from other food vendors. I was reluctant to shell out extra money for the main food vendors based on the opportunity cost of it possibly showing up in the tasting tent the next hour. I think if they plan to do this next year, they should be explicit in providing exactly which vendors are providing tastings in the ExtraMooga space and when, or perhaps have different variations of VIP where you could purchase a wristband/pass that granted you a certain number of tastes at the vendors of your choice. Just a thought. </rant>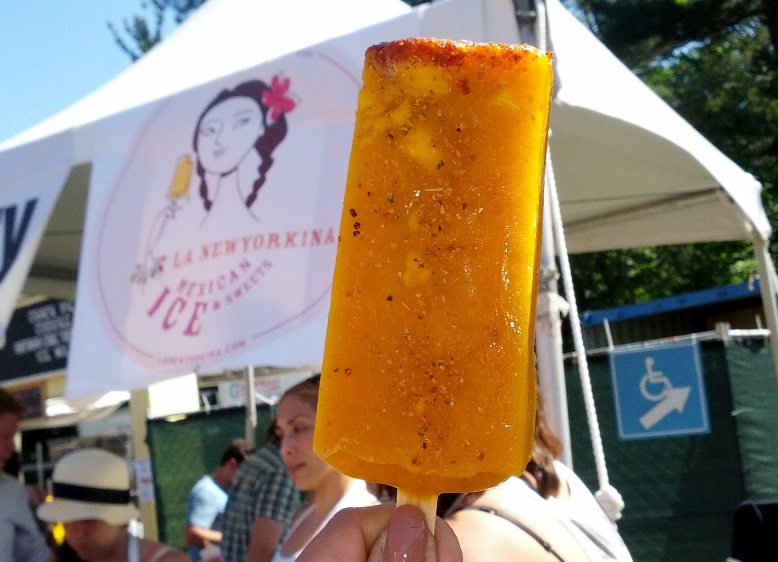 The only things I actually ended up shelling out my own money on was a delicious mango and chile popsicle from La Newyorkina and the longga dog from Maharlika, a Filipino restaurant/vendor who I've previously featured in my post about Filipino food in NYC. Their Filipino version of a hot dog comprised of a delicious, sweet and savory longganisa sausage topped with bagoong (shrimp paste) mayo and atchara (the Filipino equivalent to pickled veggies on a banh mi). Genius. I was pretty bummed that they didn't have their Filipino grilled corn when I came by, but that just means I'll have to give them another try when I go to Dekalb Market.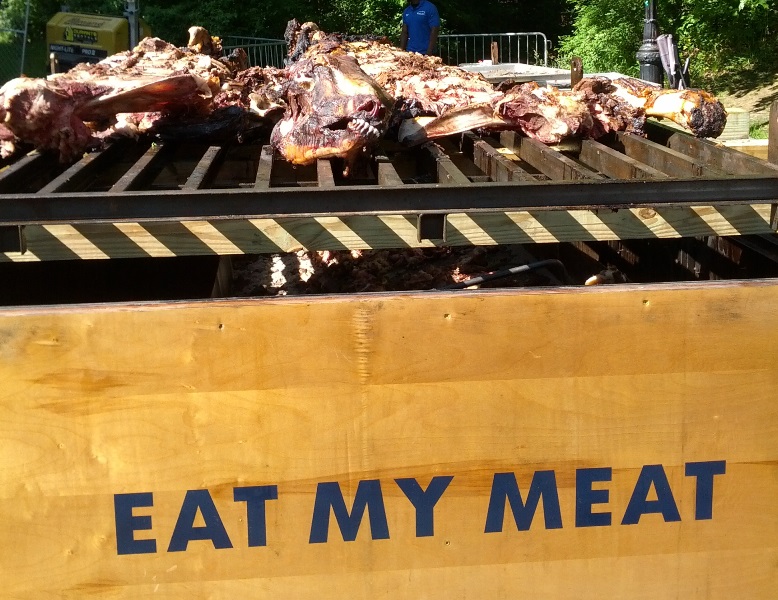 So no, I didn't experience hour-long waits, get my money stuck on a beer/wine card that didn't work, or resort to peeing in a cup, but honestly, what did people really expect from the first day/first year of this kind of festival? People could've easily just gone to many of the vendors' brick-and-mortars if they just wanted to try the food, which is why I feel like a long wait is just the price you pay for having them all in one place – it's the nature of the "festival." Could they get more food vendors, put them in a bigger space, and better prepare inventory for the amount of tickets sold? Probably. But overall, I think the hiccups were bound to happen and the folks at Superfly running GoogaMooga dealt with and corrected what they could as quickly as they could. All of that aside, how can a gorgeous, sunny day with great food, drink, and these guys not be great? So kudos to the Great GoogaMooga – I look forward to seeing what you can pull together next year.