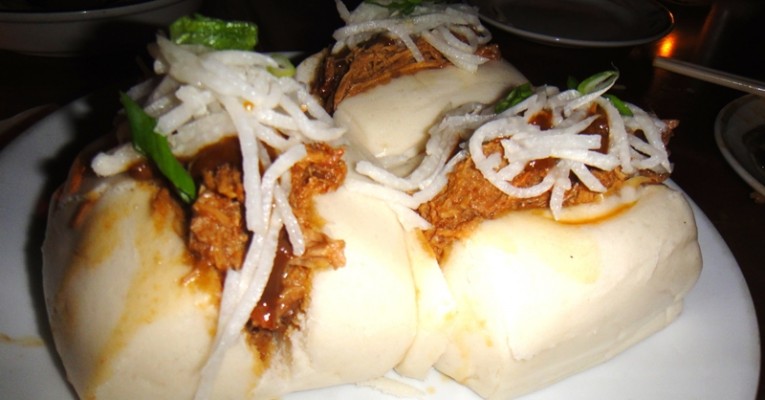 Why the Village Voice's Choice Eats is worth breaking my diet
February 12, 2013 by Jen Balisi
First off, disclaimer: Anyone who reads my blog obviously knows I'm never actually on a "diet" of the conventional sort. Rather, I try to balance eating healthy and working out with eating like a total pig, trying to only eat like a total pig when the food is so good, it makes those calories worth it. That said, Village Voice's upcoming tasting event, Choice Eats, definitely fits into the worth-eating-like-a-total-pig category.
As detailed in the poster above, Choice Eats is an annual tasting event curated by the Village Voice that features some of the best that NYC's diverse culinary world has to offer. With over 50 restaurants offering a sample of their menus, ranging from Mexican to Southern to dim sum and everything in between, there's food to cater to every palate. But it's not just food, it's GOOD food, as the featured vendors are all places that have been reviewed and approved by the Village Voice's food critics. Add on desserts and unlimited drinks, and you have a glutton's paradise.
While I primarily bought my ticket after seeing specific restaurants that I have eaten at and loved, I'm most looking forward to seeing what new favorites I can discover. Check out the places I'll be gunning it to at the event below:
Most looking forward to enjoying again:
Luke's Lobster
It's safe to say that I will like almost anything with any form of lobster, but Luke's serves it up in it's pure glory. Using only claw meat that comes straight from Maine, they showcase lobster as it should be with just a bit of mayo, lemon, and Old Bay seasoning in a perfectly toasted, buttered split bun. It's not a lobster roll that's overloaded with mayo or scallions or other unnecessary things – Luke's is just good, delicious lobster with the minimal, perfect amount of accouterments.
Kuma Inn
I sang my praises for this Filipino-Thai fusion tapas joint in my Guide to Filipino food in NYC, so I'm incredibly excited to be able to sample their delicious, creative takes on Filipino staples at Choice Eats. If they are serving their adobo pork buns (pictured at the top of this post), it's game over.
The Meatball Shop 
You may have seen them featured in some recent Chase ads or you may have stumbled into one of their 3 cozy shops spread through downtown Manhattan and Brooklyn. If it's the latter, then you already know that this winner of the Wine and Food Festival's Meatball Madness event has some amazinggg meatballs. Juicy, flavorful, meaty perfection (yeah, I went there).
Most looking forward to trying for the first time:
Bobwhite Lunch & Supper Counter
This East Village eatery specializes in Southern-style cooking, and has been garnering praise not only for their local, sustainable approach to ingredients, but for their food of course! As a lover of fried chicken, I'm really looking forward to sampling their version of the Southern classic, which they marinade in sweet tea before dredging in flour and frying up the traditional way.
Ditch Plains
Now boasting multiple locations in Manhattan and soon Brooklyn, this restaurant that began primarily as a seafood shack also serves up lobster rolls and the like, but what I'm most intrigued by is their now infamous Ditch Dog – a hot dog topped with a Gruyere-based macaroni and cheese. While Eater refers to it as a "crime against hot dogs," I have to disagree. As a mac and cheese lover and self-proclaimed cheese monster, I can't wait to try this out, as it seems like the perfect, slightly fancier take on a classic cheese dog.
Brooklyn Kolache Co.
So, what's a Kolache? That's definitely the first question that comes to mind upon reading the name of this Bed-Stuy-based cafe and bakery, but they clear things up on their website, explaining that kolaches are "portable, neat-to-eat pastries that can be stuffed with savory ingredients… or sweet, house-made fillings." The pastry is actually Cezch in origin, but they're hugely popular in central Texas. With savory varieties including sausage, cheese, & jalapeno and chorizo and egg, and sweet versions ranging from sweet cheese to apricot to PBJ, I'm excited to try something new and seemingly delicious without having to trek over to Brooklyn.
So those are my picks for the Choice Eats fest! Tickets are still available for around $50 bucks a pop, so grab one and enjoy everything the event has to offer. if you do go, let me know or find me in the crowd – I'll be the small Filipino girl, drink-in-hand, stuffing her face with everything mentioned above 🙂