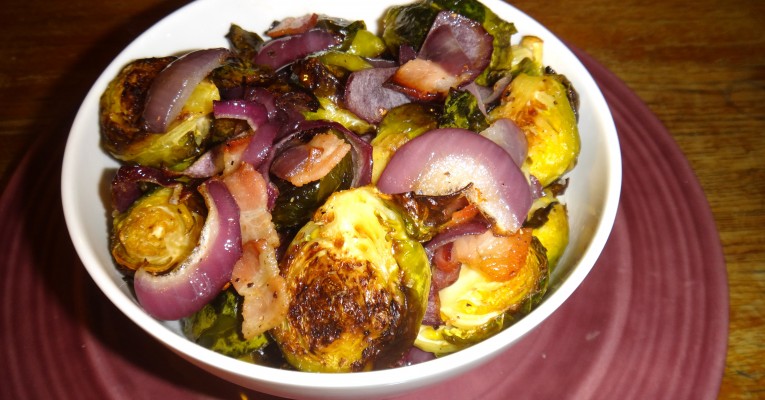 Roasted Brussels Sprouts with Bacon and Caramelized Red Onion
January 23, 2014 by Jen Balisi
Fact #1: Ina Gartner has the best, easiest recipe for simple roasted brussels sprouts OF ALL TIME.
Fact #2: Roasted brussels sprouts taste great with balsamic vinegar or coated in a balsamic glaze.
Fact #3: Red onions also taste great with balsamic vinegar, especially when caramelized to bring out their sweetness, creating a similar flavor profile to a balsamic glaze.
Fact #4: Everything tastes better with a little bacon.
Transitive property said this recipe adaptation (read: dinner experiment) would turn out great, and I'm happy to report that it was absolutely delicious. These roasted brussels sprouts with bacon and caramelized red onions are perfect for impressing your friends at the next potluck, being the hostess with the mostess for a dinner party, or for avoiding the cold and cozying up with your Netflix account and a bottle of red.
Feel free to leave out the bacon or substitute with meatless/turkey bacon if you're vegan or watching your fat intake, but really now – what's life without a little crispy, glorious bacon every once in a while?
Oven Roasted Brussels Sprouts with Bacon and Caramelized Red Onion
This adaptation to Ina Gartner's recipe for roasted brussels sprouts adds crispy bacon and red onions caramelized in balsamic vinegar for a rich, salty-sweet side. It can also sit atop a bed of arugula and grilled chicken, drizzled with balsamic vinaigrette or lite ranch dressing, for a satisfying warm salad.
Ingredients
1 lb. brussels sprouts, cut in half lengthwise, ends trimmed, yellowed leaves removed
3 tbsp. extra virgin olive oil
1 small red onion, sliced thickly
2 tbsp. balsamic vinegar
3 slices thick cut bacon, diced
3/4 tsp. kosher salt
1/2 tsp. fresh ground pepper
Instructions
Preheat oven to 400 degrees F (205 degrees C).
Cut off the brown ends of the brussels sprouts and remove any yellow outer leaves. Cut brussels sprouts in half lengthwise. Dice bacon slices.
Combine brussels sprouts, 2 tbsp. olive oil, salt, and pepper in a large mixing bowl or large resealable plastic bag, mixing in the bowl or shaking the sealed bag to evenly coat.
Spread brussel sprouts in an even layer inside a baking pan and sprinkle the diced bacon all over. Place in center rack of oven.
While Brussels sprouts are baking, slice red onion into thick cuts.
Heat 1 tbsp. olive oil in a skillet on medium-high heat. Add sliced red onion and cook for 5 minutes, stirring constantly.
Add balsamic vinegar to red onions and continue to stir for another 5 minutes until onions begin to caramelize. Remove from heat.
Remove brussel sprouts from oven to add caramelized red onions, stirring to combine all ingredients and turning brussels sprouts for even cooking.
Return baking pan to the oven and continue to bake for 25-35 minutes, stirring contents or shaking the pan every 5-10 minutes to brown the sprouts evenly. Brussels sprouts should dark brown, almost black, when done.
Serve immediately to keep everything nice and crispy, topping with additional kosher salt if you like things nice and salty or drizzled with additional balsamic vinegar if that's your jam.
Notes
The bulk of the fat in this recipe comes from heart-healthy olive oil, but feel free to leave out the bacon or substitute with meatless/turkey bacon if you're vegan or watching your fat intake. The bacon can also be substituted for pancetta if you're feeling fancy.
http://indulgenteats.com/2014/01/23/roasted-brussels-sprouts-with-bacon-caramelized-red-onion/