Esquites – Cafe Habana & La Esquina Style Mexican Grilled Corn Salad with Avocado
February 10, 2014 by Jen Balisi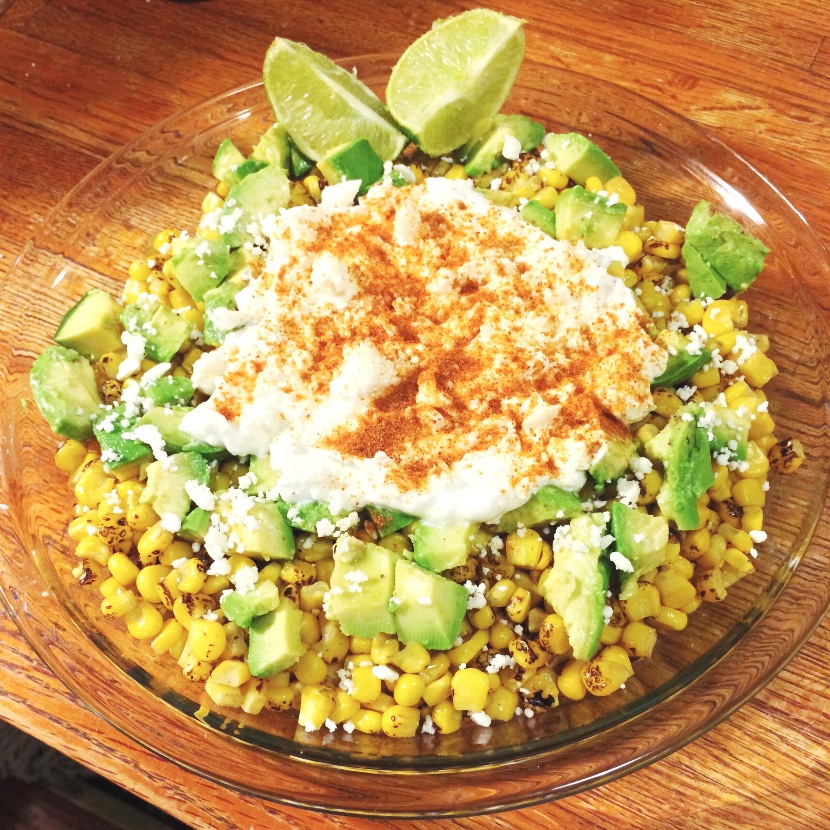 One of my favorite things to eat is the grilled corn on the cob, or elotes, from La Esquina and Cafe Habana in the Nolita neighborhood of NYC. The basic recipe is quite simple: fresh corn on the cob charred on the grill, coated with a mixture of mayonnaise and crema (Mexican sour cream), cotija cheese, sprinkled with chili powder, and finished with a squeeze of lime. If you dine at the bar at Cafe Habana, you actually have a view into the kitchen where you can see that they have 1 guy whose sole responsibility is grilling the corn that is used in their elotes. It's so good that it's literally someone's job to keep cranking it out. It is also so good that I affectionately call it crack corn – the tart flavors of the cheese and lime plus spicy kick from the chili powder on a sweet grilled corn on the cob are just oh so addictive.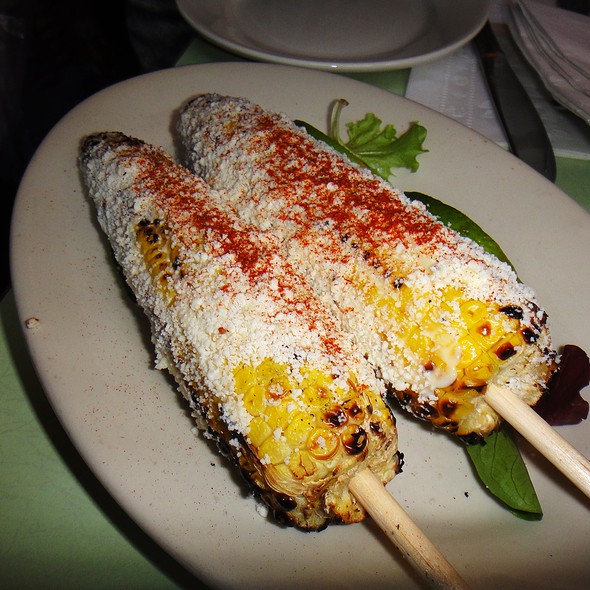 That said, elotes can get messy. Take a bite into it and corn can get stuck in your teeth or cheese can get all over your mouth. So when Super Bowl Sunday came along, I decided to try and make an off-the-cob version of elotes, which is called esquites. The recipe is pretty much the same, but by preparing the corn off the cob and serving it in a bowl, it's easier to eat and share (and easier to transport, making it perfect for potlucks too!).
I decided to try and make a slightly healthier version for this Mexican Grilled Corn Salad by using mostly low-fat Greek yogurt as the base instead of the typical mixture of mayonnaise and sour cream (Greek yogurt = less fat + more protein). I also used fat-free Feta cheese instead of cotija cheese, mostly because I didn't feel like trekking to a Mexican grocery store for it (though if you're in NYC, there are plenty). Finally, the addition of avocado provides some wonderful buttery goodness, healthy fats, and some color to this dish.
Esquites – Mexican Grilled Corn Salad with Avocado
This easy and crowd-pleasing corn salad combines the fresh flavors of Mexican grilled corn with creamy cubes of avocado for the perfect game day or summer potluck dish.
Ingredients
3 cups fresh or frozen corn (I used Trader Joe's Frozen Fire Roasted Corn)
2 tbsp butter
2 tbsp. mayonnaise (can substitute with low-fat Greek yogurt)
3 tbsp. cotija or crumbled feta cheese
1 avocado, pitted and diced
Juice from 1 lime
2 tsp. chili powder (or more to taste)
Salt to taste
1 handful of cilantro, chopped (optional)
1/2 jalapeno pepper, seeded and finely diced (optional)
Instructions
Heat butter in a skillet over medium-high heat until it melts.
Add corn and toss to coat with butter. Spread flat and let sit to cook and char corn for about 5 minutes, mixing it and letting it sit again for another 5 minutes.
(Optional) Add diced jalapeno and saute for a minute, then remove from heat.
Mix corn with all remaining ingredients, adding salt and additional chili powder and cheese to taste. Serve warm or at room temperature, with lime wedges on the side for those who want additional acid.
Notes
If you make this recipe, I'd love to see the final product. Tag your photos on Instagram with @indulgenteats and #indulgenteats so I can see them!
http://indulgenteats.com/2014/02/10/esquites-cafe-habana-style-mexican-grilled-corn-salad/