Bacon, Egg, and Cheddar Savory Breakfast Oatmeal
February 25, 2014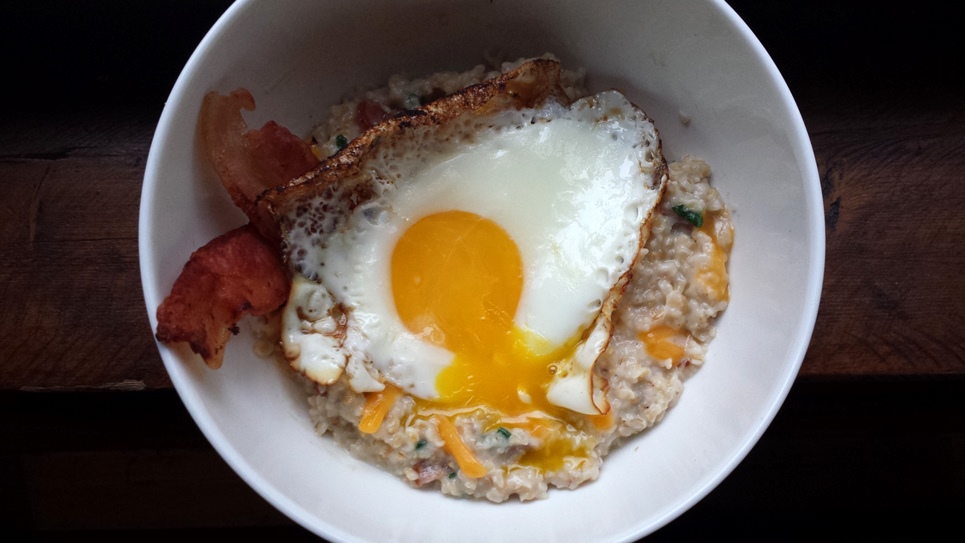 I have never been big on having sweets for breakfast. While I frequently start my day with a Fage yogurt with honey or a sweet chia pudding for weight-management purposes, if I had it my way I'd have an everything bagel with scallion cream cheese or a bacon egg and cheese on a kaiser roll from the corner bodega every day of the week. Seeking those flavors inspired me to try out this recipe for a savory breakfast oatmeal, which takes those tried and true flavors of a breakfast sandwich but puts a healthier spin on them by using steel cut oats as the base.
Steel cut oats are the least processed version of oatmeal you can buy. They are a great source of protein – depending on the brand, you can get 5-7 grams of protein per 1/4 cup serving. Steel cut oats are also a great source of fiber, with 4-5 grams of dietary fiber per 1/4 cup serving at a mere 150-170 calories. All of this means that you're getting a slow-digesting carb that will keep you satisfied for longer for less calories than most other carbs.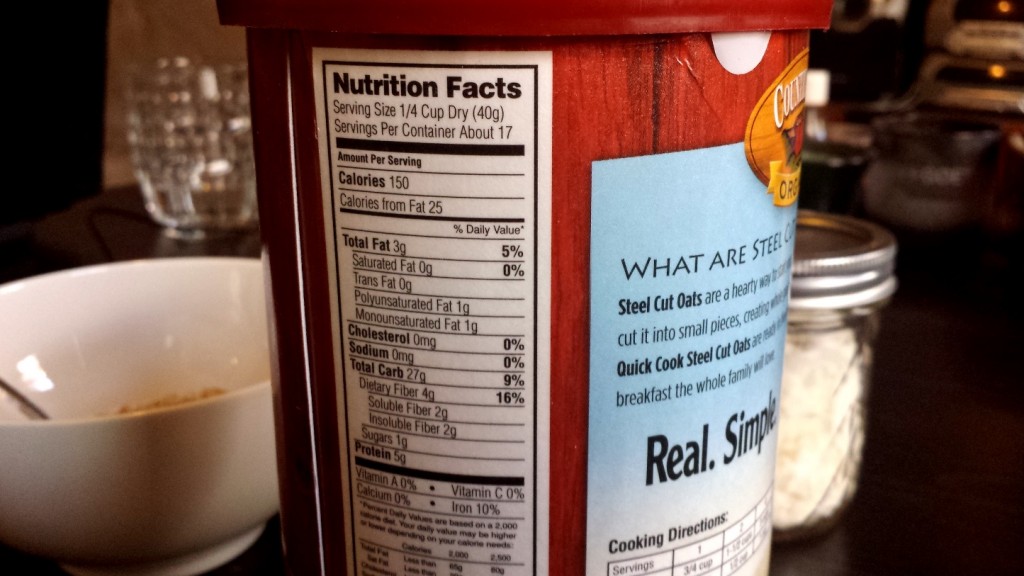 That said, oatmeal can get boring, which is why this bacon, egg, and cheddar savory breakfast oatmeal is a perfect way to change things up. Sure, bacon may not be the healthiest thing in the world, but paired with steel cut oats, I liked to think this dish balances itself out.
Bacon, Egg, and Cheddar Savory Breakfast Oatmeal
This savory breakfast oatmeal provide a fiber-rich, protein-packed start to the day with creamy, cheesy steel cut oats as the base for crispy bacon and a runny egg yolk.
Ingredients
1/4 cup dry steel cut oats (I used Country Choice Organic Quick Cook Steel Cut Oats)
2 slices bacon
2 tbsp. shredded reduced fat sharp cheddar cheese
1 tbsp. chopped scallions/green onion
1 egg
Splash of skim milk (optional)
Pinch of salt and fresh ground pepper, more to taste
Instructions
Cook steel cut oats as directed (takes anywhere from 5-30 minutes depending on the brand).
While oats are cooking, lay bacon strips flat in a cold non-stick skillet, then cook over medium-low heat until it starts to release from the pan and curl up. Turn strips over and cook until crispy. Remove from heat, using tongs to transfer bacon to a paper-towel lined plate to absorb grease. Chop up the bacon into small pieces (you can leave a couple large pieces to stick into the bowl as pictured if desired). Set aside.
Pour out most of the bacon grease in the skillet, leaving a layer that coats the bottom of the pan, then reheat the non-stick skillet over medium-low heat. Add the egg and cook until the egg white has set for a sunny side up egg, leaving the yolk runny.
During the steel cut oats' last minute of cooking, stir in chopped scallions, 1 tbsp shredded cheddar, salt and pepper. You can also add a splash of milk for creamier oats (optional). Transfer the oats to a small bowl.
Top the oats with the chopped bacon, remaining cheddar cheese, and finally the sunny side up egg, and sprinkle with additional salt and fresh ground pepper if desired. Break into the egg and stir everything together when you're ready to eat - enjoy!
Notes
If you make this recipe, I'd love to see the final product. Tag your photos on Instagram with #moderateindulgence and @jenbalisi so I can see them!
http://indulgenteats.com/2014/02/25/bacon-cheddar-egg-savory-breakfast-oatmeal/