Rosemary Candied Bacon Grilled Cheese with Balsamic Apples
April 27, 2014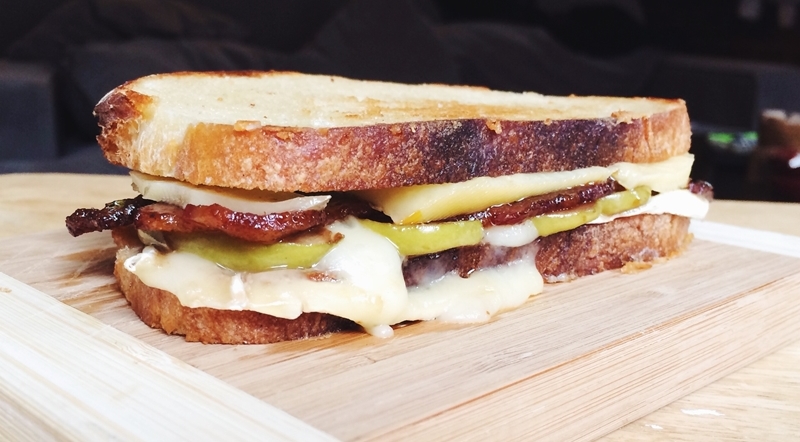 Guys, I may have just made the best grilled cheese of my life. This grilled cheese was the result of attending The Big Cheesy a couple of weeks ago, as I left the event inspired to do a grilled cheese series featuring my own cheesy creations. I have a few different ideas swimming in my head, but this Rosemary Candied Bacon Grilled Cheese with Balsamic Apples was the first to come to fruition simply because I was most excited to make the candied bacon. I'm so happy I did because it turned out so, sooooo good.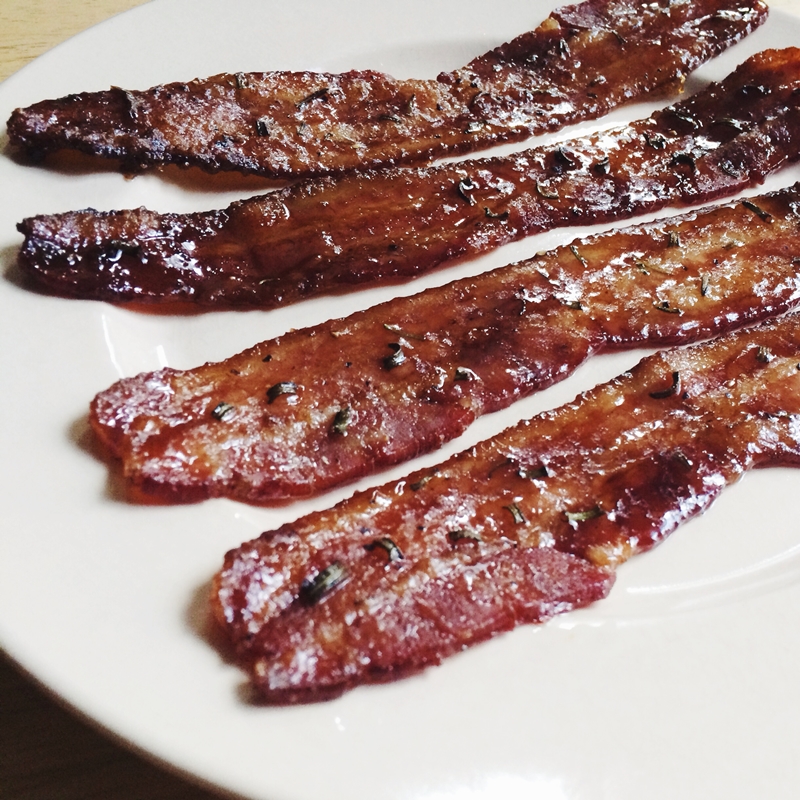 I first discovered rosemary candied bacon during brunch at a now-closed Italian spot near my old apartment in Hell's Kitchen, and it was love at first bite. Rosemary is one of my favorite herbs and the earthiness went so perfectly with the crispy, caramelized bacon, so I wanted to make a grilled cheese highlighting this gift from the pork gods.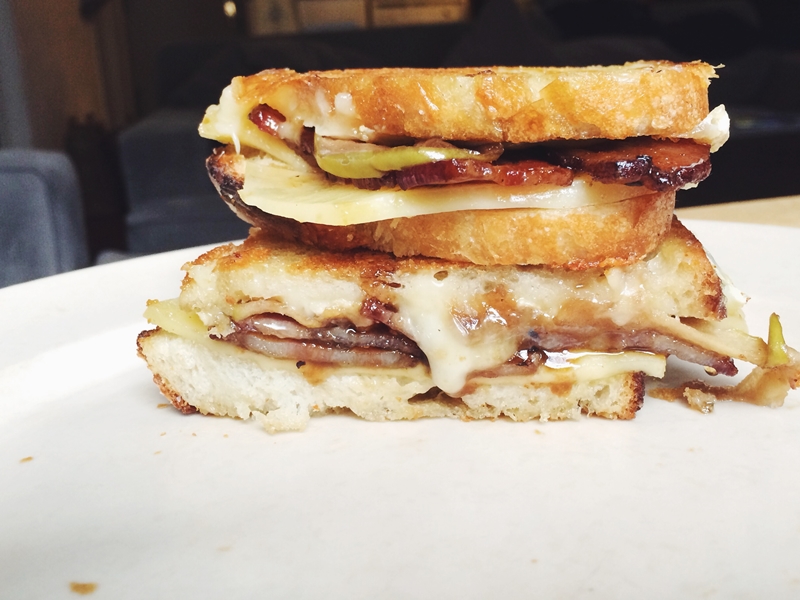 This rosemary candied bacon grilled cheese features melty Brie and buttery Gouda to complement the sweetness of the bacon, and the addition of Granny Smith apples cooked in balsamic vinegar provides tartness to balance things out so it doesn't end up being overly sweet. The end result is a rich, utterly indulgent, crazy delicious balance of sweet, savory, buttery, cheesy goodness.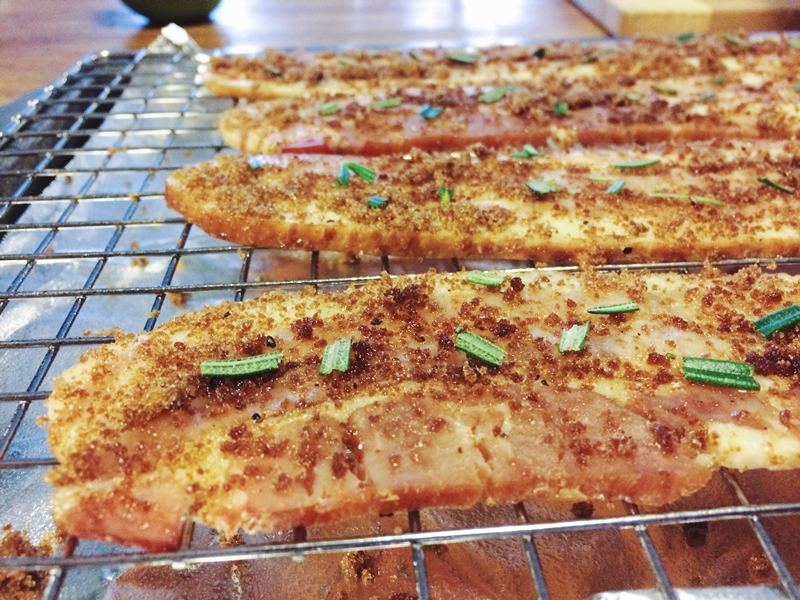 The rosemary candied bacon is easier to make than I originally thought. Just coat your bacon in brown sugar and bake. I adapted Emeril Lagasse's recipe for cayenne candied bacon by adding in the rosemary and also flipping over the bacon slices midway through. I found that just leaving the bacon there leaves a pool of fat sitting on top of the bacon, so turning it will help with draining some of this off. Ideally, you'll need a cooling rack that can sit on top of a foil lined baking sheet, that way all the fat drips into the pan underneath. You can also use a broiler pan for this if you have one – you want anything that will allow the fat to drip off so the bacon can get nice and crispy in the oven. While this recipe only calls for the exact amount of slices of bacon to yield 2 grilled cheeses, you could easily multiple the recipe to make a stash of the rosemary candied bacon – it's THAT good.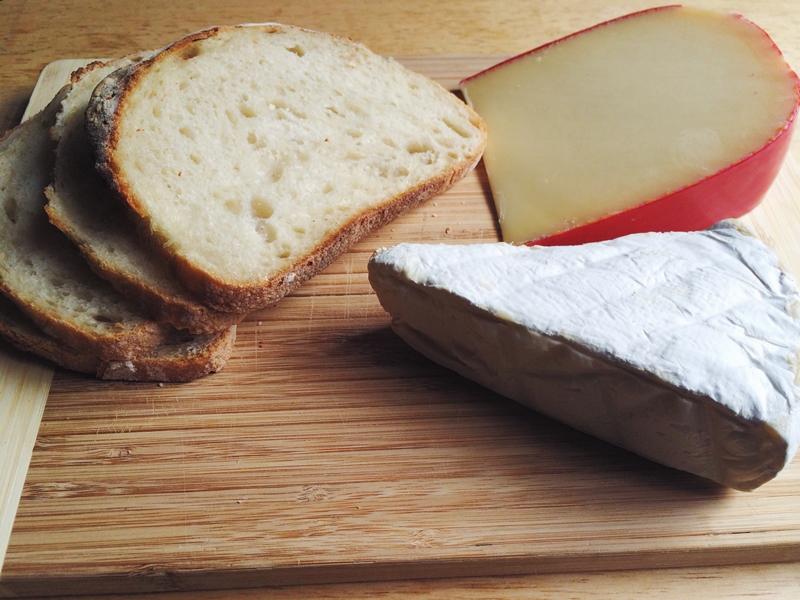 For the cheese, you want to find a nice creamy Brie so it melts nicely (none of that low-fat stuff here! You're eating bacon after all, so let's give up on trying to have anything "light"). I used a standard red wax Gouda rather than anything aged or smoked. Since there are so many other flavors in this sandwich I don't think you necessarily need to splurge on an aged version, though I'm sure it will just add to the deliciousness. Bread-wise, I used a sourdough from Balthazar Bakery in Soho that I've found makes for a wonderful grilled cheese, but you can swap this for the bread of your choice.
Rosemary Candied Bacon Grilled Cheese with Balsamic Apples
This grilled cheese combines the sweetness of rosemary candied bacon with melty Brie and buttery Gouda, complemented by Granny Smith apples cooked in balsamic vinegar for a rich, delicious balance of savory-sweet flavors.
Ingredients
For the rosemary candied bacon:

4 slices of thick-cut bacon
1/4 cup dark brown sugar
1/2 tsp. cayenne pepper
Fresh ground pepper
1 sprig fresh rosemary, minced

For the balsamic apples:

1 small Granny Smith apple, sliced into thin wedges, seeds removed
2 tbsp. balsamic vinegar
1/2 tsp. dark brown sugar (reserved from candied bacon mixture)
1/2 tbsp. olive oil or butter

For the grilled cheese:

4 slices sourdough bread (or your choice of bread)
1 tbsp. butter
4 thin slices red wax Gouda
4 oz. good quality Brie
Instructions
Preheat the oven to 350 degrees. Line a rimmed baking sheet with foil and set a cooling rack on top, then spray the cooling rack with cooking spray or olive oil spray. You can also use a broiler pan for this.
In a large mixing bowl, mix the brown sugar with cayenne pepper and a few cracks of fresh ground pepper until well combined.
Take a strip of bacon and press each side into the brown sugar mixture so it is well-coated, then place it on the cooling rack. Repeat this process until you have 4 slices of coated bacon.
Mince 1 sprig of fresh rosemary and sprinkle it evenly on the coated bacon, then sprinkle all but 1/2 tsp. of the leftover brown sugar on top (you'll use the brown sugar for the balsamic apples).
Place the rack with the foil-lined baking sheet onto the middle rack of the oven and bake for 30 minutes or until the bacon is crispy and sugar is bubbling, carefully flipping over the bacon after 20 minutes to evenly cook and drain fat.
Take bacon out of oven and allow to cool on a paper towel lined plate. Cut bacon slices in half and set aside.
While the bacon is cooking, slice the Granny Smith apple into thin wedges. Heat 1/2 tbsp. olive oil or butter in a small saucepan over medium heat and add the apple slices, 2 tbsp. balsamic vinegar, and 1/2 tsp. of the leftover brown sugar mixture and stir to evenly coat the apples, cooking for 3-4 minutes to slightly brown the apples. Remove from heat and set aside.
Butter one side of each slice of sourdough bread.
Heat a large skillet over medium and place 2 of the sourdough slices butter side down. Cover one slice of bread with 2-3 slices of Brie and cover the other with 2 thin slices of Gouda.
Lay half of the cooked apple slices onto the Brie, then top with 2-4 of the half slices of candied bacon depending on how much bacon you want.
Allow to cook for 3-4 minutes until Gouda melts, then carefully use a spatula to flip the Gouda topped slice of bread onto the other half of the sandwich and press down to meld. Remove the grilled cheese from the skillet.
Repeat steps 9-11 to grill the other sandwich.
Slice the sandwiches in half if desired and serve immediately.
Notes
If you make this recipe, I'd love to see the final product. Tag your photos on Instagram with #indulgenteats and @indulgenteats so I can see them!
http://indulgenteats.com/2014/04/27/rosemary-candied-bacon-grilled-cheese-balsamic-apples/