Kamayan Night at Jeepney – An Epic, Bare-Handed Filipino Feast
May 2, 2014 by Jen Balisi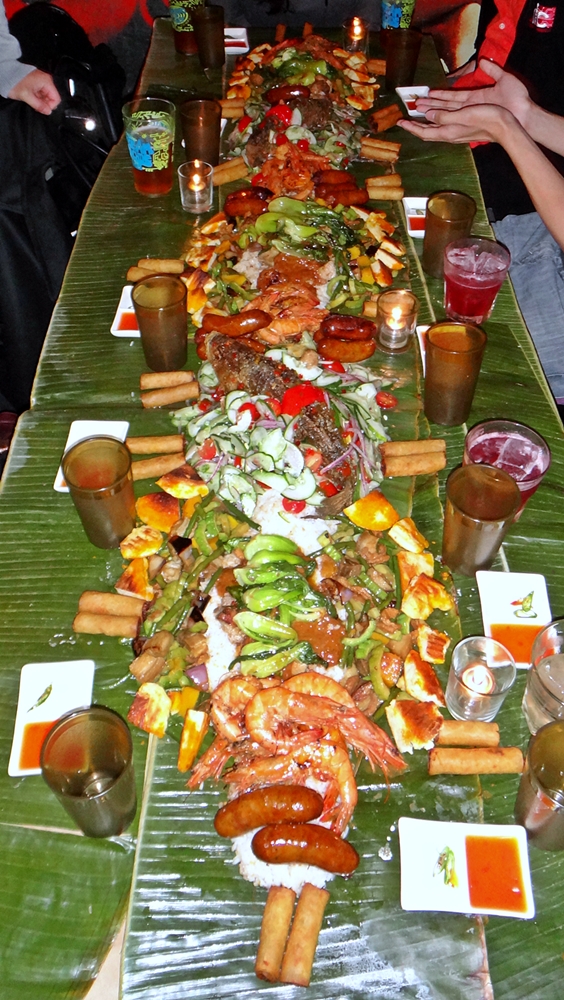 Growing up in a traditional Filipino family, the kamayan style of eating with your hands is nothing special. There's no utensils involved – you use just your bare hands to make a tiny mountain out of rice to act as a vehicle for the meat and other food items available. While certain cultures also eat with their hands, it's still not your typical dining experience, and you would certainly get looks if you were to ditch your fork and knife at your average establishment. That is not the case at Jeepney in the East Village of NYC, a Filipino gastropub from the Maharlika crew that brings Kamayan Night to their restaurant twice a week, serving up a variety of Filipino food on banana leaves for a bare handed, family style feast. After months of wanting to try it out, I finally got a group of friends together and booked us a table for 10 to get down and dirty with some Filipino grub.
Even though the majority of my group was Filipino, it's still quite the experience to sit down to a table covered in food. Jeepney has a pretty well-oiled machine in terms of their food set-up operation, as they fire the food right as your party arrives, that way the food is nice and hot once they seat you. This is the point when you should probably whip out your camera or phone to snap some pictures since once you start eating, there will be no way you're going want to grab any kind of device with your hands.
You're given a warm towel to wipe off before you dig in and if you aren't Filipino, you're also given an explanation by the waiters of exactly what you have in front of you so you know what you're about to put into your mouth. Then there's a moment where everyone looks at each other and it's decided that it's feasting time, which plays out EXACTLY LIKE THIS (and yes, I am a Harry Potter nerd #hatemenowbutiwontstopnow):

Jeepney's Kamayan Night requires an advanced reservation of at least 4 people and costs $45 per person, which gets your table its choice of 2 appetizers and 3 main entrees, plus rice, sweet longganisa pork sausage, ensalada cucumber salad, and halo-halo for dessert, allowing for a great way to sample different kinds of Filipino dishes. Some items, like the Dampa Fry whole market fish and the garlic fried rice instead of white rice require a supplemental fee of $4 and $1 per person respectively, so if you opt for these (as our group did) the Kamayan Night meal costs $50 per person, turning into $65 after their 18% gratuity, 2% administrative fee, and tax.
Now as you can tell by my first picture, you are getting a sh*t ton of food for your money. For the 10 of us, the spread of food spanned the length of 3 whole tables. We actually saw the staff set up a table for 10 coming in after us, and seeing everything in giant bowls also makes you realize just how much food is going on the table. I did, however, go with a table of mostly hungry Filipino guys, so unlike the tables around us that brought home plenty of leftovers, we successfully cleaned off all of the food. So if you're aiming to bring some food home at the end of it all, maybe try to bring a few more girls with you.
You may also get more bang for your buck if you have a slightly smaller group, as visually it seemed like the ratio of food per person was a bit less for our group of 10 compared to a group of 4 or 6. Since Jeepney is a small restaurant, our table of 10 ended up having people seated on each end of the table, and as you can see by the photo of my friend David below, the head of the table seemed to get the shorter end of the stick in terms of food. But again, it's definitely still plenty of food that will leave everyone full.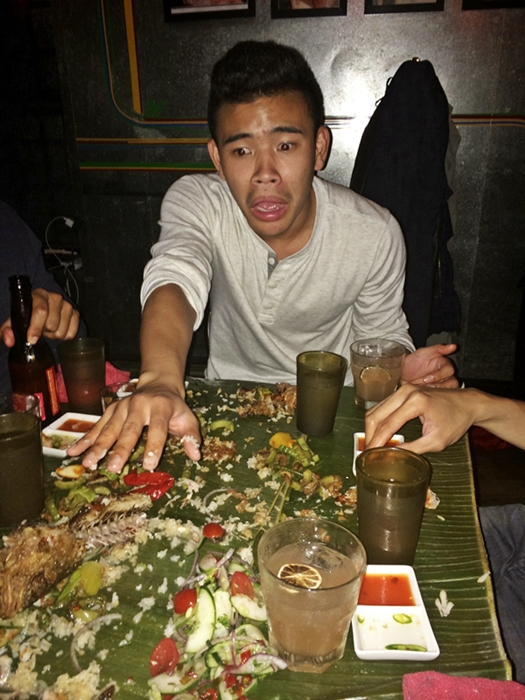 Quantity aside, the quality of the food at Jeepney's Kamayan Night was really fantastic all around. For appetizers, we ordered the lumpia shanghai Filipino spring rolls which were hot, crispy, and fresh out the fryer, and the pinakbet, a vegetable dish consisting of kabocha squash, eggplant, and long beans cooked in bagoong shrimp paste that is typically complemented with regular pork, but Jeepney took it to another level with some wonderful pork belly and Filipino favorite chicharron (that's FRIED PORK FAT guys. Whoa whoa whoa). That said, the chicharron in the pinakbet comes in sauce so it's not crispy, so if you're looking for something with more crunch, there is the chicharron bulaklak option for an appetizer.
The star of our meal was unquestionably the Bicol Express topped with bok choy though, a dish that comes from the Bicol region of the Philippines. As one of the main entree options at Kamayan Night, the Bicol Express gets upgraded by using a slow roasted pork shoulder as the base resulting in ohhh so tender chunks of meat. The flavor itself was incredible, as the meat is cooked in an intense blend of coconut milk, shrimp paste, and chiles. The only complaint we had on this dish was that our servings had a bit more chunks of fat than we would have liked – more meat please!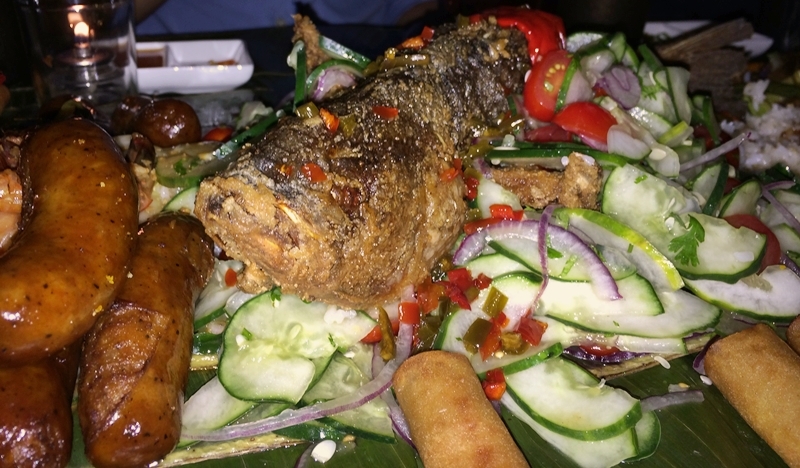 We paid the supplemental fee to get the Dampa Fry (pictured above) as our 2nd main entree, which for the 10 of us ended up being 2 seriously tasty and nicely sized whole market fishes that were fried and garnished with chiles and an acidic, citrusy marinade. The fish tasted great on its own as it was super crispy on the outside and soft on the inside, and was made even better with the vinegar provided in your condiment tray. We did feel a bit stiffed on the portion though. Considering we paid $4 extra per person, we felt that there should have been another fish for 10 people since a friend who went with a group of 6 told us they also got 2 fishes. Not sure if our 2 fish were larger in size, but it's still something to think about if you decide to go to Kamayan Night and are trying to decide how many people to invite or which entrees to select.
Our final main entree was the Adobong Hipon, which was shrimp cooked "adobo" style, a classic Filipino preparation where you simmer your protein in a soy and vinegar sauce highlighted by bay leaf. The shrimp were perfectly cooked with the shells split for easier peeling, and while I personally didn't get the typical adobo flavor that I'm used to, the sauce was still undeniably delicious and the adobong hipon was the favorite dish of a few in our party.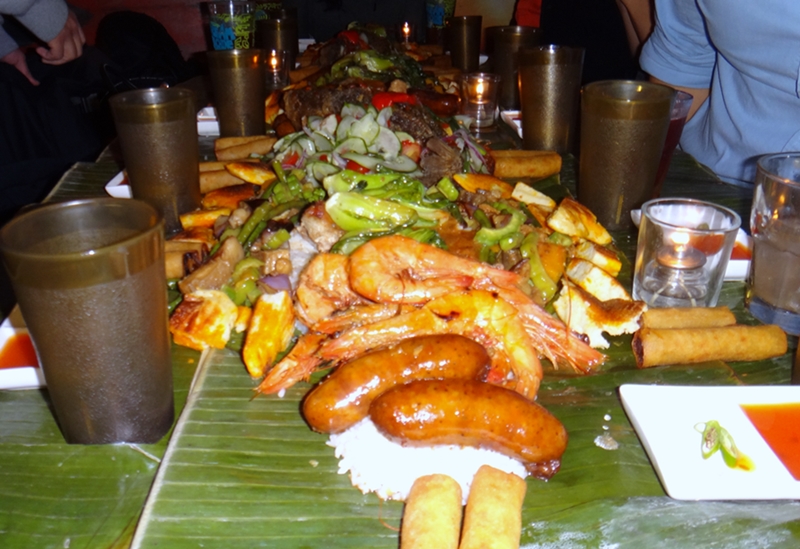 No matter which appetizers and entrees you order, you automatically get rice, longganisa, ensalada and dessert. The ensalada was a cucumber and tomato salad marinated in vinegar that provided great balance to the other very meaty and intensely flavored dishes, and it also tasted great with the fried fish. The sweet longganisa sausage, which is a staple of Filipino breakfast, was so wonderfully tasty and was definitely a welcome part of the meal. And finally the halo-halo, which is a classic Filipino dessert that translates to "mix-mix" was a great end note, providing a combination of different jellies, sweet beans, young coconut, flan, and ice cream in condensed milk covered shaved ice.
All in all, I would highly recommend trying out Kamayan Night at Jeepney, not only for delicious food but for a truly unique dining experience. At a base cost of $45 per person, it's certainly pricier than standard Filipino fare from your mom and pop Filipino restaurant in Queens, but how often do you get to feast at a table covered in incredible food and fully embrace your inherent caveman-esque qualities to dig in with your bare hands? After Kamayan Night, I'd say the answer to that is not often enough.
Jeepney is located at 201 1st Avenue at 12th St., New York, NY 10003. You can find more information on how to make a reservation for Kamayan Night on Jeepney's Facebook page.