Gruyere Grilled Cheese with Garlic Kale Chips and Rosemary Mushrooms
May 5, 2014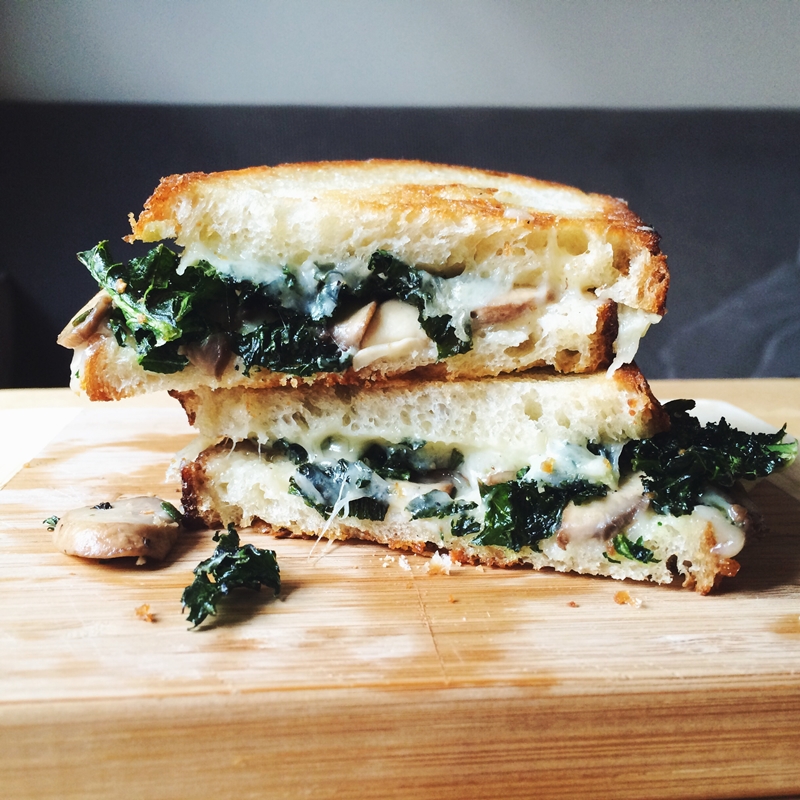 Okay, okay, so I know I said that my Rosemary Candied Bacon Grilled Cheese with Balsamic Apples was the best grilled cheese I've ever made, but this Gruyere Grilled Cheese with homemade Garlic Kale Chips and White Wine and Rosemary Mushrooms may be my new favorite grilled cheese ever. When I started this grilled cheese series, I knew that I had to highlight one of my favorite cheeses,  Gruyere. This sweet, salty, nutty cheese from Switzerland brings a fancy upgrade to so many kinds of cheesy foods, from mac and cheese to a ham and cheese sandwich. But one of my favorite preparations of Gruyere is in a fondue, which served as the inspiration for this grilled cheese. Rather than just making fondue and sticking it into between two slices of bread, I broke down the recipe for a classic fondue into its components: Gruyere, another Cheese (usually Swiss and/or Aged Cheddar), dry white wine, and garlic. After eating all that rosemary candied bacon, I wanted to make a grilled cheese at the complete other end of the spectrum – entirely savory and using vegetables instead of meat to complement the rich and nutty Gruyere. So that's where the kale chips and mushrooms came in perfectly, with each vegetable cooked with the garlic and white wine respectively to provide an insanely delicious combination of flavors reminiscent of fondue.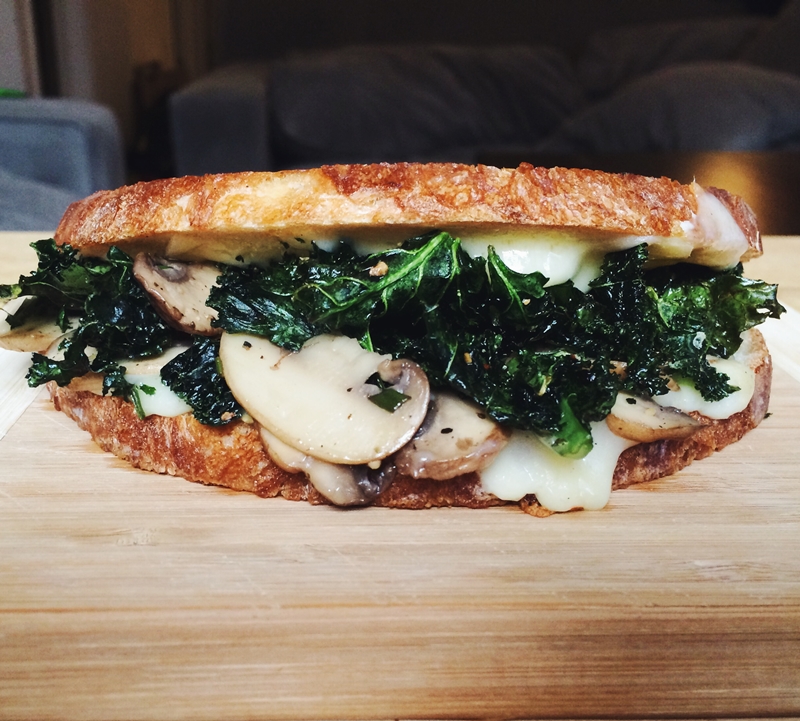 It's no secret that I love kale, as I've posted about making homemade kale chips before (among other recipes). For this grilled cheese, you follow the exact same recipe for homemade kale chips but with the addition of fresh minced garlic. Massaging the garlic into the kale with the olive oil really infuses the flavor into the leaves for a seriously addictive taste. While this grilled cheese recipe only calls for enough kale to make the 2 sandwiches, you could easily make a larger batch to have as a crunchy side to your grilled cheese – just double/triple the recipe. By baking the kale separately in the oven rather than sauteing it with the mushrooms, you also get that wonderful roasted flavor that eliminates a lot of the bitterness that kale tends to get knocked for. It also provides a bit more texture in each bite of the grilled cheese.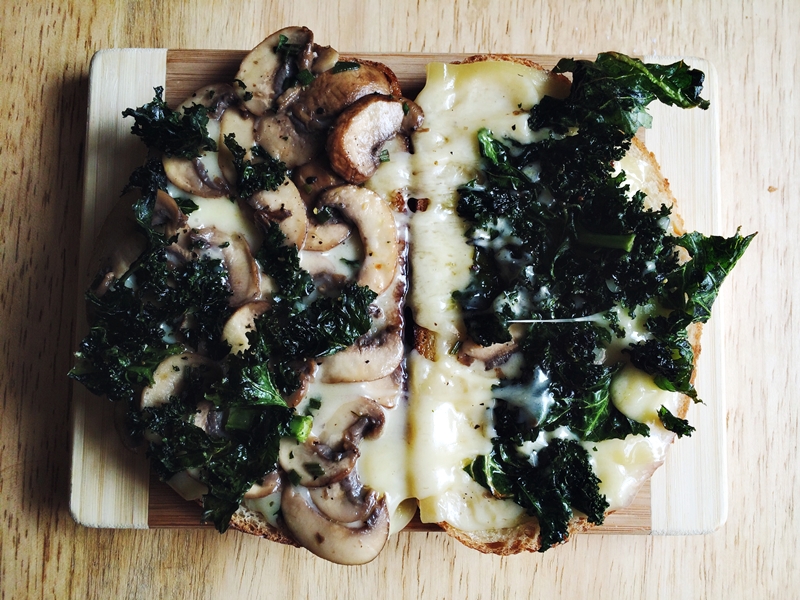 The second element of earthy flavors is provided by the mushrooms. I used baby bellas and cooked them in a sauvignon blanc, as it not only provides the extra depth of flavor to complement the cheese, but the wine itself pairs well with Gruyere in case you want to enjoy a glass with your sandwich. You can use any kind of dry white wine for this though. If you don't have rosemary on hand, you don't absolute need it for this gruyere grilled cheese to still be a hit, but it does add that subtle hint of herbs that just makes the sandwich even more amazing.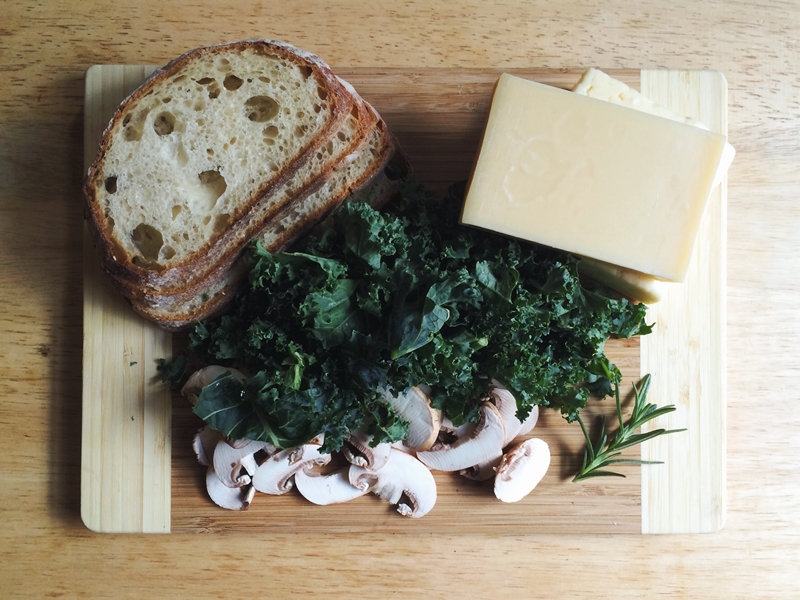 While an aged Gruyere can certainly tick up in price, it's definitely worth springing the extra dollars for Gruyere over any other kind of cheese since it has such a wonderful flavor. You should be able to find an affordable non-aged version of the cheese at your local grocery. Trader Joe's actually has a blend of shredded Gruyere and Swiss that would work well for this recipe – you would just spread it evenly across both slices of bread rather than separating the 2 kinds of cheese onto each slice. They also have a block of a Gruyere and Cheddar blend that could be sliced up for this grilled cheese. Both aged cheddar and Swiss cheese pair wonderfully with Gruyere – it's really a matter of whether you prefer more sharpness and tang (in which case you should go for the cheddar over Swiss). Regardless of what you pick, the combination of cheeses, garlic kale chips, and white wine and rosemary mushrooms will make for a seriously delicious and satisfying grilled cheese. Enjoy!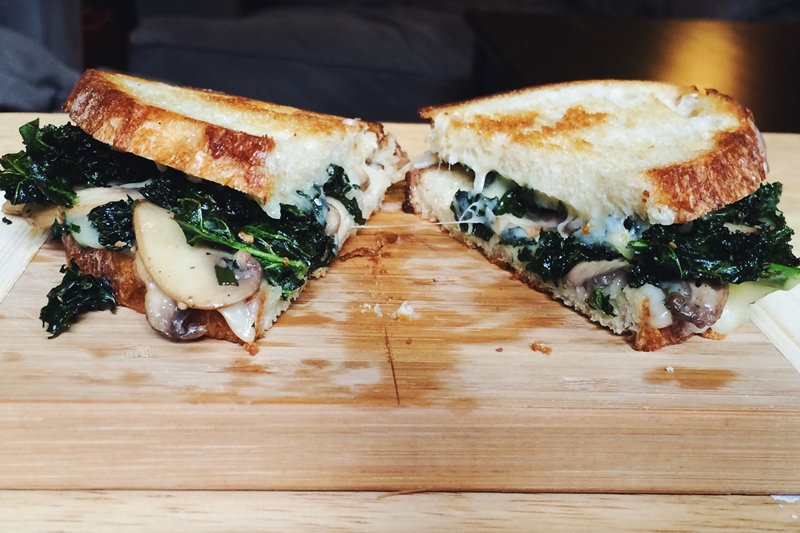 Gruyere Grilled Cheese with Garlic Kale Chips and Rosemary Mushrooms
This wonderfully melty and earthy Gruyere grilled cheese brings together the flavors of classic fondue with garlic kale chips and mushrooms cooked in white wine and rosemary.
Ingredients
For the grilled cheese:

4 slices sourdough bread (or your choice of bread)
4 slices Gruyere
4 slices aged cheddar or Swiss
1 tbsp. unsalted butter

For the kale chips:

Large handful of chopped kale, stems removed
1/2 tbsp. olive oil
1 clove garlic, minced
Pinch of salt
Fresh ground pepper

For the rosemary mushrooms:

6-8 baby bella mushrooms, rinsed clean, stems removed
1 tsp. minced fresh rosemary
3 tbsp. dry white wine
1/2 tbsp. olive oil
Salt & pepper
Instructions
Preheat oven to 350 degrees F (175 degrees Celsius)
Place kale and minced garlic into large mixing bowl. Drizzle with olive oil and season with a pinch of salt and a few cracks of fresh ground pepper (more if that's your thing!)
Massage kale leaves with your hands to rub garlic into the leaves and disperse olive oil and seasoning evenly (using a spoon or spatula will not do the trick - it will require additional olive oil to coat evenly and this will risk soggy chips)
Spread out kale onto a silpat or parchment paper-lined baking sheet, laying flat so leaves are not overlapping. Baked for 12-15 minutes or until edges are dark brown, but not burnt. Remove from the oven to cool.
While the kale chips are in the oven, clean and slice the baby bella mushroom caps and mince the fresh rosemary. Heat 1/2 tbsp. olive oil in a small saucepan over medium-high and add the mushrooms, seasoning with a pinch of salt and few cracks of fresh ground pepper and cook for 4 minutes while stirring. Reduce heat to medium and add the white wine and fresh rosemary and cook for another 4-5 minutes until the white wine has been absorbed and evaporated. Remove from heat and set aside.
Butter one side of each slice of sourdough bread.
Heat a large skillet over medium and place 2 of the sourdough slices butter side down. Cover one slice of bread with 2 slices of Gruyere and cover the other with 2 slices of either aged cheddar or Swiss.
Add half of the sauteed mushrooms onto the slice covered with cheddar/Swiss, spreading evenly across the bread, and then top the mushrooms with half of the kale chips.
Allow to cook for 4-5 minutes until the Gruyere is melted, then use a spatula to carefully flip the Gruyere topped slice onto the other half of the sandwich and press down to meld. Remove the grilled cheese from the skillet.
Repeat steps 7-9 to grill the other sandwich.
Slice the sandwiches in half if desired and serve immediately.
Notes
If you make this recipe, I'd love to see the final product. Tag your photos on Instagram with #indulgenteats and @indulgenteats so I can see them!
http://indulgenteats.com/2014/05/05/gruyere-grilled-cheese-kale-chips-rosemary-mushrooms/