Cheesy Chicken & Artichoke Cauliflower Casserole
July 16, 2014 by Jen Balisi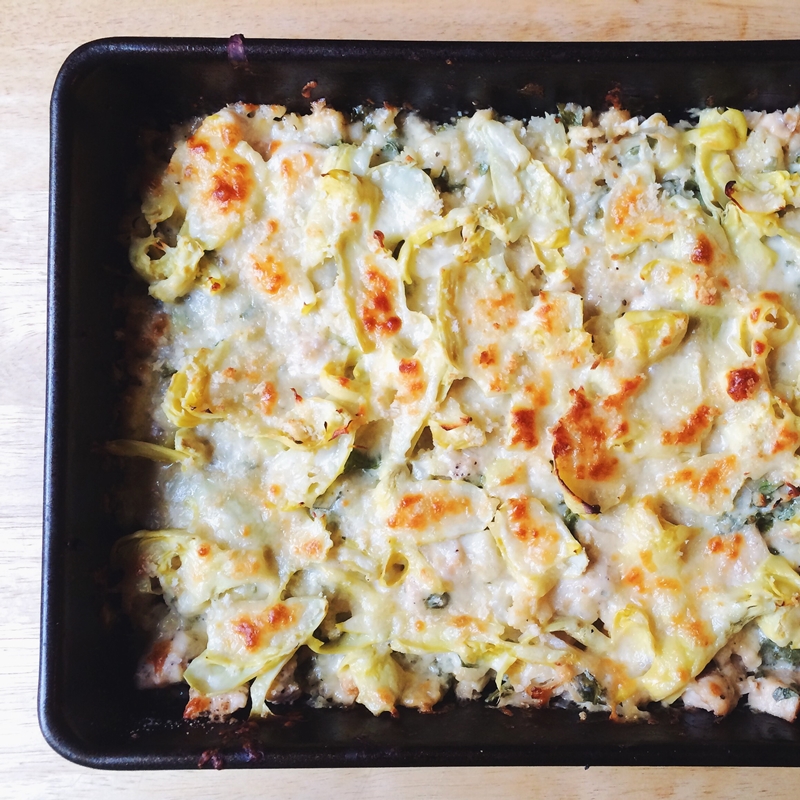 For my fellow artichoke lovers out there, this recipe is for you. While one of my favorite artichoke-focused items is the namesake slice from Artichoke Basille Pizzeria, it's safe to say that an artichoke slice is nowhere near healthy. So I sought to create a low-carb dish that was easy to make and on the lighter side while still providing a ton of cheesy artichoke flavor, which led to this Cheesy Chicken and Artichoke Cauliflower Casserole. While you could easily swap the cauliflower out and make this a baked pasta dish, you really just need a vehicle for all the toppings. So in my mind, you may as well use cauliflower to create a healthier alternative. Cauliflower itself makes a really tasty base for this casserole, since it's first briefly roasted to bring out more flavor before it gets combined with the rest of the ingredients.

This dish also freezes well so you can save any leftovers by cutting into individual servings and wrapping in foil and putting in a freezer bag or freezer paper. When you need a quick meal in the future, you can just remove each serving, open up the aluminum foil and heat it in the oven right on top of the aluminum foil it's wrapped for easy clean up to boot.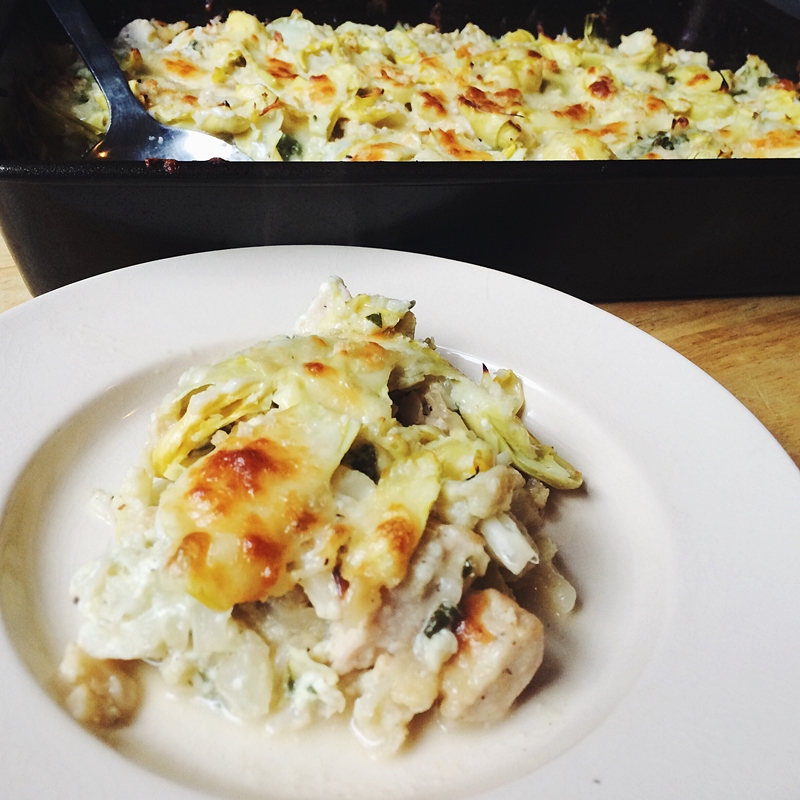 Cheesy Chicken and Artichoke Cauliflower Casserole
This cheesy casserole pairs chicken and artichoke hearts with spinach and cauliflower for a low-carb dish that feels decadent while remaining light.
Ingredients
1/2 head of cauliflower, cut into florets
1 lb. skinless, boneless chicken breast, diced into 1 inch pieces
1 14 oz. can artichoke hearts, drained and roughly chopped
1 medium yellow onion, diced
5 oz. fresh baby spinach, chopped
6 oz. shredded mozzarella cheese
3 oz. grated parmesan
1/2 cup low-fat Greek yogurt
2 tbsp. olive oil
Breadcrumbs (optional)
Instructions
Preheat the oven to 400 degrees.
Slice the cauliflower florets and toss in a bowl with 1 tbsp olive oil, salt, and pepper. Lay flat in a casserole or baking pan and bake in the oven for 10-15 minutes.
While the cauliflower is roasting, dice the onion and then dice the chicken breast into 1 inch pieces and season generously with salt and pepper. Heat 1 tbsp olive oil in a large skillet and cook the chicken for 5 minutes while stirring to start to brown all sides. Add the onion and cook everything until the onions are translucent and chicken is cooked through, about 10 minutes. If using pre-cooked chicken breast, skip the chicken prep and cooking in this step and just cook the onion as directed. Drain any liquid that may be in the pan after cooking.
Remove the cauliflower from the oven and add the cooked chicken, onions, chopped fresh spinach, Greek yogurt, a quarter of the chopped artichoke hearts, half of the Parmesan cheese, and half of the shredded mozzarella and stir everything to combine (the cheese should start to melt and the spinach should begin to wilt as a result of the hot cauliflower and pan).
Top with the remaining sliced artichoke hearts, spreading them out evenly across the top then cover with the remaining mozzarella and Parmesan. Top with breadcrumbs if desired.
Bake the casserole in the oven for 20 minutes or until the mozzarella on top is melted, golden, and bubbly. Remove from oven, cut into squares, and serve immediately, sprinkling with additional Parmesan is desired.
Notes
If you make this recipe, I'd love to see the final product. Tag your photos on Instagram with @indulgenteats and #indulgenteats so I can see them!
http://indulgenteats.com/2014/07/16/cheesy-chicken-artichoke-low-carb-cauliflower-casserole/