5 Fresh & Easy 5 ingredient Summer Salad Recipes
August 13, 2014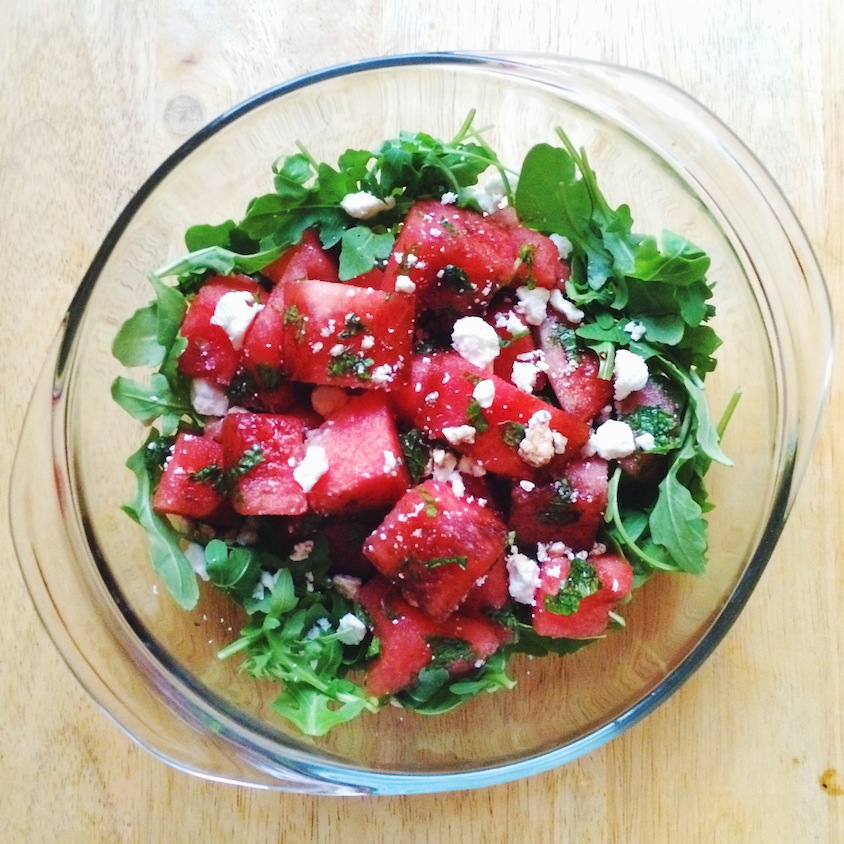 There comes a point during the summer where slaving away in front of a hot stove or oven has ZERO appeal. With a bunch of fresh fruits and vegetables in season and bikini season also in full effect, the desire of a refreshing salad skyrockets and the stars basically align for producing some kick-ass spring and summer salads. In order to maximize your time in the sun instead of prepping food in the kitchen, I did some experimenting of my own to come up with these 5 summer salad recipes that are insanely easy and delicious and take advantage of just a few simple, quality ingredients.
Each of these spring and summer salads can be made with just the 5 ingredients listed, but you can easily throw in the suggested optional add-ons if you're an overachiever or depending on your diet (as in, go for the jalapenos if you can take the heat, skip the prosciutto if you're vegetarian). They're perfect for a picnic, as a side for your summer BBQ, and on their own as a healthy meal depending on how big you make each serving. Just adjust the ingredients depending on your own tastes (I know people are particular about their salads!)
Here are 5 Fresh & Easy 5 Ingredient Spring & Summer Salads:
1. Strawberry & Arugula Salad
Fresh strawberry halves
Arugula
Crumbled goat, blue, or feta cheese
Olive oil
Balsamic Vinegar
Optional add ons: Blueberries, cantaloupe, prosciutto, halved walnuts or slivered almonds, grilled chicken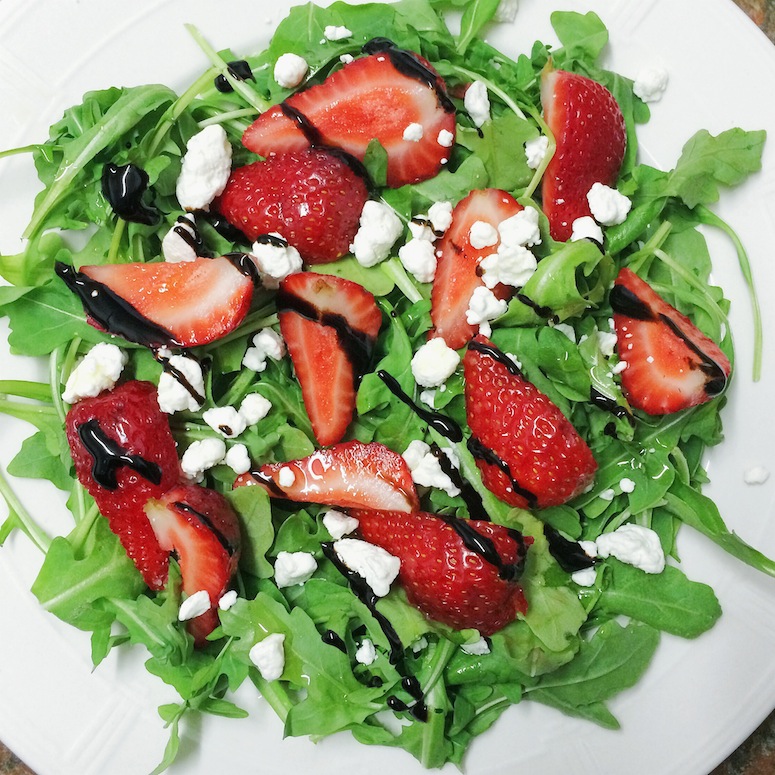 2. Caprese Salad
Vine-ripe tomatoes sliced into 1/4″ thick rounds, or halved grape/cherry tomatoes
Fresh mozzarella sliced into 1/4″ thick rounds, or baby mozzarella balls
Fresh basil
Good quality olive oil
Salt & pepper
Optional add-ons: Balsamic vinegar, prosciutto, spinach, grilled chicken
Full recipe here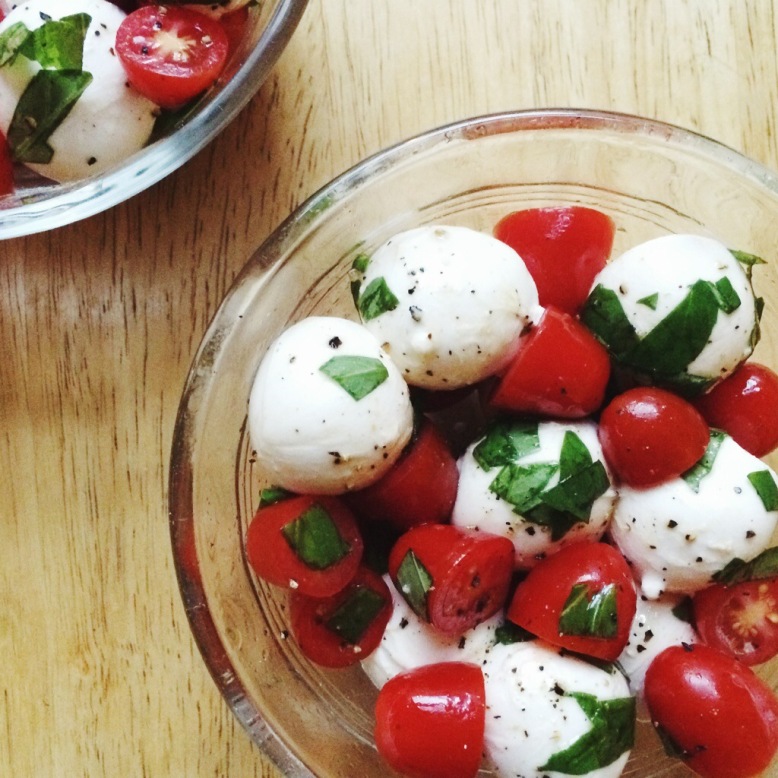 3. Mango & Avocado Salad
Diced or sliced ripe mango
Diced or sliced ripe avocado
Sliced red onion or shallots
Lime or lemon juice
Small pinch of salt
Optional add ons: Cilantro, diced red or orange bell pepper, cotija or feta cheese, yogurt, tuna, corn, tabasco sauce or jalapeno (seeds removed, unless you like it really spicy)
Photo via Brooklyn Kitchen because mine all turned out crummy =/
4. Esquites Mexican Corn Salad
Grilled corn
Greek yogurt or mayonnaise
Cotija or crumbled feta cheese
Lime juice
Mexican chili powder
Optional add ons: Cilantro, diced avocado, jalapeno (seeds removed)
Full recipe here
5. Watermelon & Feta Salad
Fresh cubed watermelon
Crumbled feta cheese
Chopped fresh mint or basil leaves
Lime or lemon juice, or balsamic vinegar
Tiny pinch of salt
Optional add ons: Olive oil, cherry tomatoes, avocado, strawberries, arugula, tabasco sauce or jalapeno (seeds removed, unless you like it really spicy), grilled pork belly or pork loin (trust me!)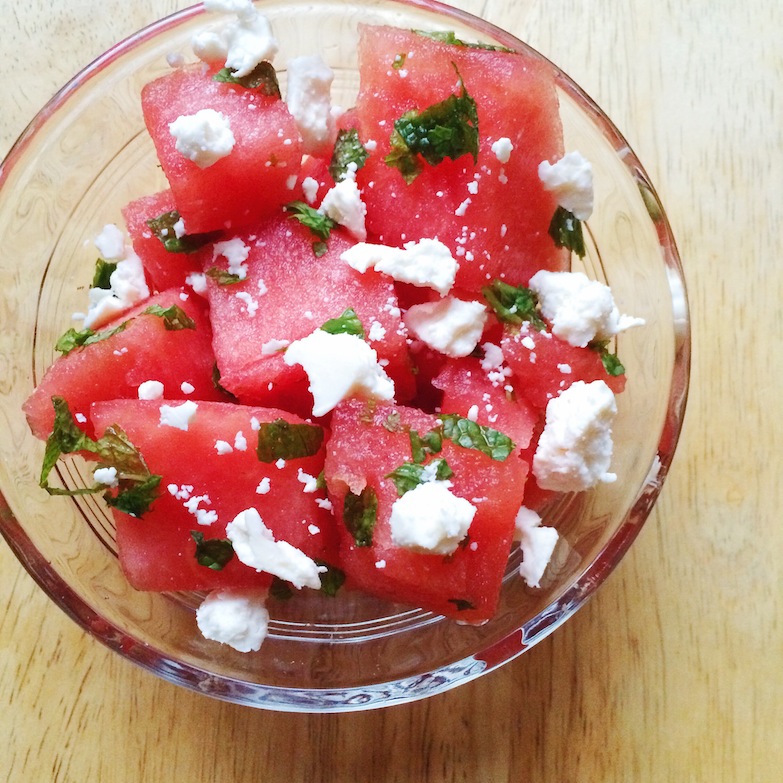 If you make any of these, I'd love to see the final product. Just tag @indulgenteats and #moderateindulgence on your Instagrams!