Buffalo Chicken Football Pizza with Garlic Blue Cheese Cream Sauce
November 19, 2014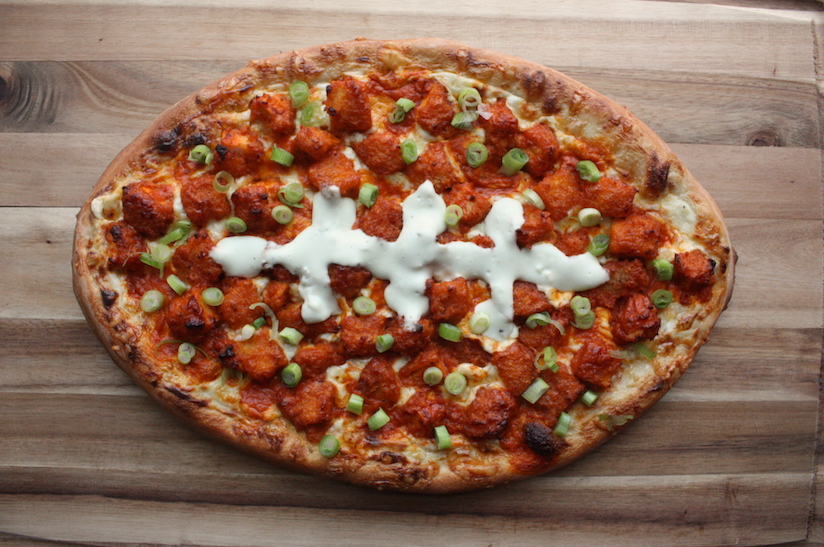 We are fully into the fall swing, and I for one am not complaining one bit. While others may complain about the cooling temperatures, fall is actually my favorite season for a few reasons including but not limited to: my birthday, Halloween, beautiful changing leaves and trees, less sweating, more sweaters, and most importantly, FOOTBALL. In honor of my favorite sport, I decided to forego my buffalo meatballs with Cool Ranch Doritos breadcrumbs and football-ify things even more by creating this buffalo chicken football pizza. Yes, shaping the dough to make a football-shaped pizza requires a bit of extra work, but it's football: go big or go home, am i right?
To make this football pizza, I followed many of the steps for my cheesy buffalo chicken pasta with some adaptations. It starts with the same cream cheese base, but the sauce gets upgraded to a wonderful garlic blue cheese cream sauce. It's incredibly easy, featuring simple sauteed chopped garlic that gets blended into cream cheese, blue cheese crumbles, and milk to create a creamy oh so cheesy and delicious sauce that becomes both the base of the pizza and what is used to make the stitches on the football after baking. You may end up with a bit of extra sauce at the end, which isn't an issue as you'll end up wanting to drown your pizza crusts in it. Oh that's just me? Well then……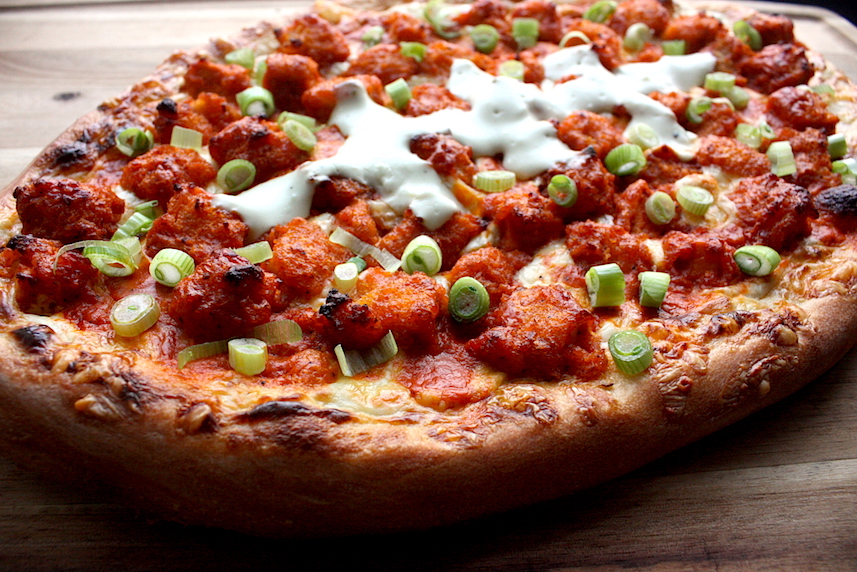 For the chicken, small chunks of chicken breast get a quick sauté before being coated in buffalo sauce, which all tops the pizza. You want to be sure to fill in all of the gaps with buffalo sauce so your pizza truly looks like a football with no speckles. I've included directions for making your own buffalo sauce (hint: it's basically just hot sauce and butter) but you could also purchase premade buffalo sauce.
Once your pizza's all out of the oven, sprinkle chopped green onion evenly across the pizza before drawing on the stitches with the reserved blue cheese cream sauce. Serve with any leftover buffalo sauce on the side for those who want it extra saucy, slice it up, sit in front of the couch, and enjoy your Sunday. >cue Carrie Underwood<
Buffalo Chicken Football Pizza with Garlic Blue Cheese Cream Sauce
Upgrade your standard buffalo chicken with this football pizza with a garlic blue cheese cream sauce base, perfect for game day.
Ingredients
12 oz. pizza dough
3/4 lb. chicken breast cut into 1/2 inch cubes
2 tbsp. olive oil, divided
1/3 cup hot sauce
2 tbsp. unsalted butter
1/2 tsp. cayenne pepper
1 tsp. ground pepper
1 tsp. garlic powder
1 tsp. salt
4 cloves garlic, chopped
4 oz cream cheese (a little less than half a block)
2-3 oz. crumbled blue cheese (depending on how much you like blue cheese)
1/3 cup milk or more based on desired consistency
1/4 cup chopped green onion
Instructions
If your dough was refrigerated, place your dough in a dry bowl 30-45 minutes before prep to rest while preparing the remaining ingredients so it's easier to handle and stretch
Preheat the oven to 450 degrees Fahrenheit
Season the chicken with salt and pepper. Cook the chunks of chicken in 1 tbsp olive oil over medium-high heat for 5-7 minutes until lightly browned on the outside, stirring occasionally to cook evenly. Transfer cooked chicken to a bowl and set aside.
In a saucepan, melt the butter and whisk in the hot sauce, cayenne pepper, and garlic powder over medium until thoroughly combined. Once the sauce begins bubbling at the edges of the pot, remove from heat and set aside.
In the pan that you cooked the chicken in, heat a tbsp of olive oil over low heat and add the garlic, cooking until golden and fragrant. Add the milk and whisk to deglaze the pan and scrape up any chicken bits. Add the cream cheese and raise to medium-low heat, whisking until the cream cheese has fully melted and blended with the milk. Add the blue cheese and continue to whisk until fully melted and combined. Remove from heat and set aside.
Flour your working space and stretch out the pizza dough to 1/8 inch thick, shaping to form a football. Make sure to keep the edges thicker than the rest of the pizza to form a crust.
Once your pizza is the desired shape, spread the blue cheese cream sauce onto the dough except for the crust, making sure to reserve at least 3 tbsp of sauce if not more.
Pour enough buffalo sauce into the bowl of cooked chicken to fully coat the chicken, then spread the buffalo chicken across the pizza, spooning on additional buffalo sauce to fill in any gaps in the pie.
Transfer the pizza to a pizza stone, parchment-lined baking sheet, or silicone mat on a baking sheet and bake in the oven for 15-20 minutes until the crust is golden brown.
Remove the pizza from the oven. Spread the chopped green onion evenly across the pizza and add a layer of additional buffalo sauce if desired.
Use a spoon to draw football stitches onto the middle of the pizza with the blue cheese cream sauce. Slice and serve immediately with remaining buffalo sauce and blue cheese cream sauce on the side.
Notes
If you make this recipe, I'd love to see the final product. Tag your photos on Instagram with #moderateindulgence and @indulgenteats so I can see them!
http://indulgenteats.com/2014/11/19/buffalo-chicken-football-pizza-garlic-blue-cheese-cream-sauce/