Superbowl Sausage Kale and Ricotta Football Pizza
January 28, 2015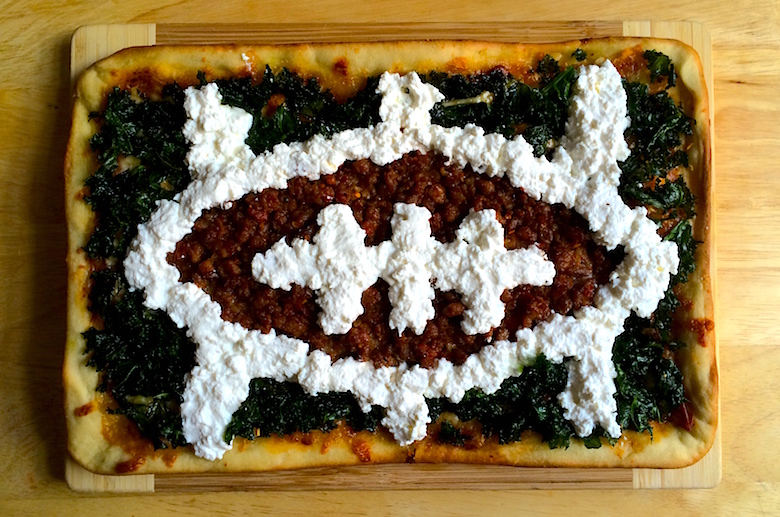 Spicy Italian sausage, kale, and ricotta are 3 of my favorite ingredients to combine. I've prepared them in various iterations, from pasta to breakfast pizza, but when the football season started I had a lightbulb moment: football field pizza! With a little extra effort, your standard rectangular pizza gets transformed into this Sausage Kale and Ricotta football pizza with a crispy kale field, ricotta yard lines, and a spicy Italian sausage football at the center, though you could substitute for the sweet variety if that's your jam. It's a recipe for a successful Superbowl Sunday and let's face it – it's just pretty to look at (aka made for Instagram).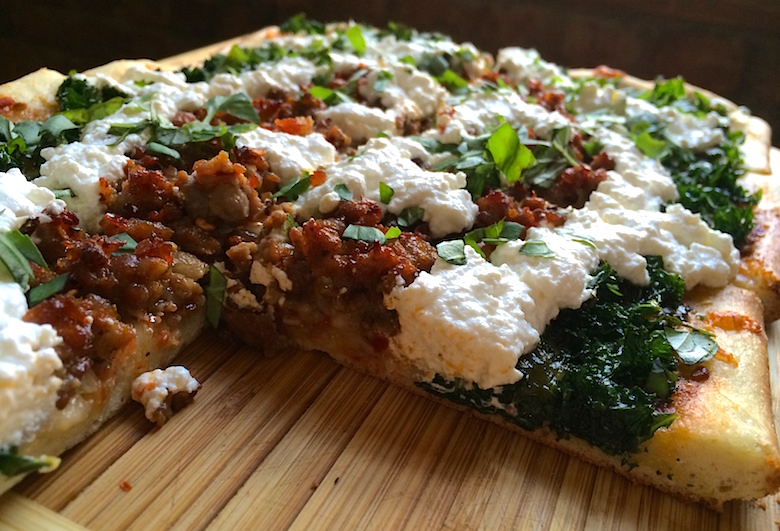 Beneath the top football field layer is a base of pureed San Marzano tomatoes, chopped fresh garlic, and mozzarella and Parmesan cheeses for extra yumminess. You could also just use whatever tomato sauce you have on hand if San Marzano tomatoes aren't available, but I find that the extra tang of the tomatoes complements this pie incredibly well. If you're a fresh basil fan like I am, you can also sprinkle on some chopped fresh basil at the end as it goes well with the flavors of the football pizza.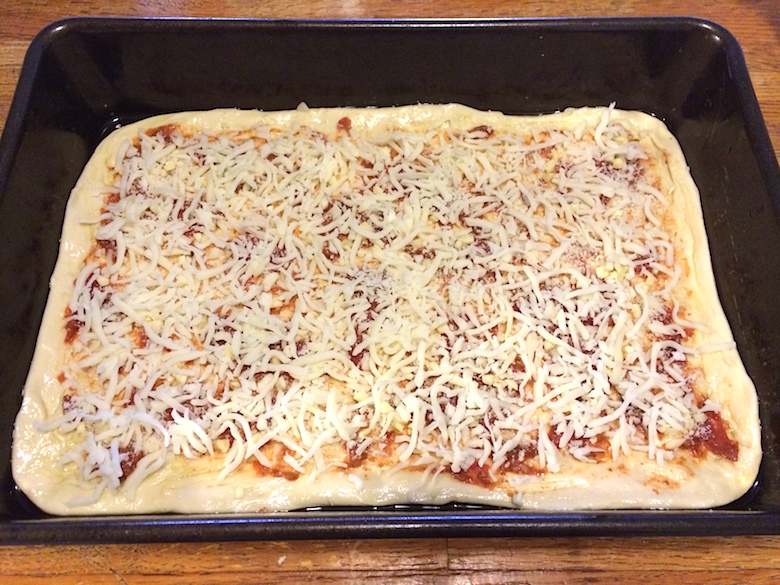 Since the boyfriend lives down the street from Di Palo's, I love picking up their pizza dough, homemade fresh ricotta, and fresh spicy Italian sausage for this, but the store bought varieties will still produce favorable results. I used a spoon to draw on the yard lines with the ricotta, but it you want to be even more precise, you could fill a sandwich bag with your ricotta and cut off the corner to make a piping bag so that the lines are thinner and more like true yard lines.  But let's be honest, after a few beers on game day, this Sausage Kale and Ricotta Pizza will be a crowd pleaser no matter what.
Superbowl Sausage Kale and Ricotta Football Pizza
This football pizza uses spicy Italian sausage, kale, and ricotta to form a football field, perfect for the Superbowl or any football Sunday.
Ingredients
12 oz. pizza dough
8 oz. spicy Italian sausage, removed from the casing and crumbled
5 oz. chopped kale, stems removed (about 4 handfuls)
8 oz. fresh or storebought ricotta
1/3 cup pureed San Marzano tomatoes or tomato sauce
2 cloves fresh garlic, chopped
4 oz. shredded low-moisture mozzarella cheese
4 oz. shredded or grated Parmesan
1 1/2 tbsp. olive oil, divided
1/2 tsp. salt
1/2 tsp. fresh ground pepper
Instructions
If your dough was refrigerated, place your dough in a dry bowl 30-45 minutes before prep to rest while preparing the rest of the ingredients so it's easier to handle and stretch.
Preheat the oven to 450 degrees F.
Remove the casings from the sausage and cook the meat over medium-high heat in a skillet, crumbling and breaking down the sausage in the pan and cooking until browned, about 8-10 minutes. Remove from heat and set aside.
Place chopped kale, 1/2 tbsp. olive oil, salt, and pepper in a bowl and massage until evenly coated. Set aside.
Spread 1 tbsp. olive oil on the bottom of a baking pan until evenly coated. Stretch pizza dough across the bottom of the pan until it reaches all corners to form a rectangle.
Spread tomato puree/sauce evenly onto the dough, leaving 1/2 inch crust. Spread chopped fresh garlic then mozzarella and Parmesan cheeses across the pizza.
Bake the pizza in the oven for 10 minutes, then remove from the oven, poking any bubbles that have risen to form a flat surface. Add the sausage to the middle of the pizza to form a football shape, then arrange the kale around the football to fill the empty space and form the field. Bake in the oven for an additional 10 minutes until the kale begins to brown at the edges.
Remove the pizza from the oven and draw on the yard lines with the ricotta cheese. If desired, heat the pizza in the oven for an additional 1-2 minutes. Take your picture, slice, then serve and enjoy.
Notes
If you make this recipe, I'd love to see the final product. Tag your photos on Instagram with #moderateindulgence and @indulgenteats so I can see them!
http://indulgenteats.com/2015/01/28/superbowl-sausage-kale-ricotta-football-pizza/