Where to Eat for NYC Restaurant Week – Updated for Winter 2016
February 22, 2015 by Jen Balisi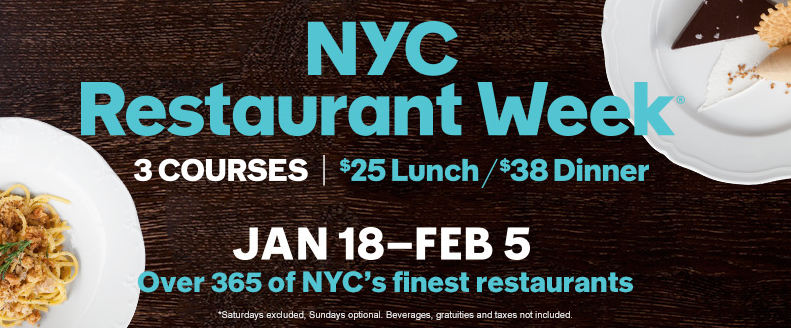 I've written about NYC Restaurant Week plenty of times in the past, but it's now been almost 5 years (!) since I wrote my first guide to the almost month-long annual event. While much of it still holds true (go for the $$$$'s!), I figured it was worth an update since 1) the pre-fixe dinner is now $38 instead of $35, 2) many of the restaurants are sadly no longer, but 3) there's a bunch of new, great restaurants available! I've rounded up my top picks based on their Restaurant Week offerings, so make your reservations before tables get snatched up. Even if you don't plan to dine on any pre-fixe menus, if you have an Amex card, you should be sure to register your card as you can still qualify for a $5 statement credit at each meal (up to 4 times!) even if you order a la carte.
This list is by no means all inclusive, so there are certainly other worthwhile restaurants that are part of NYC Restaurant Week. Whatever you do, just don't do Dos Caminos. You're better than that 🙂
ABC Kitchen & ABC Cocina
Because Jean-Georges Vongerichten's Union Square mainstay and neighboring Latin American outpost are both new to the NYC Restaurant Week list for 2016 and offering solid options including a ricotta and egg raviolo, a gorgeous beet salad, and "gooey spicy ham and cheese fritters." Yes, please.
ABC Kitchen: View Menu | Make a Reservation
ABC Cocina: View Menu | Make a Reservation
Ai Fiori
Because Michael White makes the best pasta in the city period, and Ai Fiori is always a solid option for Restaurant Week.
View Menu | Make a Reservation
Bar Primi
Because Andrew Carmellini also makes some of the best pasta in the city, and his Bowery pasta spot is serving up a number of options that are sure to satisfy in these frigid temps.

View Menu | Make a Reservation
Empellon Cocina
Because Alex Stupak is making some of the most inventive upscale Mexican food in the city, and if you're someone who doesn't understand why anyone would pay more than $3 for a taco, Restaurant Week is the perfect opportunity to change your mind.
View Menu | Make a Reservation
Hakkasan
Because this London import isn't just your standard trendy Asian restaurant with mediocre food (looking at you, Tao). The dim sum is top notch, and for Restaurant Week you get to start your meal with a sampler of them either fried or steamed along with your choice of entree with fried rice and dessert.
View Menu | Make a Reservation
Little Park
Because Andrew Carmellini's latest TriBeCa restaurant has been receiving rave reviews for its vegetable and local market-focus, and having dined for lunch, I understand why. The fried local cauliflower is impossibly light and paired perfectly with pistachio and fresh herbs. They also have a celery root schnitzel sandwich that tricks you into thinking it's an upgraded fish fillet, and there's a spinach tagliatelle with rosemary and porcini mushrooms from the pasta pro. Plus, their beloved frozen lemon fluff is available as a dessert option which reminded us of the orange and cream custard you can get in the summers on the boardwalk. All in all one of the best Restaurant Week lunches I've had. [Update: their Winter 2016 menu has an entirely new, seasonal menu than what I dined on in Winter 2015, but it's sure to be good no matter what]
View Menu | Make a Reservation
Nobu Next Door
Because you can get the all-time classic Black Cod Miso and Rock Shrimp Tempura as part of your pre-fixe meal. They also have stellar brunch offerings of "Bagel and Lox" where the "bagel" is actually CRISPY RICE, as well as Chicken Karaage with Green Tea Waffles and pecan miso butter. [Update: For Winter 2016, they are no longer including their brunch menu for NYCRW, but it's definitely still worth a dinner reservation]
View Menu | Make a Reservation
Osteria Morini
Because you can get Michael White's top-notch pastas in a more casual environment, along with other rustic Italian dishes. The gramigna pasta offered on their winter restaurant week menu is a wonderful option.
View Menu | Make a Reservation
Pig & Khao
Because Top Chef alum Leah Cohen's Filipino-Thai spot in the LES is one of my favorite restaurants in the city. Whether you go for brunch or dinner, expect a laid back vibe, 90s hip hop, and bold flavors. This is their first time participting in NYC Restaurant Week and their menu offerings is full of favorites including the grilled pork jowl, khao soi, and ribs for dinner and my absolute favorite sizzling sisig plus doughnuts with pandan custard during brunch.
View Menu | Make a Reservation
Root & Bone
Because their shrimp and grits is great, but more importantly they have some of the best fried chicken in the city (Sweet tea brined! Citrus dust! Whiskey maple syrup!) and they come with cheddar cheese waffles so you can build yourself a chicken and waffle sandwich like the one below. They also make a killer mac and cheese (insert prayer emoji).
View Menu | Make a Reservation
Taboon
Because this one is tried and true – I used to live down the street from this Hell's Kitchen Mediterranean/Middle Eastern darling, so I dined for Restaurant Week with my roommates the first week of Winter 2015 Restaurant Week. We thoroughly enjoyed the housemade flatbread starter with hummus and some of the best tzatziki and baba ghanouge, burrata and shrimp appetizers, lamb moussaka and braised short rib entrees, and all of their dessert options. All in all a great bang for your buck in a cozy setting.
View Menu | Make a Reservation


Make sure to check the menus and restaurant sites to confirm which days and meals each restaurant is participating. NYC Restaurant Week runs until February 5th so make those reservations and eat up!